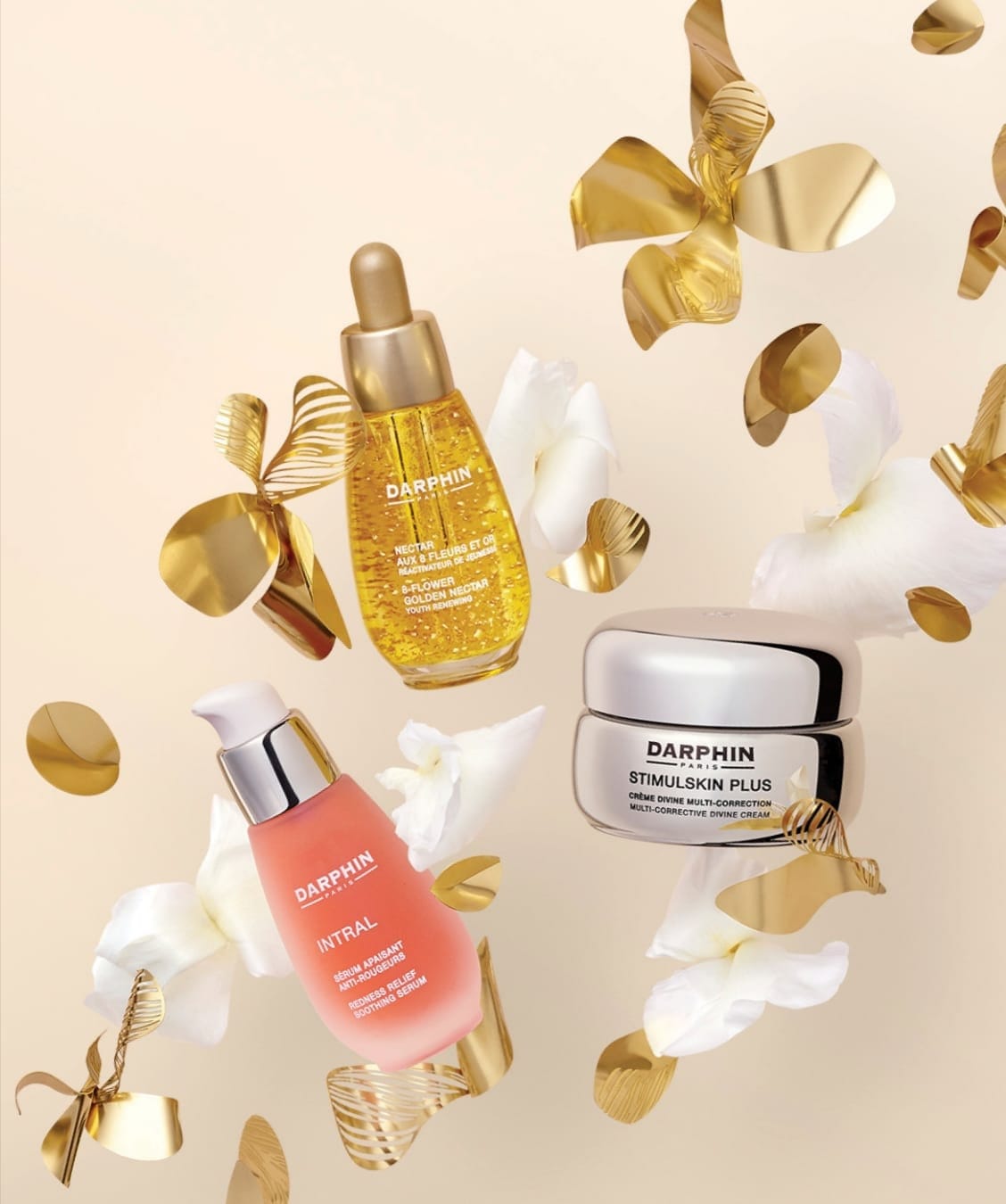 Nature in the service of beauty: that is how we would describe the spirit of French brand Darphin. Blossoming at the intersection of botanical skincare and scientific innovation, the best Darphin products bring you maximum performance. The meticulously developed formulas preserve the original properties of the most exclusive botanical ingredients, all without ever compromising on the pleasure of application.
If you've been meaning to infuse your skincare routine with a boost of nature-powered effectiveness, then keep reading. From botanical peels to soothing serums, you will be sure to find your next skincare staple below.
---
Darphin Aromatic Cleansing Balm
With a honey-like texture, this cleansing balm provides your skin with a blissful, purifying spa experience. Gently massage the balm into your skin, then add water; the balm transforms into a silky milk that entraps and finally washes away impurities.
Perfect for dry and dehydrated skin, this product uses a unique blend of rosewood, sage, and marula to not only cleanse the skin, but also relieve tightness and create a feeling of supple comfort.
---
Darphin Hydraskin Light All-Day Skin-Hydrating Cream Gel
This lightweight moisturizer is powered by HYDRA-STRUCTURE™ Technology, a high-performance hydrating complex composed of botanical ingredients. Ideal for normal as well as combination skin, this cream helps the skin maintain moisture throughout the day.
The lightweight gel-cream texture absorbs easily, without creating a sticky or tacky feeling; instead, the skin feels refreshed and hydrated.
If you tend towards dry skin, try the Darphin Hydraskin Rich All-Day Skin-Hydrating Cream instead; with its indulgent, velvety texture, the rich version of this cream brings instant nourishment and comfort to drier skin types.
---
Darphin L'Institut Youth Resurfacing Peel
This botanical peel harnesses the power of winterbloom and chestnut extracts to provide your skin with the radiance and smoothness of a professional spa treatment.
When applied once a week, in the evening, this skin-renewing peel effortlessly refines the skin texture and does away with any dull or rough patches. In essence, it allows your skin to emerge with a newfound glow, beautifully revitalized and radiant.
---
Darphin Essential Oil Elixir 8-Flower Nectar
At Darphin, skincare oils aren't simply oils: they are skincare elixirs that enhance the effectiveness of your skincare routine.
One of the best Darphin products, the 8-Flower Nectar is a rejuvenating elixir that blends aromatic essences from eight precious flowers. Chock-full of antioxidants, the formula nourishes the skin while renewing its suppleness and resilience. Meanwhile, the exquisitely sensual fragrance creates a feeling of overall well-being, in the best tradition of aromatherapy.
---
Darphin Intral Redness Relief Soothing Serum
Could this be the best of the best Darphin products? A worldwide best seller, the Darphin Intral Redness Relief Soothing Serum is a gentle, soothing serum specifically developed to pamper sensitive, irritated, and redness-prone skin.
Formulated with an exclusive complex of three delicate but resilient flowers–hawthorn, peony, and chamomile–this serum calms and soothes the skin, reduces the appearance of redness and irritation, and provides a daily boost of protection against environmental aggressors.
---
Darphin Ideal Resource Youth Retinol Oil Concentrate
These capsules may be a relatively recent release from Darphin, but they've already conquered admirers all over the globe. Tiny (and biodegradable) air-tight capsules enclose precious retinol while preserving its potency, allowing the active to target the appearance of lines and wrinkles with maximum potency.
Natural oils of jojoba, sesame, macadamia, and argan complete the formula, creating a supple feeling and, at the same time, balancing the dryness traditionally associated with retinol products.
From the same range, Darphin also offers Renewing Pro-Vitamin C & E Oil Concentratecapsules, which may be used in the morning to complement the action of retinol and create a glowing, youthful complexion.
---
Darphin Stimulskin Plus Multi-Corrective Divine Eye Cream
With a luxurious velvety formula, this Divine Eye Cream brings your eyes a total anti-aging transformation. The formula is infused with potent collagen-boosting ingredients that create a firmer, smoother, and more lifted appearance around the eyes.
When applied in a draining massage, this opulent formula rejuvenates and decongests the eye contour area, minimizing puffiness, fading dark circles, and creating an overall brighter look: wide awake and ready to take on the day.
---
Darphin Lumière Essentielle Instant Purifying & Illuminating Mask
Like a spa treatment at home, the Darphin Lumière Essentielle Instant Purifying & Illuminating Mask lends your skin a healthy, radiant glow. Designed as a 2-step process, this treatment starts by unclogging pores and refining the skin texture with a purifying, Kaolin clay-based mask–which you will find on the white side of the jar.
Once you've completed this purifying step, look to the orange side of the jar to find a deeply illuminating mask. Infused with a blend of citrus fruits, hyaluronic acid, and vitamin E, this radiance-boosting mask will make dullness a thing of the past.
---
Interested in learning more about the best Darphin products for your needs? Then don't hesitate to explore the world of this nature-powered French brand in our shop.