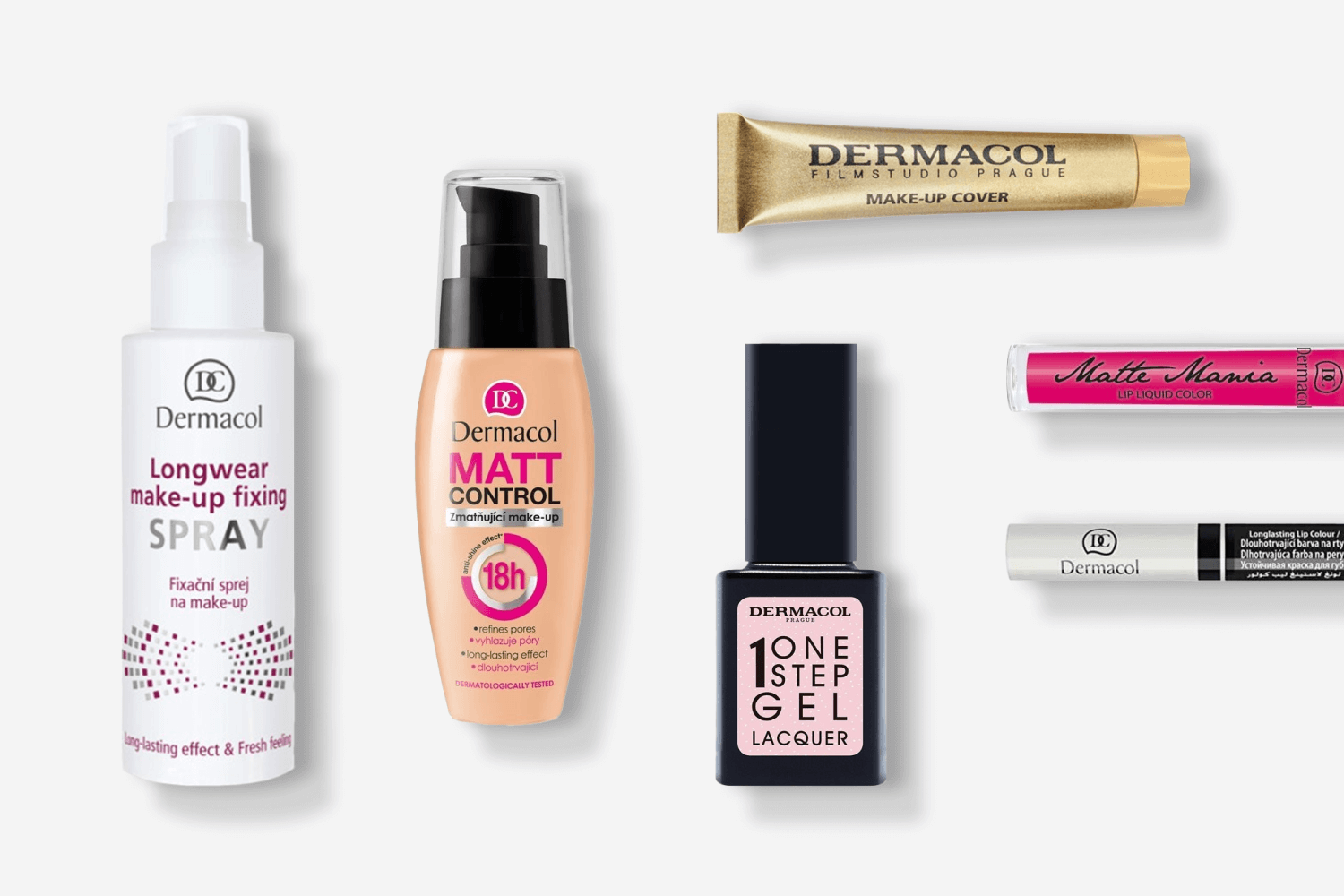 Born in the '60s, Dermacol entered the beauty world with its iconic high-coverage foundation and is since then a synonym for perfect skin. From Prague to the world, the brand has never stop expanded—both on the map and with new product categories like, like skin and body care! Today, we're focusing on the heart of the brand: makeup. Join us in exploring Dermacol's best makeup products!
---
On this post:
---
Dermacol: The Brand in Review
Top 9 Dermacol Products
We believe that you don't know a brand until you try its best-sellers! Here you'll find the best Dermacol makeup products, with formulas that will transform your makeup routine for good. From foundation to eye and lip makeup, there are winning makeup products in all categories.
Dermacol Make-Up Cover Foundation SPF30
Extreme coverage with a natural finish
Featuring 50% of pigments on the formula, this product leaves your skin looking as evened out as a foundation can. It erases discoloration, dark spots and even tattoos with waterproof resistance, so you won't need to consider touch-ups during the day. You can use it on the face and body, for everyday or special events—this is a Dermacol bestseller that you should definitely know!
---
Dermacol Acnecover Mattifying Powder
Compact & matte foundation for acne-prone skin
Oily and acne-prone skin defies the performance of any foundation, in a war that it's tough for a cosmetic to win. This compact foundation is up to the challenge, with a mattifying finish that won't disappoint you! By absorbing excess oil, this powder foundation guarantees that excess shine stays out of the picture. Use the sponge applicator to even out your complexion in a swipe!
---
Dermacol Long-Lasting Intense Colour Eyeshadow & Eyeliner
Eyeshadow & eyeliner, all-in-one
The favorite of this author, this eyeshadow stick delivers color in a practical presentation. It allows an error-proof application, with the definition of a graphic eyeliner and the smoothness of an eyeshadow. You'll find it incredibly intuitive to apply, and even easier to blend. It's quick and looks lovely! You can use it alone or under powder eyeshadow!
---
Dermacol Matte Mania Liquid Lip Colour
Matte & liquid color for the lips
For those who love highly pigmented liquid lipsticks, take a chance with this one. The formula offers a matte finish as well as a long-wearing result, with a performance that conquered bragging rights as one of the best Dermacol makeup products
---
Dermacol 16h 2-in-1 Longlasting Lip Colour
Shiny lipstick with rich color
Now you can have rich color, shine and long-wearing with the same lipstick. Well, technically, it's one lipstick, two formulas! This two-step lip product offers up to 16 hours of wear, with the first coat delivering all the color while the gloss side is responsible to add all the shine. You won't need to choose between shine and color with this one!
---
Dermacol Matt Control Mattifying Foundation
Liquid matte perfection
Perfect for enthusiasts of a matte complexion, this foundation grants 18 hours of shine control with a formula that's waterproof. It coats the skin with natural medium to high coverage, smoothing the appearance of pores and wrinkles while evening out the skin. Dermatologically tested and suitable for all skin types, this foundation is ready to boost your makeup game.
---
Dermacol 12h True Colour Eyeliner
Best eye pencil
An eye pencil needs to be two things: creamy and long-lasting! And that's precisely how we'd describe this pencil liner. Available in multiple shades, you may use it to highlight your eyes in any color you like. Thanks to the creamy texture, it applies like a dream and lasts up to 12 hours. It's extremely heat resistant, so you won't have to worry about your beautiful look migrating!
---
Dermacol Longwear Make-Up Fixing Spray
Best setting spray for everyday use
To keep makeup looking as good throughout the day as it does when freshly applied is no piece of cake—and that's why a makeup setting spray can be a true makeup savior! A few sprays over the face are all it takes to extend the longevity of your look, setting all of your makeup products for the day with a refreshing feeling.
---
Dermacol One Step Gel Lacquer
Best nail lacquer for a gel finish
If you like your nails to have a professional-looking gel finish without leaving home, check this! It applies vibrant color to your nails with each coat, delivering fabulous shine and color that last up to six days. The best part? It dries quickly and takes a lot for it to peel. Elevate your manicure game with this all-in-one, color and shine nail polish.
---
For more on extraordinary products on a budget, take a look at our suggestion of 14 products that won't break the bank.