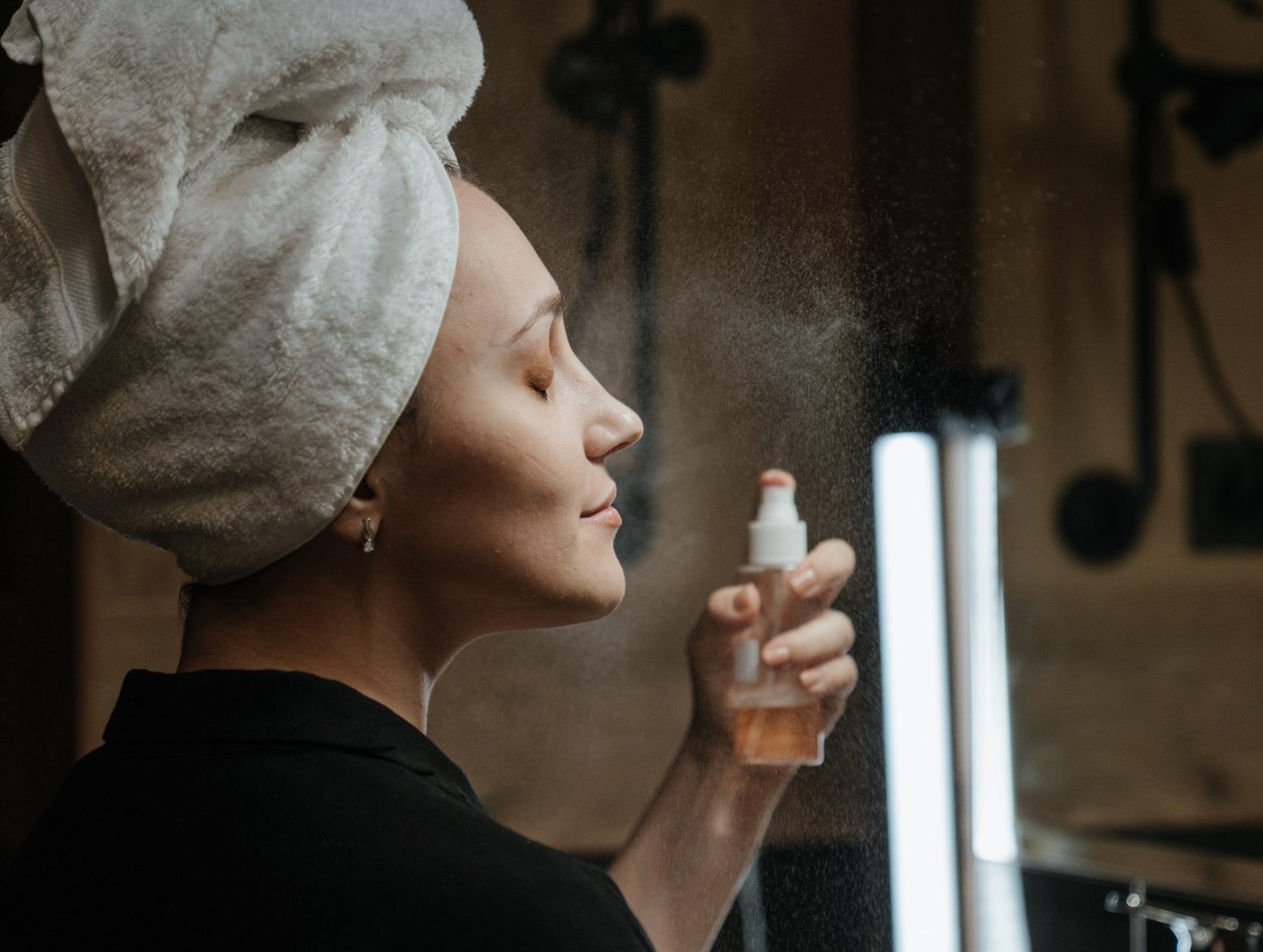 The proud look stamped on our faces after creating a fresh makeup look tends to fade as we look in the mirror a few hours later. Glamour, where did you go? The dream would be to keep that impeccable look throughout the day and, fortunately, we know just how to do that. Firstly, favor long-wearing, waterproof or smudge-proof makeup products, as they tend to look freshly applied for longer. Secondly, use products that are made to extend makeup wear, such as foundation, eyeshadow, and lip primers. Lastly, choose the best makeup setting spray for your skin type or preference!
Best for Oily Skin
The best makeup setting spray for oily skin is the one that keeps excess shine away for longer. This particular one offers a long-lasting matte finish result with a weightless as well as breathable feel on the skin. In addition, the formula is fragrance-free, vegan, and features soothing and antioxidant ingredients. Each spray grants that excess shine is away for good and your skin is protected at the same time!
---
Best for Dry Skin
Dry skin tends to look both dull and lifeless as the day goes by. Sometimes, it even drains the hydration out of your foundation and the skin looks patchy. In order to improve the longevity of makeup on dry skin, it is essential to prepare the skin with a replenishing moisturizer and/or hydrating primer. You may want to go one step further and finish your look with a moisturizing setting spray. In our quest for the best setting spray for dry skin, we're choosing this option: it is 100% natural, and it can also be applied throughout the day to refresh your skin!
---
Best for Sensitive Skin
There's no need to avoid makeup anymore just because you have sensitive skin. Makeup has come a long way, and now you can find an incredible offer of makeup specially designed for sensitive skin. Our choice of best makeup setting spray for sensitive skin not only offers a soothing action but also coats your skin with anti-aging ingredients. It feels lightweight, protects from external aggressions, and also keeps your makeup looking sharp all day!
---
Best Multi-Tasker for All Skin Types
This setting spray not only sets your makeup for good but also works as an excellent makeup primer. In order to achieve the best results, use it before and after applying your makeup. You may also apply it throughout the day to refresh your face, as it has a weightless texture that immediately dries out. With a vegan as well as alcohol-free formula, this setting spray is suitable for all skin types and preferences.
---
Best Scent
Featuring delightful notes of orange blossom, rose and rosemary coupled with grape, balm mint, and myrrh, this is an unmistakable winner for this category. Inspired by the youth elixir that was tailored especially for the Queen Isabella of Hungary, this product also wins the title of the best treat for your skin. Blending exclusively natural ingredients, this setting spray tightens the appearance of pores, sets makeup, and boosts the radiance of the skin at the same time.
---
Best Budget
This setting spray overcomes every challenge, even a tight budget. There's no chance of sweating your makeup out with this gym-proof and sweat-resistant setting spray that also comes with the advantage of an appealing price tag. In addition, it mattifies the skin to keep excess shine away and contains glycerin to replenish the skin with hydration!
---
It's never easy to find the best makeup setting spray for our specific needs, but now you've got some ideas on where to begin your search. Whether you're looking for a refreshing mist to finish off your natural look, or a sweat-proof spray to lock down your winged liner, we've got many, many more setting sprays in the shop. Happy spraying!