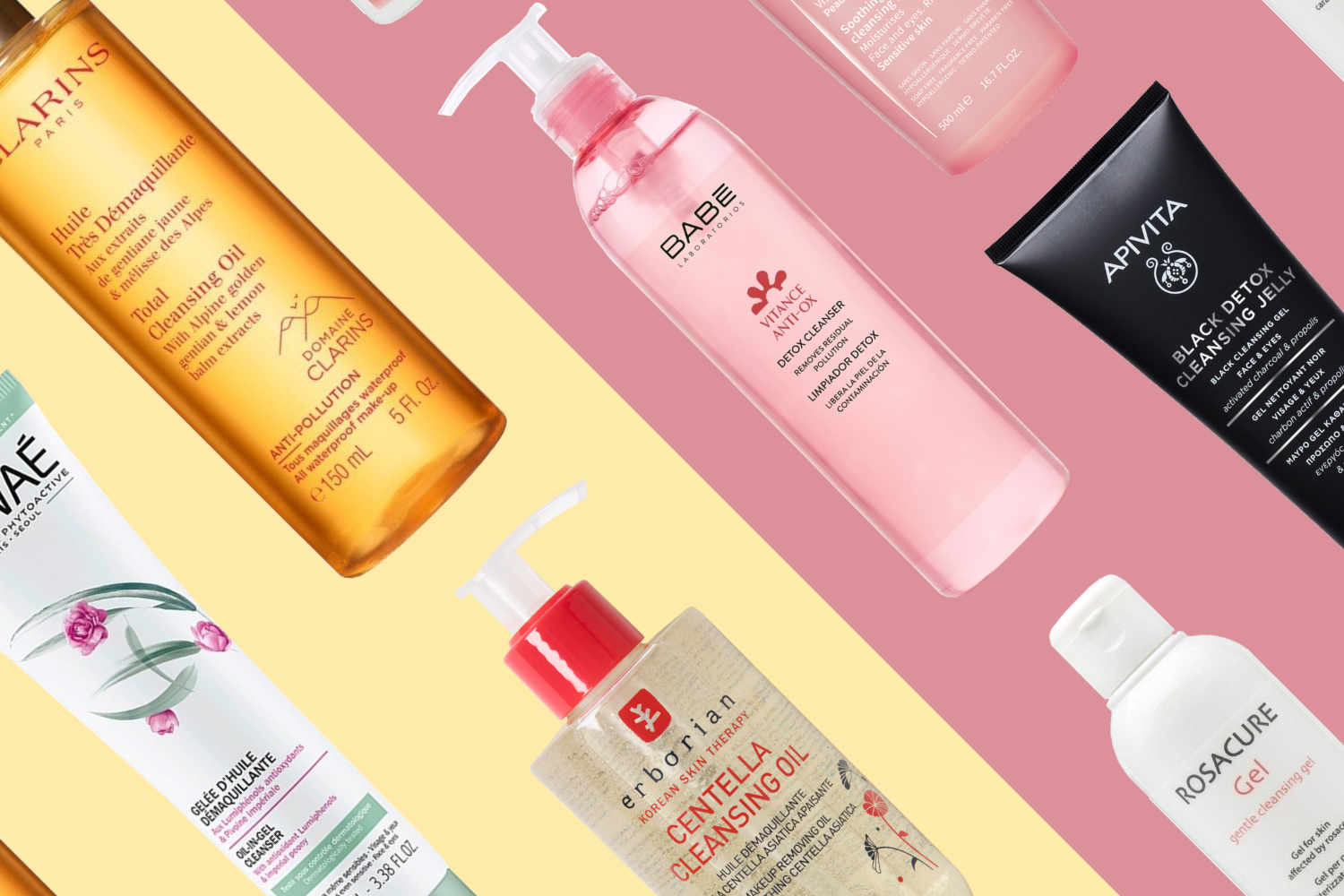 Double cleansing seems simple enough: use an oil-based cleanser to remove makeup and sunscreen, then follow with a water-based cleanser to ensure your skin is perfectly clean. However, we know it's not always easy to choose the best double cleansing products for your skin type. We're here to help you figure it out–and we've brought the whole Care to Beauty blog team. Keep reading, and we'll let you know the products each one of us uses for double cleansing.
The best double cleansing duo for each skin type
We're a small operation, here at the Care to Beauty blog, but we've got a lot going on with our skin. Between us, we've got dry skin, oily skin, various levels of sensitivity, redness and rosacea… you name it. We've also got very different preferences when it comes to brands and textures. The result? No two people use the same double cleansing products. In order to help you decide on the best double cleansing products for you, we're placing our favorites at your service.
Our double cleansing products for oily skin
Ana's choice
If you've got oily skin and love a good red lipstick, Ana will be right with you. Here's what she had to say about her double cleansing routine:
"After swearing I would never use anything other than cleansing balms, I discovered that I'm actually into cleansing oils. So the cleansing balms are gone and the oils are back in my life again. The new Clarins Total Cleansing Oil is actually pretty self-explanatory–it destroys any traces of makeup or sunscreen with very little effort. Although it has fragrance (and a very pleasant one) it didn't cause any troubles with my eye contour area, so I instantly became a fan. After properly rinsing it out, I do a quick cleanse with Bioderma Sensibio Cleansing Foaming Gel to make sure there are no traces of cleansing oil or impurities left."
---
Our double cleansing products for dry skin
Anistalda's choice
It can be a challenge to achieve serious makeup-removing power with formulas that are still gentle enough for dry skin. However, our Anistalda has more than figured it out:
"As someone who uses makeup on a daily basis, double cleansing is the one skincare step I can never skip. From waterproof mascara to stay-all-day lipstick, I always start my evening routine with a cleansing oil to ensure no trace of makeup will end up on my pillow. My favorite is the Erborian Centella Cleansing Oil. The soothing and hydrating formula is perfect to remove makeup and cleanse the skin while leaving it super soft and comfortable. For my second cleanser, I use the APIVITA Black Detox Cleansing Jelly. Besides the fun color and pleasant texture, this gel has powerful antioxidant properties which are essential to remove all impurities and fight the harmful effects of free radicals and pollution. All in all, it is a great way to reset the skin, leaving it fresh and ready for subsequent products."
---
Our double cleansing products for very dry skin
Rafaela's choice
Rafaela has dry skin and wants nothing more than to avoid that feeling of tight, over-cleansed skin. This is how she double cleanses:
"My skin could be described as paper-dry; however, because it's not sensitive, I don't usually struggle with finding skincare products. For my first cleanser, I like the JOWAÉ Oil-in-Gel Cleanser. Due to its soft jelly texture, this cleanser glides on so easily that it's actually become a fun step in my skincare routine; I'll even use it to do a little cleansing massage sometimes. For my second cleanser, I've found my match in the CeraVe Hydrating Cleanser Normal to Dry Skin. It's a simple, minimal cleanser that leaves my skin feeling clean, but not tight. I've tried many rinse-off cleansers over the years, but this is my favorite by far."
---
Our double cleansing products for sensitive skin
Sofia's choice
Sofia has sensitive skin and rosacea, but she won't let that get in the way of a flawless skincare routine. Here's how she keeps her skin balanced while double cleansing:
"I start my double cleansing with Pestle & Mortar Erase Balm Cleanser. I warm the product between hands and massage it on the face. As I apply it, it melts on the skin dissolving all of my makeup, including mascara. I love how its rich texture feels on my skin! It is comfortable and nourishing, yet somehow lightweight. Then, I use one of my Pestle & Mortar Double Sided Face Cloths to gently wipe away the product and all the makeup with it. Lastly, I damp my face slightly and apply Rosacure Gel Gentle Cleansing Gel. This gel is also comfortable, and manages to cleanse and replenish the skin at the same time. It thoroughly cleanses the skin without irritating my rosacea."
---
As you can see, we're all over the place with our choices–and we don't even stick to the same brands when picking first and second cleansers. Double cleansing is all about creating a routine that works for you, your skin type, and your concerns, so we hope our suggestions will help you find the best double cleansing products for your needs. If you'd like some extra options, feel free to visit our full selection of cleansers in the shop; we're sure you'll find your perfect match there!