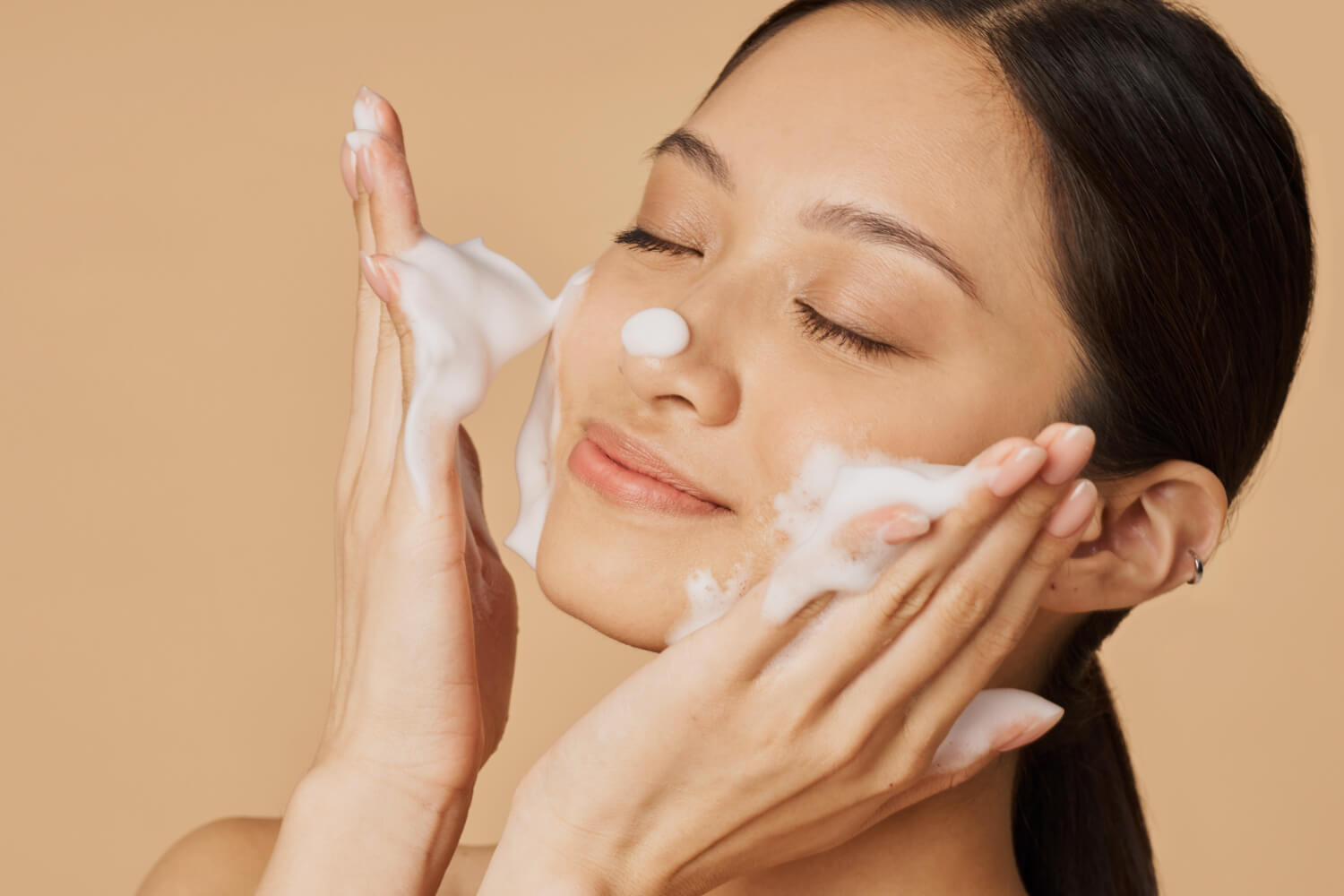 Double cleansing is a beauty trend that seems to be here to stay. However, we know it's not that simple to know how to double cleanse, or how to choose the best products for each step. Additionally, not everyone should actually double cleanse, so is it for you? We're here to help you figure out if you should double cleanse and, if so, what is the best way to do it.
What is double cleansing?
Double cleansing is exactly what the name states: cleansing your skin twice. Usually, this is what you do in the evening, before going to bed, and it is usually not recommended in the morning (unless you work shifts, then it's always when you're going to bed).
So, why do you need to double cleanse? Certainly, your gel or foam cleanser should be effective enough to cleanse your skin, right?
Actually, it's a bit more complicated than that, and here's why. Some products are formulated to stay on your skin—think about things like makeup or sunscreen. Because they are meant to endure, these formulas are usually water-resistant, sometimes even waterproof. What this means for you is that water won't be enough to remove them. You need an oil-based cleanser to evict them from your face; afterward, the second cleanser will make sure your skin is perfectly clean and ready to receive the rest of your skincare routine.
---
Should I double cleanse?
Opinions vary on this theme. On the one hand, you have those who state that practically everybody who uses makeup or sunscreen (and that should be everyone) needs to double cleanse.
On the other hand, some dermatologists state that skin that is prone to acne, rosacea, or other skin conditions should avoid double cleansing in order to reduce irritation.
Markedly, they all agree on one thing: the products you choose matter the most. If you have resilient skin, by all means, go forth. However, if you have sensitive skin, keep your cleansing routine minimal, with the least amount of manipulation possible. The better your products, the least you will have to work to remove impurities from your skin.
Gentle French pharmacy brands like Avène, La Roche-Posay or Uriage, which are dedicated to sensitive skin, may be great options for you.
---
Is double cleansing good for oily skin?
Double cleansing can benefit all skin types—but ultimately, it is up to you to know whether it suits your skin.
One of the biggest risks of double cleansing is that you may over-cleanse your skin, remove too many of its natural oils, and maybe even aggravate any skin concerns you may already struggle with. The easiest way to avoid this is to invest in gentle cleansers that leave your skin feeling comfortable and pampered, never tight or squeaky. There may be some trial-and-error here, as our team members have found over the years, but generally, we recommend staying away from very aggressive or "purifying" products when putting together a double cleansing routine. Think about it: if you're already cleansing twice, do you really need to scrub your face to bits using a harsh, abrasive gel cleanser? We don't think so.
Those with oily skin also tend to be fearful of the first step–in short, you may fear that cleansing your oily skin with oil will only add… more oil. This sounds reasonable, but let's not forget that the purpose of an oil cleanser is to break up makeup, sunscreen, and other impurities on the surface of your skin in order to make them easy to sweep away with water and a second cleanser. Your oil cleanser won't be on your skin for long–and in fact, when you wash it away, you will also be washing away a lot of accumulates impurities and excess sebum.
---
How to double cleanse?
The first step should always be the makeup/sunscreen remover. Likewise, this means that you should be using here a cleansing oil or balm. You use these by applying them directly onto your skin, massage, and then add a bit of water to emulsify the product. If you're using eye makeup, you're going for that unsexy panda look that means that all of your mascara and eyeliner have melted into the cleanser. Then it's time to wash off your cleanser, and you can do this one of two ways. Either flannel it off or add more water until all the cleanser has been washed away. Then, it's time for your second cleanser. This should be the cleanser that has the best ingredients for the skin and is the most convenient for you.
---
Can I double cleanse with the same cleanser?
In short, yes: you can double cleanse with the same cleanser if two different products feel a little heavy on your budget. If you do decide to do this, make sure your cleanser is a "first cleanser" (meaning, a cleansing oil or balm, or an oil-based cleanser that will be able to remove makeup and sunscreen with ease).
If all you're worried about is general impurities and/or pollution, then feel free to double cleanse with a "second cleanser", a gel or cream cleanser not meant for makeup removal. Just make sure you pick products that are suitable for your skin type, so you don't over-clean your face and end up with that dreaded tight and squeaky feeling.
---
Can I double cleanse with micellar water?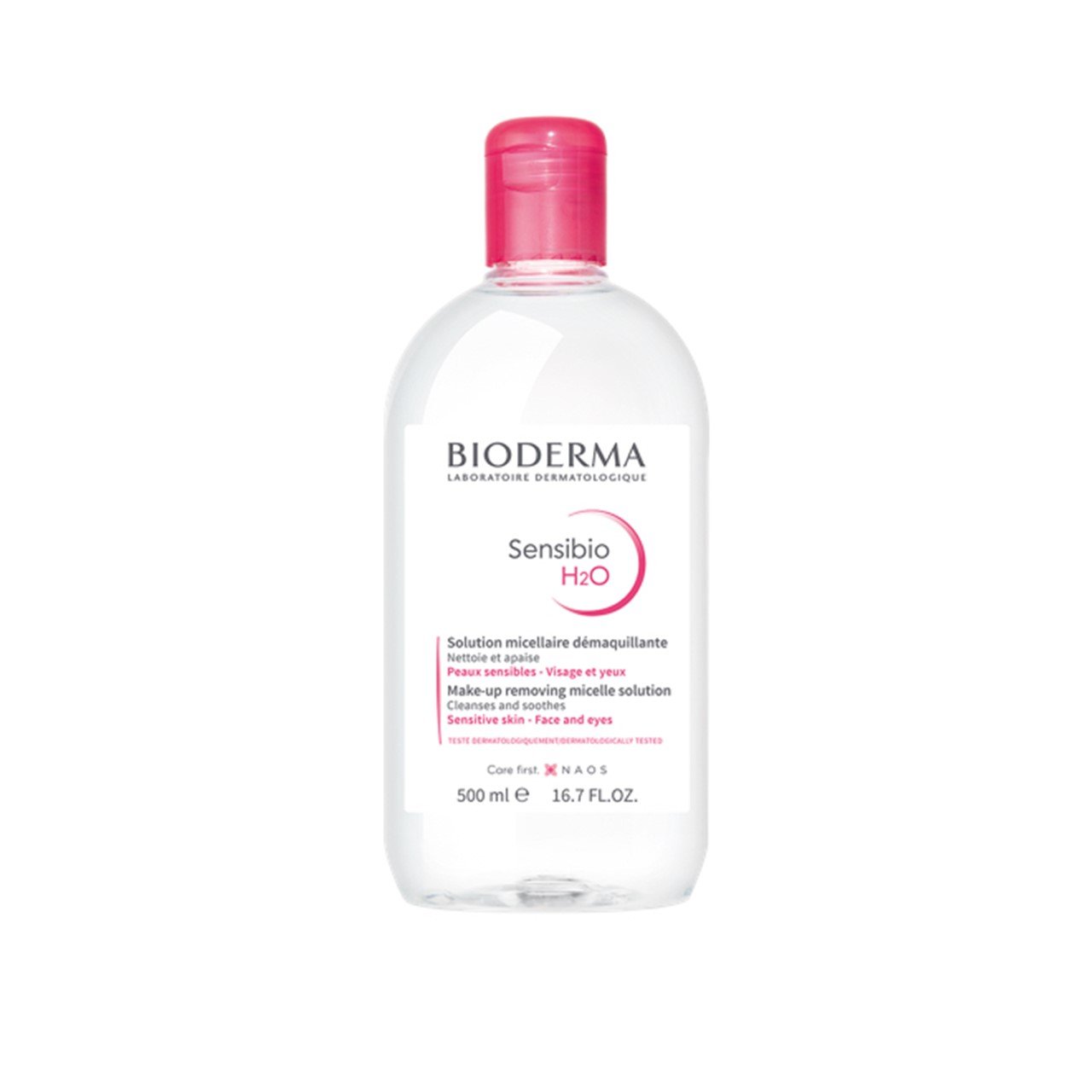 Bioderma Sensibio H2O Make-Up Removing Micelle Solution
If you're a fan of micellar water, you may be a little confused as to where to place it in your skincare routine. Let's take a step back, then, before we move forward. Micellar water is a skin cleanser that removes dirt and oil from your skin through the action of micelles. And what are micelles, you ask? Well, micelles are chemical structures, tiny spheres made up of multiple surfactant molecules. Due to their structure, micelles can attract, capture, and lift away all sorts of impurities from the surface of your skin (think makeup and sunscreen residue, pollution particles, etc). In theory, you can see how micellar water can play the role of your first oil-based cleanser.
Now, one of the greatest selling points of micellar water is that it doesn't need to be rinsed off. However, there are reasons why you may want to: maybe the micellar water you are using leaves a film-like residue on the skin, or maybe you want to make sure your skin isn't in contact with cleansers for any more time than strictly necessary. In that case, you can follow your micellar water with a gentle rinse-off cleanser, to help you sweep away all the impurities once and for all.
Did you get that? In short, here's how to double cleanse with micellar water: apply your micellar water as usual, then follow with a rinse-off cleanser of your choice.
---
Do I have to use products from the same brand??
Not at all. You can mix and match the products that suit you the most–everyone in our team does! The two products don't need to be from the same range or brand. However, if you feel a little overwhelmed, it may be easier to pick from a brand with an established double cleansing regime. Here are two examples:
La Roche-Posay recommends using the bi-phasic La Roche-Posay Respectissime Eye Make-Up Remover as a first cleanser around the eye area, then following with a gentle, more versatile cleanser adapted to your skin type: for example, the La Roche-Posay Effaclar Purifying Foaming Gel if you have oily skin, or the La Roche-Posay Toleriane Caring Wash if your skin is on the dry and sensitive side.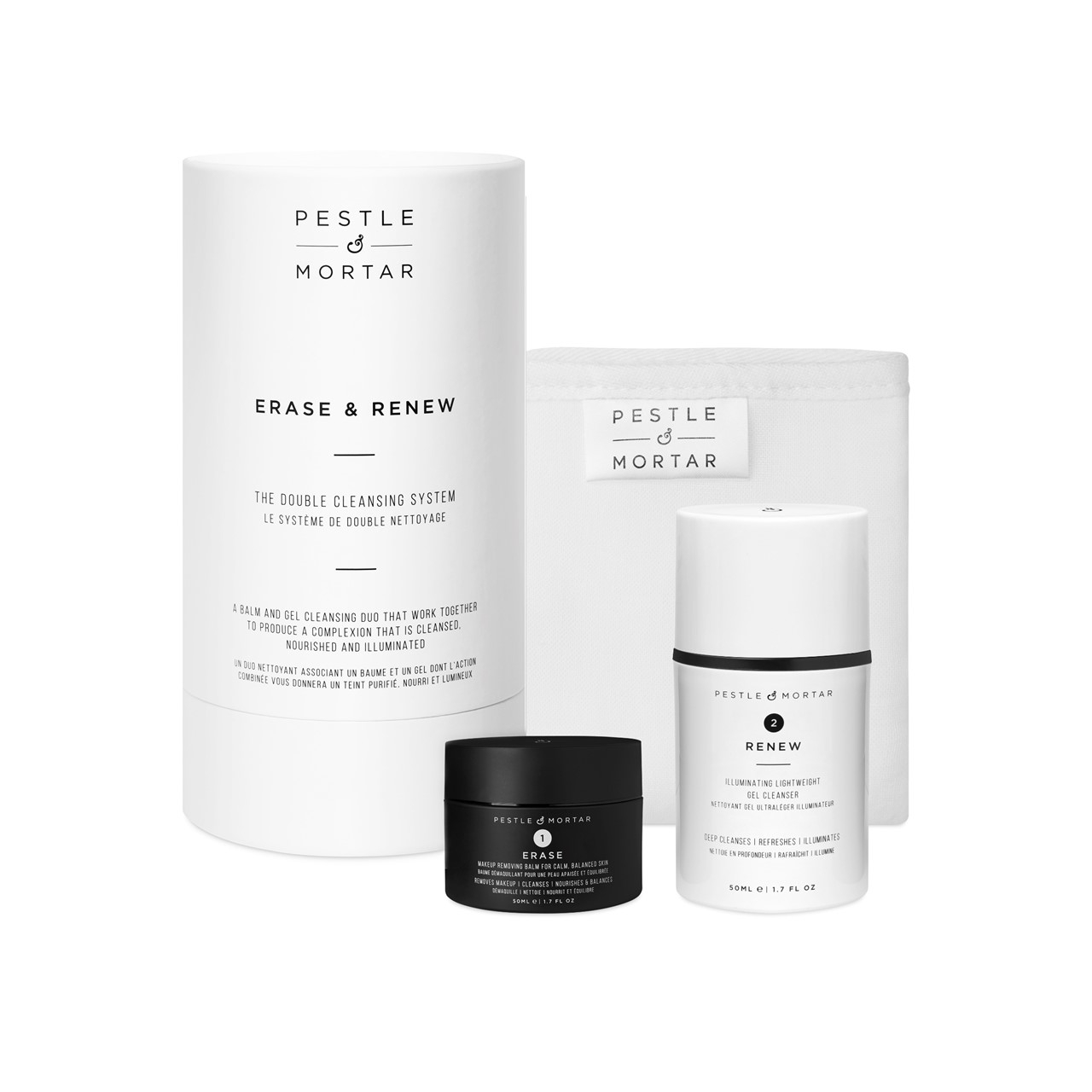 Pestle & Mortar Erase & Renew Double Cleansing System
Meanwhile, brands like Pestle & Mortar make it easy for you to figure out how to double cleanse. They offer the complete double cleansing ritual in a handy pack–in this case, the Pestle & Mortar Erase & Renew Double Cleansing System–, so you don't have to make any complicated decisions on your own.
If you'd like to try mixing-and-matching products from different brands, we can help. Our team has put together a list of tried-and-tested double cleansing duos that really work.
---
Should I double cleanse in the morning and evening?
That is between you and your skin; but generally, we don't find it necessary. Double cleansing is most beneficial at night, because that is when you will have a lot of makeup and sunscreen to remove. In the morning, a quick wash with your rinse-off cleanser should be enough.