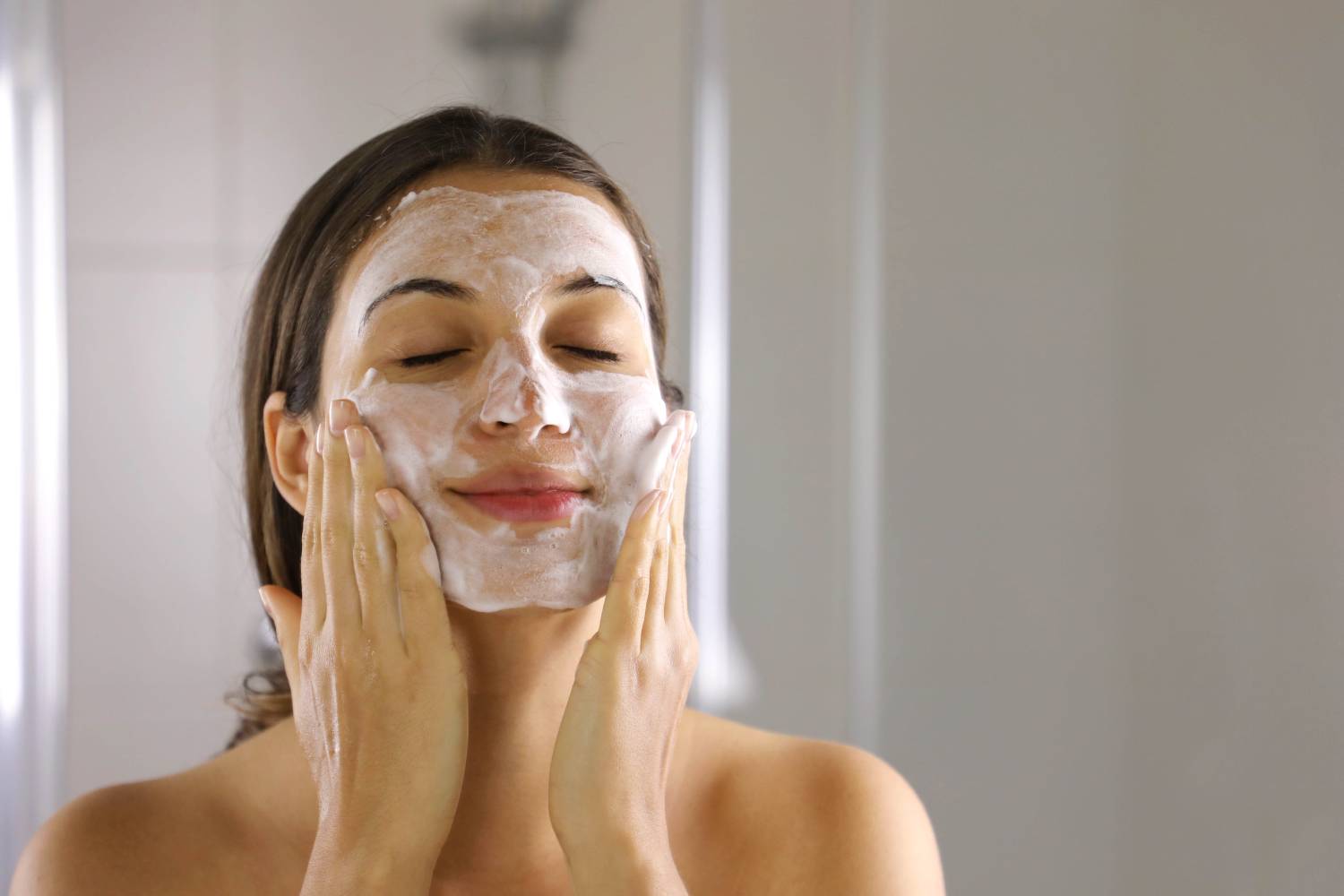 Our skin is naturally subject to many aggressions on a daily basis: wind, cold weather, pollution, rain, make-up, shaving, and the regular touch of our tainted hands. And that's why the first step in a daily skincare routine should always be to properly cleanse it. A facial cleanser is essential to remove the dirt and dead cells that pile up on your skin before going any further with your care regimen. In order to choose yours, you'll need to learn all about the different types of cleansers.
As it happens when you're choosing any other skincare step, it's important that you find a facial cleanser that is not only suitable for your needs but also that you enjoy using! To find the ideal fit, you should start by accessing your needs. You may need a cleanser that removes makeup, or maybe a formula that is particularly gentle for your sensitive skin. The important thing is to identify your personal needs and take a look at formulas that master it! Another key point is… the texture! If you have a strong preference for cleansing without rinsing, then probably a foam is not ideal for you. Each type of cleanser comes with its unique texture and application recommendation, and it's important to note which would best suit your preferences. So, which types of cleanser would suit your preferences and needs?
---
On this post:
---
Cleansing balms & oils
Cleansing balms and oils are types of cleansers that have been in the spotlight over the last couple of years, with their incredible cleansing power finally acknowledged. On their own, they allow a pretty complete cleanse, but they're also perfect as the first step of double cleansing! Cleansing balms and oils work their way through makeup and melt it in seconds, making sure that there's no makeup residue (or any other residue!) sitting on your skin after cleansing. We have a few favorite cleansing oils and balms of our own, and you're welcome to check it out for ideas.
Pros of cleansing balms & oils
Competent removal of face and eye makeup as well as sebum and sunscreen residue;
Melting texture that feels nourishing and allows face massaging.
Cons of cleansing balms & oils
Most of the formulas work best as a first cleanse, requiring a second cleanse with another product to feel completely clean;
Most formulas require using a cloth to remove the product.
---
Cleansing creams, lotions or milks
This category of facial cleansers help to keep the skin moisturized while removing dirt from your skin, thanks to their rich milky texture. The formulas feel melting on the skin without feeling oily or greasy, so they're a great alternative if you're afraid of trying cleansing balms and oils. Resembling a body lotion when it comes to presentation, they allow cleansing to be just as comfortable as replenishing the skin with cream—which makes it the perfect texture for dry skin types. You can use them with a cotton pad or apply them directly on the face, depending on the recommended application of the one you end up choosing!
Pros of cleansing creams, lotions or milks
Effectively removes dirt, sunscreen and makeup without feeling oily;
Allows a gentle cleanse, perfect for sensitive skin.
Cons of cleansing creams, lotions or milks
Requires using a cloth or cotton pad to finish off the cleanse;
Some people feel the need of rinsing off to feel the skin completely clean.
---
Gel cleansers
If facial cleansers had a face, it'd probably be the gel cleanser to show! Also known as face wash, this type of cleanser may or may not create a cleansing foam, but it'll always require a good rinse. It's basic and uncomplicated, and we bet everyone reading this has already tried one. Even though we call it gel cleanser, it may come in textures that may vary from a cream to a gel. They're typically loved by those with combination and oily skin types, but you'll find formulas for all. For shopping inspiration, explore our favorite face washes and give them a try.
Pros of gel cleansers
Deeply cleanses sunscreen and impurities;
Leaves the skin feeling refreshed.
Cons of gel cleansers
Most products in this category are not formulated to remove makeup;
Some formulas are too stripping for dry and sensitive skin types.
---
Foam cleansers
Foams are tingly, foams are fun! Incredibly refreshing, cleansing foams leave the tube already activated and ready to massage. It manages to get out all the impurities that are sitting on your skin, leaving it with a soft feel. Cleansing foams share a lot of features with the cleansing gels, but end up being much more amusing. Again, this is a great texture for people with combination or oily skin types, yet all can love it. If you like light textures, this is a type of cleanser that you should give a try!
Pros of foam cleansers
Feels very lightweight and refreshing on the skin;
Allows a quick rinsing cleanse.

 
Cons of foam cleansers
Most products in this category are not formulated to remove makeup;
Can be stripping for dry and sensitive skin types.
---
Cleansing bars
A cleansing bar may seem like an obvious or practical choice to many of us. Although cleansing bars are, in fact, quite an effective type of cleanser, some formulas containing soaps tend to remove the natural oils that are part of the skin's natural barrier, and may leave your face feeling a little dry and vulnerable. You may look for syndets (soapless cleansing bars) for a much gentler option in the exact same presentation. To tell a soap apart from a syndet, you'll have to read the description of the product and find if it mentions not containing soap on the formulation. There are incredible options for both, like Uriage Eau Thermale Solid Cleansing Cream featuring the unique Uriage Thermal Water Nivea Naturally Clean Radiance Face Cleansing Bar makes for a fantastic soapless cleanser.
When it comes to sustainability, cleansing bars usually are more interesting than any other liquid options, with minimum use of space for transportation, low or no use of water and small packaging. If you're interested in knowing more about that, then you should take a look at how we talk about sustainability at Care to Beauty.
Pros of face soaps
Compact for travel;
Intuitive use for skincare newbies;
Leave the skin feeling deeply cleansed.
Cons of face soaps
Some formulas (containing soap) are too harsh and may strip your skin.
---
Micellar water
One of the most effortless of cleansers, micellar water has a huge fan base that swears by it. It removes makeup and cleanses efficiently, leaving the face feeling fresh in one single step. In addition, you'll find so many options that there's always something for you! For example, if you fancy fragranced skincare, you'll love options such as Sesderma Sensyses Cleanser Lightening. On the other hand, if your skin is sensitive to perfume, then something like the iconic Bioderma Sensibio H2O Make-Up Removing Micelle Solution should be a better fit. We have an entire article on what it is and how to use micellar water that you may find useful to learn more!
Pros of micellar water
Removes makeup and cleanses the face at the same time;
Leave the skin feeling fresh without any residue (except some bi-phasic micellar water formulas).
Cons of micellar water
---
Who would have thought that there's so much to know about types of cleanser? The skincare world is not that easy to navigate for those without in-depth knowledge. Follow our Ask a Pharmacist column to help you put together a skincare routine based on specific needs.