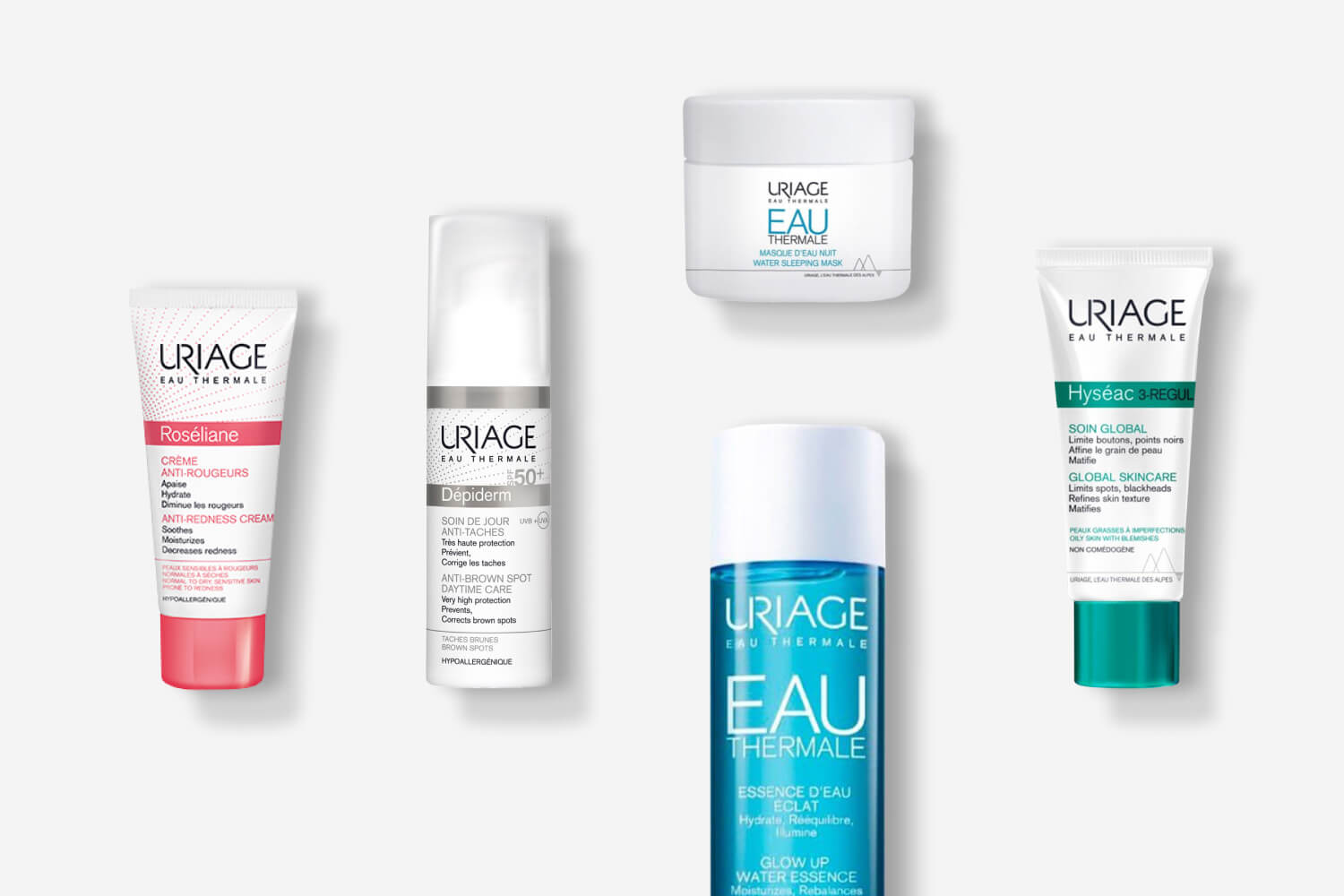 Thermal water is the heart of the French brand Uriage. With multiple properties, this hydrating and also soothing water brings the protective force of the French Alps to your daily skincare routine. Incorporating this natural and pure water into innovative formulas, Uriage is certainly a brand to consider when you're looking for dermatological products to care for and protect your family's skin on a daily basis. The best Uriage products are versatile enough to answer different skin needs. Ready to discover the best Uriage has to offer?
---
On this post:
---
Uriage: The Brand in Review
Top 8 Uriage Products
From the most unassuming lip balm to the most put-together anti-redness treatment, Uriage products target common skin issues through the soothing properties of Uriage Thermal Water. Here are some of our favorite Uriage products:
Uriage Eau Thermale Glow Up Water Essence
Best to boost hydration and radiance
We had to start with the product whose star ingredient is Uriage Thermal Water. Bringing all the power of its unique mineral composition, this essence is perfect to strengthen the skin barrier and keep moisture within. Enriched with hyaluronic acid and a prebiotic, it not only hydrates and reinforces the skin but also plumps the complexion. Its unique water texture blends perfectly with the skin and quickly restores a supple and radiant look to the complexion.
---
Uriage Eau Thermale Water Sleeping Mask
Best for thirsty and tired skin
Continuing our hydration journey, this overnight mask is a must-have if your skin is in desperate need of both comfort and hydration. It will basically allow you to give your skin a real "Thermal Bath" moment! With a refreshing jellified texture, it will immediately comfort and soothe the skin. And with a Hydro-Thermal Complex, this mask will provide long-lasting hydration and maintain optimal moisture levels. Returning suppleness and radiance to dull and tired skin, this water mask lends the complexion a true "8 hours of sleep" look in the morning.
---
Uriage Xémose Lipid-Replenishing Anti-Irritation Cream
Best for very dry and atopic-prone skin
But if your struggle is with the discomfort and itching associated with extreme skin dryness look no further. Specially formulated for very dry and atopic-prone skin, this nourishing cream has both an instant and long-lasting action. With the Chronoxine patent, this formula immediately soothes itching sensations. And with unique actives that, of course, include thermal water, it helps rebalance and strengthen the skin barrier bringing the skin long-lasting comfort.
---
Uriage Bariéderm Cica-Lips Protecting Lip Balm
Best for both dry and chapped lips
And what about dry and chapped lips? If your lips are constantly exposed to external aggressions such as cold weather, constant air conditioning, or even side effects due to medication, Uriage has the perfect lip balm to both repair and protect the lips. Offering a triple-action, this balm is able to not only help regenerate and soothe the lips but also insulate the skin surface keeping your lips nourished and protected.
---
Uriage Hyséac 3-Regul Global Skin-Care
Best for both oily and acne-prone skin
This Uriage daily moisturizer is the "all-in-one" product for those who struggle with blemishes and also excess oil. With a powerful combination of active ingredients, it targets multiple concerns and acts as a global skincare product for oily and acne-prone skin. It limits blackheads and spots, tightens the pores and smoothes the skin, and also regulates sebum production. All in all, it helps refine the skin texture and purify the skin, all the while lending the complexion a flawless matte finish.
---
Uriage Roséliane Anti-Redness Cream
Best for redness and rosacea-prone skin
Specially formulated to inhibit the key factors that trigger inflammation and redness, this daily moisturizer is perfect to comfort and protect redness and rosacea-prone skin. It not only repairs the skin barrier and strengthens vascular walls but also protects and soothes the skin fortifying its immunological barrier. It immediately comforts the skin upon application leaving it perfectly hydrated and soft.
---
Uriage Depiderm Anti-Brown Spot Daytime Care SPF50+
Best for the daily protection of hyperpigmented skin
Sunscreen is always a must-have in any skincare routine. To begin with, it is the best anti-aging product. But it is also a powerful ally when it comes to controlling certain concerns. If you're struggling with dark spots, sunscreen is indispensable on your skincare routine. Uriage Depiderm Anti-Brown Spot Daytime Care SPF50+ will not only help limit the photoaging effects on the skin but also prevent the formation and reappearance of dark spots. It is, therefore, the ideal sunscreen to help daily protect and unify hyperpigmented skin.
---
Uriage D.S. Regulating Anti-Dandruff Lotion
Best to both purify and soothe the scalp
The uniqueness of Uriage Thermal Water also allows Uriage to take care of your scalp. Specially formulated to reduce both itching and irritation on the scalp, this daily use lotion will help the scalp regain its balance and health. With an essential oil, it will eliminate flakes. And with a patented technology along with thermal water, it will purify and also soothe the scalp. All in all, it will reduce discomfort and eliminate dandruff helping the scalp regain a healthy appearance.
---
So, now that we've introduced you to our top 8 best Uriage products, are you closer to adding this iconic French brand to your routine? If you'd like to keep looking, make sure to explore our full selection of Uriage products in the shop!