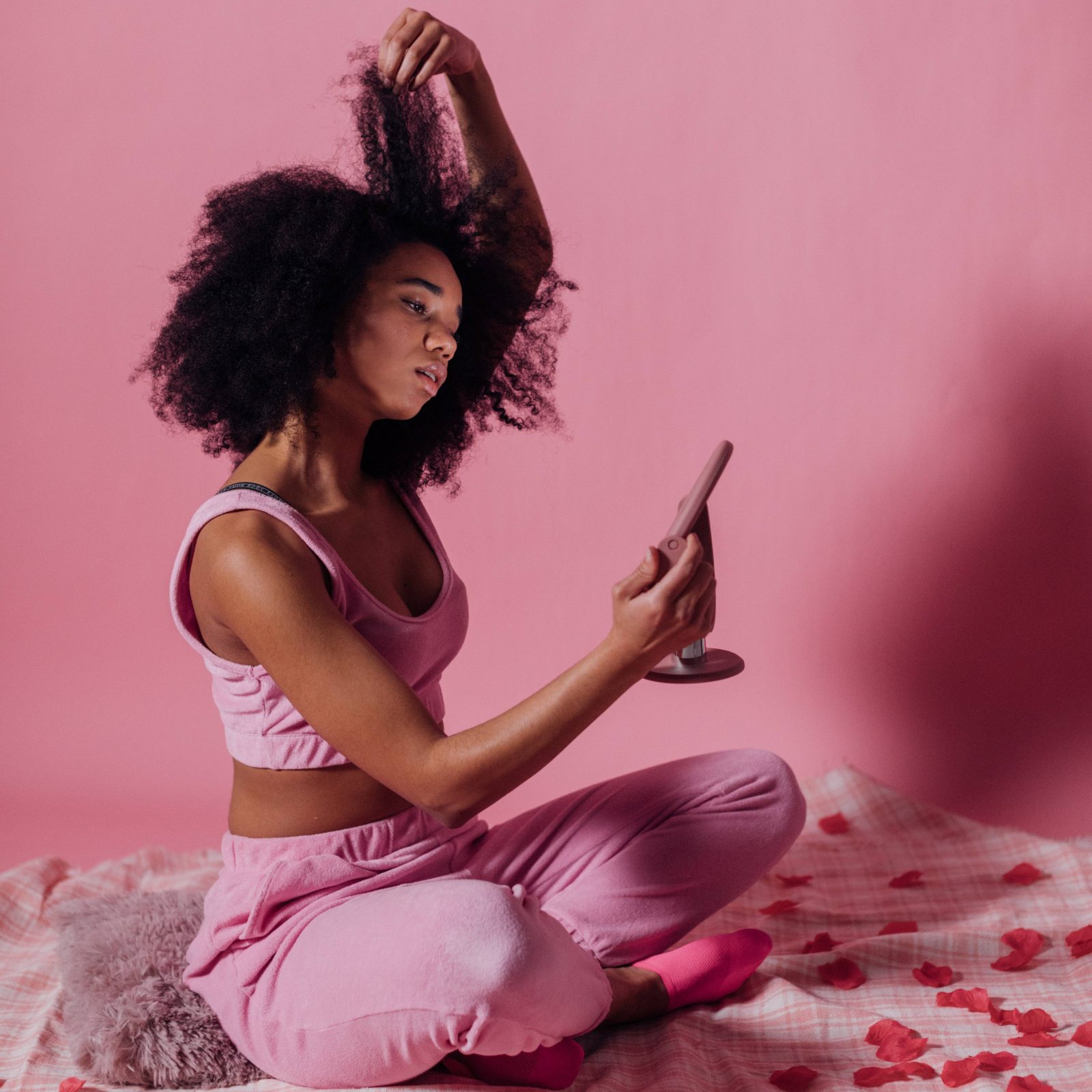 If you're on a journey where the final destination is a happy and healthy scalp, then let us be your guide. You may even have a good time while getting there! If there's a real possibility of you having one or more of the listed scalp issues, the good news is that all of them come with professional assistance. You may combine treatments to soothe and repair the symptoms as well as to bring your scalp back to balance. Join us for a quick ride through our best scalp serums and treatments!
---
Itchy scalp
Itchiness is a symptom that may or may not be linked with scalp pathology. It may be a consequence of simply having a sensitive or reactive scalp, or it may be one of many other symptoms that also need to be addressed. It's important to understand if it happens as a consequence of any other issue to find out if you need more than only an itchy scalp treatment. We propose nothing less than the best shampoo for itchy scalp as well as a treatment serum. Whether you use them alone or combine them with other targeted treatments, one thing is for sure: these products help to reduce itchiness, providing an immediate relief that is more than welcome!
---
Dry scalp
Your scalp feels weakened, unbalanced and dry, in need of an urgent rescue to bring back comfort. Our solution is a powerful duo of the best shampoo for dry scalp and rebalancing dry scalp treatment. Featuring essential oils and botanical extracts, both the shampoo and concentrate manage to replenish dry scalp with comfort. Choose your favorite or combine them to energize, revitalize and fortify both the scalp and the hair.
---
Oily scalp treatment
Oily scalp, oily roots! It's difficult to run away from oily roots if your greasy scalp gives you no break. This probably leads you to wash your hair more frequently than you would otherwise, and that's why it is important to have the right products at hand. It's key to purify and rebalance the scalp without disturbing its delicate balance and without ending up drying out the ends of the hair. Our suggestion is simple! All you need to do is to apply the purifying pre-shampoo on the dry scalp before washing. Then, use a shampoo for oily roots and dry ends to gently rinse off excess sebum and oil without compromising the health of your hair.
---
Scaly scalp
Most of us are not too keen on the scaly scalp look, with dry dandruff traveling from head to clothing. If untreated, it won't go away that easily. That's why we suggest you a duo of shampoo and lotion, to go big or go home! The lotion is a great complement to anti-dandruff shampoos, relieving itchiness, discomfort and most importantly, reducing the formation of dandruff. At the same time, the shampoo prevents and treats dry dandruff crisis, strengthening the scalp cells' bond to avoid desquamation.
---
Scalp eczema
Eczema often sprouts on an unbalanced, dry and sensitive scalp. That's why we need a gentle cleansing helper, highly effective in eliminating impurities yet extremely gentle to the scalp. Made to care for sensitive scalps, this Fanola shampoo cleanses away any impurities while also soothing irritation and redness. If that's not enough to please your eczema, you may need an SOS assistant like the A-Derma Cutalgan Ultra-Calming Refreshing Spray. This hero calms itching, redness and discomfort on the face, body and scalp!
---
Scalp seborrheic dermatitis
If you're struggling with oily dandruff, then you know the true value of a complete seborrheic dermatitis treatment. This duo works together to fight persistent dandruff as well as to minimize symptoms of discomfort. Providing a soothing action and contributing to minimizing inflammation, these formulas help not only to eliminate dandruff but also to prevent their recurrence.
---
Psoriasis on the scalp
Now it's time to find out how to soothe the psoriatic scalp. We need nothing less than an effective treatment to fight dryness and visible plaques, all the while relieving discomfort, itchiness and redness. In order to meet such a demanding request, we need the best products! Combine the shampoo with complementary care to provide the scalp with anti-inflammatory properties as well as with a keratolytic action. The result? It not only reduces skin thickness but also helps to reduce the appearance of flakes to a minimum!
---
Now that you've found the best product or the perfect product combo for you, remember that treatment shampoos are only supposed to be used three times a week and you'll need a frequent use shampoo if you wash your hair more frequently. As the list of scalp issues doesn't obviously end here, let us recommend our more comprehensive guide of the best products to tackle dandruff as well as our suggestions of the best products for hair loss.