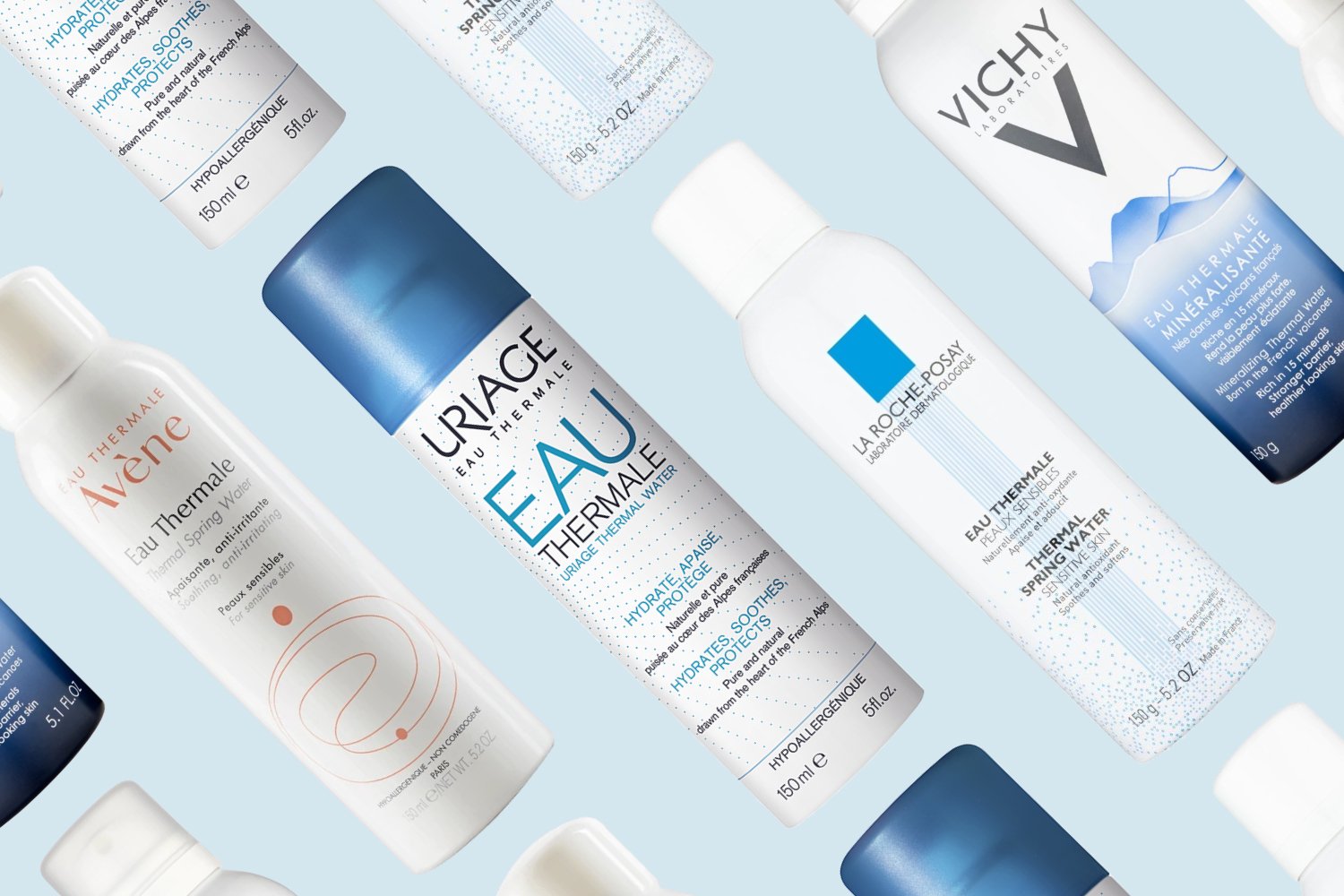 If you're a fan of French pharmacy skincare, you've probably heard of thermal spring water. You may even be familiar with the little pressurized cans of the stuff, those trusty skincare elixirs favored by everyone from it girls to professional makeup artists. But do you know how to use thermal spring water, and how best to incorporate this French beauty secret in your skincare routine?
If not, keep reading. We're here to answer all your questions about thermal spring water. What is it, what is it for, and what will it do for your skin?
On this post:
What is thermal spring water?
Thermal spring water is naturally occurring water (that's right, straight from the earth!) with an unusually high mineral content.
As thermal spring water flows underground to reach the surface of the earth, where it will emerge up from a natural hot spring, it passes through rock formations that are naturally rich in minerals and other powerful components. These components are dissolved into the water, enriching it with specific properties that may often translate into health benefits. This is why natural hot springs are such a popular tourist spot!
The goods news is that you don't need to visit a hot spring to benefit from the properties of thermal spring water. Pure, clean, and full of health benefits, this water can be collected, bottled, and used as part of your skincare routine.
We love the thermal waters from Avène, La Roche-Posay, Vichy, and Uriage. Sealed in pressurized cans, these face mists embody the best of French pharmacy skincare, and they're always ready for applications. At any point throughout the day, you can simply hold the can upright, spray, and benefit from the soothing properties of thermal spring water.
---
What are the ingredients in thermal spring water?
Thermal spring waters tend to include minerals such as chlorides, sodium, potassium, calcium, and magnesium, all of which are naturally present in the skin, but there will be differences between brands. The content of a particular formula depends on where the water comes from. For this reason, you should always look into the origin and composition of the thermal spring water you are adding to your beauty routine.
Avène Thermal Spring Water, for example, features a 1/2 ratio of calcium to magnesium; it is also rich in silica and trace elements. La Roche-Posay Thermal Spring Water, on the other hand, is naturally rich in selenium.
---
Are there benefits in using thermal spring water?
Thermal spring water is the perfect complement to any skin care routine. For this reason, it's important to keep in mind that thermal spring water will not, in and of itself, treat health problems or severe skin conditions.
Now that we've cleared that up, here's what thermal spring water can do: it can offer calming, soothing, and anti-inflammatory effects. If you struggle with acne, eczema, or rosacea, and your skincare routine is all about using products and ingredients that keep irritation at bay, thermal spring water may be a good option for you.
Thermal spring water is also hydrating; it can make your skin feel softer, supple, and more comfortable throughout the day. Not to mention it's also incredibly refreshing. Here at Care to Beauty, we're big fans of the travel-sized bottles of thermal spring water, which we can keep nearby and spritz throughout the day–even at our desks!
---
How to use thermal spring water on the skin?
Thermal spring water is incredibly easy to apply: just spray it on your skin, and you'll be good to go. It's also just as easy to incorporate into your skincare routine. Here are some of the many ways you can apply thermal spring water on your skin:
Spray it on first thing in the morning in order to awaken your complexion and smooth away pillow creases;
Apply it to puffy eyelids to refresh the area and restore a feeling of comfort;
Use thermal spring water as a toner, spraying it on after cleansing, but before moisturizing your skin;
Use it as a makeup setting spray;
Throughout the day, mist your face with thermal spring water to leave it feeling fresh and soft
Spray it on the skin after hair removal, in order to minimize redness and irritation;
In the evening, after removing makeup, apply some thermal spring water to reset your complexion.
---
Can you use thermal spring water as a toner?
Yes, you definitely can! If your skin feels a little dry and tight after cleansing, a spritz of thermal spring water will help you restore a sense of comfort and provide much-needed hydration. Mist your face, enjoy the refreshing feeling, and then proceed with your skincare routine as usual, layering on your serum or moisturizer.
---
Can you use thermal spring water on oily and acne-prone skin?
Thermal spring water is safe for all ages and all skin types: it's the true do-it-all of the skincare world. Oily and acne-prone skin types may actually benefit from thermal spring water due to its soothing properties, as it will minimize the redness and irritation that is often associated with acne.
---
Are there skincare products based on thermal spring water?
Yes! Nowadays, you can also find thermal spring water as an ingredient in skincare. French brands Avène, La Roche-Posay, Uriage, and Vichy all incorporate this calming ingredient in their formulas, so you can benefit from its properties in combination with other skincare actives. Look to these French pharmacy brands for guidance, and you will find no shortage of skincare products infused with thermal spring water.
---