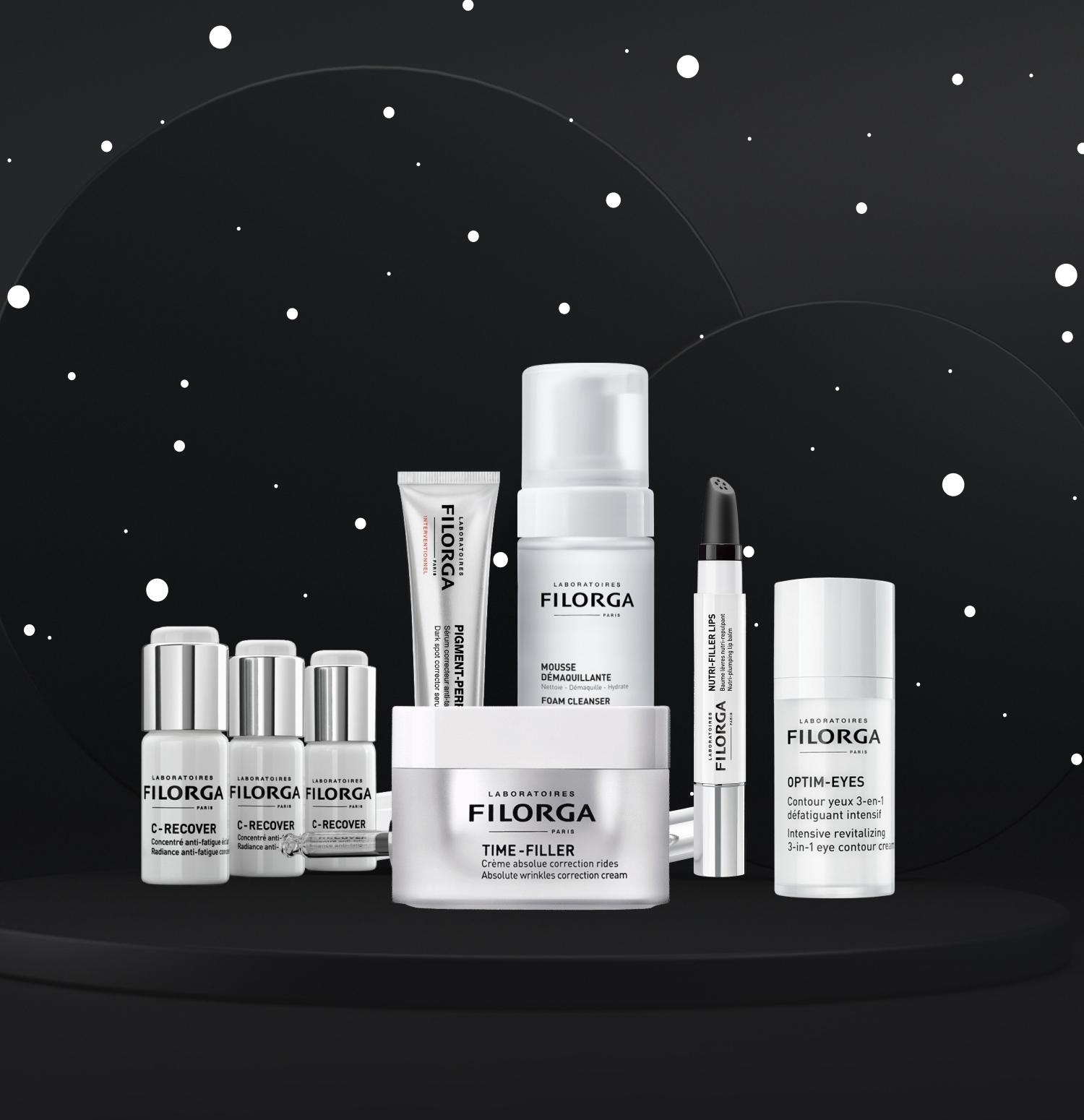 Filorga has long been known as a very scientific brand. Created in 1978 as the very first French laboratory of aesthetic medicine, Filorga developed several products used by the experts in the field. In 2007, the brand decided to provide an at-home range, so those who wanted to experience the very best of science could do it from the comfort of their homes. Those are the products we're about to discuss; are you ready to get to know the best Filorga products out there?
Filorga Optim-Eyes Eye Contour Cream
Filorga Optim-Eyes is the bestselling eye contour cream from Filorga. This intensive decongesting eye contour care offers a triple action effect. Not only does it fill and smooth fine lines, it also reduces puffiness and minimizes dark circles.
With a refreshing effect as well as a powerful hydrating action, this fluid formula is a perfect match for the hectic lifestyle of women in their 20s and 30s. If you need a little help reducing signs of fatigue, this is the eye cream for you.
---
Filorga Meso-Mask Smoothing Radiance Mask
If we had to choose one product from Filorga that's a real crowd-pleaser, we would choose the Filorga Meso-Mask. Indeed, this is one of those iconic products, well-known by brand users, that provides an instant glow.
With its smoothing as well as filling effect, this mask is the perfect skincare ally for special events, when you want to look your very best.
---
Filorga Anti-Aging Foam Cleanser
What's a skincare routine without a multi-tasking cleanser? This Filorga Anti-Aging Foam Cleanser is a luxurious make-up remover that gently cleanses the skin while hydrating it at the same time.
Presented in a practical pump bottle, this product features a unique soft mousse texture that gently wipes away impurities, unveiling only silky soft skin. Can you think of a better way to start your skincare routine?
---
Filorga Time-Filler Eyes Absolute Eye Correction Cream
If Optim-Eyes is all about that triple anti-fatigue action, Time-Filler Eyes is the real eye contour multi-tasker. Indeed, this is an anti-wrinkle eye contour cream that fights wrinkles and fine lines, lifts the eye contour area to prevent drooping lids, and strengthens the eyelashes.
That's right! This global anti-aging eye care can be applied both around the eyes and directly on the lid, where it will fortify the lashes through the action of pro-vitamin B5.
---
Filorga Nutri-Filler Lips Nutri-Plumping Lip Balm
A lip balm, you ask? Yes, but not just any lip balm! Filorga Nutri-Filler Lips is a nourishing, anti-aging lip balm with a glossy finish and a slightly pink tint. With daily use, this sophisticated product will boost both the density and volume of the lips; as a result, it will redefine their contours for a plump, youthful appearance.
The twistpen applicator may seem a little intimidating, but don't worry; it is extremely practical and comfortable to use, making this one of the best Filorga products out there!
---
Filorga Oxygen-Glow Super-Perfecting Express Mask
Meet the #1 enemy of dull and tired skin: a velvety mask that perfects and boosts the natural radiance of the skin in just 10 minutes. As a member of the Filorga Oxygen-Glow family, this mask exists to give you a super-radiant, camera-ready complexion.
With a unique formula that combines energizing oxygenation boosters with hyaluronic acid, this mask re-energizes dull skin. It also re-plumps fine lines and detoxifies the complexion, thus restoring its luminosity.
---