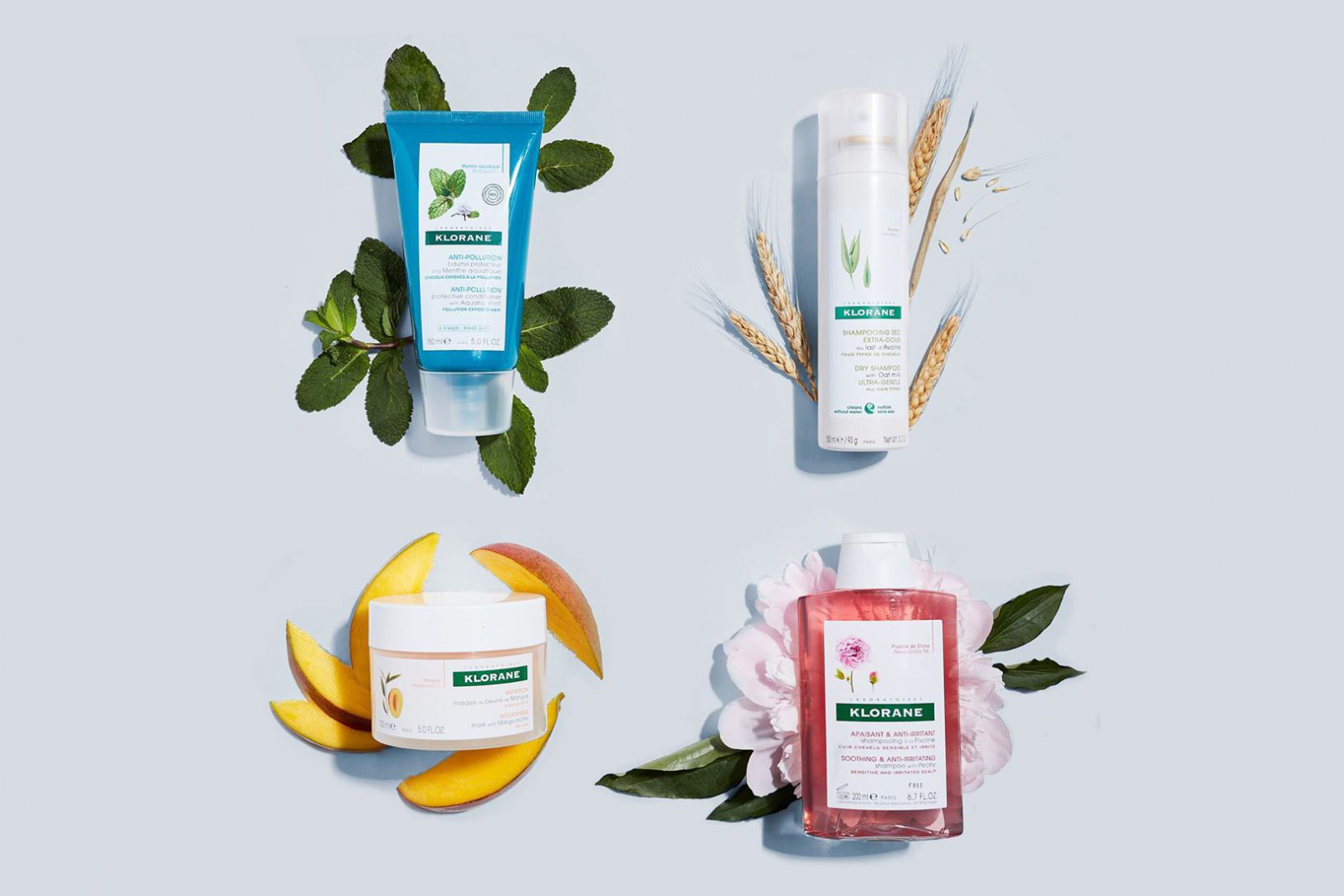 If you're a fan of French pharmacy, you've probably heard of Klorane. This French brand is responsible for the creation of the most iconic dry shampoo in Europe! Backed by four decades of research and multiple industry awards, Klorane dry shampoo was a game-changer when it first came out, and it remains a game-changer today; but that's not all that the brand has to offer. If you've ever wanted to dive into the world of botanical hair care and discover the right Klorane shampoo for you, look no further: we've got your back.
What's in a Klorane shampoo?
As a brand renowned for its botanical expertise, Klorane makes plant-based shampoos that offer solutions for every hair type and concern. The brand's motto—one concern, one plant, one benefit—was inaugurated with their first ever shampoo, the now-iconic Klorane Blond Highlights Shampoo with Chamomile. Since then, the brand has been redoubling its efforts to develop some of the most innovative plant-based shampoos on the market. Keep reading to learn about yours!
Best for sensitive scalp: Peony
If you're dealing with a dry, irritated, or itchy scalp, this pH balanced shampoo offers immediate comfort that lasts for up to 24 hours. The hypoallergenic formula is infused with peony, a gorgeous flower known for its ability to soothe both sensitivity and irritation.
---
Best for oily hair: Nettle
For hair that gets too oily, too fast, there's a Klorane shampoo with nettle that reduces the production of sebum on the scalp, consequently increasing the time between washes. The gentle cleansing base washes the hair without over-stripping it, therefore giving you smooth and shiny hair for longer.
If you're not looking for an oil control shampoo, but you'd still like to get rid of excess buildup on the hair and scalp, there's another option. Try Klorane Purifying Shampoo with Citrus Pulp, and your scalp will feel as good as new!
---
Best for the whole family: Oat Milk
Sometimes you're just looking for that one shampoo that's going to replace everything you've accumulated on the edge of the bathtub. This is it: the Klorane shampoo that works for everyone, from your baby to your grandma. Infused with organically harvested oat milk, this is a gentle, everyday shampoo that suits all hair types. Moreover, it helps preservie the health and balance of the scalp.
---
Best for color-treated hair: Pomegranate
Color-treated hair poses unique challenges. Not only do you have to keep your new locks hydrated, you've also got to figure out how to wash them without removing the color. With that in mind, Klorane offers not one, but two pomegranate-based shampoos.
The classic Klorane Color Radiance Shampoo with Pomegranate keeps the color to your hair for twice as long as the average shampoo, therefore promoting a radiant, glossy look. You can also opt for the Klorane Color Enhancing Anti-Fade Shampoo with Pomegranate, a gentle, sulfate-free shampoo that not only fixes the color, but also repairs the hair fiber.
---
Best for dandruff: Nasturtium
Nasturtium may not be a word that rolls easily off the tongue, but that doesn't make the plant any less effective against dandruff. Not only does this ultra-gentle shampoo start reducing dry dandruff from the very first use, it also purifies the scalp in-depth, for a clean and light sensation.
---
Best for fine and flat hair: Flax
This ultra-light shampoo is infused with organically farmed flax fiber extract and gentle tensioactive ingredients. THis unique composition not only improves the texture and movement of fine and flat hair, but also lifts and volumizes the roots. As a result, the hair is given a boost of natural, long-lasting volume that lasts all day.
---
Best for hair loss and thinning: Cinchona Extract
This fortifying shampoo was especially designed to complement hair loss treatments. It combines Cinchona extract, a South American ingredient known for its strengthening properties, with a mix of B vitamins that hydrate and strengthen the hair fiber. Not only does it cleanse the hair and scalp, it also stimulates microcirculation and revitalizes the hair.
If you're struggling with reactive or progressive hair loss, however, you should look into a full treatment. Klorane offers a full anti-hair loss range, which includes not only a shampoo and conditioner, but also lotions, serums, and food supplements.
---