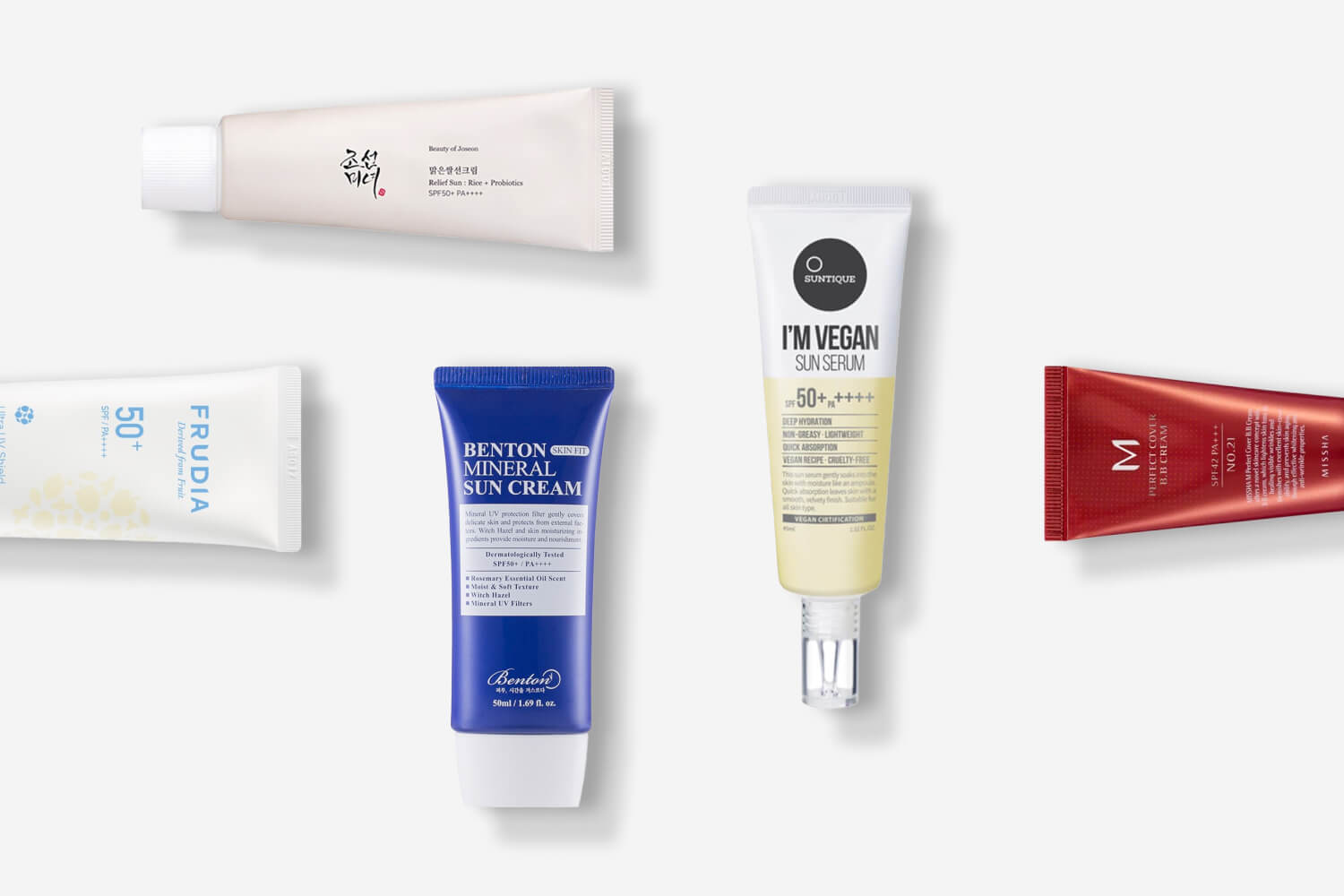 We're all on a quest for the ultimate sunscreen, and word on the street has it that Korean sunscreens are where it's at. Forget American, forget European: the internet loves a Korean sunscreen. But why are we globally in love with these products, and what makes them so special? We're about to learn what makes Korean sunscreens better than many alternatives in the market–and we're not leaving without giving you a list of the best Korean sunscreens for every skin type and concern you may have.
Why is Korean sunscreen better?
Here's the deal–we, Care to Beauty, are located in Europe, and we have pretty great sunscreens. For people like us, who are used to cutting-edge European sunscreens, it might seem a bit far-fetched to hear that Korean sunscreens are better than any other option on the market. If we look at the situation from an American perspective, however, the situation changes: Korean sunscreens are light-years ahead of US sunscreens, due to how sunscreen is regulated in the US.
But what makes Korean sunscreens so beloved? Well, sunscreen is a cultural must-have for many South Koreans, who strive to avoid the harmful effects of solar radiation all year round. In the South Korean market, the average consumer is most likely looking for a sunscreen formula they can use daily–preferably, one that multitasks. For that reason, Korean sunscreens usually have a ton of great features:
Fluid, often oil-free formulas that spread easily and absorb quickly into the skin;
High protection against both UVB and UVA radiation, which are respectively responsible for sunburns and pigmentation;
Botanical extracts and scientifically-proven ingredients that soothe and improve the skin, turning sunscreens into multitaskers with multiple benefits;
Elegant formulas that feel nice on the skin;
Easy to reapply throughout the day;
Easy to remove at the end of the day with a gentle oil cleanser.
Why are most Korean sunscreens not water-resistant?
This is a question we see popping up a lot: if Korean sunscreens are so good, then why aren't they water-resistant like other sunscreens?
As we've seen before, Korean sunscreens are meant to be used daily, unlike European sunscreens, which are mostly designed for the beach season or outdoor activities. Knowing this, it's easy to understand why Korean sunscreens tend to prioritize ease of use over water-resistant formulas: if you're going to use a sunscreen every day, ideally it should be easy to apply and easy to remove. Besides this, South Korea has very low humidity rates, making water-resistant formulas extra unnecessary for normal daily use.
All in all, it all comes down to each region's field of expertise: European formulators are great at making sunscreens you can sweat and bathe in, and Korean formulators make amazing daily use sunscreens.
There are, of course, some great Korean sunscreen formulas that are water-resistant (we'll show you in a second), but we wouldn't necessarily recommend them over European formulas. Given the vast knowledge and experience that European brands have in creating water-resistant formulas, you'll be better served by looking for your water-resistant sunscreen among European sunscreens.
What SPF to look for in Korean sunscreens?
The higher, the better: Korean formulas usually have at least SPF30, but most will have SPF50 or SPF50+. Remember, however, that the SPF rating only refers to protection against UVB rays; if you want to know the level of protection against UVA rays, you will have to consult the PA rating. You'll find it right there on the bottle!
What is the meaning of PA?
PA is one of the systems that measures the level of protection that a product offers against UVA radiation ((which, as we've already mentioned, is the type of radiation responsible for skin darkening). Another popular system for measuring the same thing is the PPD rating, invented and popularized by the L'Oréal Group.
How much UVA protection is PA++++?
The PA system comprises four levels of protection against UVA radiation, with the lowest being PA+ and the highest being PA++++. Here's what each level amounts to in the PPD system:
PA+: PPD 2-4 (low UVA protection)
PA++: PPD 4-8 (moderate UVA protection)
PA+++: PPD 8-16 (high UVA protection)
PA++++: PPD 16+ (extremely high UVA protection)
One of the limitations of the PA system is the fact that it only differentiates up to PPD ratings of 16. Above that, it doesn't matter whether a product has a PPD rating of 20 or 40: they will both be classified as PA++++.
Is Korean sunscreen trustworthy?
Yes, Korean sunscreen is trustworthy–but we know why you're asking. A few years ago, controversy arose around some sunscreens that, when tested, did not offer the level of protection indicated by their SPF rating. This mismatch occurred due to a legal loophole; after the controversy, the South Korean government switfly fixed the loophole, and the issue was resolved.
Today, you can trust that Korean sunscreens actually offer the level of protection that is written on the packaging. For this reason, and for others that we've already seen, they are super reliable products that you can trust for your daily sun protection.
What are the best Korean sunscreens?
As with anything, there is no one option that fits every need. In this section, we'll look at the most common skin types and needs, and help you find a Korean sunscreen that suits each one:
Frudia Green Grape Sebum Control Cooling Sun Gel SPF50+
Best Korean sunscreen for oily skin
This gel-cream provides an instant matte effect that lasts throughout the day. With a fresh grape juice scent, it visibly hydrates the skin without leaving it oily.
This sunscreen is white when it comes out of the bottle, but after being fully absorbed it leaves almost no white cast. It spreads out easily, segulates sebum production and hydrates the skin, thus making it perfect for oily skin.
---
The Saem Eco Earth Waterproof Sun Stick SPF50+/PA++++
Favorite Korean sunscreen stick
This invisible sun stick is great for reapplying your protection throughout the day. With a matte finish and no scent, it's ideal for reapplying your protection on-the-go. In fact, the tear-drop shape is extremely useful for those who want to apply on difficult areas such as the eye contour and nose corners.
Moreover, this formula is waterproof, so you can use it even if you're sweating or in humid climates. However, we don't recommend using it in temperatures over 35ºC (95F), as you risk melting your sunscreen stick.
---
Benton Skin Fit Mineral Sun Cream SPF50+/PA++++
Ideal Korean mineral sunscreen
If you love a mineral sunscreen, Korean brands are experts in manufacturing them. This Benton sunscreen contains only zinc oxide as a filter, but is infused with witch hazel, panthenol, Centella asiatica, and calamine for added benefits such as soothing and repairing. It's a perfect formula if your skin is undergoing any sort of recovery from medical procedures.
It has a subtle rosemary scent and the texture is very creamy, so it's not ideal if you have oily skin. The white cast is low for a mineral sunscreen, but it's still there if you have dark skin.
---
Missha M Perfect Cover BB Cream SPF42/PA+++
Best Korean tinted sunscreen
If you're looking for a tinted sunscreen, don't expect to find a lot of diversity in shades in Korean brands–darker skin tones are, unfortunately, not a priority for most brands. For this reason, it's hard to find inclusive products, especially ones with high protection.
This Missha BB cream is a staple for good reason–it's hydrating without being too nourishing and has extremely high UVB/UVA protection. In fact, most people who just love this BB cream are those with oily skin. Please keep in mind that Korean BB creams tend to have a grayish undertone that works well on most Asian skins, but may not work if your skin undertone is pink.
---
Frudia Moisturizing Ultra UV Shield Sun Essence SPF50+
Top Korean sunscreen for dry skin
This iconic Frudia sunscreen is a best seller for very good reason. Besides being super affordable, it's ultra nourishing and leaves the skin extra glowy. If you're going for super shiny glass skin, this is definitely one to consider.
The formula is quickly absorbed on dry skin, leaving almost no white cast (some people report no white cast, but melanin-rich skin may struggle). No eye stinging is also a great plus, but our favorite feature is the fact that it contains niacinamide for extra barrier repair.
---
Beauty of Joseon Relief Sun Rice + Probiotics SPF50+
Best Korean sunscreen for sensitive skin
This is would be a definitive contender for the best overall Korean sunscreen, but we've decided to put it under the sensitive skin category. This one has become a Care to Beauty team staple, with a few members hoarding bottles of it at their homes, afraid it may run out of stock.
It's perfect for extra sensitive skin that tends to react to just existing, and it leaves a dewy finish. The texture is better for those who have normal to dry skin, but even people with oily skin like to use it in the winter. Lastly, with no white cast whatsoever, it's also ideal for dark skin.
---
Suntique I'm Vegan Sun Serum SPF50+
Favorite Korean sunscreen for combination skin
Suntique's I'm Vegan Sun Serum is a beloved formula among those who have combination skin. Besides being obviously vegan, it's a must-have for those suffering from blemishes. Due to the Houttuynia cordata extract it helps to soothe inflamed skin.
The serum-like consistency makes it perfect for those who love a lightweight formula, with the added benefit of being perfect under makeup. Moreover, it doesn't sting the eyes and has a gentle scent that is super nice. The skin becomes glowy without being oily, and it also doesn't feel sticky on the skin.
---
COSRX Aloe Soothing Sun Cream SPF50+/ PA+++
Best Korean sunscreen for dark skin
Another strong contender for best overall. This sunscreen is great in so many ways it's hard to choose where to begin, but we've decided to put it under dark skin-friendly because it's not always easy to find a great Korean sunscreen that works on Black skin. This one does, and with a shining performance. Not only a shining performance, but also a shining finish, as it leaves the skin dewy and hydrated. It's better for skins on the drier side, as it's a bit nourishing.
Lastly, if you suffer from redness or skin discomfort, it also helps to soothe it thanks to the aloe extract that also gives it a light scent.
---
Missha All Around Safe Block Soft Finish Sun Milk SPF50+/PA+++
Top waterproof Korean sunscreen
We've mentioned that even though it's not a staple for Korean sunscreens to be water proof, there are still some great ones. This Missha is the most iconic of those ones. It's both water and sweat-proof, but not sticky or greasy.
On the other hand, this sunscreen is a bit drying, so you may want to use it over your favorite serum and/or moisturizer. It also has a slight white cast, so keep that in mind. It's ideal for oily and combination skin, as it's super lightweight and leaves a finish that is very true-to-skin, nor matte nor glowy.
---
The Saem Eco Earth Light Sun Cream SPF50+
Ideal Korean sunscreen for hyperpigmentation
When it comes to preventing dark spots, the Korean approach is mostly "keep out of the sun, use high sun protection and then use depigmenting serums". So it's not very common to have sunscreens that actually target dark spots.
However, two things are extremely relevant when fighting hyperpigmentation: high UVA protection and a few top notch ingredients that help it fade. This formula contains niacinamide infused in a formula with PA++++, so it combines both. Additionally, you'll get extra glowy skin–it's actually perfect for glass skin routines. In case you have dry skin with dark spots, this is a must-have.
---
Ten fabulous sunscreens later, we hope you've found the Korean sunscreen of your dreams. If you're interested in more Korean brands, make sure to explore our full selection of Korean skincare and beauty products in the shop. Who knows what else you might find?