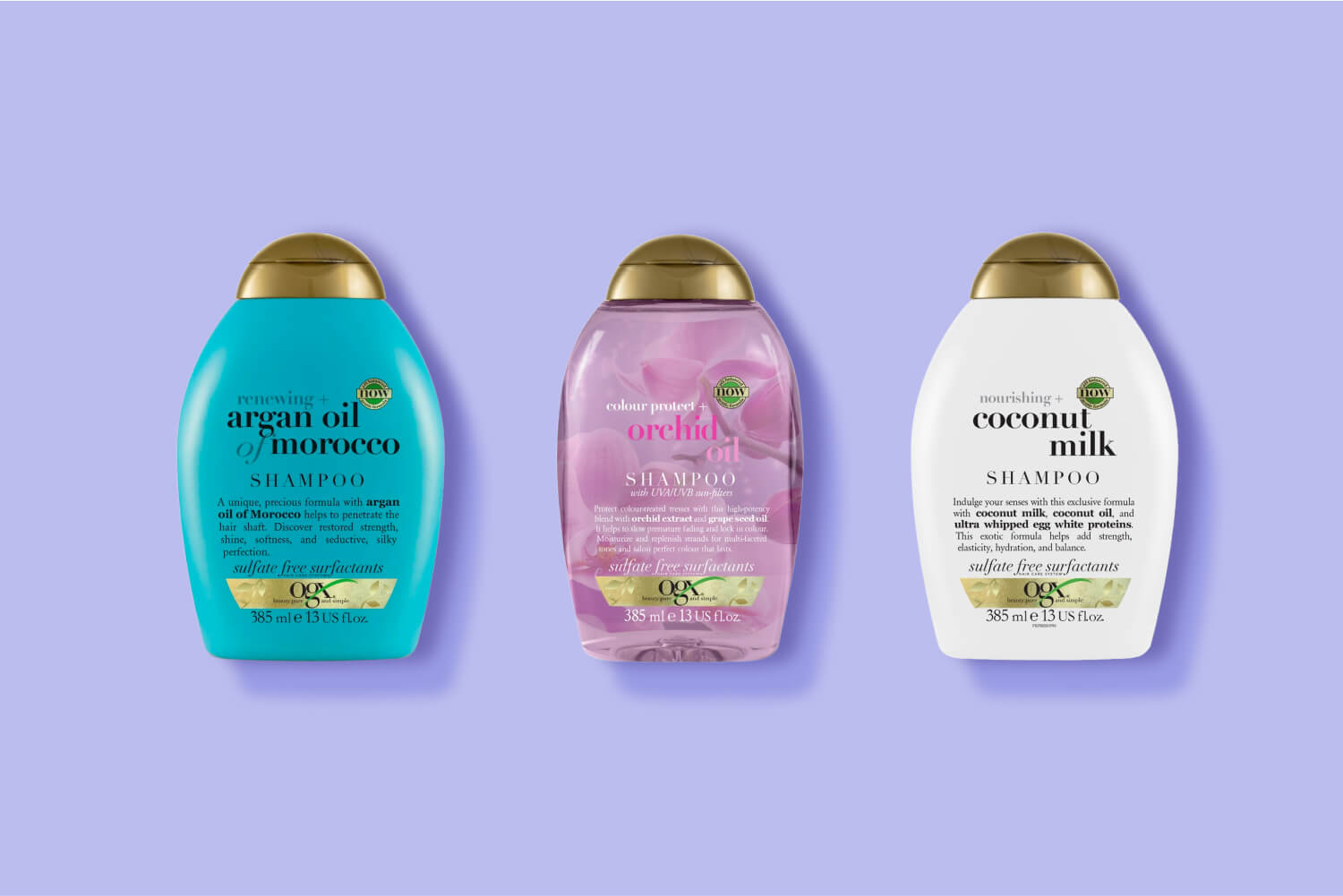 Created in the USA in 2006, OGX is a hair care brand that makes salon-quality haircare accessible to everyone. In the OGX universe, each person's hair is unique and different, and can always benefit from tailored products to help it unleash natural beauty; when you use the best OGX shampoo and conditioner for your hair goals, you get to enjoy your natural beauty! Learn more about the options OGX has in store for you, and find your match among the brand's many iconic collections. From argan oil of Morrocco to coconut milk, which star ingredient will you choose?
---
On this post:
---
OGX: The Brand in Review
Top 5 OGX Shampoos & Conditioners
Based on the favorite products of our Care to Beauty community, we have selected the best OGX shampoo and conditioner duos for a variety of hair types and goals. Which one will you pick?
OGX Argan Oil of Morocco
For hair that needs a little pampering
Let's start with OGX's most iconic range, which is enriched with Moroccan argan oil. Rich in antioxidants and vitamin E, argan oil is one of the most iconic ingredients in hair care. The use of argan oil in hair care dates back centuries, which is not surprising, as this ingredient has an incredible ability to improve the appearance of the hair, offering a renewing and strengthening effect, and leaving it much softer and shinier as a result.
The shampoo is formulated without sulfates, and the conditioner has a gentle, elegant formula designed to please the senses. Apply it after the shampoo, leave on for a little, then rinse well. You will find that, after washing, your hair emerges looking smoother and softer, much more pliant and easier to detangle and style.
---
OGX Coconut Milk
For a nourishing (and fragrant!) experience
Inspired by the best the tropics have to offer, the OGX Coconut Milk range nourishes your hair from root to rip, restoring its balance and bringing its natural resilience and strength. You'd feel the same, if you'd gone on a little tropical vacation yourself!
An exclusive blend of coconut milk, egg white proteins, and coconut oils fuels this summery hair care range. The result is a set of deeply nourishing formulas, which envelop your hair in softness, shine, and, of course, a delightful summer fragrance. Use the creamy shampoo and conditioner together, whenever possible, and embrace the new softness of your locks!
---
OGX Keratin Oil
For damaged hair, prone to breakage and split ends
Damaged and brittle hair can benefit from a keratin treatment, and this indulgent collection delivers precisely that. Formulated with fortifying keratin proteins, this range helps reinforce each hair strand in order to increase its resistance and avoid common signs of damage, such as breakage and split ends. In addition to keratin proteins, this repair range also contains argan oil, a star ingredient that smoothes and conditions the hair in order to promote healthy, beautiful shine.
Both the shampoo and the conditioner feature a stunning fragrance of tropical orange, island pineapple, and golden amber, which envelops your hair in a delightful pineapple scent. Deeply repaired and beautifully fragrant: that's how your hair will emerge after each application of this shampoo and conditioner duo.
---
OGX Biotin & Collagen
For a volume boost
If you would like to boost your hair volume and achieve a thicker, fuller, undeniably lush mane, the OGX Biotin & Collagen collection is for you. Formulated with vitamin B7 (aka biotin), collagen, and wheat protein, this range offers your hair a nourishing and fortifying action that promotes a healthy and voluminous appearance. While the shampoo provides a gentle cleansing action that infuses new strength and vigor into each strand, the conditioner provides luscious nutrition without adding weight.
In addition to the benefits it brings to fine and flat hair, this also also creates a relaxing experience, due to its delicious scent of bergamot, jasmine and vanilla. With such an extravagant fragrance, you won't be in any rush to step out of the shower and bring an end to your hair-washing experience!
---
OGX Orchid Oil
For color-treated or highlighted hair
Anyone who has color-treated hair knows that preserving the color between salon visits is an absolute priority. In order to help you with this task, OGX has created the Orchid Oil collection, formulated with orchid extract and grape seed oil. This exclusive blend helps prevent color fading and helps you maintain your color shiny and true for longer. The formula is further enriched with UVA/UVB filters, which help prevent color shifts caused by sun exposure.
If you have color-treated hair, you know that hair dye tends to dry out the hair and make it drier and brittle, with less ability to retain moisture. This is why using a dedicated shampoo and conditioner is so important, as it will not only help you preserve your color, but it will also help you retain the health and beauty of your locks.
---
Now that you know the most popular hair care products from OGX (and have, we hope, found the best OGX shampoo and conditioner for you), don't forget to explore the rest of the brand. We have many more OGX products to discover in the shop!