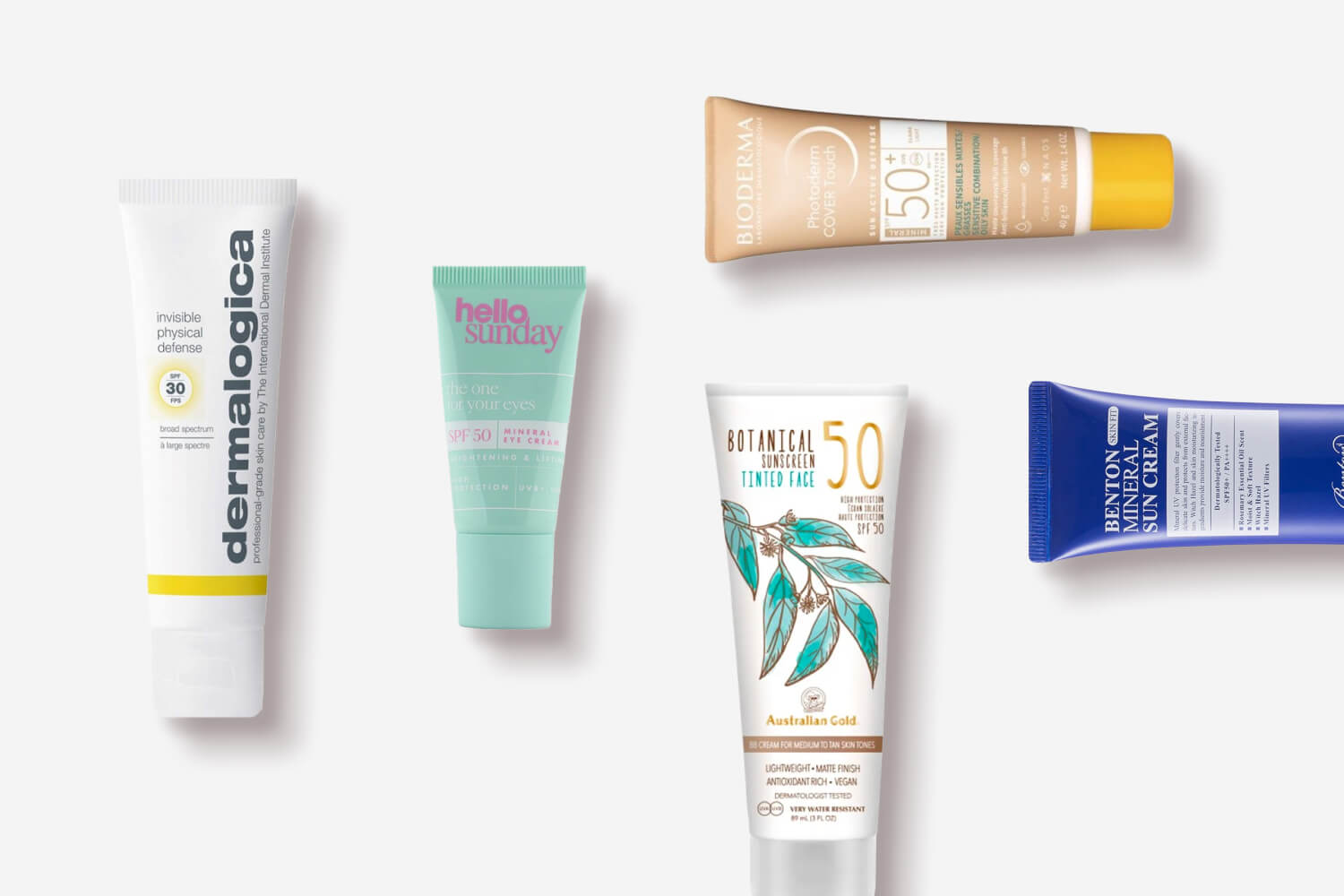 Many people look for physical sunscreens for the face to include in their daily skincare routine. Whether you have very sensitive skin or just like to wear mineral sunscreen, we can bet you want to know more about these sunscreens. Let's find out our ultimate favorites and everything you didn't know you didn't know about these filters. Some of the myths surrounding these sunscreens are so ingrained in our culture that it's possible you will be mind blown. Keep reading!
Physical sunscreen: What you need to know
Before we show you our favorite physical sunscreens, let's review what you really need to know about physical sunscreen, or, as you may also know it, mineral sunscreen.
Are physical and mineral sunscreen the same thing?
Yes. The terms "physical sunscreen" and "mineral sunscreen" refer to the same type of product. This has to do with the types of filters that are used in sunscreen products. Overall, there are two types of filters:
"Physical" filters, also known as mineral or inorganic filters (the latter is the correct version, scientifically speaking);
"Chemical" filters, which also go by organic filters (again, the scientifically correct version).
What is generally called a physical sunscreen only contains inorganic filters. Most of the time, these sunscreens will actually have the word "mineral" included in their name.
How to tell if a sunscreen is chemical or mineral
Generally speaking, we can divide the sunscreens available on the market into three types:
Chemical sunscreens, which contain only chemical filters;
Physical or mineral sunscreens, which contain only physical or mineral filters;
Hybrid sunscreens, which combine both filter types.
If you're looking for a strictly physical sunscreen, you can find it in two ways: you can look for a product that includes the term "mineral" right on the label (most mineral sunscreens clearly state that they're mineral), or you can read through the list of ingredients.
There are only two physical sun filters on the market, so you won't have a hard time finding them: they are titanium dioxide and zinc oxide. A physical sunscreen may contain one or both of these filters, but no others (as any filter other than these is, by definition, a chemical filter).
How does mineral sunscreen work?
This is where we may surprise you. We're pretty sure by now you've heard about physical sunscreens reflecting light and chemical sunscreens absorbing it. But what if we tell you that's not actually how it works?
Let's look at the science: according to a study from 2015, zinc oxide and titanium dioxide sunscreens only reflect about 5% of solar radiation. So, what happens to the other 95%? Just as with chemical sunscreens, it is absorbed and converted into tiny amounts of heat. This isn't news: we've known since 1986 that mineral sunscreens absorb radiation; indeed, this absorption mechanism was fully described in 1999.
Even so, a lot of people still believe that mineral sunscreens work by reflecting light. If someone asks you, now you can quote the science: yes, mineral sunscreens do reflect light, but only about 5% of it. The rest is converted into heat, just like chemical sunscreens. Essentially, there is barely any difference in how both types of sunscreens work.
Is physical sunscreen the best option to use on your face?
That depends on the comparisons you're trying to draw.
If you're comparing physical sunscreens versus chemical sunscreens of European, Australian or Korean origin, the physical sunscreens won't be particularly enticing. In these regions, chemical sunscreens are so far ahead of the curve that you'd be missing out by not using them. Think cutting-edge sun filters, great UVA protection, rigorous testing, multiactive formulas that provide your skin with extra benefits, fluid textures that are easy to apply (and reapply), and so much more.
However, if you're comparing physical sunscreens versus your average American sunscreen, then physical sunscreens might have a slight advantage. We won't go into too many details here, because we've already fully explored the differences between American and European sunscreens in previous occasions, but we'll give you a short explainer. Due to legislative limitations, American brands are very limited in terms of the chemical filters they can use to formulate sunscreens; this results in chemical sunscreens that are literally decades behind the alternatives we discussed above. With this state of affairs, it's normal to see American doctors and dermatologists recommending the use of mineral sunscreens on the face.
However, you'll also notice that a lot of them also recommend that you get your sunscreens from another part of the world.
Why does physical sunscreen leave a white cast?
Mineral sunscreens are known to leave a white cast on the skin, almost like a whitish or grayish film that is particularly visible on darker skin.
This happens because of the filters themselves. We've already mentioned that the only mineral filters available are zinc oxide and titanium dioxide. Indeed, there is one peculiarity with them that we've yet to mention: they're insoluble white powders. In comparison, chemical filters are usually soluble liquids.
This is one of the main reasons why you always have to shake a mineral sunscreen before using it–the sun filters are not dissolved in the formula, so you've got to "blend" them in by shaking the packaging.
By now you see the picture: if a mineral sunscreen is essentially made up of white powders dispersed in a liquid or cream formula, it's perfectly reasonable that you will see those same powders on your skin. That's the white cast we so often associate with this type of sunscreen.
How do you remove mineral sunscreen?
Some mineral sunscreens can be more "tacky" and difficult to remove, but there are solutions.
In general, we recommend that you double cleanse when wearing any type of sunscreen. Oils and balms are amazing to remove any sunscreen, as they will easily remove any stubborn bits of product. You just need to apply the product onto dry skin, thoroughly massage, and then rinse with water. Following with a gel cleanser is always a great idea to ensure everything has washed down the drain.
The best physical sunscreen for the face
Dermalogica Invisible Physical Defense SPF30
Best mineral sunscreen for daily use
An SPF30 lightweight formula to use daily. Infused with botanical extracts to soothe the skin, this sunscreen can be used by people with sensitive skin. The sheer formula works great on lower phototypes for a white cast-less look.
---
Bioderma Photoderm Nude Touch Mineral SPF50+
Tinted mineral sunscreen
If you're on the paler side, you'll be familiar with the struggle to find a tinted mineral sunscreen you can actually use. Not turning orange seems like a daunting task with most tinted sunscreens. This Bioderma formula has a nude effect and matte finish, and is perfect for combination skin.
---
Australian Gold Botanical Tinted Face Mineral Lotion Dark SPF50
Mineral sunscreen for dark skin
On the other hand, if you have melanin-rich skin, your struggle is to find something that doesn't make you look ashy. This Australian Gold sunscreen in the color Dark is incredible for those who need something definitely not white on their skin. The skin becomes even and luminous, without any grey or ashen tones.
---
Benton Skin Fit Mineral Sun Cream SPF50+/PA++++
Best Korean physical sunscreen
This Benton sunscreen needs no introduction. It's been doing the rounds for some years as one of the most interesting mineral sunscreens around. It's amazing for those with skin on the drier side, leaving a healthy glow. The formula contains Centella asiatica and panthenol, thus making it ideal for those with sensitive skin.
---
Bioderma Photoderm Cover Touch Mineral SPF50+
Physical sunscreen for oily skin
If you have oily skin and you're looking for a physical sunscreen you can use on your face, then look no further. This one from Bioderma is one of the best mattifying sunscreens around–and it's 100% mineral. The shades aren't very inclusive, but if one of them fits your skin, definitely go for it, as you'll find yourself amazed by how truly mattifying this formula can be.
---
Suntique I'm Medi 100% Zinc Sun SPF50+
Zinc-only sunscreen
A few people struggle with titanium dioxide, but still wish to use a mineral sunscreen. If you're one of those, this Suntique option might be the answer. Created with those with hyperreactive skin in mind, it contains Centella asiatica to ensure your skin is repaired throughout the day.
---
SVR Sun Secure Stick Mineral SPF50+
Mineral stick
Many look for a mineral stick to either reinforce sun protection or to use on the eye contour. This mineral version of the SVR stick is great if you also have kids, as it can be used from 6 months up. Ideal to take with you if you have one of those small summer bags that carry very little.
---
Hello Sunday The One For Your Eyes Mineral Eye Cream SPF50
Mineral sunscreen for the eyes
If you struggle with eye stinging, maybe the solution isn't a physical sunscreen for the face: you can get one just for the eye contour. This Hello Sunday sunscreen only uses mineral filters and has a microbiome-friendly composition to help preserve the eye contour. Ideal for those who need a specific sunscreen for the eyes because they don't want to give up on their favorite face sunscreen just because it's eye stinging.
---
Now that you've read up on mineral sunscreen and gotten to know a few of your favorites, you're all ready to pick your next favorite sunscreen! Check out our entire collection of physical sunscreens for your face, and find the perfect fit for your needs!