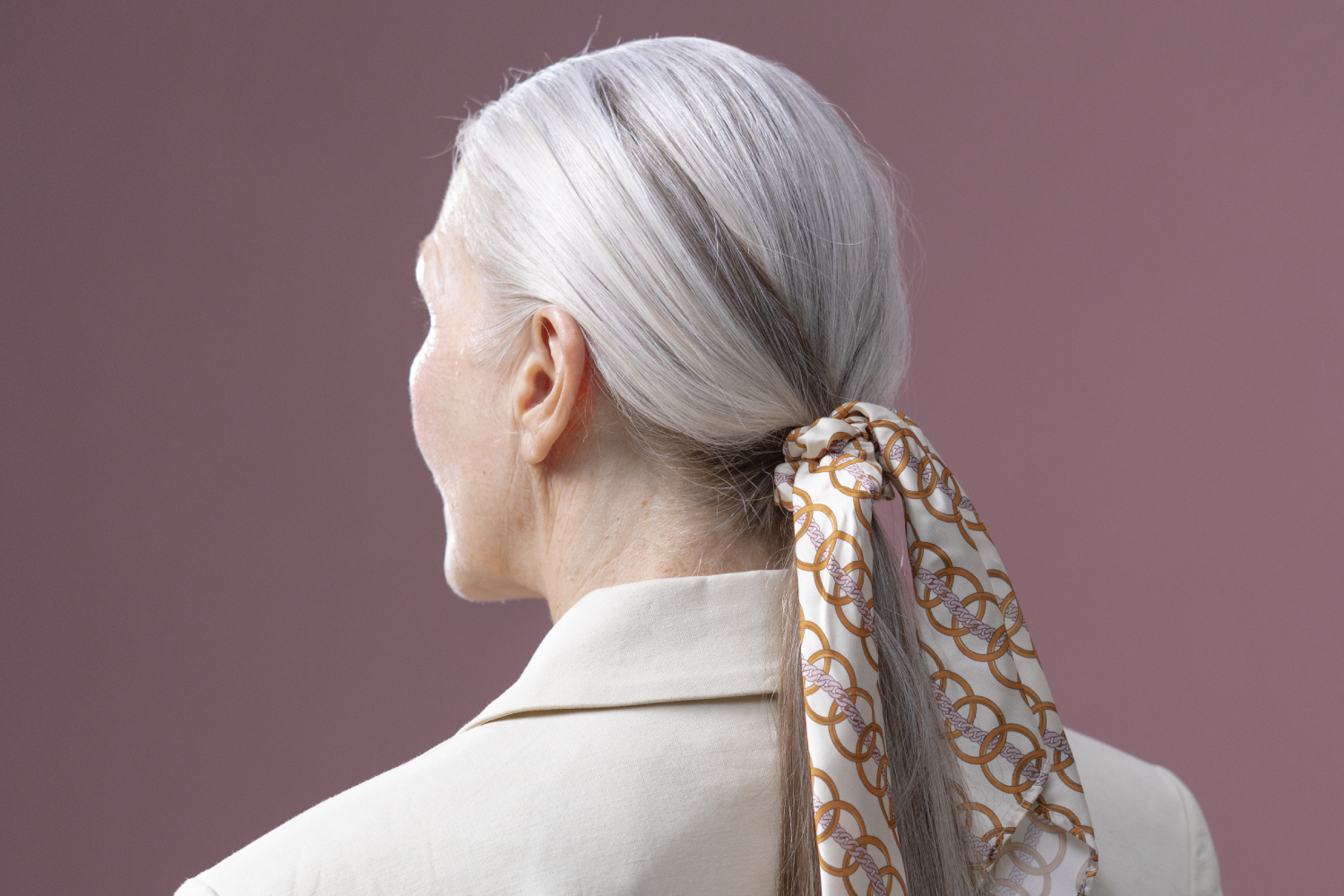 When it comes to gray hair, there are no age brackets: some of us will be getting our silver locks a little earlier than others, and that's just how it is. The "gray shaming" crowd may tell you gray hair is something to be ashamed of, something to hide, or something to get rid of, but here are Care to Beauty, we disagree; we think you are the boss when it comes to your gray hair, and you get to decide what to do with it.
Would you like to reverse your gray hair? Dye it? Leave it exactly as is? Whatever your goal, we can help you reach it. Today, we're going for option three; we're going to help you care for your natural gray hair so that it looks as cool as humanly possible. Keep reading to meet your new best friend among our selection of the best purple shampoos for natural gray hair.
What Is Purple Shampoo & Why Do You Need It?
In short, a toning shampoo or "purple shampoo" is a shampoo that contains blue, violet, or purple pigments. When you wash your hair, these pigments counteract the natural yellow undertones that tend to take over light-colored hair as it oxidizes. Have you ever wondered why some gray hair looks a little brassy? This is why.
You may like the warmer look of oxidized gray hair, or you may not; if you're in the latter team, you will definitely want to add a purple shampoo to your hair care stash.
6 Purple Shampoos for Natural Gray, Silver, & White Hair
Not all purple shampoos are alike! Below, find six options you can look into in order to make your natural gray hair as silvery-smooth as possible.
Pantene Pro-V Hair Biology Grey & Glowing Shampoo
Affordable & Versatile
What it is: a gentle purple shampoo enriched with jojoba oil, antioxidants, and Pro-Vitamin B5, Pantene's star ingredient. While the purple formula tones yellow strands in order to bring them back to their cool silver glow, jojoba oil hydrates and nourishes the hair fiber.
Why we like it: Pantene is a beloved affordable brand that invests years of scientific research into each product. The Grey & Glowing Shampoo is no exception, as it tackles the main concerns of natural gray hair in a single application: it removes unwanted yellow undertones, and softens the hair in order to minimize frizz and create a smooth finish. What's not to love?
---
L'Oréal Professionnel Série Expert Silver Shampoo
100% Designed for Natural Gray Hair
What it is: A toning shampoo specifically developed for white and gray hair. The formula contains violet micro-pigments to neutralize yellow undertones, and amino acids to smooth the hair fiber and compensate for any protein loss.
Why we like it: Toning or "purple" shampoos may be a little intimidating, especially if you're got gray hair and don't want to use something that's actually been formulated for blondes. You may be (legitimately) concerned that the results will not match your expectations. This shampoo gets rid of that uncertainly by presenting you with a product that is truly designed for natural gray hair.
---
Redken Color Extend Graydiant Shampoo
Repairing & Strengthening
What it is: An anti-yellow shampoo that instantly neutralizes brassy tones on natural as well as color-treated gray hair. The formula contains customized violet pigments to color-correct the hair, and citric acid to strengthen and repair the hair from the core.
Why we like it: When used in combination with the Graydiant Conditioner, this shampoo will not only tone your hair to get rid of any unwanted yellow tones, but also leave the hair strand two times stronger, softer, and shinier. If you are looking for the best shampoo and conditioner duo for your natural gray hair, this system may be a great option for you.
---
PhytoArgent No Yellow Shampoo
Plant-Based & Sulfate-Free
What it is: A French pharmacy shampoo with a purple-blue formula that counteracts oxidation and enhances the appearance of gray and white hair from the very first application.
Why we like it: For those looking for a sulfate-free purple shampoo for natural gray hair, this shampoo ticks a lot of boxes. It features a gentle formula that is 82% natural, not to mention and alcohol, paraben, and silicone-free. This toning shampoo is suitable for everyday use and it doesn't stain, so it's also incredibly practical!
---
Schwarzkopf BC pH 4.5 Color Freeze Silver Micellar Shampoo
Subtle Color Correction
What it is: A pH-balanced toning shampoo that not only deposits violet pigments in order to counteract unwanted yellow tones, but also adjusts the hair to the optimal pH value of 4.5. The formula then provides additional care and protection with Cell Equalizer Technology.
Why we like it: The Color Freeze range is all about making sure your hair is healthy and your color stays true–even if your color is gray! This formula helps repair the hair strand from the inside, filling in structural gaps, and restoring elasticity, strength, and shine. The pigments provide subtle color correction, which actually creates the perfect compromise if you're looking for a shampoo for naturally gray hair but won't bring any drastic color changes.
---
Kérastase Blond Absolu Bain Ultra-Violet Shampoo
Enriched With Hyaluronic Acid
What it is: A purple shampoo that immediately removes unwanted yellow undertones from very light blonde and gray hair colors. The formula is enriched with a powerful combination of hydrating hyaluronic acid and antioxidant edelweiss flower.
Why we like it: With regular use, this shampoo can provide you with long-lasting protection against unwanted yellow undertones. Because the formula contains hyaluronic acid, it also hydrates the hair and helps smooth down the hair fiber, in order to create a smooth, supple touch.
---
If you're in the market for the best purple shampoo for natural gray hair, you've got plenty of great options to choose from. Got an extra minute? Then make sure to look through our in-depth guide for aging hair: from color changes to texture changes, you will find everything you need to care for your natural gray hair and keep it looking its best, no matter your age. Happy reading!