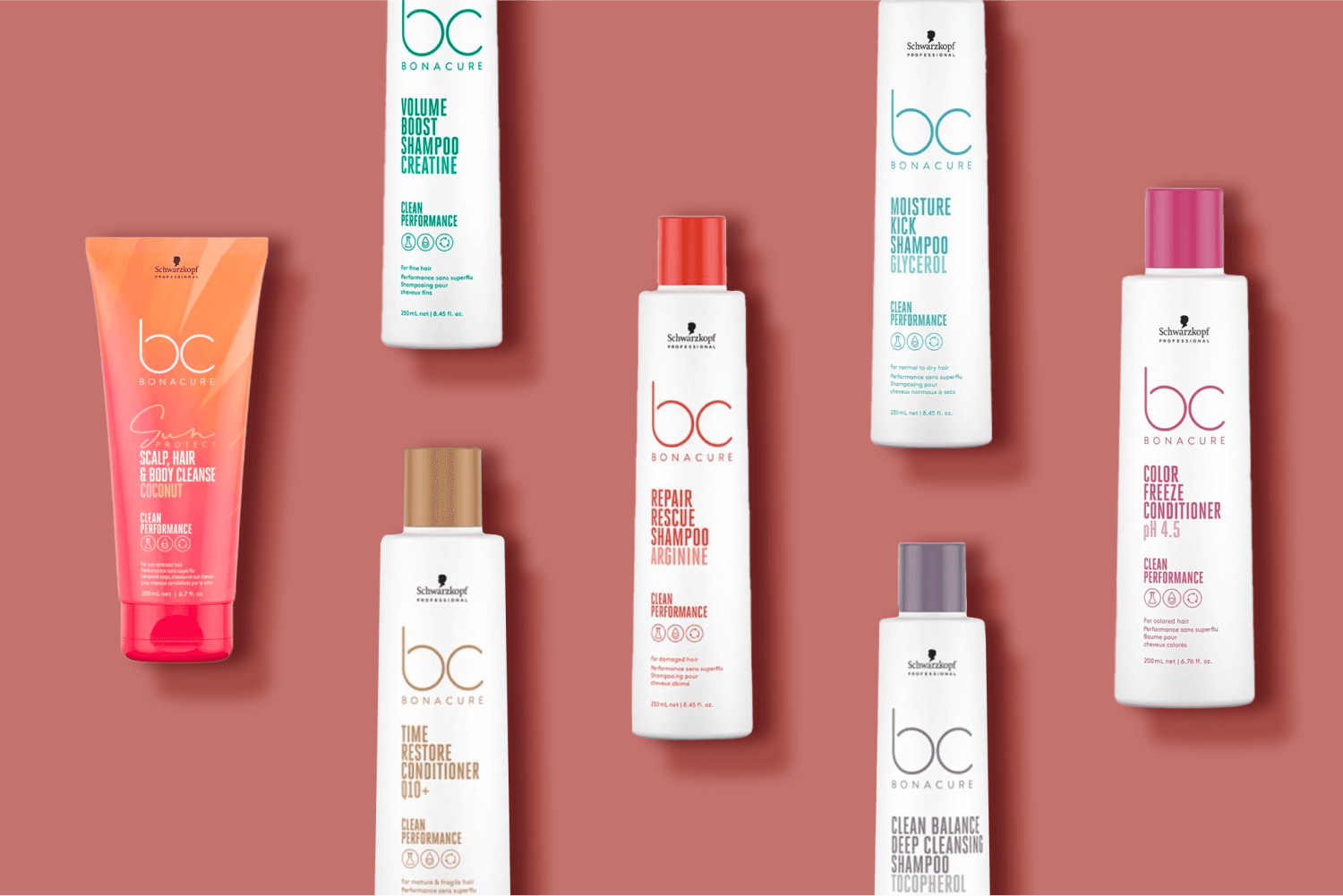 As far as hair care brands go, Schwarzkopf Professional is one of the better-known names. With more than 120 of years of experience in designing hair care products for both salon and at-home use, Schwarzkopf Professional is home to some truly incredible hair care collections: we're talking about OSiS+ and BLONDME, for example, but also about BC Bonacure, a high-performing collection of 100% vegan hair care products you can use at home. Today, we're guiding you through the best Bonacure shampoos, and helping you figure out which one suits your needs the best. Shall we?
BC Bonacure: Powered by vegan keratin
The BC Bonacure range is not exactly new, but it got a new look in 2022. However, don't think the change was limited to changing the look of the packaging! In fact, a lot has changed in the BC Bonacure range.
The brand's new incarnation is based on three essential ideas: advanced technology, 100% vegan formulas, and sustainable packaging. The first two concepts are brought to life through the use of a New Vegan Care Complex, which combines vegan keratin and Cell Equalizer Technology with skincare-inspired active ingredients.
As you know, keratin is a protein of animal origin. It's the key ingredient in many hair care products, especially those recommended for damaged hair, but its animal-derived origin makes it unsuitable for those looking for vegan formulas. Schwarzkopf Professional has worked around this issue by developing a form of "vegan keratin"–essentially a sequence of 9 amino acids–that delivers similar same benefits to actual keratin. Indeed, the vegan keratin that features in the new BC Bonacure products helps rebuild the hair fiber by refilling gaps where the hair's natural keratin has been damaged. As a result, the hair regains its strength and elasticity.
As for the second ingredient in this high-tech hair care range, Cell Equalizer Technology, it provides additional care by repairing the outer layer of the hair. As it restores strength to the hair, it creates a more pliable, softer, and shinier finish.
Now that you know all about the two star ingredients that make up every BC Bonacure formula, all there's left to talk about is the eco-designed packaging: it's fully recyclable, and contains up to 97% recycled plastic. Now, it's time to dive deep into each hair care range and help you find the right BC Bonacure shampoo for you.
The right BC Bonacure shampoo for each concern
The core ranges of BC Bonacure align with some of the most common hair care concerns: daily cleansing, dryness, color maintenance, and so much more. Here's what each BC Bonacure shampoo (and, by extension, range) can do for you:
Schwarzkopf BC pH 4.5 Color Freeze Shampoo
The anti-fade shampoo for color-treated hair
The pH 4.5 Color Freeze range is all about caring for color-treated hair, so you can maintain healthy locks and a beautiful true color between salon visits. The key ingredient in this range is the exclusive pH 4.5 Balancer Technology.
This innovative system combines lactic acid and calcium hydroxide to tighten and stabilize the hair matrix. This keeps the color pigments "frozen" deep inside the hair structure, allowing you to maintain your true color and achieve a long-lasting anti-fade effect. You can expect up to 90% color retention for up to 30 washes, which is pretty incredible considering how fast some hair colors can fade!
---
Schwarzkopf BC Q10+ Time Restore Shampoo
The revitalizing shampoo for mature hair
As we age, the production of keratin in our body diminishes. This can manifest in our hair, which may begin to feel weak, dry, and brittle. As more and more people grow aware of these effects, there is more and more of an interest in expert hair care products that can really address the needs of mature and fragile hair. That is precisely where this Bonacure Q10+ Time Restore enters the picture.
On top of vegan keratin and Cell Equalizer Technology, which are a part of every Bonacure product, this shampoo contains Q10, a coenzyme that helps reactivate the production of keratin. As a result, it restores structure to the hair and creates a feeling of greater elasticity and vitality. Likewise, the hair becomes more resistant to external aggressions, and is better able to withstand visible signs of aging.
---
Schwarzkopf BC Repair Rescue Arginine Shampoo
The strengthening shampoo for damaged hair
Of course the Bonacure range also has a core collection of hair care products for damaged hair. As chemical treatments become more and more widespread, it's become increasingly common for people to notice that their hair is damaged; it may be dry, unruly, and it may even lose its natural bounce and movement, not to mention its shine. The Bonacure Repair Rescue range aims to reverse up to three years of damage in just one application of the complete ritual.
The key ingredient here is arginine, which helps balance out the hair's moisture content and bring back its inner strength and elasticity. Joining arginine are obviously the staples of this collection, vegan keratin and Cell Equalizer Technology, which help re-fill gaps in the hair in order to rebuild its inner architecture. Use this hair care range regularly and you will find that your hair experiences less breakage, fewer split ends, and just generally looks better, with more shine and vitality.
---
Schwarzkopf BC Volume Boost Creatine Shampoo
The featherlight shampoo for fine hair
If you have fine hair, volume and body are your greatest concerns when you're trying to select a hair care product. Fortunately, Bonacure has an answer to this in the Volume Boost hair care range. The products in this range are formulated with vegan keratin and Cell Equalizer Technology, of course, but also with creatine, an energizer that provides the hair with nutrition. Together, these ingredients lend your hair a fuller feeling for up to 48 hours, boosting volume strand by strand and providing great body and movement.
The shampoo is sulfate-free, as well as every other shampoo in this collection, and it's got a beautifully lightweight formula that won't actually weigh down your hair. What's more, it'll actually help you prevent static, another pesky issue that often affects fine hair.
---
Schwarzkopf BC Moisture Kick Glycerol Shampoo
The hydrating shampoo for wavy to curly hair
The Bonacure Moisture Kick shampoo has been specifically formulated for normal to dry hair, and specifically for hair that is wavy or curly. When the hair lacks moisture, it also lacks shine, elasticity, bounce, and movement, which are all great things to have when your hair is wavy or curly.
In order to replenish moisture and restore elasticity to the hair, this core range is enriched with glycerol, which provides long-lasting hydration, prevents further dehydration, and helps smooth out the hair surface in order to guarantee a shiny, smooth, super-sleek finish. Using this range will bring your locks up to 48 hours of moisture, which is perfect for those of us who only wash our hair every two days!
---
Schwarzkopf BC Clean Balance Deep Cleansing Tocopherol Shampoo
The anti-pollution shampoo for "urban" hair
The Bonacure Clean Balance shampoo is a little bit different from the others. While other shampoos in the Bonacure brand are integrated in core ranges that respond to specific hair concerns, Clean Balance is a clarifying shampoo that you can use and combine with other conditioners and products from any other Bonacure range.
Essentially, this shampoo provides you with an in-depth cleanse that purifies your hair after exposure to pollution and other external aggressors. It's also great, of course, to remove product build-up and create a truly purified feeling. The formula is enriched with tocopherol, an anti-pollution agent that helps protect the hair fiber against external damages. You can use this shampoo every time you wash your hair, or in alternation with other shampoos from the Bonacure range, in order to personalize your hair care routine to your specific needs
---
Schwarzkopf BC Sun Protect Scalp, Hair & Body Cleanse
The versatile shampoo for summer days
And now for something slightly different, the Bonacure Sun Protect shampoo for sun-stressed hair, designed for use during and after sun exposure. You may love summer, but you may have also noticed that summer can play some tricks on your hair, with excess exposure to the sun, salt, sand, and chlorine leaving it dull, dehydrated, and with somewhat changed color.
This is where the Sun Protect range comes in, with a particularly practical shampoo that isn't so much a shampoo, but a 3-in-1 scalp, hair, and body cleanser. Formulated with cold-pressed coconut, shea butter, and d-panthenol, this range helps you nourish and replenish your hair with ease. What's more, it can also help you prevent further discoloration, and revitalize your locks for a gorgeous summer look.
---
Now that you know your way around the BC Bonacure collection, you're ready to pick the best Bonacure shampoo for you. Explore our full range of Bonacure hair care products in the shop, and start putting together your professional hair care routine.