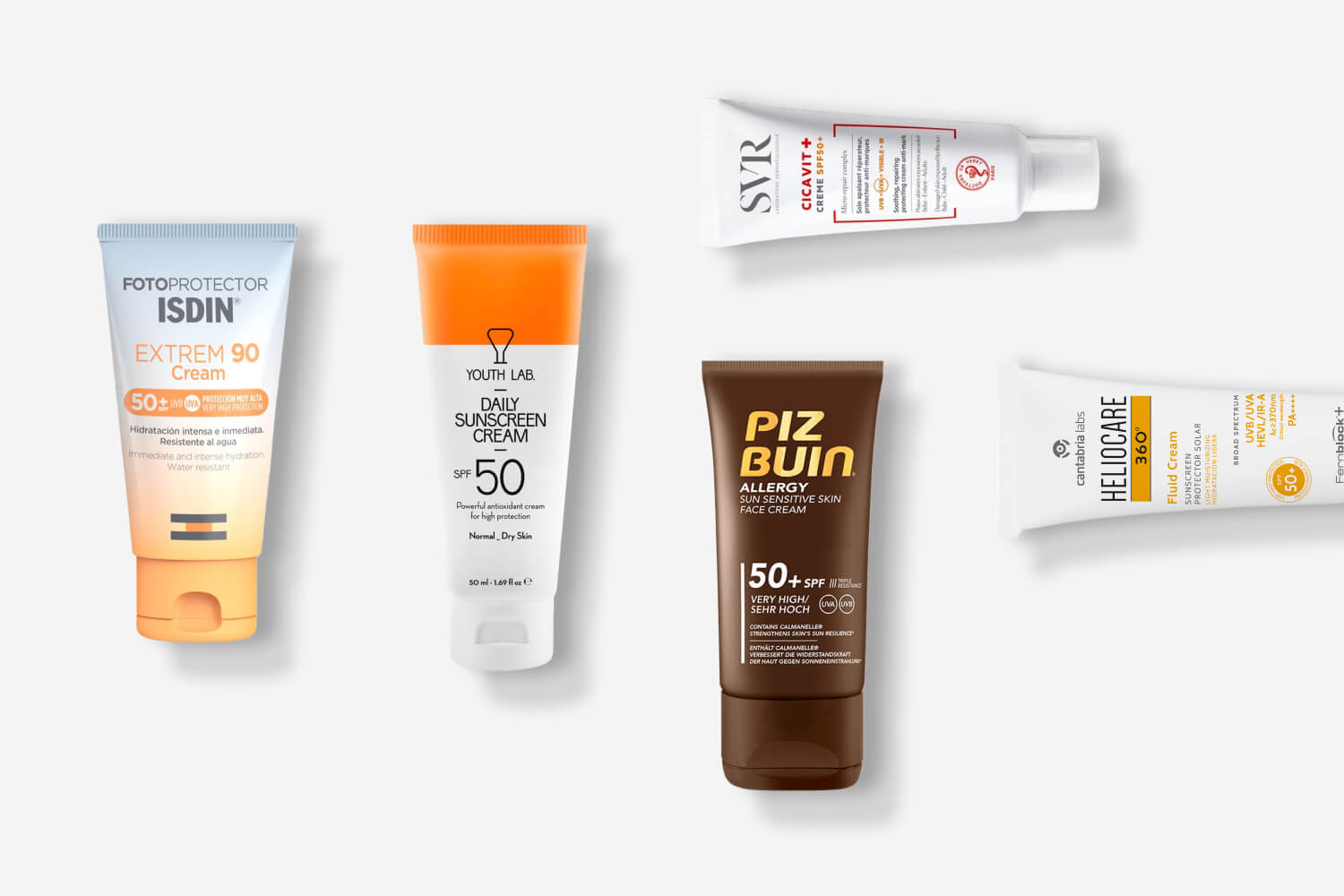 It's been getting harder to find great sunscreens for dry skin. Brands have been betting more and more on mattifying and barely-there formulas, and those with dry skin are getting fewer options by the year. However, this is definitely not a lost cause. Of course, if you use a great moisturizer in the morning, you are perfectly fine if you use a lighter sunscreen. However, there are still some great formulas for those who wish to only use sunscreen in the morning after they have cleansed their skin. If you're all about a minimalist approach to your routine and want to reap all the benefits from sunscreen alone, we've chosen some great ones.
Try These 10 Sunscreens to Hydrate & Protect Dry Skin
To ensure you have multiple options to protect your dry skin and keep it comfortable throughout the day, we've selected a range of sunscreen options for dry skin. Discover the best sunscreens for dry skin on the face, from sustainable to vegan options, and also ones for dark spots or eczema.
La Roche-Posay Anthelios Dermo-Pediatrics Hydrating Fluid SPF50+
The most portable sunscreen
A big part of using sunscreen properly is being able to carry it around with you. Whether you're team "put it inside the pocket" or just throw it inside your handbag, this is perfect. The super nourishing formula is great for those with eczema, and can even be used on babies. Moreover, the super slim packaging offers an easy on-the-go solution.
---
NUXE Sun Melting Cream Face High Protection SPF50
The luxurious experience
If you're one of those people who definitely need to enjoy using their product, this one is for you. The delicate fragrance and melt-in-your-face texture provide a deeply satisfying experience. This NUXE cream deeply nourishes the skin while transporting you to a spa, making it so wonderful to use and reapply.
---
ISDIN Fotoprotector Extrem 90 Cream SPF50+
The sunscreen with extreme protection
Even though the packaging of this sunscreen suggests that it's for extreme sports fans, sometimes living equals an extreme sport. If you live in an area that gets to extremely high temperatures, this one is a must-have. The formula offers one of the highest protections available, and it's super nourishing to make sure you apply it properly. Whether you climb mountains or just go on about your life under >40ºC, having extremely high SPF is mandatory.
---
LETI AT4 Atopic Skin Defense Facial SPF50+
The ideal sunscreen for eczema on the face
Sometimes having the best sunscreen for dry skin is not enough. Eczema sufferers will tell you about it. Eczema-prone people need not only highly nourishing formulas but also ones that respect the integrity of the skin barrier. That means no fragrance, a minimalist formula, and ultra-nourishing ingredients. This option from the renowned barrier care brand LETI is just what you need. The formula is truly amazing for those who need extra care.
---
Heliocare 360 Fluid Cream SPF50+
The best vegan sunscreen for dry skin
Finding great vegan sunscreens used to be hard, but it's becoming easier and easier. Heliocare as a brand produces only vegan sunscreens, so it's super nice to have several formulas to choose from. This formula, even though fluid, means that your skin will be highly nourished. As well as the nourishing formula, it also offers broad protection, making it ideal for everyday use in urban environments.
---
SVR Cicavit+ Soothing Repairing Protective Anti-Mark Care SPF50+
The barrier-repairing sunscreen
We know that "cica creams" have been all the rage lately. So, what is better than having a great cica moisturizer that is also a sunscreen? The perfect combination for those undergoing retinol routines or post-procedure. Or, really, just for everyday use. Why wouldn't you want a super gentle formula on your skin every single day?
---
Piz Buin Allergy Sun Sensitive Skin Face Cream SPF50+
The best option for PLE ("sun allergy")
Polymorphous light eruption (PLE) is a common form of sun allergy, and it's not an easy thing to manage. As if the usual issues with sun exposure weren't enough, you're also dealing with your skin overreacting. Some things do help with this, one of them is this sunscreen by Piz Buin, a best seller because it actually tends to work on a lot of people. So, if you experience skin bumps, redness and itching after mild sun exposure, check this one out.
---
La Roche-Posay Anthelios Pigment Correct Cream SPF50+
The ideal sunscreen for dry skin and dark spots
This nourishing formula is ideal for those looking for a way to avoid dark spots. Not only this but it has also been tested on pregnant people, so you know is ultra-safe. Available in two shades, it has a high PPD protection thanks to the pigments in the formula.
---
A-Derma Protect Cream Fragrance-free SPF50+
The sustainable sunscreen for dry skin
As well as is the case with vegan sunscreens, sustainable ones are also somewhat difficult to find. However, the Pierre Fabre group has led this trend for a while now, making sure that brands such as A-Derma come up with sustainable life cycles for their products. Not only the sourcing of the ingredients is made sustainably, but everything in-between is well-thought. If you care about sustainability, this is one brand worth keeping in your sights.
---
YOUTH LAB Daily Sunscreen Cream SPF50 Normal Skin
The versatile sunscreen for dry skin
Lastly, one not-so-well-known YOUTH LAB sunscreen that has it all. It's vegan, it's super nourishing, and has a light tint that does not provide coverage, but gives you that dewy skin that screams "I woke up like this, flawless". And, you know, you can definitely trust a Greek brand on how to deal with the sun, it's not like they don't need to be extremely good at it.
---
All in all, these sunscreens are amazing for those who want a nourishing formula that leaves the skin lusciously soft. There are also some more great ones out there, so make sure to browse all our sunscreen options for the face and neck.