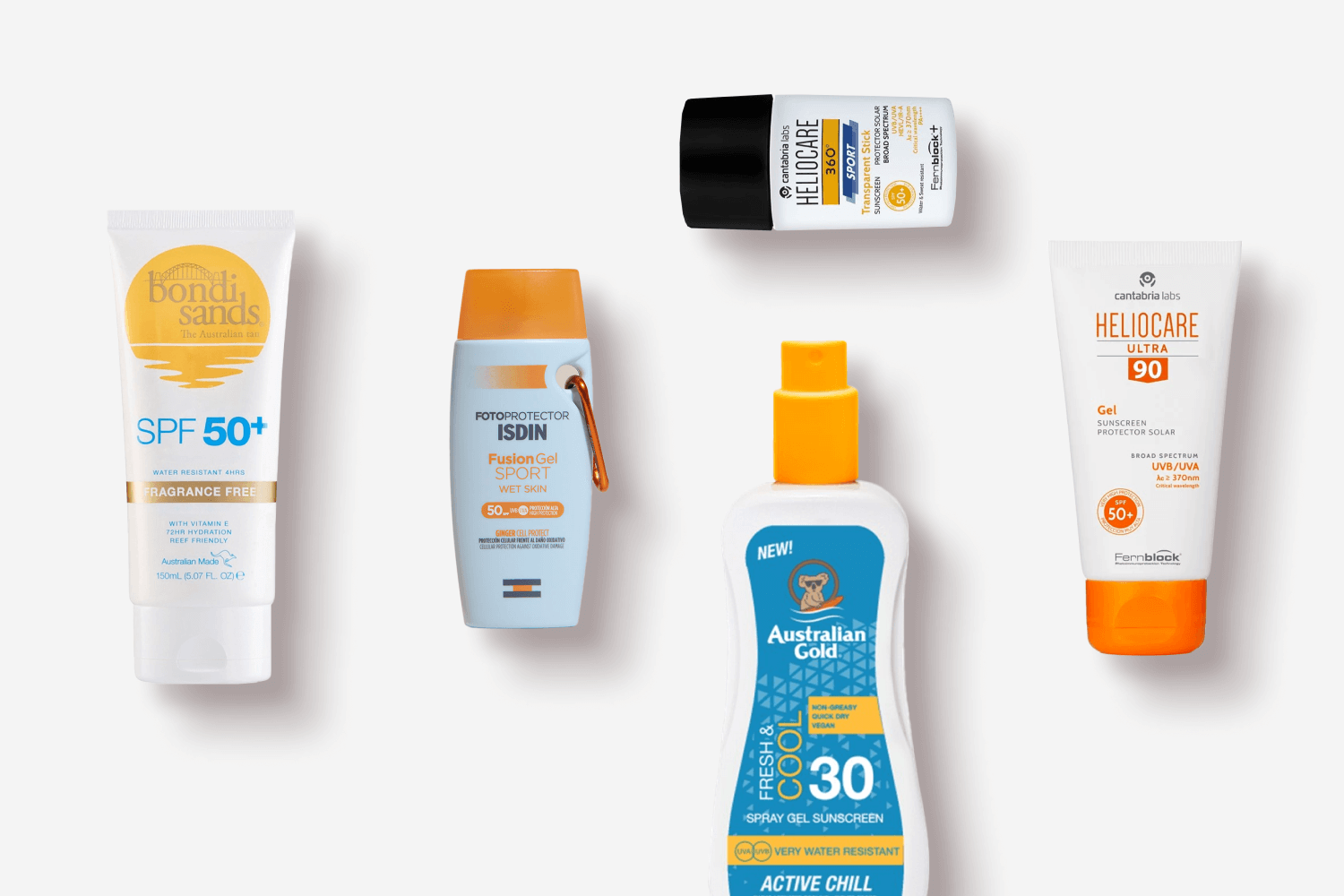 If you do outdoor sports, you've already come across the need for a tailored sunscreen for those situations. It's not only the fact that you're exposed for several hours a week, it's also that you need your sunscreen to be sweat-proof, waterproof, easy to apply, and actually protect the skin. However, different sports also have different needs, so we've selected a few popular sports and matched them with the perfect sunscreen.
Just a quick note: the following products are almost all body sunscreens. While they are safe to use on the face, they can have a slight downside for people with sensitive eyes: they may sting the eyes slightly. If this is a big concern for you, we've got a pretty great selection of sunscreens that won't burn the eyes for you to check out.
What should I look for in a sunscreen for outdoor sports
There are two main things you should look for in a sunscreen that you plan to use outside while practicing sports: protection and durability. Let's understand how you can guarantee that you have both.
Firstly, protection. The most obvious one is the SPF factor. It indicates how much protection from UVB you can get. Our recommendation? Always go for at least SPF30–long gone are the days of sticky, pasty sunscreen that you can't use. Additionally, there's UVA protection. You can check this by confirming that your (European) sunscreen has the UVA symbol inside a circle, meaning it has at least one-third of the UVB protection. Alternatively, you can search for the PA rating, where you should always go for PA+++ or PA++++.
Secondly, duration. Considering that you'll probably be sweating, swimming, or in both situations simultaneously, you need water-resistant sunscreens. In Europe, "water-resistant" sunscreens can endure a 40-minute submersion with at least half the initial protection. If the sunscreen is "very water-resistant", it can endure up to 80 minutes.
The best sunscreens for outdoor sports
Now that you know what to look for in the sunscreen that will accompany you in your favorite outdoor sport, let's take a look at some of the options we've selected for you:
Bondi Sands Fragrance Free Sunscreen Lotion SPF50+ 150ml
Best sunscreen for swimming
If you're going to be immersed in water, you need your sunscreen to be the most water-resistant it can be. Going for Australian sunscreens is always a good idea, especially in harsh conditions.
This formula claims it is water-resistant for up to four hours. Ideally, you must reapply your sunscreen every 2 hours, but having the reassurance of water-resistancy is always better when you're underwater.
---
We Are Feel Good Inc. Sunscreen Lotion Broad Spectrum SPF50+
Best sunscreen for surfing
Since we're already covering water sports, let's also check one more. Surfing requires you to be both in constant sun exposure and always wetting the skin. Of course, your suit will partly protect you, but there are still a few areas to be covered.
Going for a sunscreen that was created for Australian surfers might be a great idea. It's non-greasy, easy to apply and water-resistant for up to four hours.
---
Suntique I'm Medi 100% Zinc Sun SPF50+
Best sunscreen for cricket
Cricket has a longstanding relationship with sunscreens. In fact, we dare you to discover a cricket match without anyone having those white cream streaks across their faces. Cricket players have long loved zinc oxide sunscreens, so we brought you one that is just that. This 100% zinc oxide sunscreen will let you know that you're fully protected wherever it is applied.
(If you'd rather avoid a white cast and still protect your skin, we suggest you check out our selection of dark-skin sunscreens, that will have an invisible finish on every skin tone.)
---
Heliocare Ultra 90 Cream SPF50+
Best sunscreen for skiing
Skiing is one of the most extreme situations you can put your skin on. Not only you're enduring the striking cold, but you're also facing some of the highest rates of sun exposure you will ever endure. This is because you're usually higher up (so less protection from clouds, etc) but especially because the snow reflects an astonishing amount of approximately 90% of the radiation.
Basically, you're getting almost twice the radiation you get in other situations. We recommend that you go for all the protective gear you can gather and also apply a nourishing and extremely high sun protection cream.
---
ISDIN Fotoprotector Fusion Gel Sport Wet Skin SPF50+
Best sunscreen for cycling
Cyclists are usually exposed to sun radiation for hours and with minimum clothing protection. Besides, carrying a lot of stuff with you is a definite no. So, besides this sunscreen being super easy to apply, it has a gel-like consistency that is quickly absorbed, it's transparent and even has a hook so you can attach it to your cycling hydration pack.
This formula and packaging are the ultimate definition of portable, so that you don't have to get burned doing what you love most.
---
Australian Gold Active Chill Fresh&Cool Spray Gel SPF30
Best sunscreen for football
Football games can go on for hours, and never mind the practices. Therefore, finding something practical and with added benefits is key.
This formula is both cooling and deodorizing, meaning that when you reapply it it will give you a fresh feeling and reduce bad odors. Thus, it makes reapplying your sunscreen a true pleasure instead of a nuisance. Moreover, it's very water resistant, which means it's also sweat-resistant–a must-have for sports players.
---
Heliocare 360º Sport Transparent Stick SPF50+
Best for reapplying, anytime, anywhere
If reapplying your sunscreen is hard, then we recommend that you take a look at this stick. It's made for those who need heavy protection in the most practical way.
The invisible stick allows you to easily reapply your sunscreen without getting your hands greasy, which is definitely a plus for those who need to manage any kind of gear.
---
Lastly, keep in mind that the best sunscreen is the one you'll use. Therefore, if you want to browse for more sunscreens for the body, we have plenty of great sunscreens.