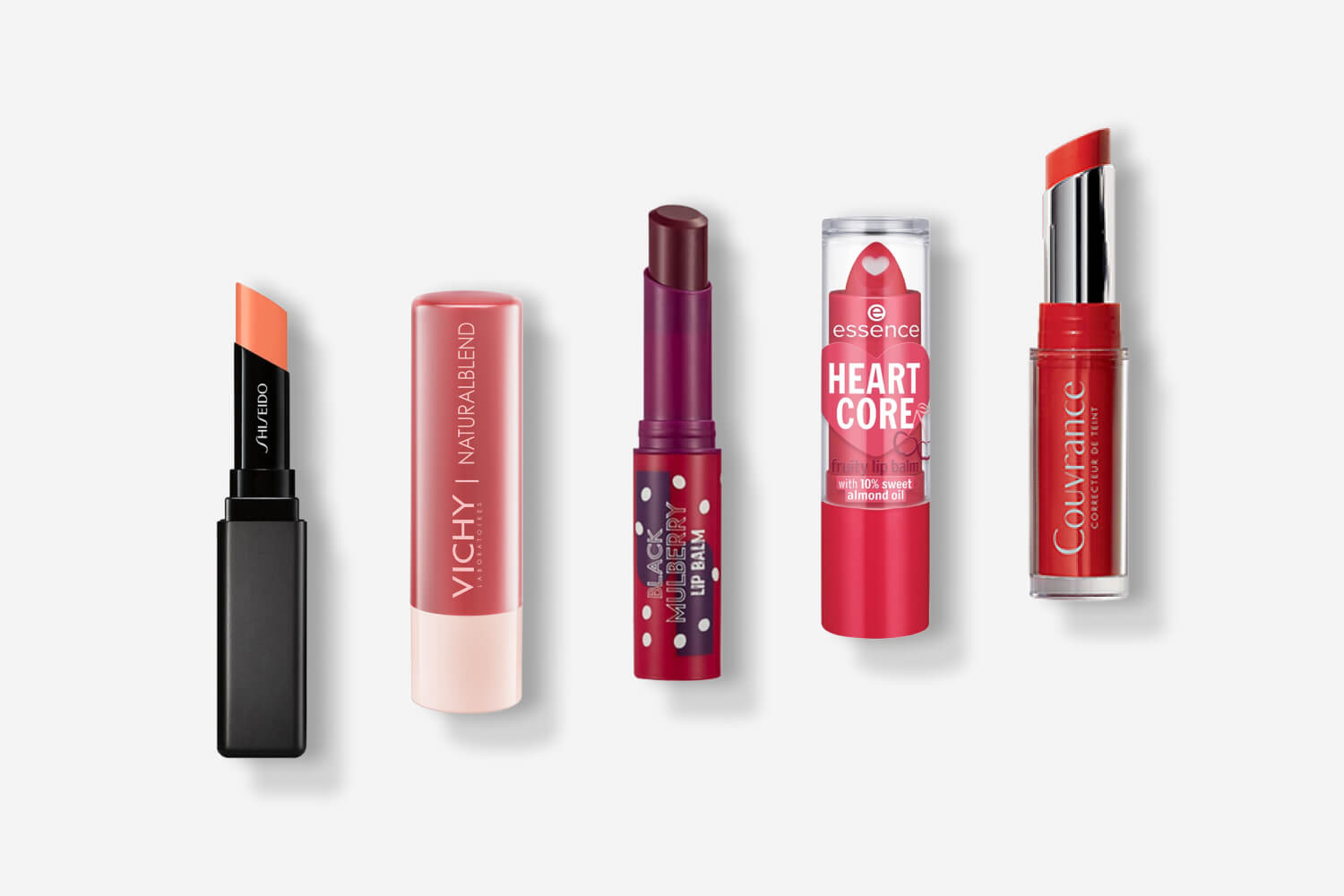 Tinted lip balms are an essential makeup product on the makeup bag of those that ever tried them! If you love to feel the lips comfortable but won't miss the chance to enhance them with color, tinted lip balms are the perfect solution! They add sheer, natural color, while deeply nourishing the lips with a creamy, glossy texture. It gives the perfect slip to the lips without ever leaving them sticky. Learn all about this wonder product and give tinted lip balms a try!
Your questions about tinted lip balms, answered
When a product combines multiple jobs, it tends to raise some questions! We're answering the questions that you had, as well as the ones that you haven't thought about yet. Learn all about tinted lip balms and then try them!
What is a tinted lip balm?
A tinted lip balm is a hybrid between lipstick and lip balm. Tinted lip balm formulas have a base of nourishing and hydrating ingredients that deeply replenish the driest of lips, combined with pigments that deliver sheer color. Tinted lip balms often look like regular lipsticks, but once you apply them you'll notice the differences! The formula deposits see-through color, creating a universally flattering glowy lip look. Each coat results in comfortable lips, that not only feel but also look good!
Are tinted lip balms better than lipstick?
The answer depends on the user! If you're a fan of clear lips with sheer color and luminous—almost glossy—radiance, as well as comfort that lasts all day, then tinted lip balms are the right product for you. If, on the other hand, the most important thing for you when it comes to lip makeup is strong and lasting color, or a matte result, then lipstick may be a better fit for you. Put simple, tinted lip balms are the best lip product for those who want comfort, sheer color and a glossy finish, all in one product.
Can I use a tinted lip balm with other lip makeup?
Yes, you can use tinted lip balm as a lip primer for other lip makeup! They are incredibly comfortable and nourishing, so it may be a good idea to apply them under matte lipstick, for example. You may also use it to add shine and change the finish of other lip makeup. You may use it after applying your favorite lip liner, or before your favorite lipstick. Try different combinations to create endless colors and finishes with your makeup kit!
Which is the best tinted lip balm?
Are you already convinced to try a tinted lip balm? Then you'll need to have the best by your side! Most of our suggestions are available in multiple shades—pick those that speak to you and remember that with sheer color and pay-off, your natural lip color greatly impacts the results. If you have light natural lip color, the final result should be close to the one you expect from seeing the lip balm bullet; on the other hand, if you have pigmented lips, you'll see your natural color through the translucent formula. Give it a try!
Catrice Power Full 5 Lip Care
Vegan lip balm to add color & care
Available in five natural shades, this ultra-nourishing tinted lip balm deeply hydrates the lips with each application. This vegan formula applies soft and subtle color to the lips, and blends in moisturizing ingredients that transform your look in a second. Experience unparalleled comfort with a lip formula that does as much for your lips as it does for your makeup look!
---
Vichy Naturalblend Lip Balm
Fragrant lip moisturizing experience
Featuring 96% of natural ingredients, this tinted lip balm comes in four lively colors that would highlight any look. Coconut butter together with beeswax and natural oils make the formula creamy and soft, easy to apply with or without a mirror! The scent and taste are delicious and addictive, so you can count on a completely indulging experience with this one!
---
essence Heart Core Fruity Lip Balm
Heart shaped moisture
This fruity lip balm is the perfect example that a product can have it all. It's cute, fragrant, deeply nourishing and also beautifying! The heart-shaped core becomes a real eye-catcher, while the color frames and completes it. Thanks to 10% of sweet almond oil, this product provides intensive care to the lips, leaving a deeply smoother feel to them. Finish your look with shimmer, color and comfort to the lips!
---
Clinique Chubby Stick Lip Balm
A crayon, for the lips
Deliver soft and lightweight color and moisture to your lips with this handy lip crayon. Its mistake-proof formula combined with a practical pencil shape makes it the ideal option for those who never seem to get it right with lip makeup application. A perfect blend of oils and butters is responsible to keep the lips nourished and comfortable, for lips that look and feel good!
---
Avène Couvrance Lip Balm
A touch of color for sensitive lips
Enhance the appearance of your lips with color and shine, while delivering all the comfort your lips need. Suitable for everyone, including for those with sensitive lips, this tinted lip balm cares for the lips with a blend of nourishing oils and perfects them with purified pigments, for maximum tolerance. With SPF20, this product manages to care for and protect the lips at the same time.
---
Flormar Lip Balm
Bright colors, sheer coverage
This tinted lip balm looks exactly like a lipstick! You'll find it available in intense and bright colors, and it just… looks like it. Once you apply it, though, you'll experience a soft, creamy application experience that you would like to incorporate into your daily beauty routine! Take advantage of the colorful packaging to create a vibrant party in your makeup kit.
---
Shiseido ColorGel LipBalm
A luxurious touch of hydration & color
Luxuriously hydrating, this tinted lip balm is the perfect match for those who love a good makeup treat. Available in an impressive range of 15 shades, this gel-like lip balm adds a semi-sheer pop of color to your lips. Combining high- and low-melting point waxes, the formula finds the ideal texture. Each application grants softer and healthier lips!
---
Did we spark your curiosity about lip makeup? If that's the case, you'll love to navigate our complete guide to lip makeup. Spoiler alert: you may combine your new tinted lip balm with most of the products you'll find there!