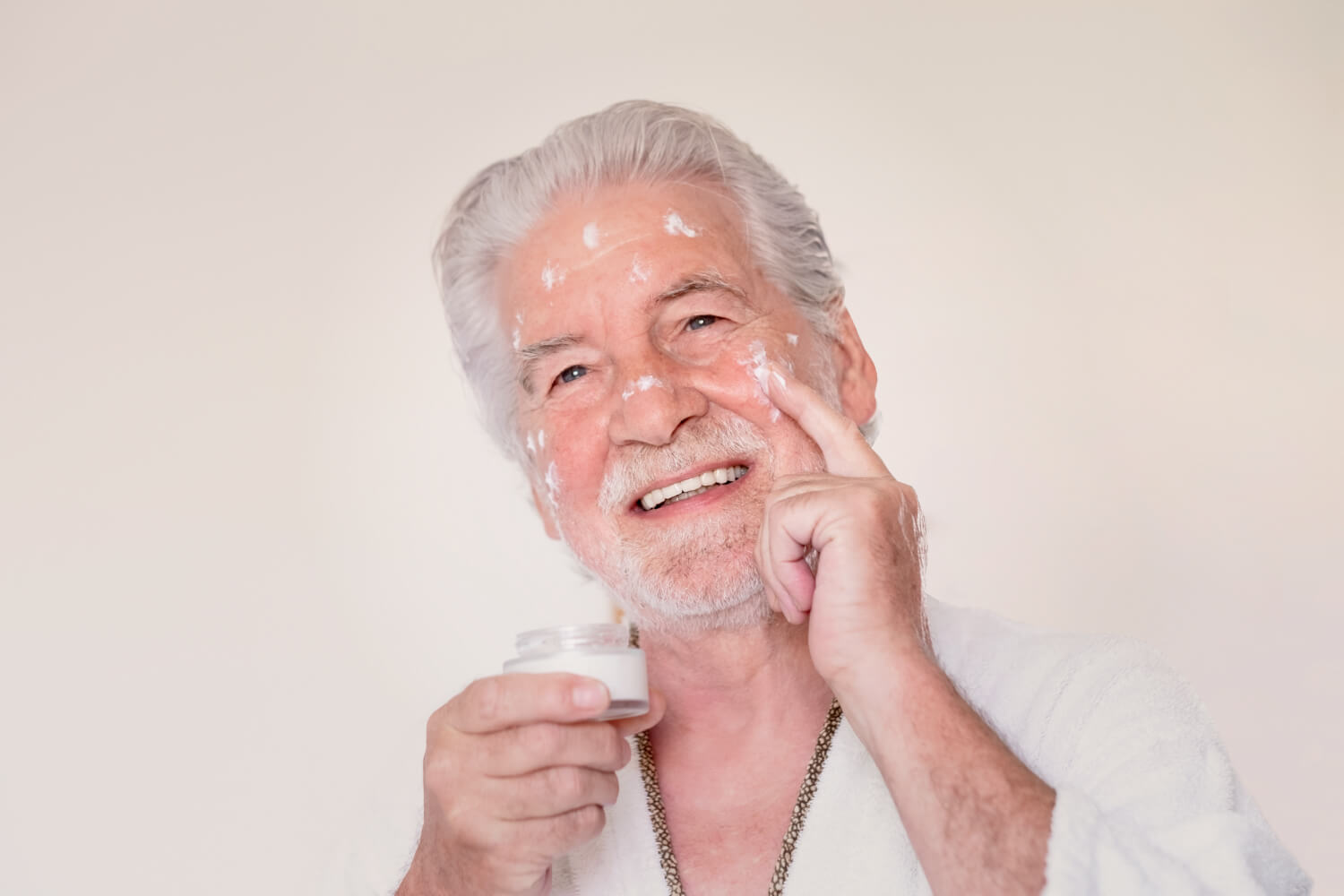 Actinic keratosis may not be a familiar name, but it's a familiar skin condition–you may also know it as solar keratosis or senile keratosis. But what is it, what does it look like, and how can you manage it at home? Today, we're guiding you through everything you need to know about actinic keratosis, and showing you some of the best creams you can use to help your skin improve.
What is actinic keratosis?
Actinic keratosis (AK) is a condition characterized by skin lesions that occur due to progressive sun damage to skin cells. There is no consensus on what actinic keratosis actually is: some dermatologists describe it as a pre-malignant condition, while others describe it as superficial squamous cell carcinoma. However, all of them agree on one thing: actinic keratosis has the potential to evolve into skin cancer and should, therefore, inspire attention and targeted care.
Oftentimes, actinic keratoses manifest as rough, scaly patches of skin. They may be pink, purpleish, or brownish in color, or they may look exactly like the skin around them.
How does actinic keratosis appear?
Actinic keratosis is caused, as we mentioned, by chronic sun exposure. As you know, sun exposure has its benefits, but it's also got immense potential to harm the skin. Indeed, UVA and UVB radiation both induce mutations on the DNA of skin cells. Generally, the skin's natural built-in mechanisms are able to repair this damage. If they fail (and they do fail, sometimes), DNA errors start to accumulate. Over the years, this can lead to defective skin cells that multiply and create a noticeably affected area. That is what actinic keratosis is.
The biggest risk with actinic keratosis is that it may evolve into non-melanoma skin cancer. For this reason, actinic keratosis lesions should be checked regularly by a doctor, to evaluate whether they're changing.
Where does actinic keratosis usually appear?
Actinic keratosis lesions tend to appear on areas that suffer a lot of sun exposure. Think the face, scalp (specifically in bald individuals), neck, shoulders, forearms, and back of hands.
How common is actinic keratosis?
Actinic keratosis is very common, though its distribution varies across the world. The World Health Organization estimates that this condition is most common among Caucasians living close to the Equator. The older you are, the likelier you are to develop actinic keratosis–that makes sense, of course, as we've established that actinic keratoses are, essentially, areas of accumulated sun damage. Studies suggest that actinic keratosis can affect as many as 80% of individuals between 60 and 69 years of age.
The main risk factors for developing actinic keratosis (AK) are:
Age (the older you are, the likelier you are to develop this condition);
Sex (males are more likely to have it);
Fair skin (phototypes I and II are more vulnerable to actinic keratosis);
Previous history of cutaneous neoplasms, such as growths or tumors;
Occupational sun exposure.
How to manage actinic keratosis at home
First of all, you should check all actinic keratosis lesions with your doctor in order to evaluate them and exclude the hypothesis of skin cancer. Once you've done that, and your doctor has confirmed your condition, you can start thinking about how to manage actinic keratosis at home.
Sunscreen is absolutely essential when actinic keratosis is present (since UV radiation is the source of the lesions), but there's a couple other things you should look into. There are a few select creams for actinic keratosis that have proven their efficacy throughout the years, and we're about to guide you through some of them.
6 creams to help manage actinic keratosis at home
Research in the latest years points to a new ingredient that has been a game-changer in the prevention and treatment of actinic keratosis: photolyase. This ingredient is a combination of enzymes that, when stimulated by sunlight, help repair cell damage. When in contact with a limited amount of sunlight, these enzymes become active and start to repair the damage that the skin systems are no longer able to repair on their own. (Please note, however, that this repairing action is effective on actinic keratosis, but not on skin cancer.)
Given this discovery, a few of the products formulated for AK have started to include photolyase on their formulas. This allows them to not only prevent more damage, but also help improve the existing lesions.
Avène Sun Sunsimed for Actinic Keratosis
One of the first products we like to recommend for actinic keratosis comes from Avène, a brand well known by everyone with sensitive skin. formulated with very high sun protection, Avène Sunsimed can be used in the prevention of actinic keratosis, non-melanoma skin cancers, and skin photoaging.
The formula is suitable for phototypes I to VI, and is especially recommended for adults who are undergoing or have recently completed cancer treatments. The light texture is easy to spread and suitable for daily use, so you can prevent skin damage everyday without hassle.
---
ISDIN Eryfotona AK-NMSC Fluid
ISDIN Eryfotona Fluid was the first sun protection product to feature DNA Repairsomes®–in this case, phyhotolyase encapsulated in liposomes. The objective of this formula is threefold: to prevent the appearance of new actinic keratoses, to work as an adjuvant in the treatment of existing lesions, and to reduce and improve the subclinical field of cancerization (which consists of lesions that already exist but are not yet visible).
Studies suggest that this product produces visible results after 3 months, significantly reducing the appearance of existing lesions. This makes it one of the most interesting products from ISDIN.
---
Eucerin Actinic Control MD Fluid 100
Intended for the prevention of actinic keratosis and non-melanoma skin cancer, this sunscreen offers very high UVB and UVA protection with a fluid texture, ideal for daily use. The formula doesn't skimp on sun filters, combining Avobenzone, Octisalate, Tinosorb S, Uvinul A Plus, Uvinul T 150, Homosalate, Ensulizole, and Titanium Dioxide.
In addition to its preventive function, this sunscreen also works as an adjuvant treatment for actinic keratosis. The formula is also fragrance-free.
---
Sesderma Repaskin Mender Liposomal Serum DNA Repair
The Repaskin Mender range by Sesderma is not specific for actinic keratosis, but it responds to a very specific need: how can we protect our skin from the sun and, at the same time , help it repair accumulated sun damage?
The answer, according to this range, lies in repairing enzymes. Sesderma Repaskin Mender Liposomal Serum contains Ses-Photolyase, Ses-Endonuclease, and Ses-Oxoguanine, all of which are encapsulated in liposomes for greater absorption. The formula also includes a quartet of amino acids (arginine, cysteine, phenylalanine and proline). In addition to promoting cell repair, this serum also helps prevent photoaging.
---
SVR AK Secure DM Protect Treatment for Actinic Damage
This SVR sunscreen is intended for the prevention of actinic keratoses and non-melanoma skin cancers. It is especially suitable for fair skin (phototypes I and II) and very sun sensitive skin types. It is also recommended for immunosuppressed patients.
The formula, developed especially for hypersensitive skin by sun protection specialists, combines 6 different sun filters, including Avobenzone, Octinoxate, Tinosorb M, Tinosorb S, Uvinul A Plus, e Uvinul T 150. The fragrance-free formula offers very high sun protection, with a light, non-greasy texture and an invisible finish.
---
Heliocare 360 MD AK Fluid
This sunscreen fulfills a double function: it helps to prevent actinic keratosis and non-melanoma skin cancer and, at the same time, works as an adjuvant in the treatment of actinic keratosis (AK). In addition to sun filters (of course), the formula contains a GenoRepair® complex, which contains 3 different enzymes: photolyase, endonuclease and glycosylation. Together, these enzymes activate natural DNA repair mechanisms, helping the skin recover from damage.
Being a Heliocare sunscreen, it goes without saying that this product also contains Fernblock®+, a botanical ingredient with strong antioxidant power.
---
As you can see, the right cream can go a long way in helping you manage actinic keratosis–make sure to check our full range of products for AK in the shop! Even though you need to be extra careful and avoid the sun as much as possible, these products can prevent further damage and improve the lesions you already have.
Please, always remember to check any suspicious areas on the skin with your doctor. Finally, keep an eye on lesions you already have diagnosed as AK, as they can evolve into skin cancer.