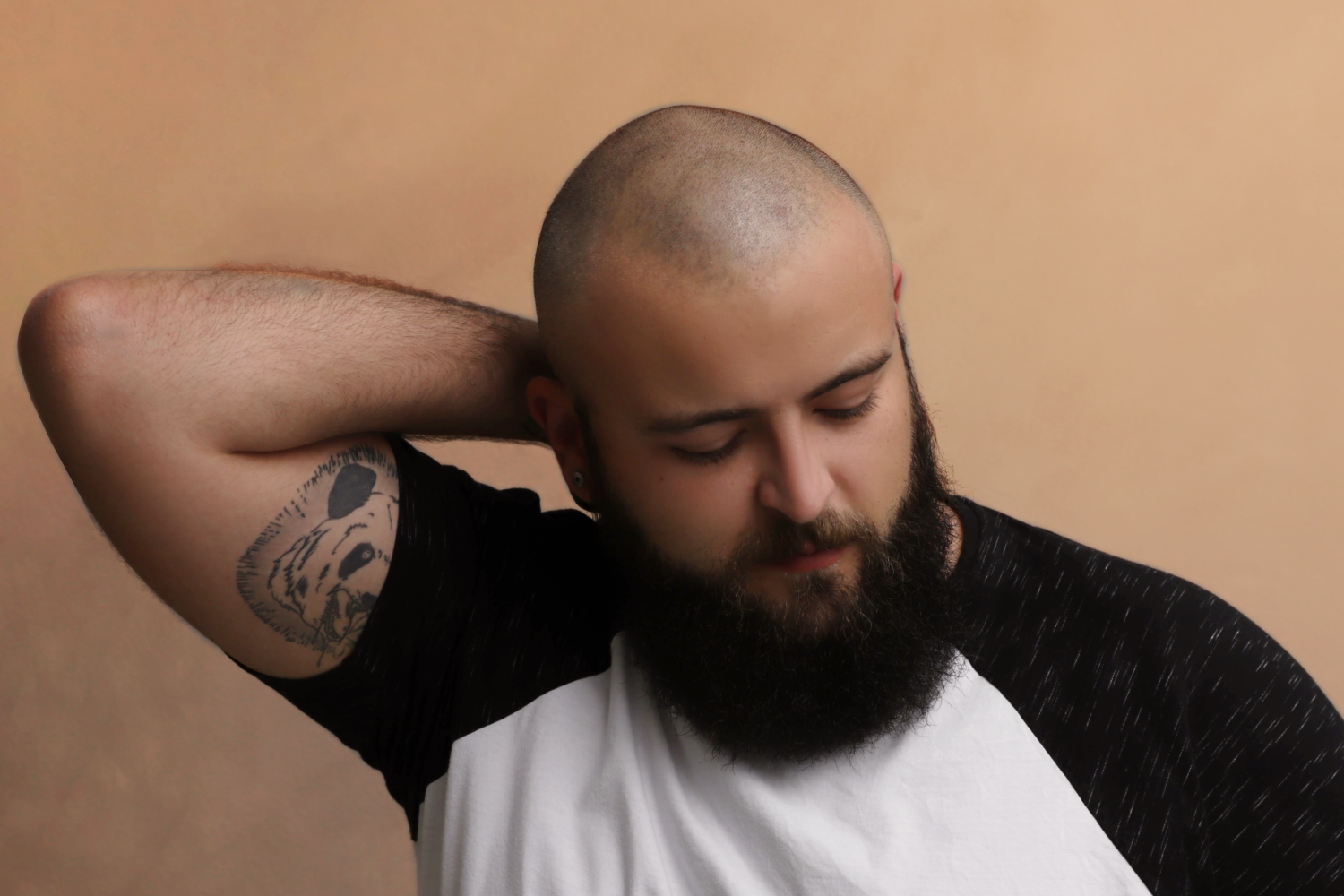 Whether you chose a hair-free style or the hair-free style chose you, you may be rocking a bald head right now—and wondering how to keep it looking great. With less hair to care for, comes more skin to look after, and that may take a little adjustment. Can you still use shampoo if you don't have hair to wash? Should your bald head care be "hair care" or "skin care"?
Join us, and we'll let you know to put together the "hybrid" care routine you need to care for your bald head like a pro.
Your bald head, and common issues that may affect it
Let's start with two obvious facts: your head is covered in skin (aka your scalp), and that skin is usually protected by hair. Without any hair to provide protection, the scalp is more exposed to various aggressions such as the sun, wind, pollution… you name it! This means you've got to start thinking about your scalp—and caring for it, and protecting it—like you think about the skin on your face.
If you're just starting out on this journey, here are a few common concerns you should keep an eye out for:
Dehydration
The skin on your scalp is just as sensitive as the skin of your face, and it can dehydrate just as easily. What can you do to prevent it, you ask? Start by protecting your scalp from external aggressions with protective accessories like hats. Reducing exposure is the first step to minimizing dehydration! Make sure to apply sunscreen as well, if you're out in the sun for long periods of time.
That's that on protection, but of course, you can also prevent dehydration with skincare. If you find that your scalp is super dehydrated, apply a moisturizer every day. That should take care of your skin barrier, prevent transepidermal water loss, and keep your skin feeling comfortable.
We've seen how to prevent it, but how to repair a dehydrated scalp? You can use any face serum or moisturizer for dehydrated skin, if you have one at hand. If not, we've got a solution that will work perfectly: try a hydrating essence such as SVR [B3] Hydra Essence, with a fluid texture that absorbs immediately and hydrating ingredients that replenish your scalp with hydration. The bottle contains 150ml of product, so it should last you a long time, even if you apply it all over your head.
No matter what you use to keep your scalp hydrated—whether it's a serum, a moisturizer, or an essence—, just make sure to choose a texture that's lightweight and easy to apply. For serums, we like Vichy Minéral 89 Fortifying and Plumping Daily Booster; for moisturizers, try Avène Hydrance Aqua-Gel.
Dandruff
If you're too late for prevention and need immediate treatment, find yourself a gentle shampoo and a good anti-dandruff lotion. We like the Vichy Dercos Mineral Soft Fortifying Shampoo, which should be gentle enough to use on a bald head. In addition to that, you can go with an anti-dandruff lotion such as Uriage D.S. Regulating Anti-Dandruff Lotion. This non-greasy spray-on lotion is suitable for daily use and features the antifungal Piroctone Olamine, an ingredient that contributes to regulate the proliferation of micro-organisms associated with skin flaking. Use this powerful duo to reduce irritation, discomfort, and scaling. With no hair in the way, this is the easiest solution to tackle dandruff on shaved heads!
Sunburns
Bald heads have a large area of the skin facing the sun—gathering all the conditions for a perfect storm called sunburn. The good news is that avoiding this issue is on your hands! As good sunscreen lovers we are here at Care to Beauty, we have a complete guide to sunscreen to help you understand this topic in depth. The premise is simple though: if you shield your skin with sunscreen (with frequent sunscreen reapplication!) you should be safe. Of course, protective accessories are of great assistance as well.
We understand, however, that life happens and you may find yourself with a sunburn to deal with. In this case, you'll need to find a healthcare professional to provide you with a solution that answers the severity of your sunburn. Chances are that you're going to need a good repairing cream like Bioderma Cicabio Crème Soothing Repairing Cream!
Excessive perspiration
We're thankful that our body comes with such an advanced system to lower the body temperature when needed. However, it can turn into a problem when perspiration makes you feel uncomfortable. Without hair to stop it, the sweat just runs down the face—and it's ok not to be ok with it. If that's the case, it's time to get yourself an anti-transpirant to deal with this issue. Our suggestion is to use a liquid or spray formulation such as Sesderma Dryses Antiperspirant Solution. It's easy to apply to your shaved head and it'll work like a charm. No more sweat dripping from your eyes!
How to care for your bald head: 3 essential steps
It doesn't take much to create a complete routine to take care of your shaved head. You just need to cleanse it, hydrate it and protect it to keep it balanced and soft. Yes, bald head care is just as simple as that. We're walking you through the steps, and hopefully a routine like this will help you prevent the skin concerns we've just covered. Come along!
1. Shampoo
Shampoo is a cleansing step that needs no introduction. Yet, we wouldn't miss the chance to talk a bit about it! The shampoo is designed not only to care for the hair but also to care for the scalp. So it's a good idea that you keep using yours even with a shaved head. A bald head may or may not have little hairs sprouting, and if that's your case then those little fellas get a proper cleanse too. If you're ready to ditch your shampoo, you could use your body or face wash on the scalp as long as it is really hydrating—you wouldn't like to mess with the skin of the scalp using stripping products!
2. Moisturizer
Once the scalp is clean, it's time to replenish it with moisture and hydration. What to use, then? You may go with a hydrating essence as we've suggested above if you're more a fan of liquid and fresh textures. If you'd rather go for a classic cream, choose one that applies and absorbs easily. Considering that the skin of the scalp is delicate and may be sensitive, it's also important to choose a formula that's gentle. You may use the same cream that you use for your face if it meets the requirements, or you can go with a different one. You can scroll through creams for the face or moisturizers for the face & body to find your next favorite. Looking for ideas? Worry not, we have suggestions! You can try the unique and lightweight Neutrogena solution, the Neutrogena Hydro Boost Water Gel or the versatile Nivea Soft Refreshingly Intensive Moisturizing Cream, suitable for the face and body.
3. Sunscreen
The last yet most important step: the sunscreen! A large area of your scalp is facing the sun directly and needs all the protection it can get. From protective accessories such as hats to broad-spectrum sunscreens. Using your sunscreen diligently, your not only protect your scalp from sunburn but also prevent dark spots and signs of aging. Considering it's a large area, you'd probably prefer a fluid texture that applies quickly and easily. You can use your face sunscreen if you find that option easier, or even go for a formula that is suitable for the face and body—it seems like a smart idea to us.
Daily sunscreen application is essential and may be enough for days without too much sun exposure. However, for vacation or any other day when the sun feels too strong, it's more than advisable that you reapply your sunscreen. Our suggestion is to use a spray to reapply, being an easy and effortless way of continuing your day in the sun without harming your bare scalp! We think you should like ISDIN Fotoprotector Transparent Spray Wet Skin SPF50 to help you out.
---
Would you like to know more about the scalp? Then check out our suggestions on scalp treatments for various scalp concerns.