You can't imagine our excitement when we received the new version of Fillerina here at Care to Beauty. Renewed inside and out, with a new formula and new packaging to match, Fillerina is back as the most alluring at-home filler treatment on the market. In this in-depth Fillerina review, we'll tell you all there is to know about this new formula. We'll also answer your most burning questions: do you inject Fillerina? How long do results last? How are you even supposed to use Fillerina?
Keep reading to find out!
---
On this post:
---
Fillerina: Everything you need to know
What is Fillerina?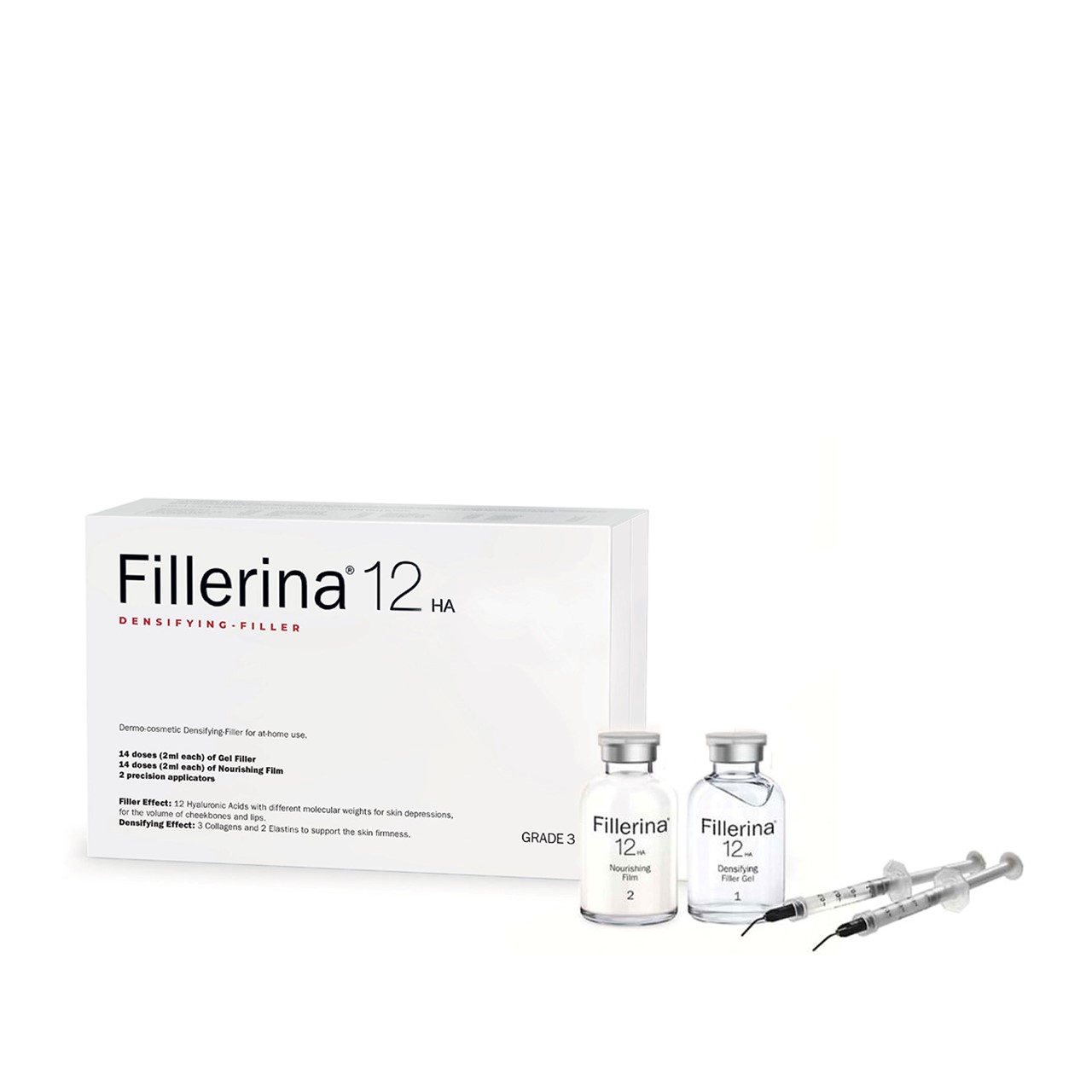 Fillerina 12HA Densifying-Filler Grade 3
Fillerina 12HA Densifying-Filler Treatment is a topical skincare product (aka a "cosmetic"). You apply it on the surface of the skin, but it doesn't reach the deeper layers of the skin–meaning, it does not reach the bloodstream or create any side effects.
This should answer one of your most-often-asked questions: "can I inject Fillarina?" Being a topical skincare product, the answer is no, you cannot inject Fillerina.
What are the ingredients in Fillerina?
Fillerina combines 12 different hyaluronic acid molecules with collagen and peptides.
What results can I expect from Fillerina?
Fillerina works as a filler by boosting volume. So there are two things that you can expect from this: a filling effect on wrinkles and a volume boost on deflated areas such as the lips and cheeks.
How long do results last?
It's recommended that you repeat the Fillerina treatment every 3 months.
How do I use Fillerina?
Fillerina is a skincare product that comes in two different vials, with two precision applicators. Even though the applicators look like syringes, they are not. They are meant to help you apply the product with precision, as if you were drawing on the surface of the skin.
First, you're meant to use one applicator to apply the product from the first vial and wait 10 minutes. Then, tap the remaining product onto the skin, and follow with the second vial. If you're still in doubt, check out our step-by-step guide on how to use Fillerina.
You should use Fillerina for 14 consecutive days in order to achieve the expected results.
Is Fillerina safe?
As we've explained, Fillerina just works on the top layers of the skin, so it's perfectly safe to use by everyone. In fact, Fillerina is even safe for pregnancy, so you can use it free of any issues.
You can also use it as a way to enhance results from aesthetic procedures, as it doesn't interfere with other treatments. Just make sure that, if you've undergone an invasive treatment, you only use Fillerina once your doctor or aesthetician tells you it's safe to do so. Usually, professionals will advise that you wait until two to four weeks after treatment.
Which Fillerina grade should I choose?
Fillerina is available in three different "grades", or strengths, numbered from 3 to 5.
It can sound confusing, but it's actually pretty simple: the previous version of Fillerina was graded from 1 to 3. To avoid confusion, the new version os graded from 3 to 5. If you used to use grade 3 of the previous formula, you are now a grade 5. All in all, here's when you should use each grade:
Grade 3: you have small lines and few wrinkles, with barely any loss of volume on the cheeks and lips. Usually, you're in your late 20s or early 30s;
Grade 4: you already have some wrinkles and some degree of marked loss of volume. You're probably in your late 30s or 40s;
Grade 5: you already have deep wrinkles and a noticeable loss of volume. It's probable that you are in your late 40s or 50s.
Don't get too attached to the age ranges, though! Anyone can use any grade of Fillerina, depending on their specific needs and skin concerns.
---
Our review of Fillerina 12HA Intensive Treatment
In the name of science, I, Ana, volunteered to test and review the new Fillerina formula here for Care to Beauty. Here are my thoughts:
My experience using Fillerina
I'm currently 33 years old with a few wrinkles and lines, so I used grade 3. As per the general indications of the product, I used it in the evening everyday for 2 weeks. It took me around 20 minutes each evening, even though 10 of them were just waiting for the first formula to be absorbed, so I generally ended up reading a book while lying in bed.
All in all, this cosmetic is not for those who believe a skincare routine should be quick and easy. In fact, we believe you need to be deeply invested in it to be able to use it. Even though it's fairly easy to use, the process of using the precision applicators combined with the waiting times, makes it a bit extrenuous. Additionally, the first formula is a bit difficult to handle due to its stickiness and ability to form a film.
What's good about it, is that it's the only product you're supposed to use after cleansing the skin. So even though it takes a while to apply, at least you're not supposed to follow with even more products.
My Fillerina results
I noticed a marked reduction in the depth of the fine lines and wrinkles, leading to some of them actually becoming unnoticeable. I had no issues with loss of volume, so I cannot testify that it works. Generally speaking, the product kept its promises of reducing the visibility of fine lines and reducing the depth of the bigger ones.
---
Is Fillerina worth it?
After looking through the ingredients and claims, and testing the product ourselves, we can wrap up our Fillerina review: yes, Fillerina is definitely worth it. Even though the process of using Fillerina can be a little complicated–compared to other skincare products you may be used to–, it all comes together in the end. After 14 days of use, I saw noticeable changes in my skin.
Want to try it for yourself? Then make sure to stop by the shop, where you will find all 3 strengths of the Fillerina 12HA Densifying-Filler Treatment, as well as many other products from the brand.