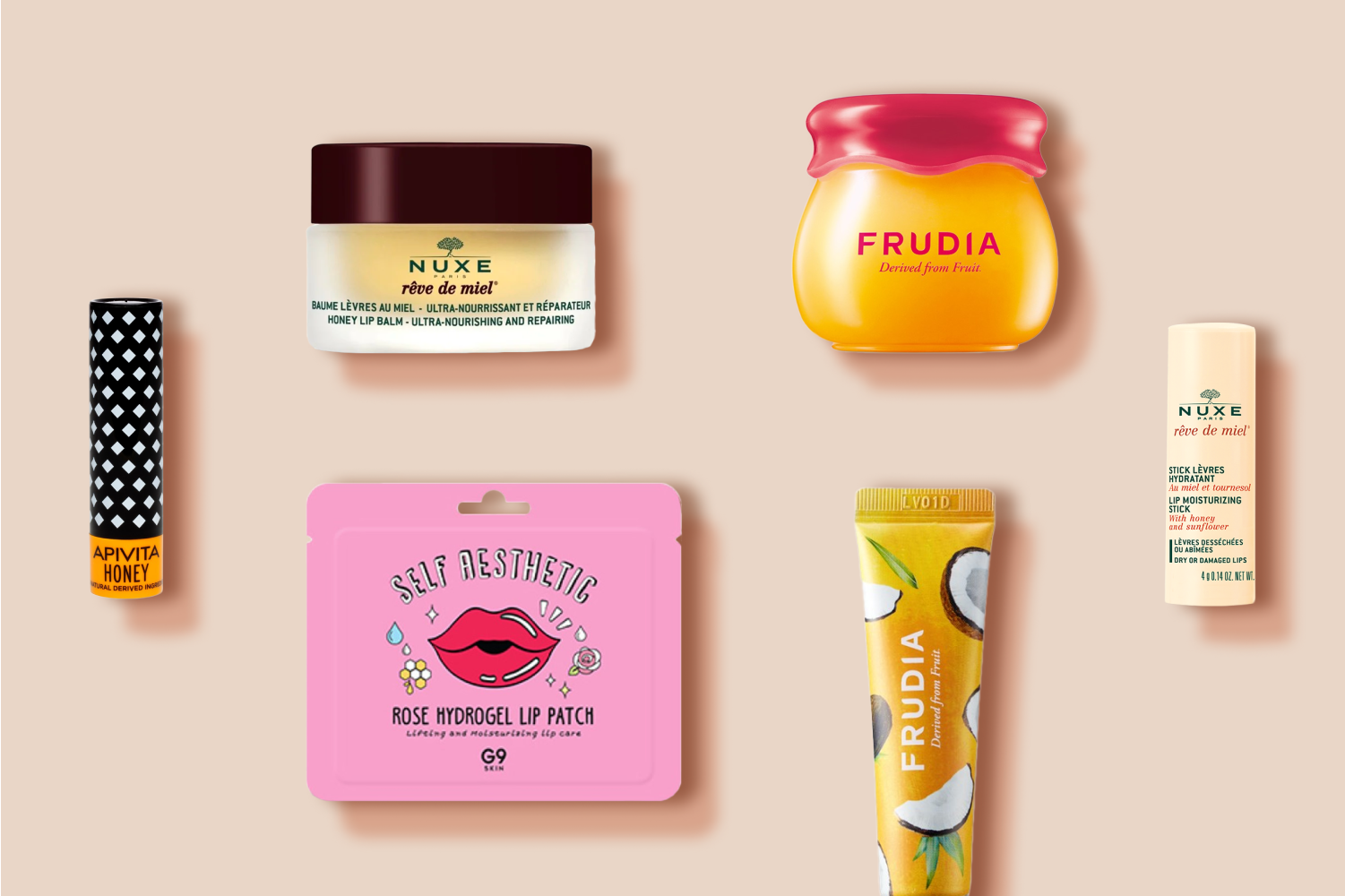 Choosing the right lip balm can make the difference between comfortable, healthy lips, or dry lips that keep drying and cracking day after day. Not that this is a problem! There are so many lip balms on the market today that you can be sure one will work for you; you just have to find it! To help you out, today we're looking at a very popular, very fragrant, and very rich category of lip balm: honey lip balms. Enriched with this legendary natural ingredient, honey lip balms strike the perfect balance between skincare and beauty product. Let's get to know them!
What does honey do for your lips?
At first glance, honey seems to have everything it takes to be considered a good lip product. It has a rich texture, a delicious fragrance, and hundreds and thousands of usage as a beauty product. At second glance… there is no doubt that honey really is an incredible ingredient to use on the lips. Honey brings along a considerable cocktail of skin benefits. In addition to its emollient and humectant properties, honey also has antimicrobial, anti-inflammatory, and repairing properties. The latter are the subject of multiple studies, where honey has proven to be an important asset for wound healing. All together, these properties make honey an amazing ingredient to apply to your lips.
As you know, the skin of the lips is much thinner than in other areas of the face; to make matters worse, it doesn't have any oil glands either. Put these things together, and you can easily understand why your lips are always dry and chapping. The truth is that lips are super vulnerable to environmental aggressions, and it is important to keep them hydrated and nourished. Honey is a great ingredient to achieve this; while its humectant properties will attract and retain hydration in the lips, its repairing properties will help to heal cracks and splits way faster.
So, how do you go about applying honey to your lips?
Our favorite honey lip balms to try now
We've already talked about the benefits that honey can bring to your lips, now we're going to help you choose a honey lip balm to use on a daily basis. When it comes to choosing the right option for you, you can use multiple criteria. In terms of texture, you can choose between a jar, stick, or squeeze tube; the latter two will always be more practical to use outside the home, in our opinion. In terms of color, you can choose between colorless and tinted lip balms. Finally, it all comes down to benefits: some lip balms will be more preventive, some will be more repairing. Whichever one you choose, one thing is for sure–your lips will thank you for the pampering.
NUXE Rêve de Miel Honey Lip Balm Ultra Nourishing and Repairing
The iconic French Pharmacy lip balm
In the category of lip balms formulated with honey, NUXE Rêve de Miel Honey Lip Balm is a true superstar. With a rich, balm-like texture that melts onto the lips, this product brings immediate comfort to the lips with each application. At the same time, it nourishes and repairs the lips, helping to prevent cracking and splitting caused by external aggressions (or even dehydration!)
The formula, 90% of which is made up of ingredients of natural origin, contains a real cocktail of beehive ingredients. Honey is key, of course, but you can also count on the properties of propolis and beeswax, which provide plenty of nourishing, repairing, and protective benefits. The fragrance is also very honeyed, but with a side note of grapefruit and lemon essential oils for a fresh, sparkling touch. You'll love it!
---
NUXE Rêve de Miel Lip Moisturising Stick
The iconic honey balm in a stick format
The NUXE Rêve by Miel Honey Lip Balm in a jar may be incredible, but not everyone likes such a rich texture to apply casually throughout the day. If that sounds like you, then look to the NUXE Rêve de Miel Lip Moisturizing Stick instead. Available in a super practical and easy-to-carry format, this lip balm brings you all the comforting and nourishing benefits of honey. The 90% natural formula also contains botanical oils (such as rice bran, macadamia, sweet almond, argan), shea butter, vitamin E, and a sunflower oil derivative.
With this nourishing cocktail, you can trust that your lips will always be hydrated and comfortable–no more dryness, no more pulling sensations, and no more chapping. Keep it on you at all times for quick reapplication throughout the day!
---
APIVITA Lip Care Bio-Eco Honey
The all-natural honey lip balm
If you are looking for a honey-based lip balm, made with 100% natural ingredients and eco-responsible to boot, this is the lip balm for you. APIVITA is a Certified B Corporation, so you know they mean business when it comes to creating products that are as good for you as they are for the planet.
The APIVITA Lip Care Bio-Eco Honey is no exception. With a lightweight, comfortable texture, this lip balm moisturizes and soothes dry lips, helping to prevent cracking, chapping, and splitting. Honey extract is the star ingredient, but this gluten-free formula is also enriched with olive oil, beeswax, cocoa butter, shea butter, and, finally, antioxidant vitamin E. Apply this lip balm as often as you like, and enjoy its delicious honey flavor!
---
Frudia Pomegranate Honey 3-in-1 Lip Balm
The volumizing honey lip balm
If you are looking for a multi-purpose lip balm that will not only care for your lips, but also give them a little color, this Pomegranate Honey 3-in-1 Lip Balm from K-Beauty brand Frudia is a great option. In fact, in addition to hydrating and giving color, this Korean lip balm still has an extra benefit, as it slightly volumizes the lips. The secret to this effect is Volufiline, a naturally plumping ingredient extracted from the roots of Anemarrhena asphodeloides.
Alongside this star ingredient, this lip balm also features honey to hydrate and nourish, peppermint oil and ginger extract to create a cooling effect upon application, and a soft pink tint (inspired by pomegranate, another ingredient in the formula) to give your lips a healthy, glossy look. Revitalize your lips, three ways, with just one application of this little miracle in a jar!
---
G9 Skin Self Aesthetic Rose Hydrogel Lip Patch
The deep repair honey lip mask
This product is not a lip balm, but we bet it will be a hit with many lip balm fans. We're talking about a moisturizing lip care mask in a hydrogel adhesive format–almost like a sheet mask for your lips. The hydrogel patch is quite oversized, so it hydrates not only the lips but also the lip contour; as for the product itself, it's enriched with rose water, collagen, hyaluronic acid, and, of course, honey extract.
If you have dry and dehydrated lips and want to restore them super quickly, this product is ideal for you. On clean and dry skin, apply the patch to the lips and wait around 15-30 minutes. Remove the patch at the end of this period, and make sure to spread any leftover product all over your lips. That's all it takes; you'll find your lips feel ibcredibly soft and smooth after application. Any product you apply afterward is going to look fantastic!
---
Frudia Coconut Honey Salve Lip Cream
The creamy honey lip balm
Some people have very firm preferences when it comes to lip balm: there are those who prefer jars, there are those who prefer sticks, and there are those who prefer squeeze tubes. Here we bring an option for those who prefer squeeze tubes: a Korean lip balm formulated with 56% of coconut juice preserved in honey, available in a practical applicator that you can always carry with you in your bag, or even in your pocket. As you'd expect from a balm in a squeeze tube, this lip balm has a thicker texture–in this case, a rich white cream. It's this enveloping cream texture that makes this balm so perfect to comfort lips that lack nutrition, and to protect easily chapped and cracked lips by wrapping them in a smooth protective layer.
Beyond coconut and honey, the key ingredients, this lip balm also contains soothing panthenol and Centella asiatica, to aid in the lip rapairing efforts. If you've been looking for a cozy, delicious lip balm that will not only feel great upon application, but will also help you prevent dry and chapped lips, this is a great choice!
---
Now that you've seen some of our favorite honey lip balms, you're ready to bring all the benefits of this legendary ingredient to your lips. Whether you apply your lip balm as a quick fix throughout the day, or before bed as a pampering lip mask, you will definitely notice an improvement. Just make sure to combine your honey lip balm with a lip balm with SPF, so your lips will stay comfortable and protected all day long!