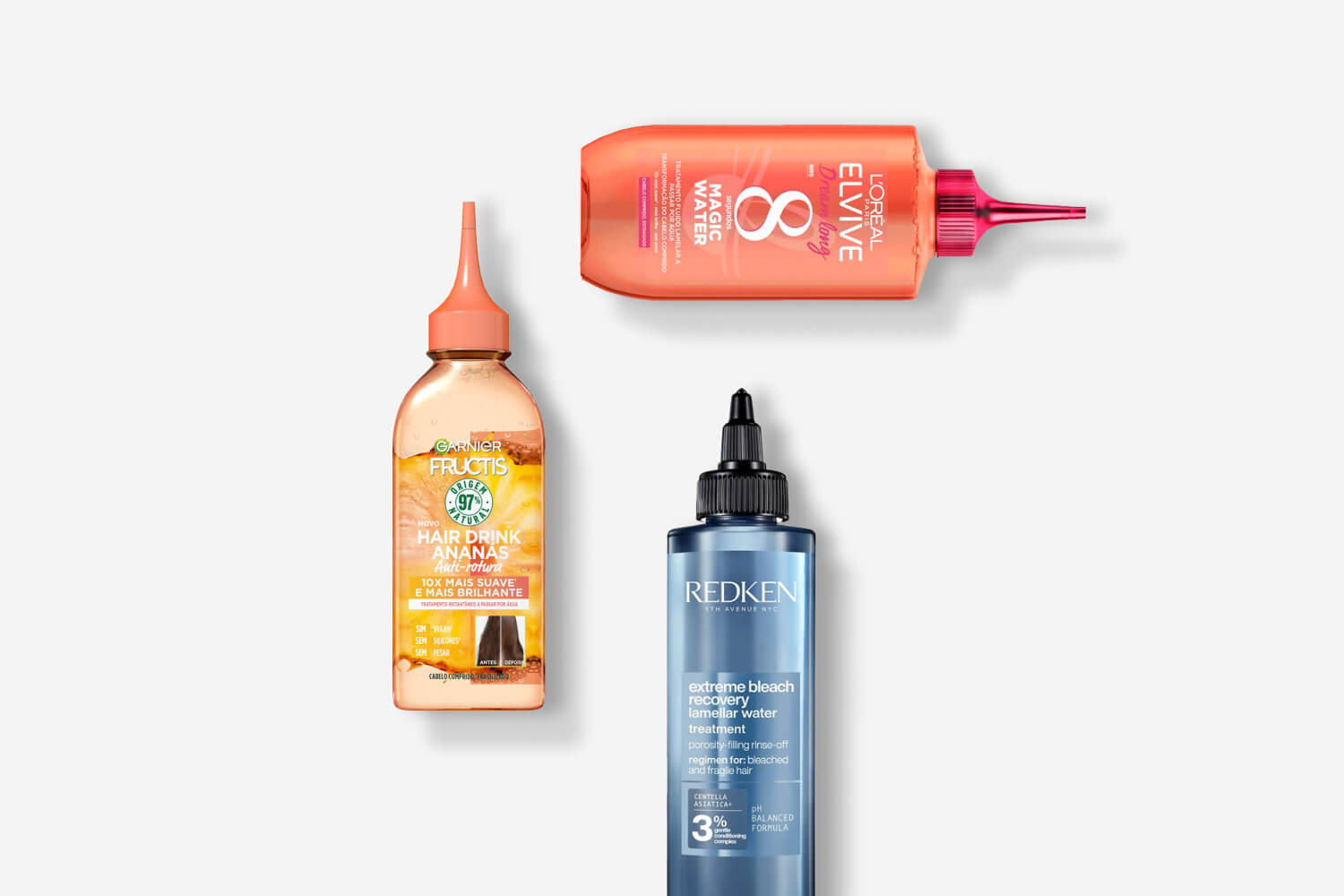 Lamellar waters are a bit of a hair care trend at the moment. They're lightweight, water-like conditioners that promise to restore shine and softness to your hair, all the while repairing damage. But how do they work, really–and can they truly do wonders for damaged hair? Let's find out.
What is lamellar water?
Lamellar water is, very basically, an extremely lightweight rinse-out conditioner. There aren't many lamellar waters on the market, and there's a good reason for that: the lamellar water technology was developed and patented by L'Oréal. Because of this, you'll only find lamellar waters in brands that belong to the L'Oréal Group; as of February 2023, those brands are L'Oréal Paris, Redken, and Garnier.
Most of us had our first contact with lamellar technology through the hyper-popular L'Oréal Paris Elvive Dream Long 8 Seconds Magic Water (or "Wonder Water", depending on where you are in the world), a rinse-out treatment that promises to condition, hydrate, and smooth down the hair in just 8 seconds. However, we didn't come any closer to understanding how lamellar technology actually works. Today, we'll try to find out.
What does lamellar water do for your hair?
According to L'Oréal Paris, lamellar water "targets damaged areas of hair, forming small and very organized thin layers called lamellars that help smooth the surface of strands without the weighed down result." The brand continues: "the smart technology deposits care based on how damaged the hair is. The more damage, the more care that is deposited to your strands."
But how does that actually work? To figure that out, we'll have to look into this "smart technology":
The lamellar water technology
Did you know your hair is electrically charged? (Just like most things on the planet, in fact?)
According to a 2019 study, "untreated human hair has a negatively charged surface." When hair is damaged (for example, bleached), its natural lipid layer is disrupted. Disulfide bonds break down, cuticles grow more porous, and some areas of the hair acquire a "very high negative surface charge." The study continues: "conditioner products were observed to produce a positive surface charge, attributed to a layer of cationic surfactants on the surface of the hair."
In short: healthy hair has a negative charge, but damaged chair has a very negative charge. Electrically speaking, healthy hair is different from damaged hair. Conditioner products use cationic surfactants, which are attracted to negatively-charged areas.
In the end, that's how hair care products can behave "smartly" and identify damaged areas of hair: they are simply responding to the negative and positive charges already present in your hair.
The conditioning ingredients
So, what have we learned so far? Lamellar water is the "vehicle" that allows a product to deposit caring agents where your hair needs it most. But what are those caring agents? That part depends on your specific product.
The L'Oréal Paris Elvive Dream Long 8 Seconds Magic Water, for example, features moisturizing agents like hydrolyzed wheat protein. It's also enriched with arginine, which is an amino acid. A slightly different version of the product, the L'Oréal Paris Elvive Color Vive 8 Seconds Magic Water, contains coconut oil, Paeonia officinalis flower extract, and glycerin. It also features an acidic formula, which plays well with color-treated hair.
The option from Redken, the Redken Extreme Bleach Recovery Lamellar Water Treatment, features a Redken-exclusive Gentle Conditioning Complex, whose key ingredient is Cica, aka Centella asiatica.
The Garnier Fructis Hair Drink lamellar waters (there's three of them!) each contain a different fruit extract: pineapple extract to help reduce breakage, banana extract to nourish dry hair, and papaya to repair damaged hair.
How to use your lamellar water hair treatment
Shampoo your hair as usual;
Twist your hair gently in order to remove excess water;
Then, apply 1-4 doses of your lamellar water to the mid-lengths and ends of your hair;
Massage for a few seconds, working the product into a light lather;
Rinse out;
Follow with your favorite conditioner.
That's the basic way to do it! You may have a few unanswered questions, though:
How long do you leave lamellar water in your hair?
In theory, lamellar water should be able to do its job in a few seconds (that's why it's called an 8-second treatment!) However, you can leave it on a little longer–say, about a minute or so.
Why does lamellar water feel hot?
According to Redken, "warming is completely normal/expected. It occurs due to the mixture of the ethanol (coming from the denatured alcohol) & the propylene glycol when mixed with water." L'Oréal Paris says: "don't worry if you feel a slight warming sensation, that means it's working!"
Do you rinse out lamellar water?
Yes. Lamellar water is a rinse-out conditioning treatment, so you should rinse it out of your hair just like you would any other conditioner.
Do you use lamellar water before or after conditioner?
Lamellar water is designed to be used after your shampoo and before your conditioner. If you decide to introduce lamellar water into your routine, you can continue using your previous conditioner.
In short: do you use conditioner after lamellar water? Yes, if you've been using conditioner anyway.
How often can you use lamellar water on hair?
Lamellar water is a lightweight conditioner treatment that won't weigh down your hair. Knowing this, you can use it every time you wash your hair without having to fear build-up. Start out two to three times a week, and see how your hair fares!
Which lamellar water should you get?
As we said earlier, there aren't that many lamellar waters on the market–but you may still struggle to find the right one for you. Let's guide you through the six lamellar waters currently at your disposal:
The L'Oréal Paris Elvive Dream Long 8 Seconds Magic Water is the best-selling celebrity here: you should go for it if you have long hair with some dryness or damage. The L'Oréal Paris Elvive Color Vive 8 Seconds Magic Water is perfect for color-treated hair–if you're looking for a quick and easy way to prolong your hair color and boost shine, this is it. The Redken Extreme Bleach Recovery Lamellar Water Treatment is designed primarily for bleached hair. Think of it like a band-aid for chemically damaged hair, and use it accordingly.
The Garnier Fructis Hair Drink lamellar waters will all give you shinier, smoother hair, but there are a few subtle differences between them. Go with the pineapple water if you want to prevent breakage; the banana water if you want to nourish dry and dull hair; and the papaya water if you want to repair badly damaged hair. Simple!
---
We hope you've enjoyed this refreshing dip into the world of lamellar waters. What do you think? Are you ready to change up your hair care routine?