Color correction may sound like a technical subject that should only interest professional makeup artists. We're making a different argument here! Learning which colors cancel out the tones you wish to wipe off of your face (like redness, dark spots or dark circles) may seem too difficult to learn and incorporate into your daily makeup routine, but that doesn't need to be true. We'll let you know how to work colors to your advantage. How to color correct is now made simple for your convenience! But first thing first… what is a color corrector and why should you be using it?
What is color correction and why should you use it?
When referring to color correction in makeup, we're talking about the use of color theory to neutralize imperfections, redness or dark circles, for example. The premise is simple: you go for the color wheel and choose the complementary color to neutralize the tones you wish to conceal on the skin. But how can you know which shade neutralizes your dark circles? Or what shade works best to cancel out your face redness? We've organized the solutions on an image to make it simple, keep reading to learn!
Color correction guide
Instead of trying to memorize all the shade correspondences, all you need to know is that for each color imperfection, there is a complementary color that works efficiently to neutralize it. Once you get that right, your makeup looks will change for good!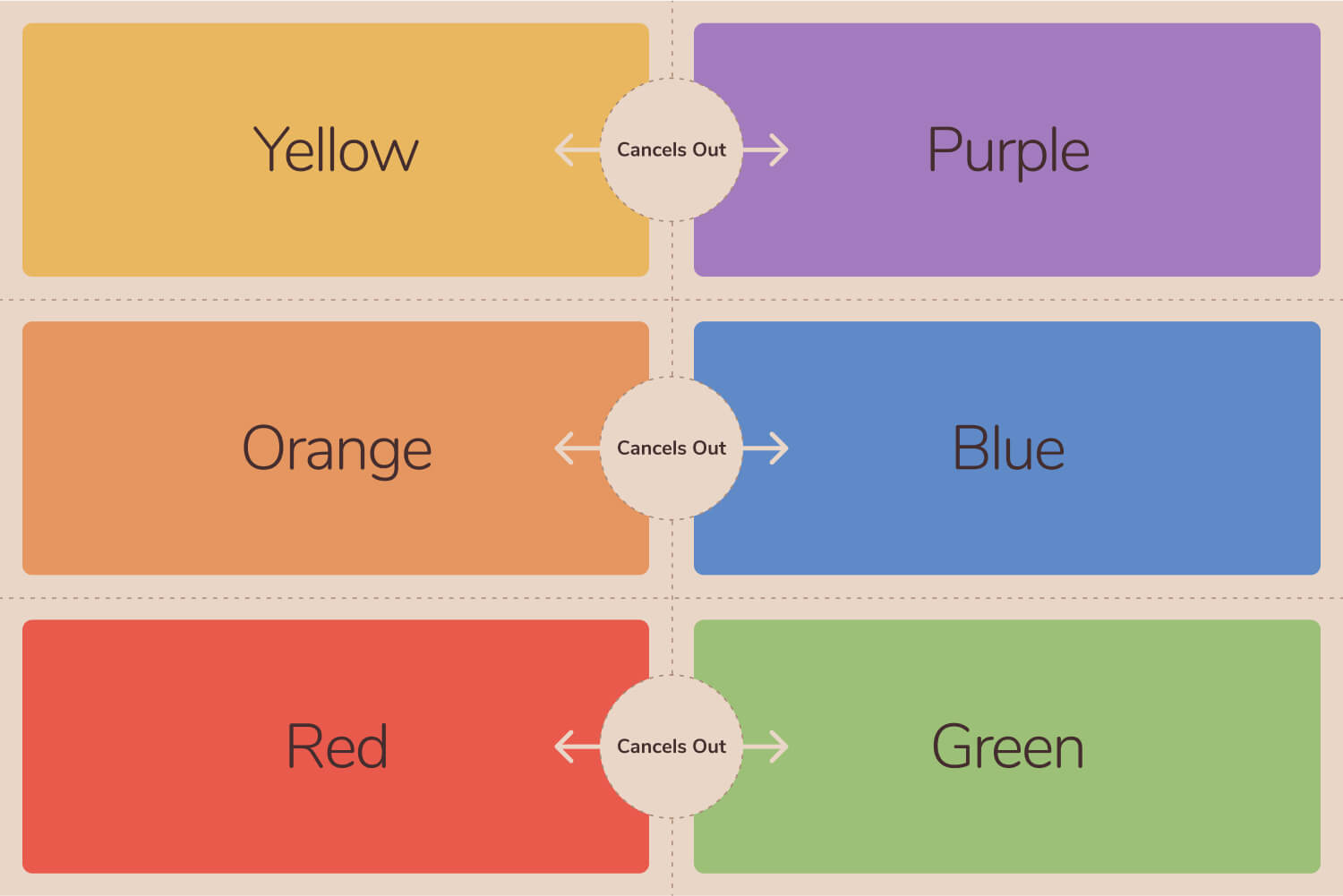 Use green corrector for redness
Let's start with what we think it's the most famous of them all: the green corrector for redness. It's not a makeup artist's secret that green correctors help to neutralize redness on the skin, wether it be from rosacea or from an upset pimple. You'll find green correctors in all kinds of presentations, and the right one for you depends on what you need it for. Imagine that you have rosacea with red flares occupying a considerable portion of your face—in this case, you're better off with a formula that's meant to apply on larger areas (such as the Erborian CC Red Correct SPF25, one of Erborian's many CC creams). On the other hand, if on the even canvas of your face there's only a cute little pimple, you'd be better neutralizing it with a more dense and precise green corrector, like Avène Couvrance Stick Concealer Green.
---
Use peach or orange color corrector for dark circles & dark spots
For blue or even brown dark circles, the undercover weapon to erase them is the peach or orange corrector. These two color-correcting shades work to fight the same ghosts, yet there are a few differences between the peach and orange color correctors. Let's make things easy!
The peach corrector is ideal if you're neutralizing dark spots or canceling out bluish or brownish dark circles on fair to light-medium skin;
The orange corrector is the one to go if you're trying to counteract dark spots on medium to tan skin, or if you're neutralizing deep blue or brown dark circles at any skin tone.
Peach and orange corrector work on almost overlapping territories and the results may not be compromised if you should be using one and go for the other. So don't get too nervous about choosing! We think that the L.A. Girl Pro Conceal HD Concealer Peach Corrector is a good example of a peach corrector while the L.A. Girl Pro Conceal HD Concealer Orange Corrector is a wonderful orange corrector.
---
Use yellow color corrector for purplish dark circles
If you have a violet-like undereye area, you may need more than your everyday concealer to get rid of the purple tones. That's what the yellow corrector is for! As you can see from the image we've placed above, yellow complements the purple and allows for a peaceful neutralization. After applying the correcting shade, your regular skin-toned concealer is able to perform its job like never before!
---
Use a lilac face product to neutralize dullness
For skin that looks dull and lifeless, with far too many yellowish tones, consider trying a color-correcting cream, also known and CC cream, in a lilac, purple shade. The opposition of these shades transforms into beautiful teamwork on your skin, as it ends up looking fresher and more lively! It may not be the most intuitive step towards healthy-looking skin, but you'll see that, once again, the color wheel won't let you down.
---
How to use color correcting makeup
Now that you know what is it and how to choose your color correcting shade, it's time to learn the tips on how to apply it. The use is slightly different from your regular concealer, so it's worth pointing this out!
Apply color corrector with purpose!
You should be using these products differently from their concealer relatives. They go best when used sparingly, applied exclusively over the area they're meant to neutralize.
Let's go for an example again, to make it as simple as possible: you're using a green corrector to neutralize a stubborn red pimple. In this case, you use your finger or a precision brush to place the product on the red area, without overrunning the surrounding area of the pimple. You want to be precise when applying it, and then pat it in carefully. You should apply it before your skin-toned concealer, and then you'll need less of it! When applying your concealer, make sure to carefully pat it in to guarantee that your color-correcting work won't move!
---
Try a color correction palette for endless options
If you find yourself in need of each of the correctors we went through above, maybe the best fit for you is a complete color correction palette. Once you know which is the use of each color, there's no stopping you. With a color correction palette, you can use it accordingly to the needs of each day. Maybe today your dark circles are particularly intense, whereas tomorrow you may be showing some unusual redness on the cheeks. With a palette, you'll be able to address any issue that you wish to correct.
---
Don't forget that after applying your color corrector, you'll need a skin-colored concealer to finish the job. We have some ideas for concealers that would do a wonderful job!