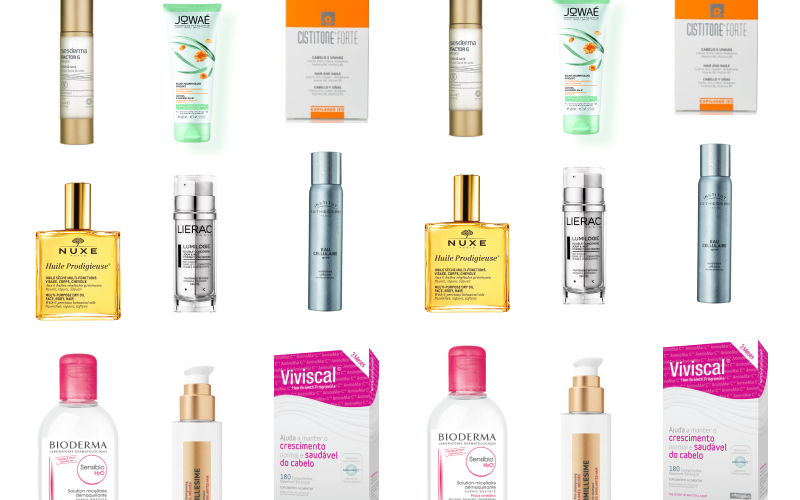 Inspired by Hollywood's Academy Awards, movie stars and the glamour of the much-anticipated Oscars Night, we at Care to Beauty decided to lay down our own Red Carpet! We've asked 12 of our most popular brands to choose a winning product for the "ceremony", in order to help us list the best beauty products of 2017.
Do you want to know the winners? Then keep reading to see what each of the brands had to say about their best beauty products of 2017.
ISDINCEUTICS Flavo-C Ultraglican Antioxidant Ampoules
According to ISDIN, "skin aging isn't just caused by the passage of time, but it is also dependent on other factors, such as genetics itself, eating habits, lifestyle and environmental factors like pollution and exposure to radiation from the sun. The new Isdinceutics range, from ISDIN, aims to help you become more resilient to aging factors, acting by prevention and correction of skin's aging."
---
Crescina Hair Follicular Islands
The brand tells us that "to the base formula of the well-known Crescina HFSC were added key ingredients to give the necessary nutrients to all constituents of the follicular island (follicles consisting of two to five hairs). Thus, the perception of volume, so important for people with hair thinning, arrives much faster."
---
Viviscal Maximum Strength Hair Supplement Tablets
"Viviscal understands the hair! Supported by 11 scientific studies, this is the favorite capillary treatment of Holywood stars…"
---
Cistitone Forte Hairloss & Hair Strengthening Capsules
"To avoid and prevent hair-loss, it is essential to make a proper treatment with a diverse nutritional supply, required for hair growth, as well as antioxidants that fight oxidative stress. In this way, the treatment will be effective in the multi-factor causes of hair loss and can be performed through oral supplementation and/or topical treatment," say the creators of Cistitone Forte.
---
JOWAÉ Soothing Nourishing Balm
"Inspired by the word for Harmony in Korean, Jowaé was born out of the essential need to restore skin balance," the brand says, introducing the JOWAÉ Soothing Nourishing Balm.
---
NUXE Huile Prodigieuse Dry Oil with Spray 100ml
"Always so natural with a natural ingredient percentage of 98,1%, and so sensual thanks to its dry texture with no silicones and its unforgettable fragrance which creates radiant sensations in the skin…"
This is how NUXE described one of their best beauty products of 2017. Curious to know more? Then learn all about NUXE Huile Prodigieuse Dry Oil here.
---
Lierac Lumilogie Day & Night Dark Spot Correction Concentrate
"In order to create the first 1st day and night intensive care that works on the 3 types of spots, Lierac Laboratories was inspired by the aesthetic techniques that combine LED and PEELING." That's the secret behind this popular dark spot corrector!
---
Phytomillesime Color Locker Pre-Shampoo
According to Phyto, "having a botanical origin, the Color Locker complex forms a protective barrier to imprison the pigments and to prevent them from disappearing."
---
Esthederm Eau Cellulaire Spray
"Water, life source and the main ingredient of our cosmetic formulations (about 70%), represents an essential area of research for Institut Esthederm." No wonder the brand has chosen Eau Cellulaire Spray as one of their best beauty products of 2017.
---
Sesderma Factor G Renew Chin & Neck
Sesderma Factor G Renew is "a potent cocktail of growth factors that stimulate the synthesis of collagen and elastin in the skin. As a result, it reshapes the face contour, reduces wrinkles and reinforces the skin of the neck and neckline."
---
Bioderma Sensibio H2O Make-Up Removing Micelle Solution
"For healthy and deep cleansing, with neither fatty acids nor soap, it respects the skin's biological balance. Cleanses and removes make-up from face, eyes and lips." This is how Bioderma describes Bioderma Sensibio H2O.
---
Innéov Densilogy
"Besides a few simple actions, such as sleeping well, having a healthy lifestyle, moisturizing well and protecting the hair from solar aggression during the summer, food is one of the factors that is reflected in the health and beauty of our hair."
---
It has been a pleasure organizing this event, with such amazing products on display, talking to the brands, and learning more about their philosophies and scientific breakthroughs! It turned out to be a very successful and fulfilling project, letting our readers know all about the best beauty products of 2017!