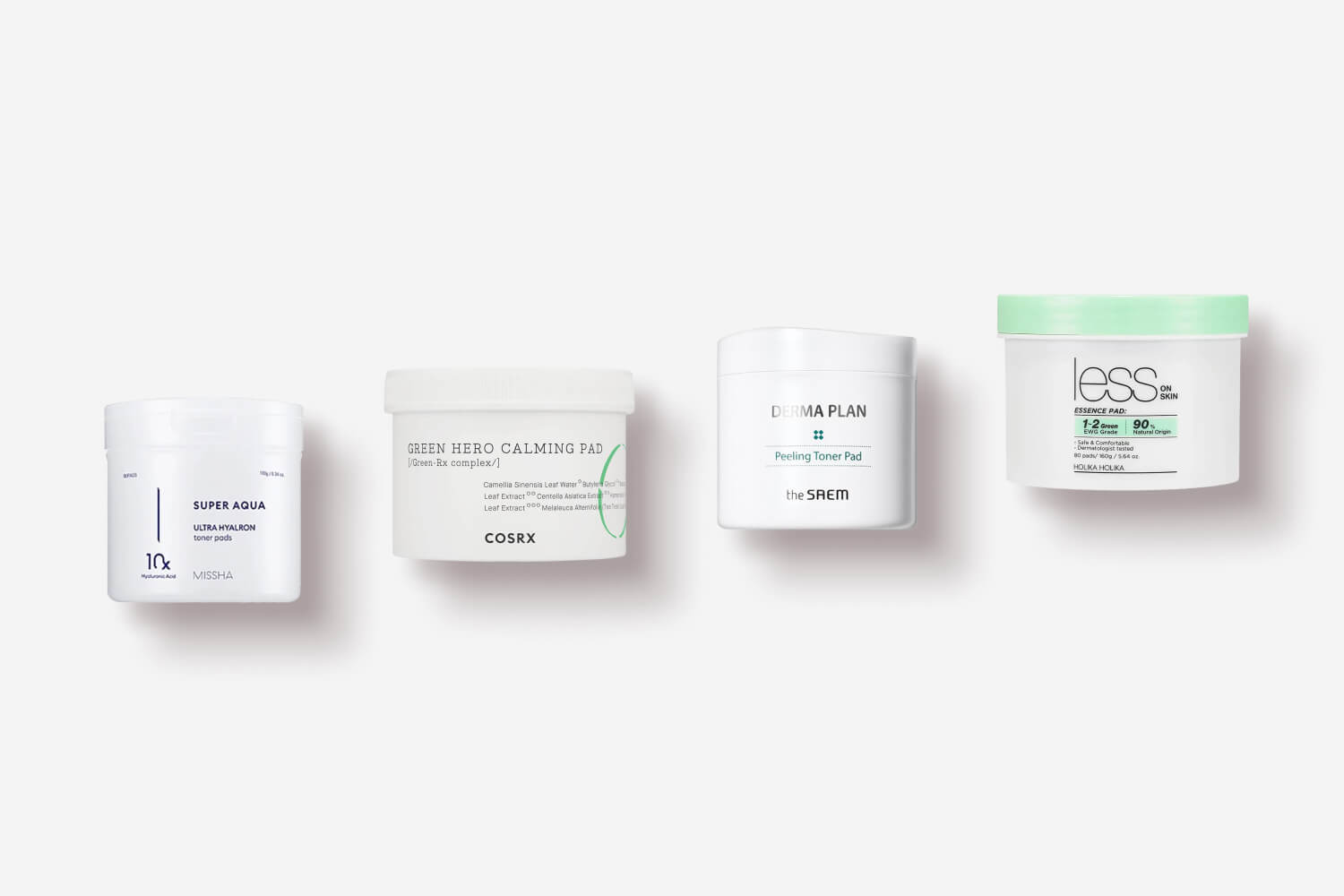 From Korean beauty routines directly to you, toner pads are a practical skincare step with the potential to make a difference in your routine. It's like a toner but better, bringing the application accessory along with the formula. How convenient! Try the formula that best suits your needs and see the results for yourself. It's time for you to make room in your routine for some toner-pad action!
Your questions about toner pads, answered!
Confused about what toner pads are and what they do for your skin? Not anymore! We're about to tell you exactly what they are, how to use them, and, later, which are our favorite formulas. Give a go to this exciting skincare product and upgrade your skincare routine.
What are toner pads?
Toner pads are pre-soaked pads that are infused with toner, ready to use. Not long ago, toner pads were just a Korean skincare innovation, yet now these are a staple in skincare routines around the world. Ideal for those who like to pamper their skin, as well as for those that like practical and effective skincare routines, toner pads manage to meet everyone's expectations and needs. When it comes to results, there are a lot of different things you can count on your toner pad to do! From soothing to hydrating or even exfoliating formulas, there's a lot to choose from. But we're getting ahead of ourselves… you'll see all about that in a second.
Are toner pads the same as toner?
We can say that toner pads are a step beyond your regular toner, not only because it comes with its own application pad but also because you're probably going to use a greater amount of product and it will be in contact with your skin for longer. Long story short, even though toners and toner pads have differences, they replace one another in your skincare routine. You won't need to use your regular liquid toner when you use your toner pads!
Are toner pads necessary?
Toner may not be an essential step in all skincare routines, but it definitely is nice to have. Depending on the formula and action you choose, toner pads can be a quiet yet transforming step in your routine. Our suggestion is that you access your routine, ask your skin what it's lacking and go in with toner pads to the rescue!
How often should you use toner pads?
Wondering if you can use toner pads every day? The answer depends on the formula. Most formulas are suitable for everyday application; however, we would recommend checking the directions of your selected formula! If you're using hydrating formulas, your skin should thrive with everyday application. However, if you got yourself some exfoliating pads and your skin is sensitive, you may need to interspace the application.
How long should I leave toner pads on?
Toner pads may be used as you'd do with a regular cotton pad, with a few swipes across the face before discarding it. Alternatively, you may—in order to take full advantage of the formula and product presentation— place a few toner pads on the skin, and create kind of a DIY toner mask. If you'd like to try the "mask" application, you can leave the pad on for about 10 to 15 minutes. Nevertheless, you should read the product's recommendation, and be cautious when using exfoliating pads.
Try the best Korean toner pads!
We bet that you're now eager to indulge in toner pad pampering. We're suggesting a set of options, and you should pick according to your skin type, state, and needs. Which one is going to be?
COSRX Green Hero Calming Pad
Calming & soothing
Featuring 75% of green tea water, Centella Asiatica extract and the exclusive Green-Rx Complex, these invigorating pads provide the skin with immediate soothing action. This formula cares for your skin day after day, providing immediate comfort and hydration, while minimizing irritation and shielding the skin with antioxidants.
---
Missha Super Aqua Ultra Hyalron Toner Pads
Quenches dehydrated skin
Add a boost of hydration to your skin! Deeply moisturizing, this formula is perfect for dehydrated, sensitive, and irritated skin. Containing 10 Hyaluronic Acid Complex Aquaporin together with ceramide NP and allantoin, the formula hydrates and soothes all the while providing an extremely gentle exfoliation. Use it as your daily toner or leave it on the skin for 10 minutes as a toner mask!
---
The Saem Derma Plan Peeling Toner Pad
Gentle exfoliation for sensitive skin
To exfoliate sensitive skin, you'll need a unique, specialized formula that eliminates dead skin cells without causing more sensitivity. If that's the case for your skin, then get a go with these exfoliating toner pads! Featuring the exclusive Derma Max Formula™ (containing selected botanical ingredients) and PHA (Polyhydroxy acid, a gentle chemical exfoliant for sensitive skin), this formula does the job without leaving a trail of sensitivity!
---
Holika Holika Less On Skin Essence Pads
Minimal formula & 90% natural ingredients
Ideal for natural skincare lovers, these toner pads care for your skin with a minimal formula of only 15 ingredients. By applying this formula, you'll be soothing skin sensitivity, all the while balancing out sebum and protecting the skin from environmental aggressions. You may use it as your daily toner or as a toner mask for about 10 to 15 minutes to revive and repair sensitive skin. 
---
SKINFOOD Carrot Carotene Calming Water Pad
Calms down red & overheated skin
Say goodbye to red and overheated skin with a soothing and refreshing formula that's calming your skin in a heartbeat. Carrot seed oil and root extract together with beta-glucan are the star ingredients of this SKINFOOD formula, assisting the skin with fatty acids as well as a moisturizing and antioxidant action. Get the comfort you deserve by feeding your skin with delicious organic carrots. Apply these toner pads to see the redness and irritation go away!
---
COSRX One Step Original Clear Pad
Exfoliation for acne-prone skin
When your oily skin is prone to blemishes and acne, you need targeted care to reduce the build-up of dead skin cells and impurities. These pre-soaked pads combine the power of BHA (Beta-hydroxy acids) in a concentration that makes it safe to use every day! With continued use, you should notice your skin getting smoother as days go by, while the skin reveals brighter. This is a true best friend to oily skin!
---
Impressed with Korean toner pads? Then wait until you hear about Korean sunscreens! Try different formulations and immerse your skin in K-beauty.