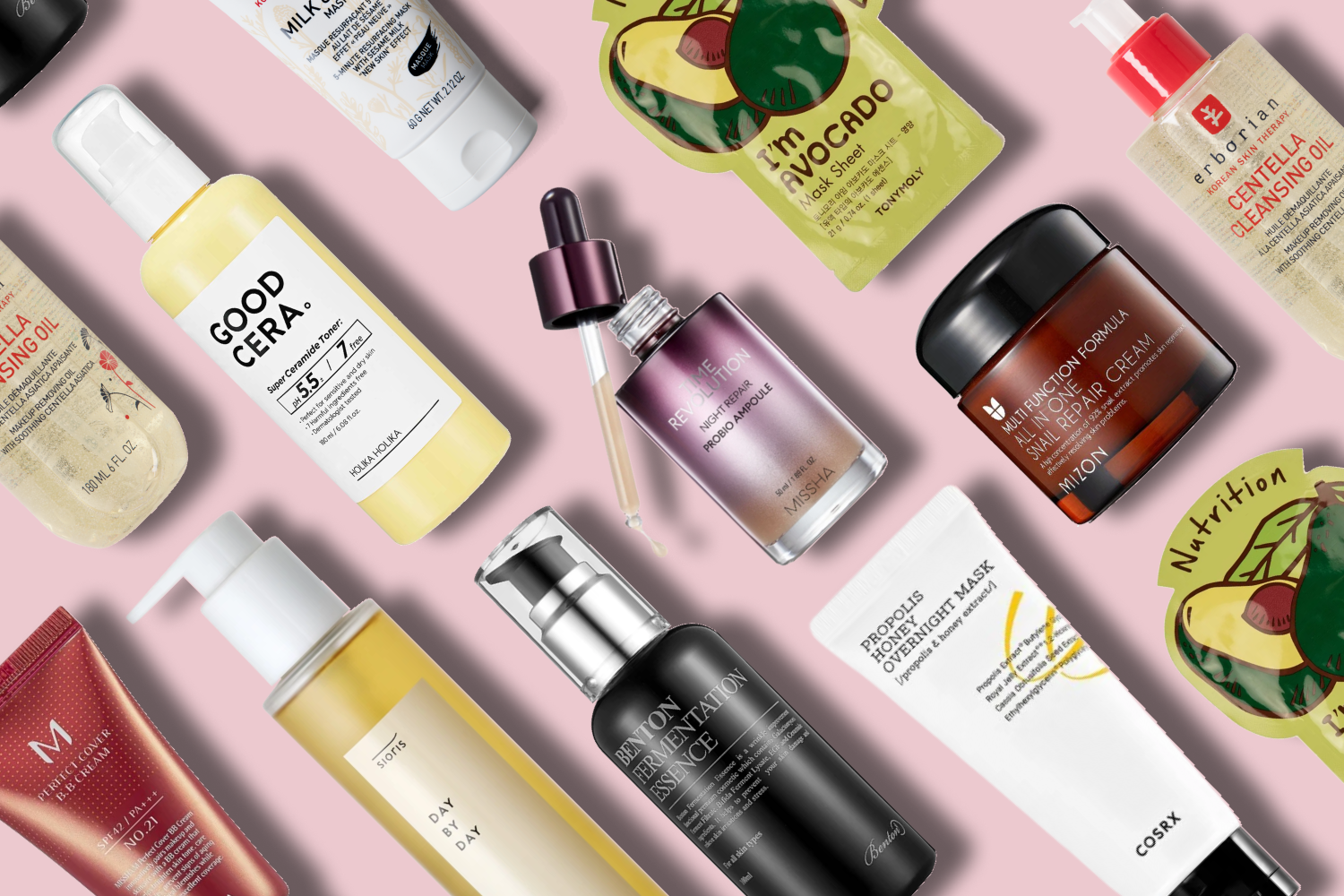 Korean skincare has been all the rage for a while now, and there are many reasons to justify the buzz. From the packaging to the innovative formulas with unique ingredients at a reasonable price, the best Korean skin care products have a lot to offer. Sometimes it's hard to resist buying everything! Safe to say, it is equally hard to know what products to buy and where to begin with an all-Korean skincare routine.
How to Shop the Best Korean Skincare Products
Concepts like the 10-step skincare routine have gone viral, but the truth is that it is not necessary to actually come up with such an extensive ritual. In fact, any skincare routine should have your needs and concerns as a basis instead of the number of products to use.
Moreover, Korean skincare routines are constantly changing. It is understood that variations in the weather or in your lifestyle have a direct impact on the skin. Therefore, the products you need during the summer might differ from the ones you'll use in colder seasons.
Finally, another very important aspect of how Korean routines are built is the motto "treating before concealing". This essentially means that skincare should prevail over makeup which, in a way, explains the variety and formulas of Korean BB and CC creams.
Ultimately, your routine should adapt to you, your needs, and your preferences. With that in mind, here's a list of the best Korean skincare products.
Our Top 10 Best Korean Skincare Products
From cleansing oils and face washes to ampoules, serums, and moisturizers, there's a lot to choose from when it comes to K-Beauty. We've selected one product for each of the major skincare categories, so you'll always know what to reach for!
Erborian Centella Cleansing Oil
Best Korean oil cleanser
From sunscreen to waterproof makeup, there are many reasons to begin your routine with a cleansing oil. The Erborian Centella Cleansing Oil is exceptional at removing all impurities and residues from the skin, leaving it feeling super soft and comfortable. Moreover, as it washes away completely, it is a great solution for those with oily skin types who might otherwise steer away from oil cleansers.
---
Sioris Day by Day Cleansing Gel
Best Korean face wash
We all know how Korean skincare made double cleansing a famous and loved practice. So it is only natural that we include a high-quality face wash in this list. The Sioris Day by Day Cleansing Gel is not only perfect as your second cleansing step, but also as a stand-alone cleanser if you opt for a simpler routine in the morning.
---
Holika Holika Good Cera Super Ceramide Toner
Best Korean toner
While optional, toners are a good way to prepare the skin for subsequent skincare. This Holika Holika toner does exactly that while replenishing the skin with hydration. It also has important soothing properties that improve inflammation and redness. Thus, it can be especially beneficial for those with sensitive skin.
---
Erborian Milk & Peel Mask
Best Korean face mask
We couldn't talk about Korean skincare without mentioning this superstar. A team favorite, the Erborian Milk & Peel Mask is known to improve the appearance and condition of the skin in five minutes! The gentle exfoliation paired with soothing ingredients, such as Centella asiatica, refines both texture and radiance for a "new skin" effect. Additionally, although it is essentially a clay mask, it can be used on dry skin types.
---
TONYMOLY I'm Avocado Nutrition Mask Sheet
Best Korean sheet mask
Sheet masks are a special step in skincare and TONYMOLY takes it to the next level with a wide variety of masks that tackle many skin concerns. It was hard to choose but ultimately the TONYMOLY I'm Avocado sheet mask won its place in our list. Its formula nourishes and revitalizes the complexion, improving not only flaky and dry skin patches, but also the overall radiance of the skin. After 20 minutes of effortless pampering, the skin will regain a natural and healthy glow.
---
Benton Fermentation Essence
Best Korean essence
Even though it might look like a serum, this Korean essence isn't meant to be used on its own. Instead, it aims to improve the condition of the skin and boost the effectiveness of other products. So, if you are looking for supple and glowing skin, this is the product for you. Packed with hyaluronic acid and ceramides, this essence will replenish the skin with moisture while fermented ingredients work to brighten the complexion.
---
A'pieu Madecassoside Ampoule 2X
Best Korean ampoule
Ampoules are the holy grail of Korean skincare. They have a higher concentration of active ingredients which truly makes them a non-skippable step in your newly improved routine. And what better addition to your arsenal than the A'pieu Madecassoside Ampoule 2X? This ampoule provides antioxidant and anti-inflammatory benefits while promoting skin repair and soothing irritation. A true all-in-one!
---
Mizon Multi Function Formula All in One Snail Repair Cream
Best Korean moisturizer
Face cream: the one product to finish everything up! The last step (before sunscreen, of course) is where you ensure your skin is properly moisturized and ready to face the day (pun intended). The Mizon Multi Function Formula All in One Snail Repair Cream is sure to help you do that and much more. It calls itself all-in-one for a reason! This cream will not only moisturize the skin but also combat signs of aging, reduce acne scars, and regenerate the skin. It's guaranteed that this final step will leave your skin more radiant than ever.
---
COSRX Full Fit Propolis Honey Overnight Mask
Best Korean sleeping mask
Korean skincare introduced us to a wide variety of new product types and new product applications. The COSRX Full Fit Propolis Honey Overnight Mask is a great example of the innovation that made us so into Korean skincare. While you can use this mask as a night cream, the formula is so rich and powerful that you can also use it as a regular rinse-off mask. Regardless, the refreshing gel texture will provide a cooling and soothing feeling that is sure to leave the skin feather-like and deeply nourished.
---
Missha M Perfect Cover BB Cream SPF42/PA+++
Best Korean BB cream
BB creams have replaced regular foundations for many of us. The medium to high coverage options available combined with skincare-like benefits have become great allies for those looking for easy, practical, and comfortable makeup. With this being said, we can't talk about BB cream without mentioning the Missha M Perfect Cover BB Cream SPF42/PA+++. Lightweight formula, natural and bright high coverage, packed with hyaluronic acid, and high UV protection: do we need to say more? This BB cream is a true beauty multitasker that will suit your skin for every occasion!
---
Now that we have shared our complete list of the best Korean skincare products, it's your turn to explore our full selection of K-Beauty products to find the best options for your needs!