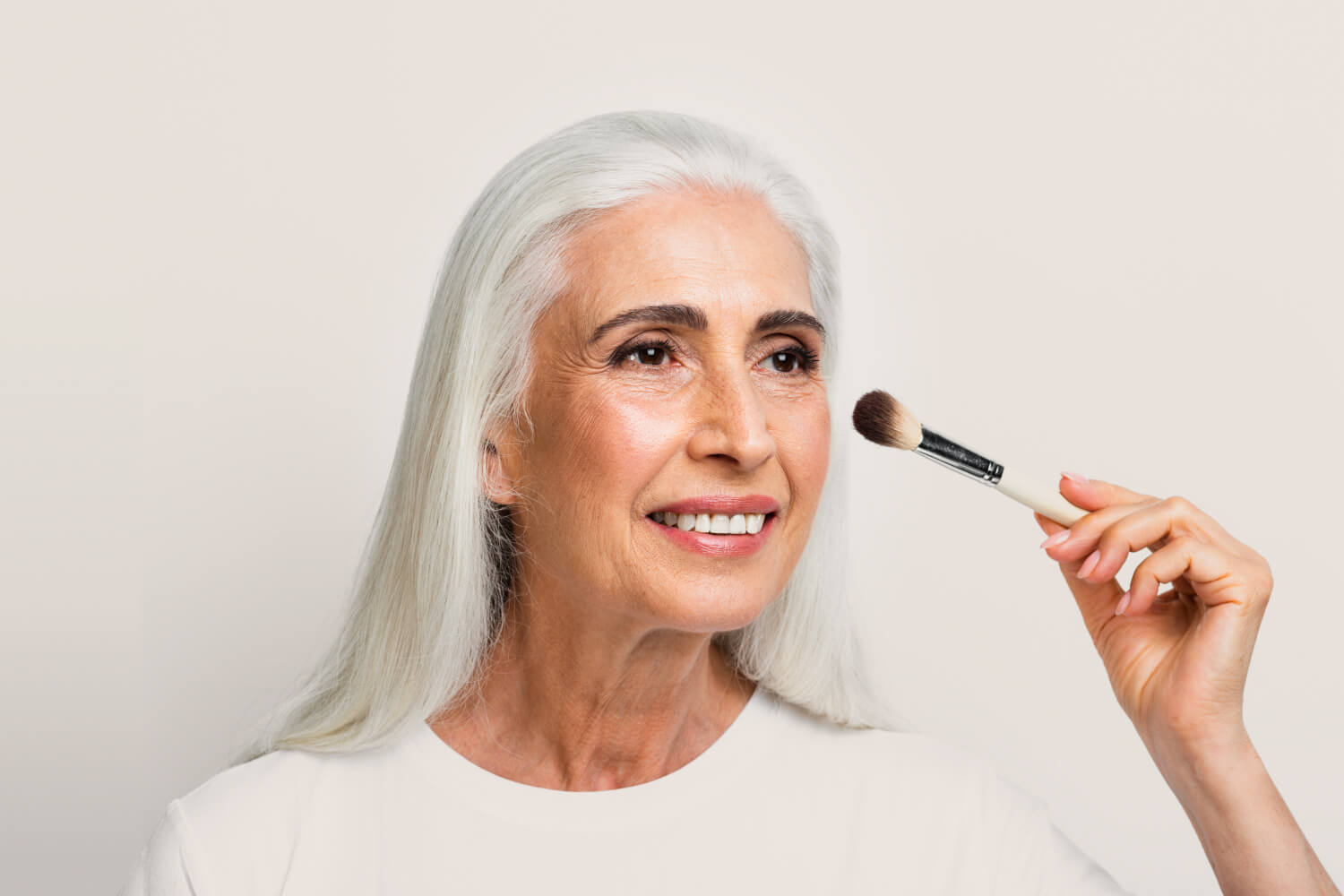 It hardly comes as a surprise that skin changes over time. Skin texture looks different, the skin may lose firmness, and consequently, makeup sets and looks different. For lifelong makeup lovers, this can be difficult to understand as well as to solve! We have some helpful wisdom to share about makeup for mature skin, that hopefully will help you keep your makeup as beautiful as always. All you need is to understand what's changing, as well as to learn a few tips and techniques to embellish mature skin with makeup.
1. Apply a thin layer of foundation to prevent it from settling onto lines
Let's talk foundation. That's probably the makeup step that makes for the number one question about makeup for mature skin. Usually, with the passage of time, the skin gets dryer, less oily, and the texture is less even. All of these skin features get further accentuated with heavily textured foundations, so that's what you should run away from. Look for lightweight makeup formulas, or hybrids between skincare and makeup, like BB creams or serum foundations. Equally important, opt for light to medium coverage, and avoid extremely matte formulations. As for blending, you may go with your favorite application technique, whether it is brush, finger, or sponge application. The important thing is to blend it nice and thin!
2. Use creamy bronzer, blush and highlighter instead of powder formulas
Considering that the skin tends to get dryer over time, a good way of bringing makeup back to balance is to replace powder products, such as blushes and highlighters, with cream formulations. They not only look better on mature skin but they're also easier to blend over your liquid foundation! Often times cream blush doubles up as lipstick, so you can get more out of your product. Use a brush, a sponge, or even your fingers to blend your cream makeup to perfection!
3. Go for pinky or peachy blush
As years go by, the skin tends to look more yellow and lacks the fresh tones of rosy cheeks. An excellent way of bringing it back is using a pink, rosy or peachy blush! It'll add vitality and freshness to your complexion, and it'll definitely improve the result of your makeup looks. You may use bronzer to add warmth to your skin, but be careful to not overdo it! The brownish shades further intensify the yellow tones we were talking about!
4. Don't overdo face powder
Face powder tends to cling to drier patches of the skin, and even settling in lines or wrinkles if you use too much of it. The solution is simple! You may continue using it, to set the foundation and extend the longevity of your glam looks, but you need to use it lighthanded. You may go for a loose powder (like Clarins Ever Matte Loose Powder) instead of a compact formula, as it's usually more thin and easy to apply in the right amount. Another useful application tip is to use a fluffy brush and tap off the excess before applying it to the skin. Apply even less—or none of it—on the drier areas of the face, such as the cheeks. Use the same brush to swipe it lightly across the face and you'll see how the result is now better than ever!
5. Avoid applying shimmery products over wrinkles
Shimmery eyeshadows and highlighters are very good at adding light to the skin. The bad news is that it emphasizes texture, and that includes lines, wrinkles, and enlarged pores. We suggest going for luminous products instead, or even luminous matte formulas. You'll be surprised by the amount of beautiful luminous eyeshadows and highlighters you'll find! That is one of the most flattering replacements you can do on your makeup kit.
6. Favor matte eyeshadows over shimmery ones
As previously mentioned, shimmer draws attention to lines, wrinkles, and texture—and the eyelids are usually very rich in lines and folds. Using a matte eyeshadow, you're adding more definition to the eye socket, and bringing no extra spotlight to wrinkly skin. Of course, you may use luminous eyeshadows or even eyeshadows with a slight shimmer, but make sure to avoid those extremely shimmery or glittery, and use those with some shimmer on smooth areas of the eyes. Try it and you'll see the difference!
7. Add definition to brows and lashes
If you're noticing that your brows and lashes are getting sparsed over time, then you'll find this tip useful. In every makeup look, try to add definition to your brows and lashes. It is very easy: all you need to do is to use a pencil or eyeshadow to draw hair-looking lines on the brows. As a result, they'll look fuller and the eyes beautifully framed! As for the lashes, you may go with two different approaches. You may use a thin eyeliner to define the upper lash line, and your lashes will immediately look more defined. In addition or alternatively, you can apply your favorite mascara to intensify the volume, length and curve of your lashes!
8. Apply a lip liner to keep the lipstick in place
Are you familiar with the migratory behavior of some wild lipsticks? Then you need to know that this kind of problem tends to disappear if you use a lip liner beforehand! Using a lip liner is the equivalent of creating an unsurpassable barrier for your lipstick, so you won't find yourself with color in the periphery of the lips. Easy enough, right? In addition, it brings extra definition to your lip contour, which you may have noticed tends to fade over time. You may go for a shade that matches the natural color of your lips, and use this very one with any lipstick. Alternatively, you can have different lipliners to match each of your lipsticks! If you use a matching shade, it will certainly intensify the color and extend the longevity of your favorite lipstick.
---
After all the makeup application, it's essential to go for a deep cleanse! Check out our favorite cleansing oils for makeup removal and find our suggestions for mature skin.