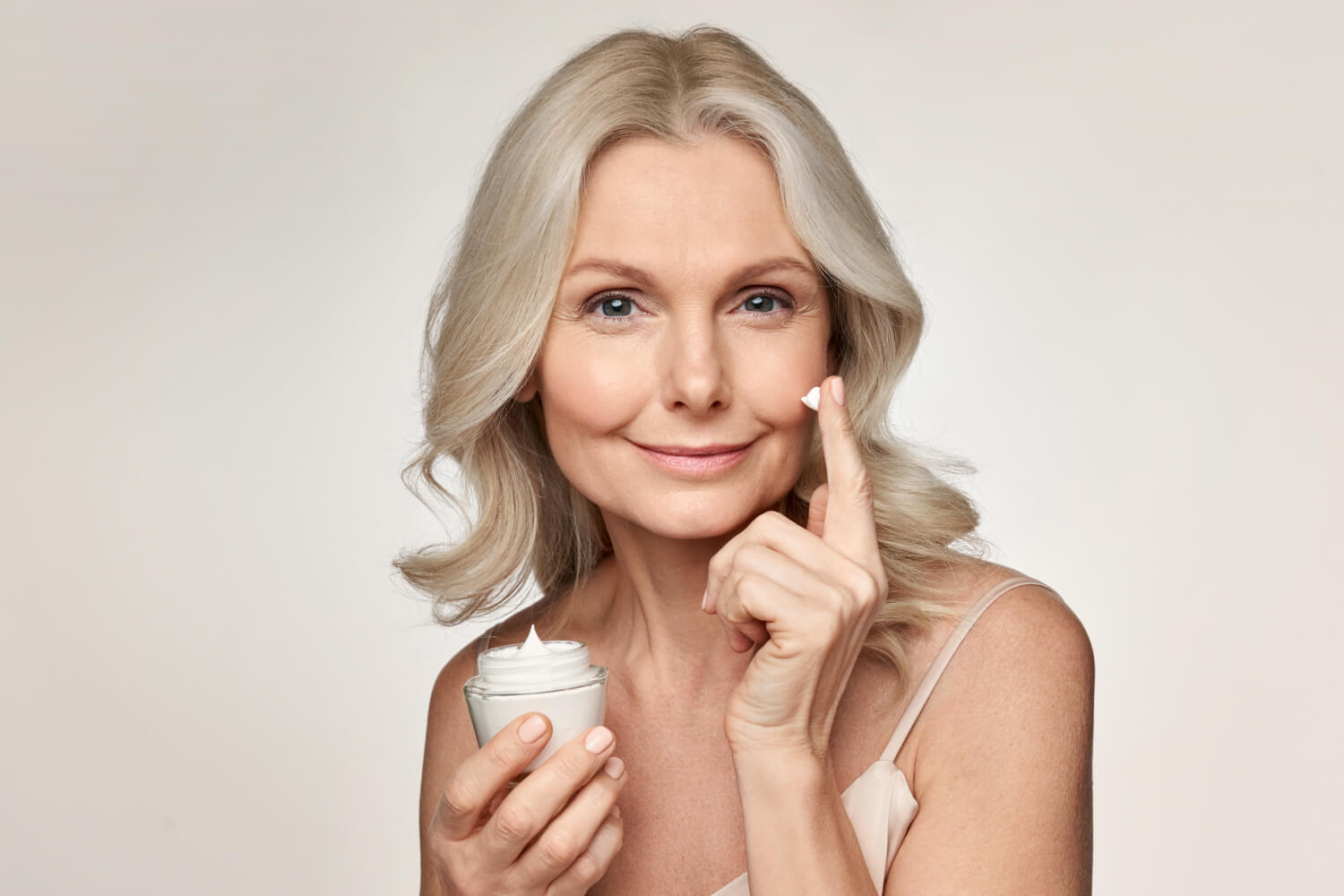 You know this already, but here it goes again: your skin changes as you age. This is true at any age, but it can become especially noticeable in older women, particularly after menopause. Indeed, mature skin has a few unique characteristics. In terms of visible signs of aging, mature skin tends to show deeper wrinkles or loss of firmness. Dark spots and patches are also relatively common. But that's not all: from a sensory point of view, mature skin tends to be drier and more sensitive. This can make many anti-aging products unpleasant to use, as they may dry out the skin further. It's no wonder, then, that so many older women are constantly looking for the best skincare line for mature skin–a collection of products that will not only target signs of aging, but also keep their skin feeling comfortable and nourished.
Fortunately, there are many brands that offer skincare lines designed specifically for mature or post-menopausal skin. Today, we're going to look at some of these lines, explain the concept behind them, and show you the products from each range that our Care to Beauty community loves the most. If you find it difficult to choose products that work well with your skin, we hope that the experiences of our community will make your job easier.
But first, an important question:
Do you need to use products for mature skin over 40, 50, or 60?
Before we talk about skincare lines for mature skin, we've got to answer one question: do you need to use products for mature skin over 40? What if you're 50? And 60? Are you limited to using skincare marketed for "mature skin?"
Absolutely not. Your skin changes as you age, as we've already mentioned, but that's an individual process. No two women have the exact same skin concerns, and this is true at every age. Therefore, it makes no sense to tell you that you must follow the age recommendations on your skincare products. A 25-year-old person with loss of firmness can perfectly use products recommended for older people; likewise, a 40-year-old person can perfectly use products recommended for fine lines and first wrinkles.
This brings us to these skincare lines for mature skin. Should you wear them just because you've reached an arbitrary age, like 40 or 50? Not at all. You should use them if you think they match your needs, or if you prefer to use only products from a single range (which are usually formulated to be used together). If you continue to prefer products from other skincare lines, regardless of the age for which they are recommended, power to you! What matters is making sure you're in tune with your skin, no matter which products you use.
Skincare lines for mature skin: 6 options our community loves
Now that we've clarified who "should" use skincare lines for mature skin, let's look at some ranges of this genre that our Care to Beauty community loves:
SVR Densitium
For skin density and firmness
The SVR Densitium line is recommended from the age of 50, but that doesn't mean you can't use it earlier if you feel like it matches your needs. No one knows your skin quite like you, after all! The essence of this range is visible in all products, which feature rich textures that comfort the skin and, at the same time, help tone and redefine the facial contours. Indeed, it's fair to say that the main focus of this range is to promote skin firmness and density.
Within the SVR Densitium range, our Care to Beauty community is particularly fond of the serum and eye cream. The SVR Densitium Bi-Serum Anti-Gravity is a deeply nourishing serum that promotes collagen production and helps to restructure the skin and promote a firmer appearance.
As for the eye cream, the SVR Densitium Eye Contour Cream, it promotes a global corrective effect. Indeed, it targets multiple signs of aging: dryness, wrinkles and lack of firmness, puffiness, and even dark circles. The texture is rich and perfectly suited to this sensitive area of ​​the face, which tends to become even more delicate after menopause.
---
Vichy Neovadiol
For peri- and post-menopause skin
The Vichy Neovadiol range is one of the best-known menopause ranges on the market: after all, it's got a 30-year history. Throughout this period, the range has gone through a series of reformulations that aim to make the products increasingly effective and targeted to the needs of older women. Currently, the Neovadiol line features some products for all ages (such as neck creams), and a few other products divided into three sub-ranges: the perimenopause range, which includes the Redensifying creams; the post-menopause range, which includes the Replenishing creams; and the post-60 range, which includes the Rose Platinum creams.
The Care to Beauty community is a fan of this range, but two products stand out: the firming neck cream, and the night cream for post-menopausal skin. The Vichy Neovadiol Phytosculpt Neck & Face Contours is a cream suitable for all ages, for anyone who feels the need to refirm and redensify the skin on their neck. Formulated with active ingredients that create a lifting and tightening effect on the skin, this cream produces visible effects after 8 weeks of use.
The second product our community loves is the Vichy Neovadiol Replenishing Firming Night Cream, a highly nourishing night cream that helps restore comfort to post-menopausal skin. With a balm-like texture, rich and comforting, this cream replenishes lost lipids to keep the skin smooth, radiant, and perfectly nourished.
---
Lierac Arkéskin
For the face and body
For several years now, the Lierac Arkéskin range has been a go-to for menopausal skin. Recently, the range has been redesigned to bring it even closer to the needs of older women. One of the interesting features of this range is that it focuses on more than just your face: it also includes a food supplement and a body balm to extend the benefits of this range to the whole body.
The products that our community likes the most in this range are very different: on the one hand, a night fluid; on the other hand, the aforementioned body balm. The Lierac Arkéskin Night Nutri-Redensifying Fluid brings a combination of peptides, flaxseed extract, and hyaluronic acid to menopausal skin. The formula not only hydrates and nourishes the skin, but also helps it regain its smoothness and elasticity. With a smooth, melting texture, this night fluid is refreshing and replenishing, making it perfect to counteract the usual hot flush sensation.
As for the Lierac Arkéskin Toning Melt-In Balm, it's a body lotion, enriched with ginger and hyaluronic acid, that not only nourishes and replenishes the skin, but also helps to create a draining and firming effect. The ultra-nourishing texture lends itself perfectly to a massage, making this balm a perfect addition to the body care routine of any woman who enjoys taking her time with self-care.
---
Sensilis Eternalist A.G.E.
For sensitive and reactive skin
The Sensilis Eternalist A.G.E. range is a relative newcomer–but it's pretty unique. The first striking feature of this Sensilis range is the fact that it is recommended for sensitive skin, including skin with rosacea. This alone indicates that this range is highly soothing–but that's not its only benefit! After all, we are talking about an anti-aging range that aims to counteract the process of skin aging by promoting the regeneration of skin cells and the production of collagen.
Within the Sensilis Eternalist A.G.E. line, our community likes two products in particular: the serum, arguably the star product of the range, and the eye cream. Let's start with the Sensilis Eternalist A.G.E. [Serum AI] Total Repair Serum, a perfect anti-aging option for sensitive skin. This serum brings a repairing and regenerating action to the skin. At the same time, it helps restore the skin's firmness due to the action of Collagen Booster and Anti-Glycation complexes.
The Sensilis Eternalist A.G.E. [Eyes] Advanced Anti-Wrinkle Treatment, equally effective, stands out for its sensoriality. With a rich, balm-like texture, this eye cream comes in a jar and can be dispensed with a metal applicator. Perfect for a refreshing massage! In addition to the Collagen Booster and Anti-Glycation complexes present in the serum, this cream also features caffeine, essential fatty acids, and allantoin. Together, these ingredients help to redensify and plump the eye contour, while offering an anti-puffiness and anti-dark circles action.
---
NUXE Nuxuriance Gold
For a boost of radiance
The NUXE Nuxuriance Gold collection is the real deal: designed for women over 65, this skincare range is all about pampering dry and sensitive mature skin. Using botanical ingredients like saffron and bougainvillea Bi-Floral Cells® and Porcelain Rose Oleoactive, these products nourish and revitalize mature skin in a very visible way; not only does the skin feel more comfortable, it also looks brighter and more radiant.
NUXE is known for its rich textures and luxurious fragrances, and the two products we're about to show you embody these characteristics well. First up is the NUXE Nuxuriance Gold Nutri-Fortifying Oil-Cream, a rich, ultra-nourishing cream that replenishes dry mature skin and brings out its inner radiance. As it strengthens the skin, this cream also promotes a firming and plumping effect, for a smooth, glowing appearance.
A cream is always important to keep mature skin feeling comfortable, but there are many women who prefer a serum, like this NUXE Nuxuriance Gold Nutri-Revitalizing Serum. With a velvety smooth formula that feels luscious on the skin, this serum is the ultimate anti-aging solution from the NUXE Nuxuriance Gold range. Its unique blend of ingredients revitalizes the skin in order to lend it a smoother, firmer appearance. At the same time, it restores radiance to mature skin.
---
Esthederm Excellage
For protection against external aggressions
The Esthederm Excellage range serves women over 50 who want to harmonize their skincare with the changing needs of their skin. This minimalist line, made up of just a few products, targets the following concerns: loss of density, undernourished skin, loss of luminosity, and environmental aggressions.
The Esthederm Excellage Eye Care is a real favorite in our community, thanks to its powerful "reset" effect. Powered by biomimetic peptides, this eye cream restructures, regenerates and firms the skin around the eyes, for a truly refreshed and rejuvenated look. Fine lines and wrinkles are minimized, while puffiness and dark circles grow less noticeable.
And now for a product that's completely different from the rest: the Esthederm Excellage Hand Cream. Anti-aging hand creams don't come around very often, but our community loves them. This one offers a triple benefit, in that it provides comfort to dry hands, nourishes the skin in-depth, and helps minimize signs of aging such as loss of firmness and dark spots.
---
We've analyzed six skin care lines designed especially for mature skin: is your heart set on just one, or are you more inclined to mix and match between different brands and ranges? Some people will benefit more from using a complete line where the products have already been created to be used together; others will prefer the freedom to choose the products that speak to them within different ranges. No matter which option you choose, know that the important thing is to be consistent in your skincare: the best products are those that you use again and again!
Want to see more options? Then make sure to explore our full range of anti-aging care in the shop!