From TikTok to the streets, the siren eyes look is everywhere now, creating sultrier looks that work on everyone regardless of natural eye shape. The final result may look complicated, but it's actually relatively simple! If you've always wanted to learn how to do siren eyes eyeliner, keep reading–we'll clue you in on the history and meaning of this trend, discuss who can and can't pull it off, and show you a simple step-by-step tutorial that will clear up all doubts.
I'm Sofia, the professional make-up artist "in residence" here at Care to Beauty, and I'll show you how to get the siren eyes look.
What are siren eyes?
"Siren eyes" is the name of an eye makeup trend made popular by and on TikTok. Siren eyes take their name from the sirens of legend, the wicked mermaids that capture the attention (and sometimes the life!) of sailors with their hypnotic, alluring charms. How does this translate into eye makeup, you ask? Well, it's all about achieving that captivating, slightly otherworldly vibe.
The quintessential siren eyes "look" involves creating an elongated eye shape, using an expert combination of sharp liners and smoky shadows. In essence, siren eyes are cousins of the more classic cat eye and smokey eye, two virtually timeless looks. You can keep things simple and natural, or lean into the uncanny inspiration of this trend, with bold, unnatural lines and colors.
Siren eyes are also a great way to change up your makeup game: they retain the bold graphic look of the liner, but combine it with the elegance and subtlety of a smokey eye.
Can anyone pull off siren eyes?
Siren eyes may be a TikTok trend, but let's not act like they're a brand-new look. Strictly speaking, they're a really cool variation on the classic cat eye! This is great news, because the classic cat eye will suit most people, and the siren eye will suit just as many.
In short: anyone can pull off siren eyes, regardless of eye shape. The goal of this look is to elongate the eye using visual trickery, like extending the inner and outer corners of the eyes, and that's something you can adapt to any eye shape. We'll show you how to do it in just a second.
Are siren eyes wearable?
Short version: yes. Long version: this technique gives you infinite freedom to decide how bold and creative you want to be. Once you perfect the technique, you'll realize that you can adapt it to different situations: you can draw a massive bold "wing" for a night out, or keep things minimal and tight for a day in the office. In short, siren eyes are as wearable as you want them to be.
The other cool thing about this look? It works year-round. You can wear your siren eyes in the spring and summer to lean into the mermaid vibe, or over the fall and winter to welcome in the cold with bold, sultry makeup looks.
Your step-by-step siren eyes tutorial
Let me get you started on your siren eyes journey. For this siren eyes tutorial, you'll need the following products: a liner of your choosing, a smoky eyeshadow, and lash mascara. (Optional: a little concealer.) You can use your favorite products and succeed at getting the look anyway! This look isn't about the product, but about technique.
And let's talk technique: if you're an eyeliner queen or king, then you'll have no trouble following this tutorial. If you're more of a beginner, no worries! You'll need a little skill to draw a sharp line, but it doesn't need to be super perfect–you're blending it out with shadow anyway.
Let's get into the tutorial, then! We came up with a "natural siren eyes" look, using neutral colors and a light hand with shadow. In just four steps, you'll be able to get the look too:
Step 1: Define the outer V of your upper lid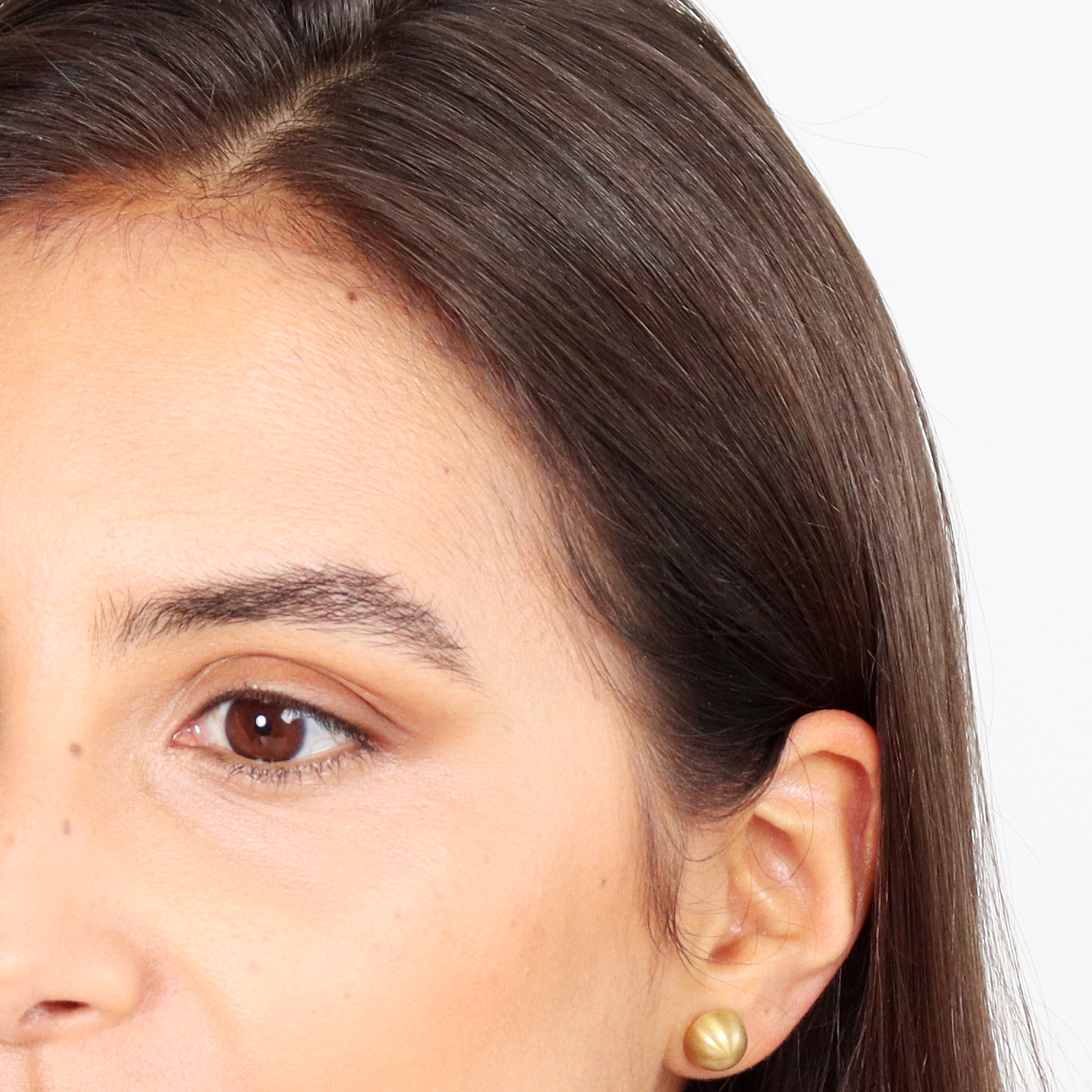 To create that iconic "siren eyes" shape, pick up your eyeshadow (I'm using a brown shade) and work it into a kind of V shape, elongating your upper lid outwards towards your hairline.
This roughly defines shape will be your guide for the next step, the liner.
---
Step 2: Create an elongated eyeliner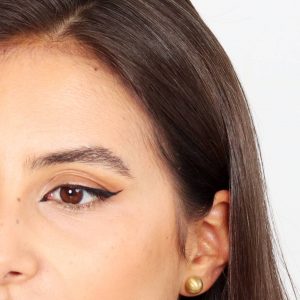 It's time to use your favorite eyeliner–I'm using a black liner, but you can use your favorite shade.
Start lining your upper lash line from the center of the eye outwards, using a really, really thin line. As you move your liner outwards, start thickening it slightly until you reach the outer corner.
Once you're past the outer corner, start thinning the line again, and stretch it to your desired length.
Then, define the inner corner to make your eye look even more elongated. For this look, you only need to line the upper lash line, but you can define the bottom lash line if you feel like it.
---
Step 3: Blend the siren eyeliner using eyeshadow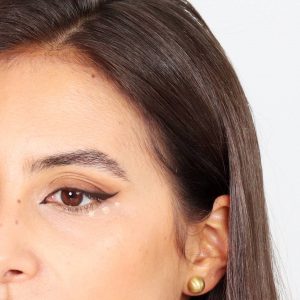 Time to blend! Using your eyeshadow and a precision blending brush, such as the NYX Pro Makeup Pro Smudger Brush, blend your sharp line into a smokier shape. While blending, move the brush upwards and outwards motions to intensify the shape you've created.
If you find that your liner has faded a little during blending, use eyeshadow and a liner brush to bring back the drama.
---
Step 4: Sharpen the line & finish with mascara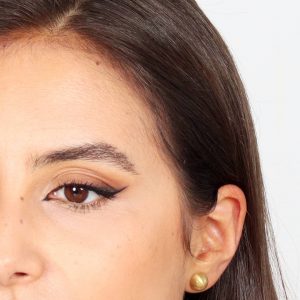 To make your eyeliner as sharp as it can possibly be, apply concealer underneath your line and carve it out with a precision brush. By cleaning the line, your eyes will look even more lifted! Use only a tiny bit of product for this part of the siren eyes tutorial, and take care not to overdo it.
Last, but not least, complete your look with a fierce black mascara—I'm using the one and only L'Oréal Paris Lash Paradise Volumising Mascar in the shade 01 Black. Apply as many layers as you can, working your way with the wand to keep the lashes voluminous and separated.
---
3 products you'll need to create the "siren eyes look"
We said above that the most important part of the siren eyes look is the technique, and not necessarily the products you use. You don't need to use the exact products we used; in fact, you can and should use products that you are already comfortable with! If you don't have your favorites yet, no problem either. We've got a couple of product suggestions that will work for this look and many others:
1: Eyeshadow
If you have an eyeshadow that you love, then you already have a good eyeshadow option to recreate our siren eyes tutorial. In any case, if you'd like some useful recs, we think the Makeup Revolution Reloaded Eyeshadow Palette Newtrals 3 will give you all that you need! Alternatively, if you're not in the mood to go for a full-blown eyeshadow palette, you can try the amazing Flormar Mono Eyeshadow.
Whether you're fair or dark-skinned, the secret here is to pick an eyeshadow that contrasts with your natural skin tone. On lighter skin, you can use brown or black; on darker skin, try highlighting shadows with a matte or shimmery finish, to create contrast.
2: Eyeliner
If you've followed our recent puppy eyeliner tutorial, you've already seen many of our favorite eyeliner options. We like to keep it simple!
To sum up your eyeliner options for this look, you can opt for a gel liner, a liquid eyeliner, or a pencil. Each option has its own peculiarity when it comes to application, so the best option for you will be the one you've already mastered. If your experience with liners is close to none, then go for the pencil–it is by far the easiest option to work with.
3: Mascara
Here it is, the cherry on top of any makeup "cake": the mascara. We recommend a very black, very saturated formula for this look, to add extra depth and intensity to your siren eyes. However, we're also big fans of colored mascaras, and this look would look fantastic with purple or blue mascara.
---
---
Now that you know everything about the "siren eyes" look, you can consider yourself a master of this trend. Using this technique and your favorite products, you'll have no trouble making your eyes the star of any makeup look.