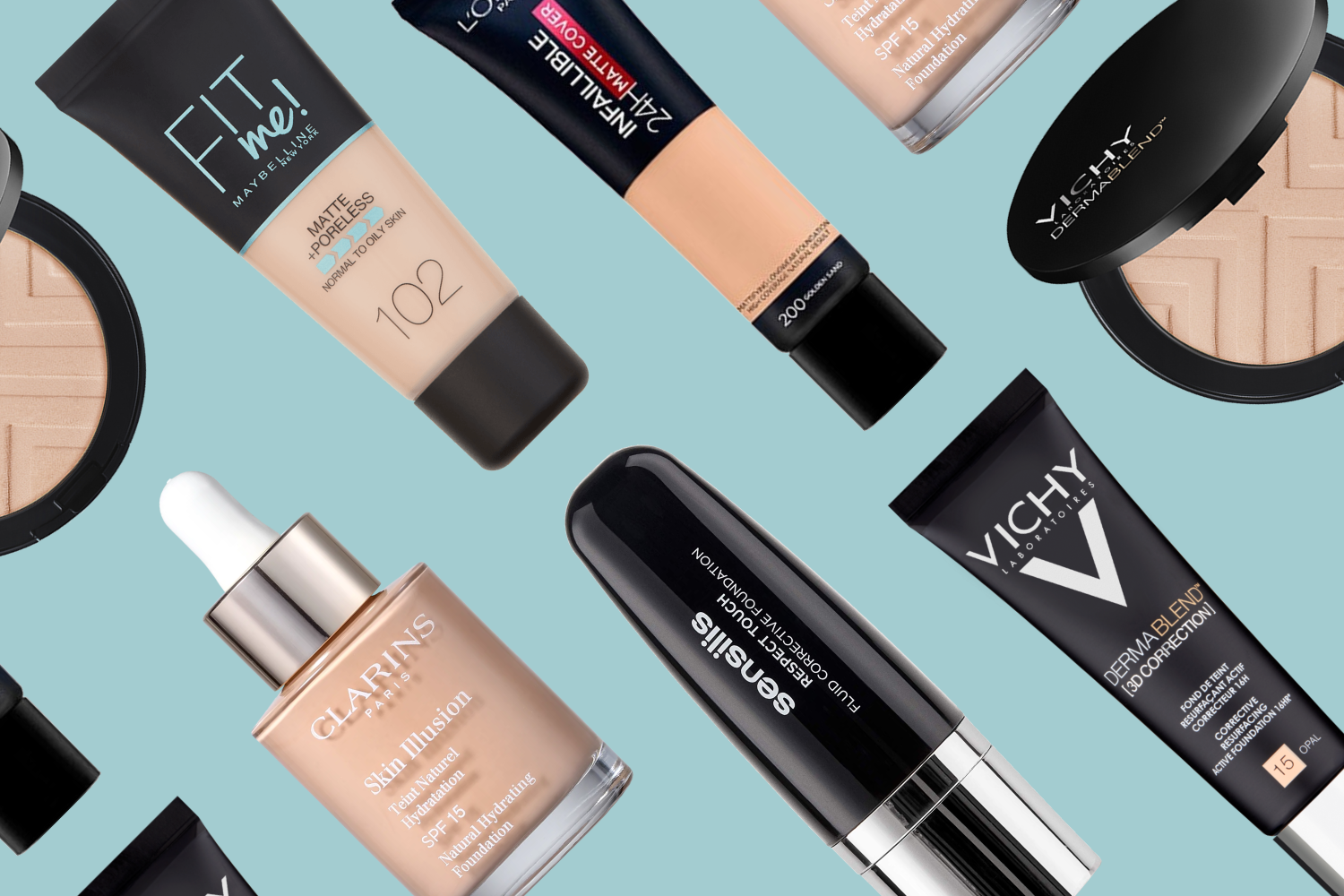 What if you can buy perfect skin in a bottle? Few would say no! Flawless skin is within our reach: not only through skincare but also with makeup – when and if you're looking for an immediate result. However, finding your perfect match can be a lifetime endeavor – you're looking for the ideal texture and for the exact copy of your skin tone. When it comes to foundation, the perfect match is critical for a flawless result. But that's still not enough: it must stay put, with no excess shine, for more than two straight minutes. That can be an incredible challenge when looking for the best foundations for oily skin!
The Best Foundations for Oily Skin
We love that flawless and unique result of makeup freshly applied. In our heads, we deeply believe that – throughout the day – our face looks exactly as it did at that moment. Later, we revisit the mirror where we once were happy just to find a… sad jumble. For those who have oily skin, you know what we are talking about – the forehead looks oily, the nose has no trace of foundation left… and the chin? It's probably shinier than your highlighter. Oily skin may be challenging for most foundations, but not for the following bulletproof warriors that we are talking about today: the best foundations for oily skin.
What would be a good foundation for oily skin? We'd say it has to be able to absorb excess oil – because we know it is going to be necessary. It should be very resistant – because your skin is going to put it through a hard test. You might have some blemishes to conceal, so it wouldn't be a bad idea to look for decent coverage. All things considered, the perfect candidate should be able to keep excess shine away, should also have medium to full coverage and long-lasting power. Luckily enough, we have a few suggestions!
---
Best full coverage foundation for oily skin
Ideal for oily and acne-prone skin, this fluid foundation is known for its incredible high coverage power. In addition to 30% of high coverage pigments, the formula also contains salicylic acid to improve skin texture and reduce blemishes over time. Moreover, it lasts up to 16 hours and mattifies the skin!
---
Best foundation for oily skin on humid weather
Living in a humid climate, you really need an infallible foundation with an outstanding performance. This long-lasting foundation offers 24-hour wear with waterproof as well as steam-proof and perspiration resistance. The formula contains Perlite technology features absorbing mineral micro-sponges to absorb excess shine, keeping your skin flawless and defying even humid weather.
---
Best foundation for oily skin & large pores
With excess sebum production, oily skin can be a synonym of enlarged pores. You can use smoothing primers tom minimize its appearance, or you can use this perfecting formula, that not only mattifies and conceals imperfections but also refines pores. Known as one of the best foundations for oily skin, this velvety foundation resorts to micro-powders not only to blur pores but also to control shine and absorb excess oil.
---
Best powder foundation for oily skin
The favorite for a quick makeup application: the powder foundation. Its dry touch immediately captivates someone looking forward to keeping excess oil under control. With 100% mineral pigments, this long-lasting foundation is non-comedogenic and suitable even for sensitive skin. In addition, it shields the skin with SPF25. Perfect to use on-the-go or to retouch your SPF throughout the day!
---
Best foundation for oily skin with lasting matte finish
This foundation combines impeccable coverage for oily skin with a lasting matte result. With 24 hours of beautiful wear, waterproof resistance and a lasting matte effect, you're officially free from foundation retouches throughout the day. Each application evens out your complexion with medium to full lasting coverage, leaving the skin looking fresh and flawless for any occasion.
---
Best radiant foundation for oily skin
A luminous finish is within reach for all skin types – and oily skin is no exception! This watery and non-oily foundation offers sheer coverage with a lightweight feel. At the same time, it protects the skin with SPF15 and provides weightless hydration. If you're looking for a glowing complexion, this is truly one of the best foundations for oily skin.
---
Extra tip: you can take advantage of skincare, makeup primers, powders and setting sprays to enhance the result and longevity of your foundation. If you start by using the perfect serum for oily skin, then follow with your foundation, and lastly dust your favorite setting powder… your makeup won't go anywhere!