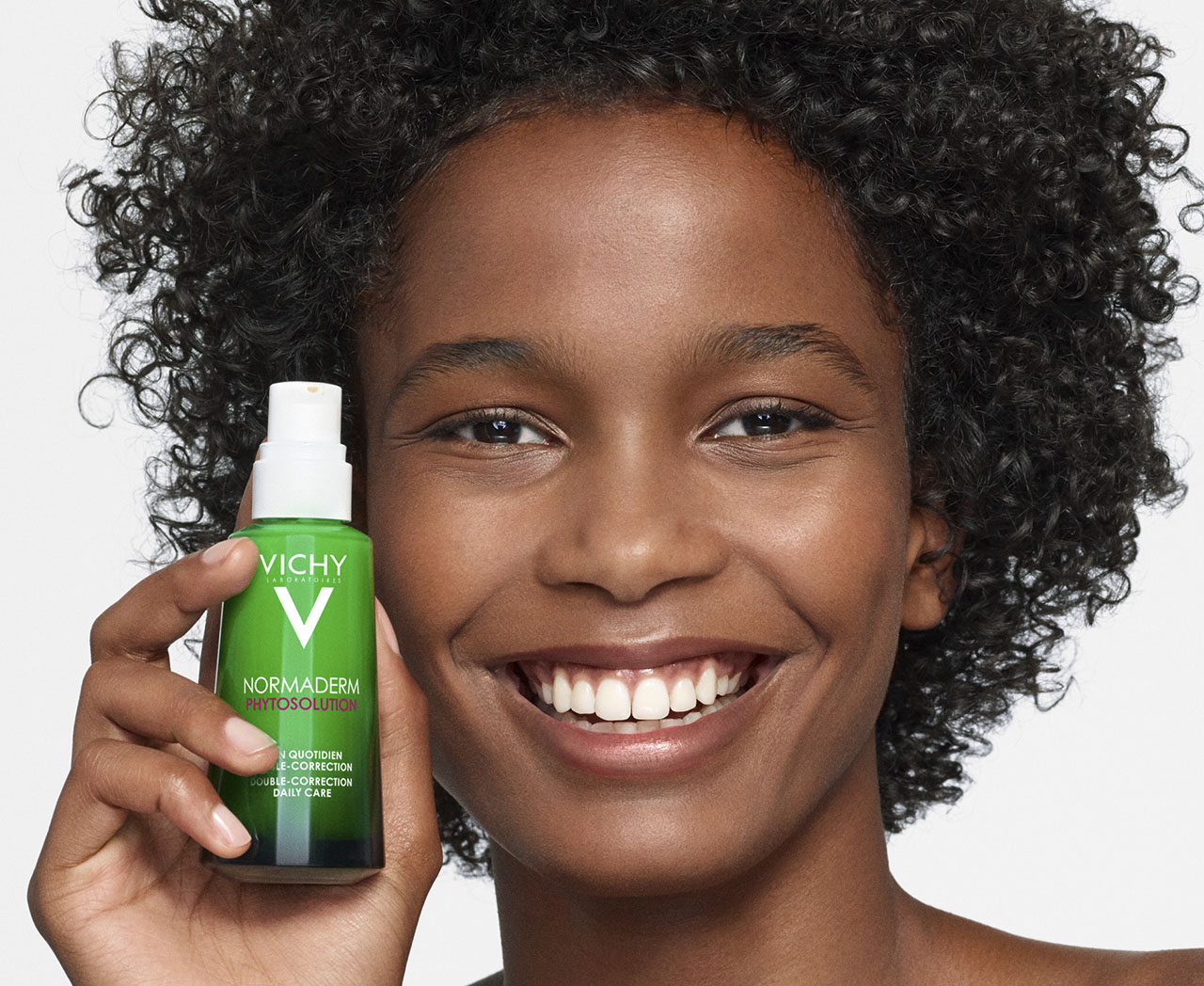 Every once in a while, a product comes around that is a real game changer. For French brand Vichy, that spot is currently occupied by Vichy Normaderm Phytosolution, a 2019 release that's come to change the way acne-prone skin fights blemishes and spots.
If you struggle–or indeed, have ever struggled–with oily and acne-prone skin, you know how hard it is to find the right balance between treatment and hydration. Those with oilier skin tend to focus their efforts on using harsh cleansers and scrubs in order to keep the skin as dry as possible, hoping that will prevent new breakouts. In fact, this can make matters worse, as it only succeeds in irritating and damaging the skin. By depriving your skin of hydration, you may actually be causing your sebaceous glands to produce more oil. This happens in an attempt to retain water and protect the surface of the skin, and yet it's the exact opposite of what you're trying to achieve.
So, what's the solution?
The perfect balance of treatment and hydration
It was with this dilemma in mind that Vichy created Vichy Normaderm Phytosolution, a serum-like moisturizer that provides oily and acne-prone skin with the ideal dose of both treating and hydrating actives. Formulated with 2% salicylic acid, this lightweight product cleans the pores from the inside out, purifying the skin and preventing new breakouts. Over time, it helps correct not only local imperfections, such as whiteheads, blackheads, and enlarged pores, but also global issues such as excess oil and uneven texture. At the same time, it quenches the skin with 60% Vichy Mineralizing Thermal Water and 0.2% hyaluronic acid.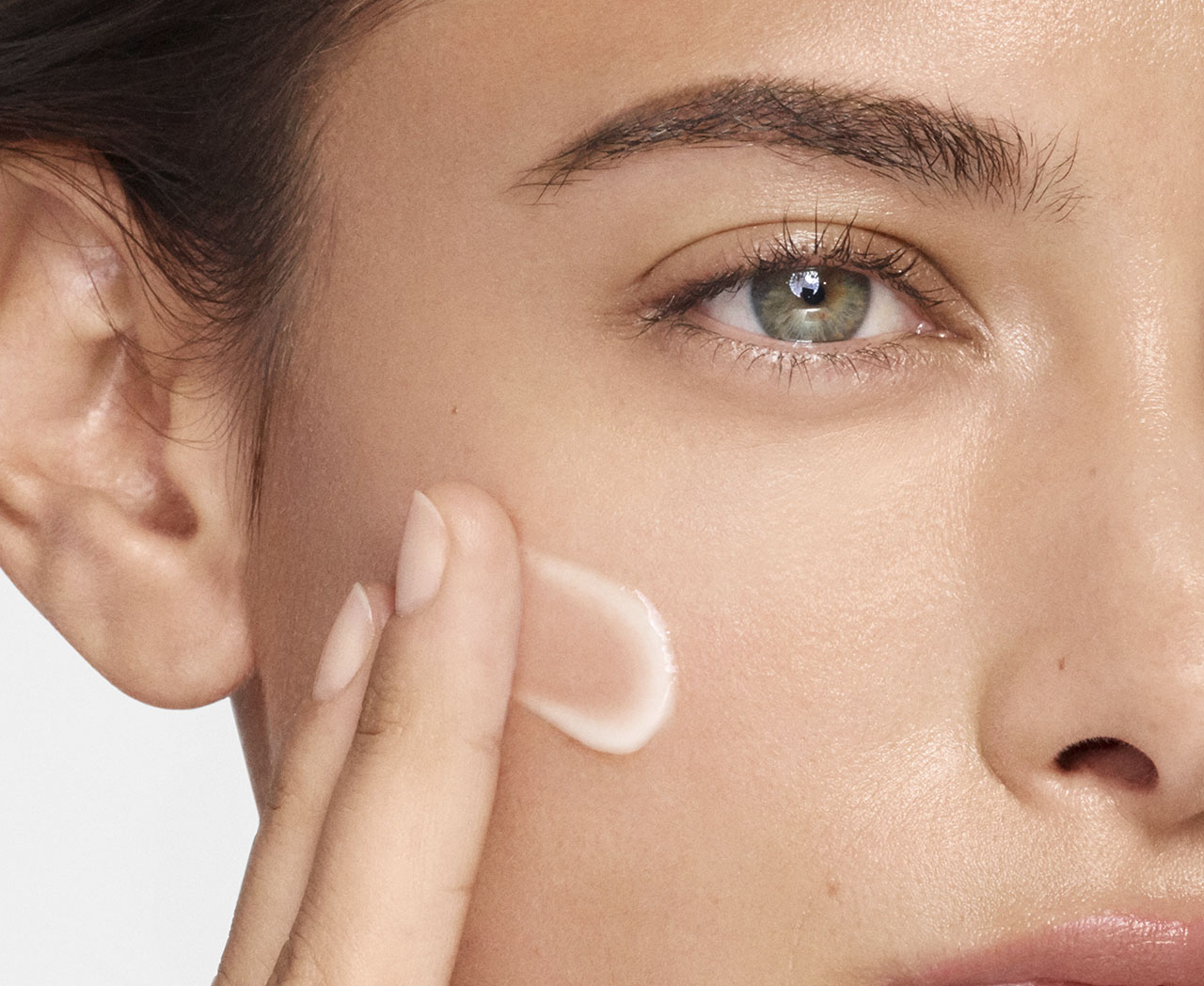 The minimal formula, with physiological pH and ingredients of natural origin, feels light as a feather on the skin. It won't leave an oily or sticky finish–so no more excuses for skipping the moisturizer!
The Vichy Normaderm routine, from start to finish
Revolutionary as it may be, Vichy Normaderm Phytosolution is only one step in the anti-blemish routine that Vichy has been building over the years with its Vichy Normaderm range. if you've long been a fan of these products but aren't sure of how to combine them, don't worry! According to Vichy, this is the ideal anti-blemish routine for oily, blemish-prone skin:
1. Cleanse
Cleansing is the first step in any effective skincare routine. For oily and acne-prone skin, this step becomes even more important, as the skin needs a little extra help to get rid of both excess oil and accumulated impurities. In order to offer a daily, yet thorough skin cleanse, Vichy offers Vichy Normaderm Purifying Concentrated Gel, a rinse-off cleanser that purifies oily and blemish-prone skin.
If you've tried many cleansers for acne-prone skin, you know they often leave the skin feeling dry and tight. Fortunately, that's not the case here. Created with a gentle cleansing base of plant origin and enriched with actives like salicylic acid and zinc gluconate, this gel promises to leave the skin looking smoother, softer, and fresher–no more, no less.
2. Treat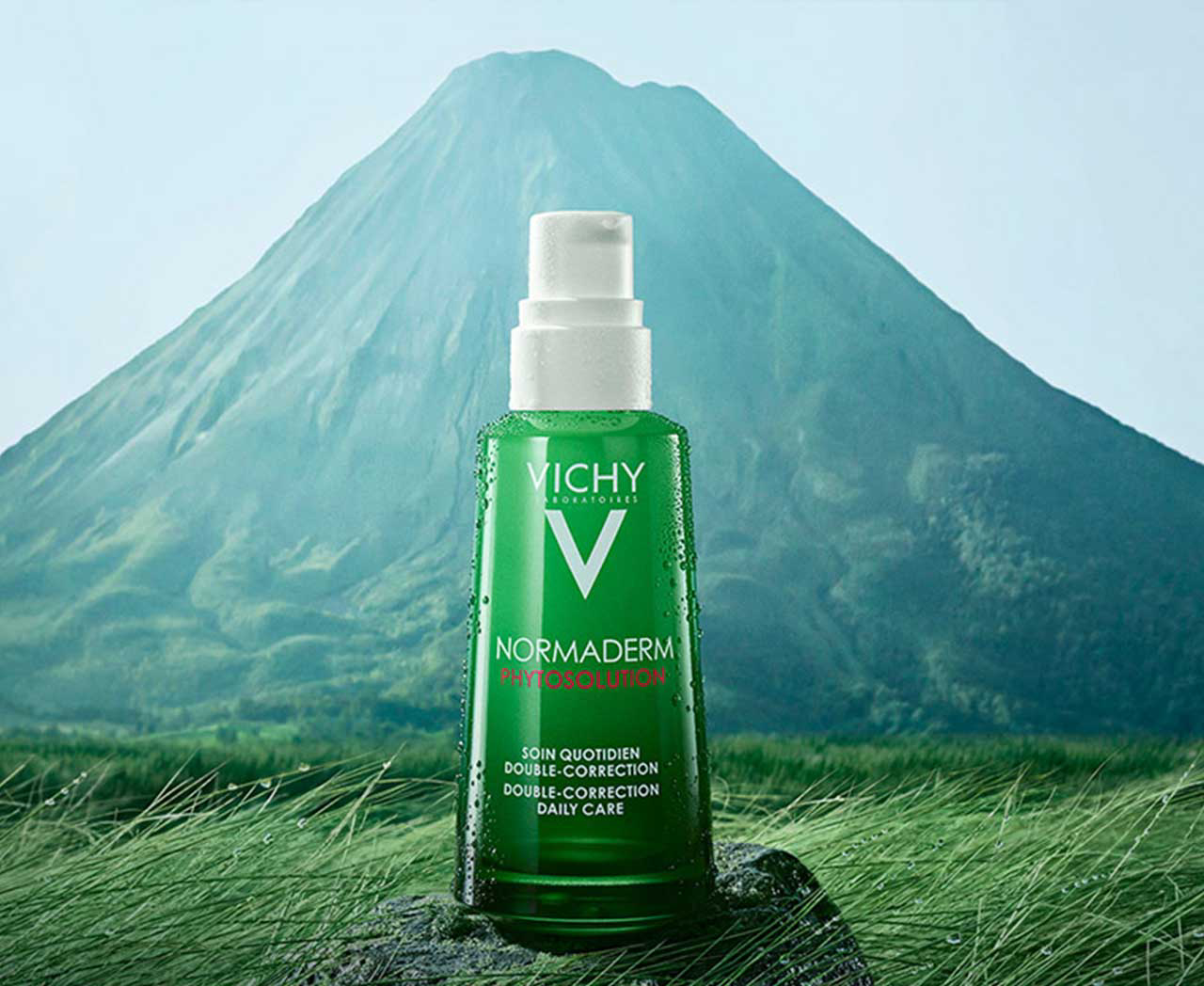 As we've seen, treating acne-prone skin is now easier than ever with Vichy Normaderm Phytosolution. This multipurpose product is a double-action moisturizer that minimizes imperfections while keeping the skin hydrated for up to 24 hours. The immediate effect is that of fresh, pure, and naturally beautiful skin. After 8 weeks, retentional acne lesions are reduced by 37% and inflammatory acne lesions by 42% less visible. At the same time, blackheads are reduced by 31%, and residual marks by 62%.
3. Correct
If you need a little extra coverage against both blemishes and scars, Vichy recommends using Vichy Dermablend 3D Correction Oil-Free Foundation, one of the highest coverage foundations in the Vichy make-up range. This is a corrective foundation that's able to minimize the appearance of irregularities in both color and texture. Using this product, the complexion looks natural, smooth and matte for up to 16 hours. Moreover, it's protected from the sun, as the formula provides SPF25. Recommended by dermatologists and used by makeup artists, this foundation is an all-around winner for acne-prone skin.
4. Set
With this final and optional step, you'll be able to keep your complexion looks naturally matte all day long. After—or instead—applying liquid foundation, you can use the Vichy Dermablend Covermatte Compact Powder Foundation, a high coverage powder that extends the longevity of the brand's foundations for up to 16 hours! Water and sweat-resistant, this fine powder adds further coverage to your foundation; alternatively, you can use it alone, ensuring a matte and natural looking finish for all day.
Interested? You can shop the entire routine below!
---
Not looking for anti-acne skincare? No problem: we've got plenty of other Vichy products on sale, so you're bound to found your favorite one.