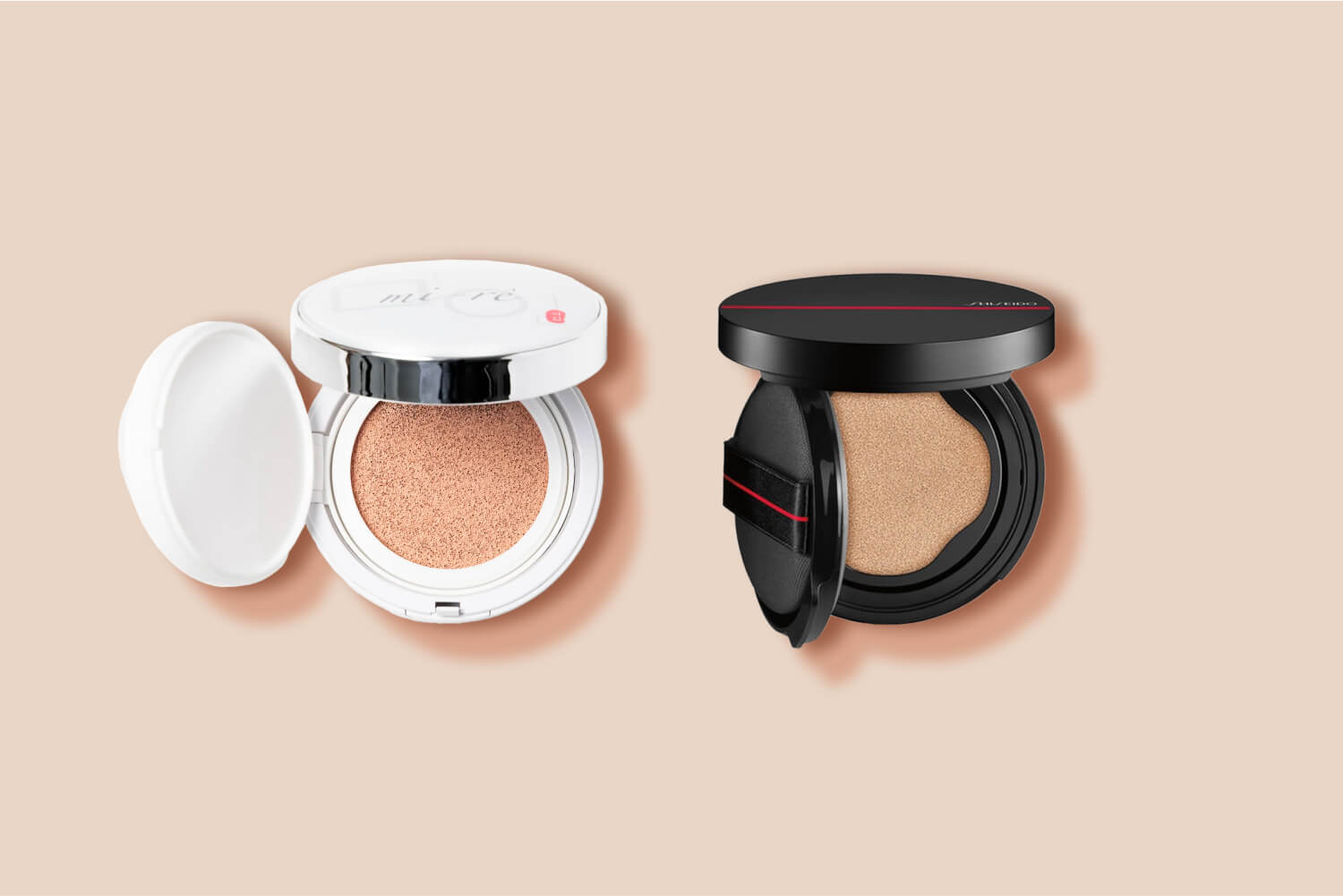 If you have been up to date with makeup trends in recent years, you must have noticed the meteoric rise of so-called "cushion foundations". Because they are presented in a slightly different format than usual, these foundations can raise some questions and create some difficulties–but we're confident we can make them easier for you to understand and use. Are cushion foundations better than previously known foundation textures, such as liquid, cream, or powder foundations? Can they replace your usual foundation? And, last but not least, how do you even apply them to the skin?
We're about to find out!
---
On this post:
The basics:
Application:
Practicalities:
Choosing your cushion foundation
---
The basics
Let's start you off on your cushion foundation journey with some basic information: what are cushion foundations, why should you use them, and how do they measure up against other types of foundation?
What is a "cushion foundation"?
Let's start by listing the most common types of foundation: you have cream foundations, liquid foundations, and powder foundations. At first glance, a cushion foundation might seem similar to a powder foundation: both come in a handy compact with a mirror. However, the similarities end there, because a cushion foundation is actually a liquid.
That's right: a cushion foundation is really just a liquid foundation presented in compact form. Inside the compact, you get a little sponge–the "cushion"–soaked in liquid foundation, and you extract the product by pressing against it with a round applicator sponge, often called a puff. Press, press, press, and you will easily transfer the foundation from the "cushion" to your applicator. Then, all you have to do is pat the product onto your skin, and you'll be good to go.
Cushion foundations are Korean staples, and you'll find them in a lot of K-Beauty brands, but nowadays you can also find them in plenty of other brands.
The pros and cons of cushion foundations
As with all types of foundation, cushions come with their pros and cons. Let's list them all out:
The pros
You should use a cushion foundation if you:
Like to touch up your makeup throughout the day;
Want something easy to carry around and travel with;
Don't like applying foundation with traditional brushes, or even with your fingers;
Like a dewy look (as that's what a lot of these foundations are going for);
Want to get a lot of coverage with minimal effort.
Take it from this author: I've never been able to apply foundation evenly, but the Missha Cover & Glow Cushion SPF45/PA++ (discontinued) changed that for me. I was able to get an even look with very little skill on my part!
The cons
You should try a different type of foundation if you:
Would rather apply your foundation with traditional tools;
Prefer a matte finish over a dewy, radiant finish;
Have oily skin (some cushion foundations can be a little rich, so they tend to be better suited to normal to dry skin);
Are worried about cushion foundations being "unsanitary".
Let us expand on this final point: a lot of people worry about cushion compacts being "unsanitary" because you're touching the cushion, where the product is located, with each application. On top of that, a lot of people believe that cushion foundations are more prone to bacterial proliferation because they're, well, moist.
These are all valid concerns, but here at Care to Beauty we always like to remind you that formulation is key! Brands that produce cushions are well aware of the difficulties of this particular product. As such, they undergo rigorous testing to make sure you can use the product safely. On top of that, you can do your part by making sure you wash your applicator sponge regularly, and replace it whenever necessary. On top of that, make sure you are only using your product for as long as it's safe after opening; you can find this information by searching for the PAO symbol on the packaging. The symbol looks like a little jar with a number written on the inside–that number tells you the length of time, in months, during which you can use your product safely after opening. Typically, it will be 3-6 months, but it will depend on the product. Always check!
Can a cushion replace a regular foundation?
Yes, if you want it to! A cushion foundation is, just like the name implies, a foundation; if you prefer it in terms of texture, form of application, or finish, you can definitely use it instead of your regular foundation! If not, you can always keep it in your bag for touch-ups throughout the day.
Cushions vs your favorite foundation
There are always a lot of questions about how cushion foundations compare to more traditional foundations. Let's run a few comparisons and see how the cushion fares against some old favorites:
Cushion foundation vs liquid foundation
As we have already seen, a cushion foundation is actually a liquid foundation that is presented in a compact format. Like a liquid foundation, a cushion foundation will give you a naturally fresh, smooth finish that you can build on depending on your taste.
The main difference between these two types of foundation has to do with their packaging. A liquid foundation, coming in a tube or bottle, is more protected from contamination, as we have already seen; the cushion is more exposed to contaminants. While this won't make it dangerous to use, it may be something to keep in mind if you're very worried about hygiene around your makeup products.
There is another important issue related to the packaging, which is the fact that cushion foundations are a little more liquid, a necessary feature if they're going to soak the sponge and stay inside your compact. Depending on your personal preference, this may make them much easier–or much more difficult–to use. (This author would vote for "easier", but that's personal opinion!)
Cushion foundation vs compact powder foundation
Cushion foundations and compact powder foundations both come in compacts, but that's about the only thing they have in common.
Powder foundations already have a long history and a secure place in the makeup world. They are portable, relatively simple to use, and tend to have a more matte finish, which works great on oily skin.
On the other hand, cushion foundations tend to have a more dewy, radiant finish, which may work much better on drier skin. The question of contamination also arises here: although powder foundations and cushion foundations are both open and exposed to the elements, the cushion foundation is slightly more contamination-prone, due to its liquid texture.
Cushion foundation vs BB cream
The big difference between a cushion foundation and a BB cream boils down to texture, as always. We've already seen that cushion foundations tend to be liquid, and maybe even more fluid and watery than a traditional liquid foundation. A BB cream, on the other hand, has a richer and creamier texture.
Besides the texture, there is some difference in terms of functions. A BB cream is one of the most versatile products in the skincare and makeup world. In addition to perfecting the skin with a little bit of coverage, a BB cream also offers skincare benefits (antioxidant, anti-aging, moisturizing, etc) and sun protection with added SPF. A foundation cushion can have added benefits and SPF (we've got a couple of suggestions further down the post), but that's not quite its core funcion.
---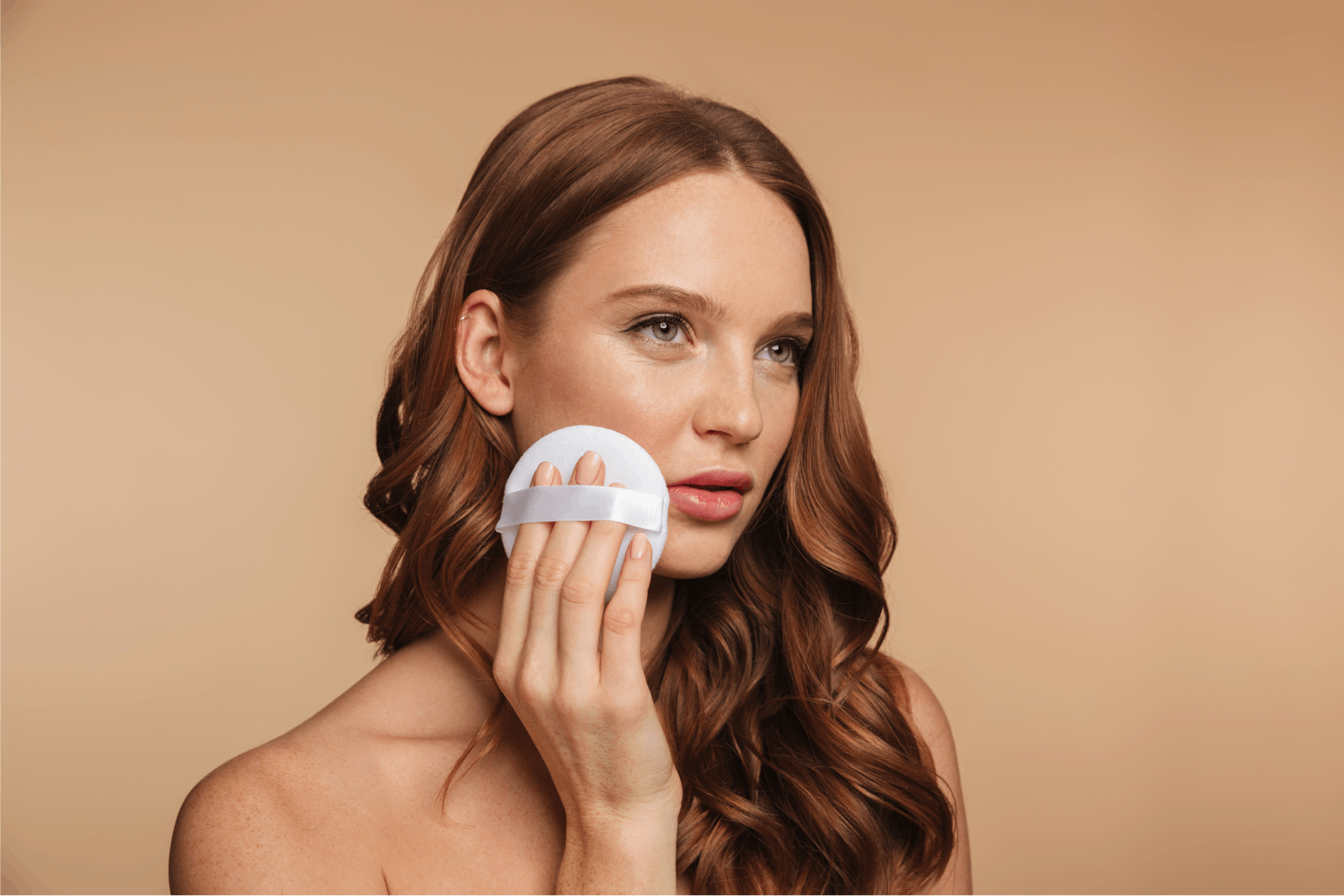 Application
There are always a lot of questions around the hows and whens of whats of cushion foundation application, so we'll get through those in this section.
How to use a cushion foundation
A cushion foundation may seem complicated to use, but it's actually very simple. Just follow these steps:
Slip your fingers through the satin ribbon on the back of the applicator puff;
Using gentle pressure, press the puff into the center of the foundation cushion. 1-2 presses should be enough to get you started;
Tap the applicator puff against your skin in order to apply the foundation. Tap gently and quickly, but don't "stamp" the product into your skin (try not to drag it either);
If you can't quite get the tapping right, try pressing the applicator puff to the skin in a "rolling" motion, starting with one edge and ending with the other;
Use the edges of the puff (or even your fingers!) to blend around your facial contours;
And you're all done!
If you'd like to maximize the staying power of your cushion foundation, finish up with a setting spray or powder, and you'll be good to go!
When to use your cushion
Cushion foundations are super versatile. You can use them in the morning, same as you would any other foundation, but you can also use them throughout the day to touch-up your makeup and freshen up your look. That's undoubtedly where cushion foundations shine, as you can keep them in your bag and use them anytime, with just a couple of pats of the product against your skin. Quick, simple, and easy!
Can you apply cushion foundation with a brush?
So, if you remember our initial explanation, your cushion foundation comes with a little foundation sponge–or "puff", as it's often called. If you're used to applying foundation with a brush, sponge, or even with your fingers, the puff can take a little getting used to.
If you can't find your way around using the puff at all, we have good news: you can totally keep using your favorite method of application. You can use your sponge, or beautyblender, or even a foundation or Kabuki brush. Just try not to use your fingers to move the product from the cushion to your face; you don't want to be constantly touching the cushion with your fingers, no matter how clean they are!
Even if you can use the puff with ease, you can always use a small brush to apply the product around tricky areas, such as the sides of your nose or just under your eyes, where the puff may be a little too big to work well.
---
Practicalities
Because cushion foundations are still a little bit new to the makeup world, there are always a lot of practical questions related to their packaging. Here are some things to keep in mind:
Can you refill your cushion foundation?
A question that always arises with foundations in compacts–whether powder or liquid, like these cushion foundations– is the question of refill. Should we throw the whole compact away whenever we reach the end of the product and want to replace it? The answer is no, not really–brands will almost always provide you with a refill, so you don't have to buy the whole compact all over again.
Take this Mi-Rê cushion, for example: you can buy the full compact on your first time, and then the refill on your second time:
How long does a cushion foundation last in the package?
If the question of durability and hygiene of this type of product worries you, then you should always pay attention to the PAO symbol, a little symbol on the packaging of your product that tells you how long you can use your product after opening. Usually, it will somewhere between 3 and 6 months, but we recommend that you check your specific product to make sure.
---
Choosing your cushion foundation
If you're looking for the best cushion foundation of all time, unfortunately we can't help–that will always depend on your specific needs! However, we can come up with a few options you might like. We have a few cushions available here at Care to Beauty, and these are our favorites:
We like the Heliocare 360 ​​Color Cushion Compact SPF50+ for the way it combines the benefits of a compact cushion with the sun protection expertise of a well-known brand. If your priority when buying a foundation is to buy the one with the most–and best–sun protection, then you'll be in very good hands with Heliocare, a brand that specializes in sun protection. This foundation is available in three shades.
If you want to stick with Korean beauty brands, then look no further, and get the Missha Cover & Glow Cushion SPF45/PA++. With antioxidant and anti-inflammatory ingredients and added SPF45, this foundation captures the essence of what a cushion foundation is supposed to be. If you're particularly fair-skinned, these shades will work perfectly for you. (This author wears shade 21N!)
If you want to try something truly high-end that perfectly captures the union of French elegance and Korean skincare expertise, try the Mi-Rê BiBi Nova Cushion Fond by Teint SPF50. With a hydrating formula with buildable coverage and SPF50, this foundation is available in three very different shades, so you'll have an easier time finding your match.
Another great option to consider is the Shiseido Synchro Skin Self-Refreshing Cushion Compact, a fresh and natural foundation that stays put for 16 hours. Like other Shiseido foundations, this foundation is breathable, blendable, and buildable, and adapts naturally to your skin for a radiant, super-luminous effect.
---
Now that we've taken you on a journey into the world of cushion foundations, you already know everything you need to know to decide if this type of foundation is right for you. This author is all in favor of cushion foundations–how about you?