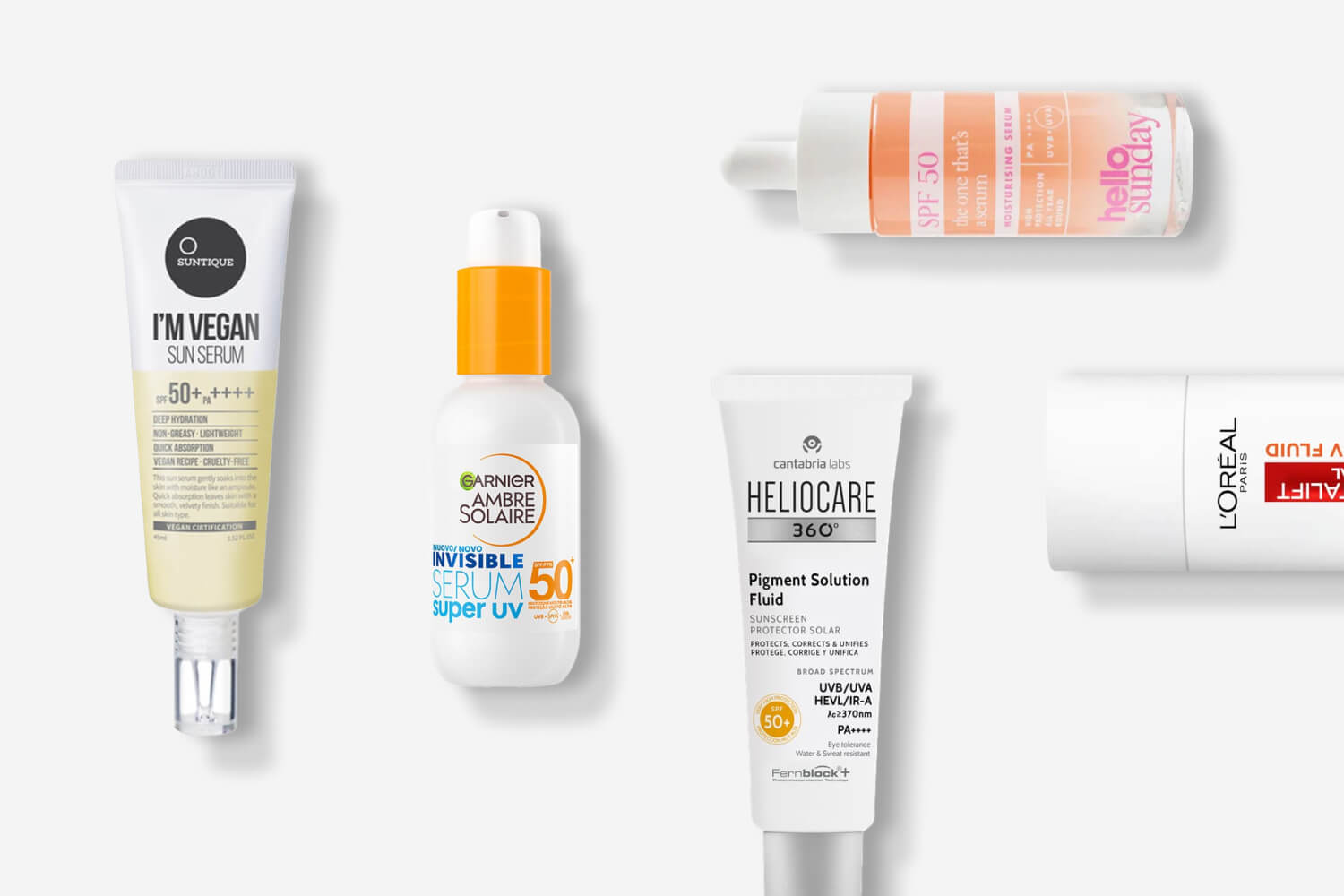 Sun serums are the talk of the skincare world right now. Brands have been launching them at a steady rhythm since 2021, and trend forecasters have called them a rising beauty trend. But what are sun serums, really, and what makes them different from "regular" sunscreens? Today we're taking a deep dive into the world of sun serums: we'll help you identify them and their benefits, so you can figure out whether they're right for you.
What are sun serums?
Firstly, let's understand what sun serums are. Sadly, there is no one definition, as is common in skincare. Product types aren't regulated, so anyone that can come up with a new definition can use it. That is the case with sun serums. Given the popularity of both sunscreens and serums, some companies decided to start calling some of their SPF products sun serums instead of sunscreens. All this is to say that no one can truly define what a sun serum is, because there is no official definition.
However, this doesn't mean that sun serums don't have share some common characteristics across brands. Here are some characteristics that you can usually expect from a "sun serum" formula:
Lightweight texture;
Fast absorption;
Active ingredients to help promote skin health.
What's the difference between a sun serum and a sunscreen?
The concept of a sun serum emerged mainly in the US. This isn't surprising, because in the US people have been dealing with mostly subpar sunscreen formulas. (We've already taken a deep dive into this whole USA vs European sunscreen debacle.) This is why both European sunscreens and Korean sunscreens are so popular in the country.
When compared to the majority of US formulas, sun serums tend to be lighter, easier to absorb, and more impressive in terms of the skin benefits they offer. Additionally, they tend to be better for oily skin, as they are less likely to clog pores. However, when compared to some European or Korean formulas, sun serums are basically just the same.
It's very common in Europe to find fluid sunscreens with added benefits, so don't be alarmed when we show you some fluid formulas that are marketed as regular sunscreens, rather than "sun serums". Korean brands also offer both regular sunscreens and "sun essences" with the same approach as serums do.
When in your skincare routine should you use a sun serum?
Any formula with an SPF value on the bottle should be used as the last step of your skincare routine. It doesn't matter if it's a sun serum or a sunscreen, it should always come last.
This is because sunscreens are meant to form an invisible shield on top of the skin. If you form that shield and then massage three more products onto the skin, you can definitely compromise the sun protection you're achieving.
Who are sun serums for, and who should pass?
Sun serums are for you if you love lightweight textures, or if you want to tackle skin issues at every step of your routine.
Sun serums will definitely not be your thing if you love nourishing and creamy textures.
What are the pros and cons of sun serums?
The pros of sun serums are mainly related to the fact that a lot of people have oily skin or love fluid textures. Of course, it's always a plus to be able to target skin concerns with your sunscreen. Moreover, the fluid texture tends to be less prone to piling, and can be reapplied over makeup more easily.
There's a catch, though. Because sun serums are so fluid and easy to spread, a lot of people may start using less sunscreen because "a little goes a long way". If you find yourself using just a little drop of fluid sunscreen because "it stretches a lot", it's time to reconsider your sunscreen application. This is definitely not the way you want to be using sunscreen, as sunscreen will only provide adequate protection if used in the right amount (which is about a third of a teaspoon for the whole face).
Another "con" of sun serums is that they may tempt you to skip your regular serum–you're using a sun serum anyway, right? However, a sun serum will hardly offer the same benefits as your regular serum, as its main function will always be to protect the skin from radiation. The concentration of active ingredients will always be lower in a sun serum, as the formula needs to focus, first and foremost, on delivering adequate sun protection. In short: we don't believe sun serums can replace your normal serum, and that's a bit of a con.
The best SPF50 sunscreen serums for your face
As we've previously explained, many European and Korean sunscreens match the definition of a sun serum. Therefore, we're bringing you a few options that do not claim they are sun serums, but still are by the definition we are considering: lightweight, supercharged formulas that bring your skin benefits beyond sun protection.
Hello Sunday The One That´s A Serum Moisturizing Serum SPF50
The hydrating one
This sun serum by Hello Sunday needs no introduction, as it's one of the most famous options around.
The old formula offered SPF45, but this new and improved formula offers SPF50 in an incredibly lightweight serum texture. Together with vitamin C, hyaluronic acid helps to hydrate the skin, providing extra glow and plumping the skin.
---
Garnier Ambre Solaire Invisible Super UV Serum SPF50+
Perfect for dry skin
One of the most interesting launches in this category, this Garnier serum is ideal for dark skin. Leaving absolutely no white cast, it also contains ceramides to restore the skin barrier.
Moreover, the price is very affordable, making it ideal for those who want to try a sun serum without a huge commitment.
---
L'Oréal Paris Revitalift Clinical Vitamin C UV Fluid SPF50+
The one for luminous skin
Supercharged with vitamin C, this super fluid sunscreen can be even runnier than most sun serums. With Netlock technology that both improves the sun protection and prevents eye stinging, the real star is vitamin C.
Choose this option if you're looking for an ultra fluid formula that brightens the skin (and, of course, leaves no white cast).
---
Suntique I'm Vegan Sun Serum SPF50+
Ideal for oily skin
This is a super lightweight formula with Houttuynia cordata extract, making it ideal for oily and acne-prone skin. This formula, besides being vegan, helps to soothe the skin and is non-comedogenic.
With a UVA protection rating of PA++++, this sun serum is perfect to prevent post-inflammatory hyperpigmentation. It's ideal for anyone who struggles with acne, or for anyone who easily gets dark spots due to blemishes.
---
Collistar Protective Drops SPF50
The anti-aging one
These high-end sun drops are ideal for those who want an anti-aging action boost. The formula contains niacinamide and hyper fermented rice water, both known to for their benefits for aging skin.
The patented Smart Sun Protection technology helps to provide a broad spectrum protection, thus ensuring that the aging process gets delayed.
---
Heliocare 360 Pigment Solution Fluid SPF50+
Fighting dark spots
This option from Heliocare is an extremely lightweight fluid that packs big actives. Not only does this product contain Fernblock, but also niacinamide and ellagic acid, making it a super potent weapon against dark spots.
The formula is also water-resistant, doesn't sting the eyes, and offers PA++++ UVA protection. All in all, this is the perfect ally for humid and hot weather when you're trying to protect your skin.
---
If you struggle to wear sunscreen every day, choosing one with a great fluid texture could be the key to changing your habits. Discover more face sunscreens on our website to find the perfect one for you!