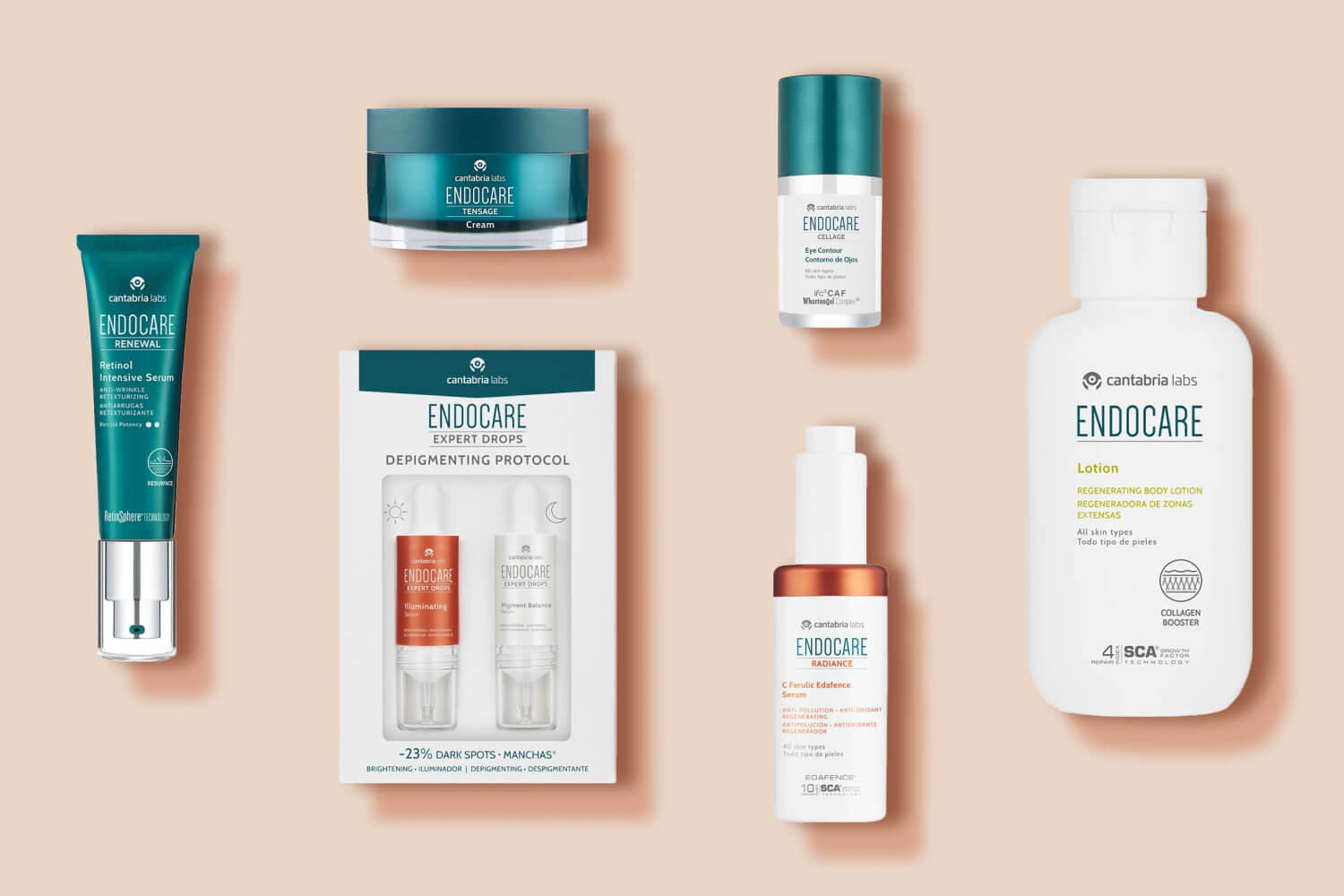 Some skincare brands do a bit of everything–but some brands would rather be experts at just one facet of skincare. That is exactly the case with Endocare, a Spanish brand that specializes in advanced anti-aging science. The good part: if you care about effective anti-aging, you'll be in good hands with Endocare. The bad part: with so many highly targeted products to choose from, you may have some difficulty finding the best Endocare products for you.
---
On this post:
---
Endocare: The Brand in Review
Top 9 Endocare Products
From vitamin C to retinol, Endocare harnesses the most powerful ingredients in anti-aging skincare to help you achieve a smoother, more even appearance. Explore our favorite Endocare products for anti-aging below:
Endocare Tensage Cream
The ultimate firming cream
This bestselling cream is ideal for skin struggling with issues such as sagging, signs of aging, hyperpigmentation, and lack of radiance. The formula combines SCA® Growth Factor Technology (a proprietary technology that stimulates collagen production) and Tensderm™ (a firming complex of soy phytoestrogens and calcium) to restore skin firmness and elasticity.
With frequent use, the facial contours are redefined, and the skin acquires a smoother, more luminous look. The texture, rich but easily absorbed, is suitable for normal and dry skin types.
---
Endocare Radiance C Ferulic Edafence Serum
The antioxidant serum with vitamins C and E
If you're looking for an antioxidant serum to protect your skin against the damage caused by environmental stress, this serum is a perfect option. The multipurpose formula delivers a 4-in-1 action: brightening, antioxidant, anti-aging, and anti-pollution.
The secret is, of course, in the combination of exclusive Endocare technologies (EDAFENCE® and SCA® Biorepair Technology) and star ingredients in the world of antioxidants (vitamins C, E, and ferulic acid). The lightweight formula absorbs quickly without creating an oily residue, making this product suitable for all skin types.
---
Endocare Gel-Cream Bio-Repair
The anti-aging cream for sensitive skin
As a part of Endocare's range of skincare essentials, this anti-aging gel-cream offers a powerful regenerating and antioxidant action which, due to its excellent tolerance, is suitable for all skin types, even the most sensitive ones.
Formulated with 6% SCA® Growth Factor Technology, this cream is ideal to prevent and correct signs of skin aging and photoaging on the skin on a daily basis. At the same time, this product also has an extra benefit: it is ideal to accelerate the recovery of the skin after cosmetic treatments.
---
Endocare Regenerating Lotion
The repairing body lotion for sensitized skin
We've mentioned SCA® Growth Factor Technology several times, a unique ingredient that not only repairs and regenerates the skin, but also offers antioxidant properties.
This body care lotion applies the properties of this ingredient to body care, thus creating a regenerating and anti-aging effect that is suitable for different skin types as well as different skin concerns. Especially suitable for the daily care of sensitive, damaged, or dry skin, this lotion is also recommended for skin that needs extra regeneration after medical or cosmetic treatments.
---
Endocare C20 Proteoglycans Ampoules
The antioxidant ampoules for dry, dull, and tired skin
Formulated with a powerful combination of 20% SCA® Growth Factor Technology, vitamin C, and proteoglycans, these ampoules help prevent and correct signs of photoaging. At the same time, they even out the complexion and help restore luminosity to the skin.
Although these benefits would suit most skin types, these ampoules are ideal for dry or dehydrated skin types, and their unique texture has the ability to form a lightweight film over the skin. As this film helps the skin retain moisture, it also helps reduce the appearance of signs of aging such as fine lines, dullness, and loss of vitality.
---
Endocare Expert Drops Depigmenting Protocol
The pre-made routine for dark spots and pigmentation
To make it easier for you to create a daily anti-spot ritual, Endocare has created this Depigmenting Protocol. Featuring two complementary serums, this protocol combines active ingredients and patented technologies in order to create a brighter, more even complexion.
The day serum, in the orange vial, features stabilized vitamin C along with EDAFENCE® and SCA® technologies, a wonder trio that protects the skin from the damaging effects of everyday aggressors. The night serum, on the other hand, features azelaic and tranexamic acids, along with retinol. As they work together to minimize dark spots and hyperpigmentation, these ingredients help improve the texture and tone of the skin.
---
Endocare Renewal Retinol Intensive Serum
The highly concentrated retinol serum
For those who are already semi-pro in the use of retinol, one of the best Endocare products is definitely this powerful anti-aging serum with 0.5% pure retinol. The serum is formulated with the exclusive RetinSphere® technology, which uses a high concentration of retinoids to achieve optimal results in renewing and retexturing the skin.
This is important for those who mainly want to reduce fine lines and wrinkles, but very important for those looking to improve texture, luminosity, and loss of firmness and elasticity.
---
Endocare Cellage Eye Contour
The best eye cream to tackle early signs of aging
And because no list of recommendations is complete without an eye cream, we bring you this Endocare Cellage Eye Contour. Suitable for all skin types, this eye cream is ideal for anyone starting to notice the first signs of aging in the eye area–signs such as eye bags and puffiness, dark circles, and even fine lines and small wrinkles.
Its versatile formula combines a draining action with a filling effect that, together, help to rejuvenate the appearance of the eye area with each application.
---
We've explored quite a few of the best Endocare products–from powerful antioxidant ampoules to highly concentrated retinol serums. Now that you know a bit about what Endocare has to offer in terms of anti-aging, you're ready to make your choice. Explore our full selection of Endocare products in the shop and supercharge your anti-aging skincare routine!