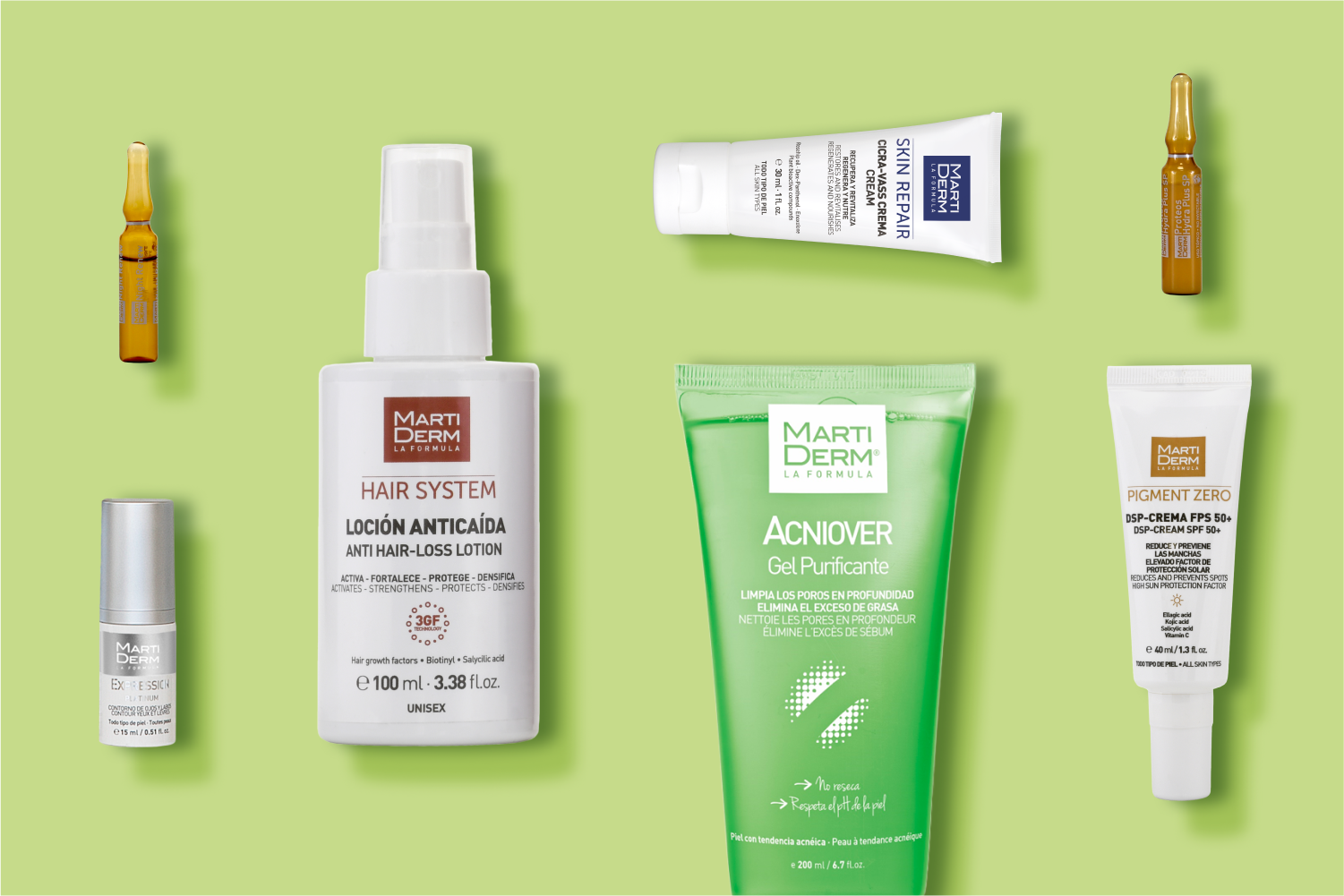 If you're familiar with Spanish brand Martiderm, you know they're all about powerful formulations containing a high concentration of active ingredients, often presented in the form of ampoules. A favorite of dermatologists and consumers alike, Martiderm is a beacon of skincare innovation. This reputation is well-deserved, thanks to the brand's unending dedication to rigorous research and development. If you want to know more about this popular pharmacy brand, we're here to guide you through the best Martiderm products for your needs–from ampoules to hair loss lotions, and everything in between.
The best Martiderm ampoules, according to our customers
Martiderm offers a complete "menu" of ampoules for every skincare need–there is truly something for everyone! As such, it's no surprise that many of the best Martiderm products on the market are actually ampoules. These are the choices of our favorite skincare aficionados, our very own Care to Beauty customers.
Martiderm Black Diamond Skin Complex Advanced
The best ampoule for anti-aging
Specially designed for skin that feels dehydrated and dull, the Martiderm Black Diamond Skin Complex Advanced ampoules offer a comprehensive formula that counteracts visible signs of aging such as fine lines and loss of firmness.
Proteum 89+, a Martiderm-exclusive proteoglycan that makes up 5% of the formula, protects the skin against oxidative stress. Meanwhile, a vitamin complex containing vitamins A, B5, C, E, essential fatty acids, and chicory root extract provides antioxidant, hydrating, and anti-aging benefits.
---
Martiderm The Originals Flash Ampoules
The best ampoule for glowing skin
If you need a quick pick-me-up, the popular Martiderm Flash Ampoules are one of the best Martiderm products you can have in your skincare arsenal. Just one of these quick-acting ampoules can provide your skin with an immediate boost of radiance and hydration.
This stellar anti-fatigue formula provides an instant moisturizing and replumpling effect through the action of hyaluronic acid and silica. Perfect as a make-up base, these ampoules are the ultimate cheat for when you need to look your best.
Want to look your best everyday? Then the Flash Serum was definitely made for you.
---
Martiderm Pigment Zero DSP-Bright Dark Spots Ampoules
The best ampoule for hyperpigmentation
If you're looking for a Martiderm ampoule to help you correct hyperpigmentation, this is it. The Pigment Zero DSP-Bright ampoules are formulated with tranexamic acid, a star ingredient to brighten the skin and even out the skin tone.
Besides tranexamic acid, these ampoules are also rich in vitamin C, a powerful antioxidant that helps protect the skin from free radicals. With this multi-sided approach, these ampoules can not only help you prevent and reduce pigmentation, but also fight photoaging and enhance the overall appearance of your skin.
---
Martiderm Night Renew Platinum Ampoules Soft Peeling
The best ampoule to boost your anti-aging regime
With alpha hydroxy acids and marine collagen, the Martiderm Platinum Night Renew ampoules provide a powerful anti-aging booster, which may be used to improve the effectiveness of other anti-aging treatments.
Night after night, these ampoules dislodge dead skin cells, refine the skin texture, and help you unveil a radiant, more youthful complexion. At the same time, they provide a boost of hydration and elasticity, promoting a firmer appearance.
---
Martiderm The Originals Proteos Hydra Plus SP
The best ampoule for combination skin
With an innovative formula that includes SPF, Martiderm The Originals Proteos Hydra Plus SP is a moisturizing and firming ampoule that harnesses the power of proteoglycans and vitamin C to brighten the skin and help reduce the appearance of wrinkles.
Like other ampoules from Martiderm, this one provides a moisturizing action. However, that doesn't mean it fits only dry skin types; in fact, this ampoule is a great fit for normal and combination skin types.
---
Beyond the ampoules: The best Martiderm products
Even though Martiderm is famous for its ampoules, that's not all this Spanish brand has to offer. Keep reading to learn more about other Martiderm products to add to your routine.
Martiderm Cicra-Vass Repairing Cream
Best for skin healing
From the Skin Repair range comes the Cicra-Vass Repairing Cream, a revitalizing and regenerating cream that restores the structure of the skin from within.
Rich in rosehip oil and dexpanthenol, two ingredients known for their soothing and healing properties, this formula is ideal for skin that is not only sensitive, but has also been sensitized by external factors: think small scrapes and scratches, or small clinical procedures. Apply a small amount to the affected areas a couple of times a day, and you will be helping accelerate the healing process.
---
Martiderm Hair System 3GF Anti Hair-Loss Lotion
Best for hair loss and thinning hair
It's not all about skincare: Martiderm is also known for its innovative hair care range. The Martiderm Hair System 3GF Anti Hair-Loss Lotion is a bestselling anti-hair loss treatment that reinforces the bond between the hair and the follicle in order to reduce hair loss.
Suitable for all genders, this comprehensive formula is also able to work against different types of hair loss, including alopecia and age-related hair loss.
---
Martiderm Pigment Zero DSP-Cream SPF50+
Best for everyday anti-dark spot effectiveness
Those looking for a day cream to help them counteract dark spots and hyperpigmentation will find a great match in the Martiderm Pigment Zero DSP-Cream SPF50+.
With an innovative combination of both depigmenting and photoprotective ingredients, this product minimizes and prevents the appearance of dark spots and hyperpigmentation. At the same time, it provides a powerful antioxidant boost and protects the skin against solar radiation with SPF50+.
---
Martiderm Platinum Expression Gel Eyes & Lips Contour
Best for fine lines and wrinkles
Worried about crow's feet, expression lines, and wrinkles around the eye and lip areas? Then this Martiderm Platinum Expression Gel is a great fit for your needs.
This intensive antiaging gel harnesses the power of peptides–Octapeptide and Syn-ake–to relax the skin in order to minimize the appearance of fine lines and wrinkles. The gel formula can be applied directly to the areas where the skin tends to wrinkle, so you can easily target your treatment to the spots that need it the most.
---
Martiderm Acniover Purifying Gel
Best for acne-prone skin
From anti-aging to hair loss, Martidem is a truly comprehensive brand. It's no wonder, then, that it also offers a complete care line for acne-prone skin. The bestselling Acniover Purifying Gel brings a deep cleanse to oily skin with mild to moderate acne.
With prebiotics to balance the skin microbiome and witch hazel extract to provide an astringent and anti-bacterial action, this cleansing gel strikes a perfect balance. Not only does it soothe the skin, it also creates a purifying effect.
---
We've listed ten of the best Martiderm products, but there's so much more to discover! If you'd like to know more about this iconic Spanish brand, make sure to explore the full Martiderm range in the shop. From skincare to hair care, we're sure you'll find just the right product for you!