Shopping while you travel has to be one of the greatest delights. Getting a few trinkets that remind you of your journey, finally spotting the best local products… it's just amazing. However, for over a year, we have been unable to roam the streets of Paris. We miss searching for the best French pharmacy haul and then overloading our bags with amazing products. We even miss doing the math in our heads in order to avoid extra luggage fees! This is why we have curated for you the ultimate French Pharmacy beauty box. Get all the iconic products without having to leave your house.
Why did we choose French pharmacy as a theme?
Because it's soothing, uncomplicated, and gentle on the skin, French pharmacy skincare has developed a bit of a reputation among beauty aficionados. We are all too happy to confirm it here at Care to Beauty, since we know these products like the back of our hands. From Bioderma to NUXE, from Vichy to La Roche-Posay, we have tried everything and tested everything; and now we are turning it over to you, with our first ever French pharmacy beauty box: French Pharmacy Belles.
About our French Pharmacy Beauty Box
Imagine having an expert curating your next shopping haul. Consider that expert has handpicked the eight best selling products in the French pharmacy world, along with an assortment of samples and mini products in order to provide you the ultimate shopping haul. In the end, it's all perfectly curated for both your skin and your Instagram account.
This is what Care to Beauty has achieved with this French Pharmacy Belles one-time beauty box. Experience the best products French pharmacy has to offer, without having to scroll for hours in order to check out what might be worthy of your attention. Forget the online forums and groups that consume you for hours. We have chosen the most famous products, and then curated your perfect shopping haul.
Packaged in a magnetic-closure box, our French pharmacy beauty box encloses a selection of pampering face and body products with a combined value of over $150–but for half of its price.
What's in the box?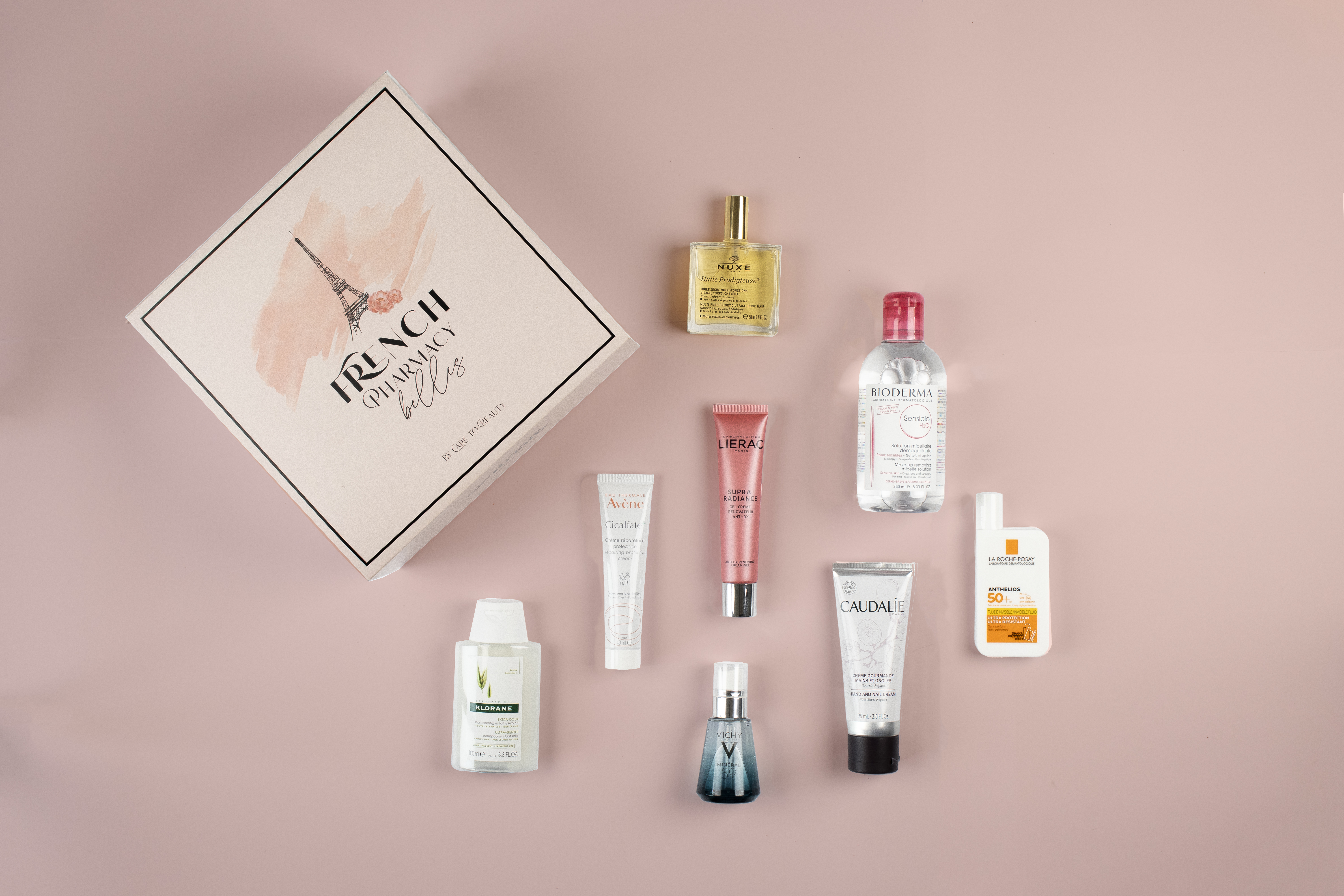 This curated collection has everything your skin needs–from versatile repairing care to silky anti-aging creams. We want you to imagine yourself in a French pharmacy. Walk through the aisles with your trusty wicker basket, then pick out whatever catches your eye. Are you ready to put together a most impressive skincare haul?
The gorgeous Nuxe Huile Prodigieuse may be the first product that catches your eye. This jewel-liked hydrating dry oil will lend a beautiful sheen to both your skin and your hair. Pair it with the Caudalie Hand and Nail Cream, and your skin will be as soft as any French belle's. Before we leave the body care section, don't forget to add the trusty Avène Cicalfate Repairing Protective Cream to your haul. With its skin-mending properties, this reliable cream will be your best ally when up against small everyday emergencies, like cuts or scratches. (If you were to ask our team, most of us would tell you we keep at least one tube at home–sometimes two!)
Now let's look into skincare, shall we? It's not a real French pharmacy haul without the iconic Bioderma Sensibio H2O Make-Up Removing Micelle Solution. Not only is this one of the best micellar waters around, it is the original micellar water–it was first created in 1991, and it's inspired a wealth of skin cleansers ever since.
If you're going outside, we'd like to send you out with the Lierac Supra Radiance Anti-Ox Renewing Gel-Cream. Perfect for those who live an urban lifestyle, this antioxidant-rich cream protects the skin against environmental aggressions; as a result, it preserves the radiance of your complexion, day after day. Finally, and because we know you love French sunscreen as much as we do, let's add La Roche-Posay Fluide Invisible Fragrance-Free to your basket. Because it's light as a feather, this best-selling sunscreen is perfect for everyday wear. It also works well under makeup.
With only two products left to add to your haul, it's finally time to add two tried-and-tested icons. For your skin, we are going with Vichy Minéral 89, a lightweight serum infused with both thermal water and hyaluronic acid. Due to its versatile and lightweight formula, this serum is guaranteed to restore the radiance of your complexion, no matter your skin type. Last, but not least, we'd like to add a treat for your hair. Consider the softening Klorane Ultra-Gentle Shampoo with Oat Milk, which provides a gentle cleansing action while preserving the natural balance of your hair and scalp. Who said the world of French pharmacy was limited to skincare?
Where can I get the French Pharmacy Beauty Box?
French Pharmacy Belles is a one-off beauty box without a subscription. In short, you can simply order it as you would any other coffret or gift set. You will receive the eight products you see above, as well as an assortment of samples and mini products. The perfect French pharmacy haul, with a discount of 50% over the commercial value, can finally be yours–and you don't even have to visit Paris to get it!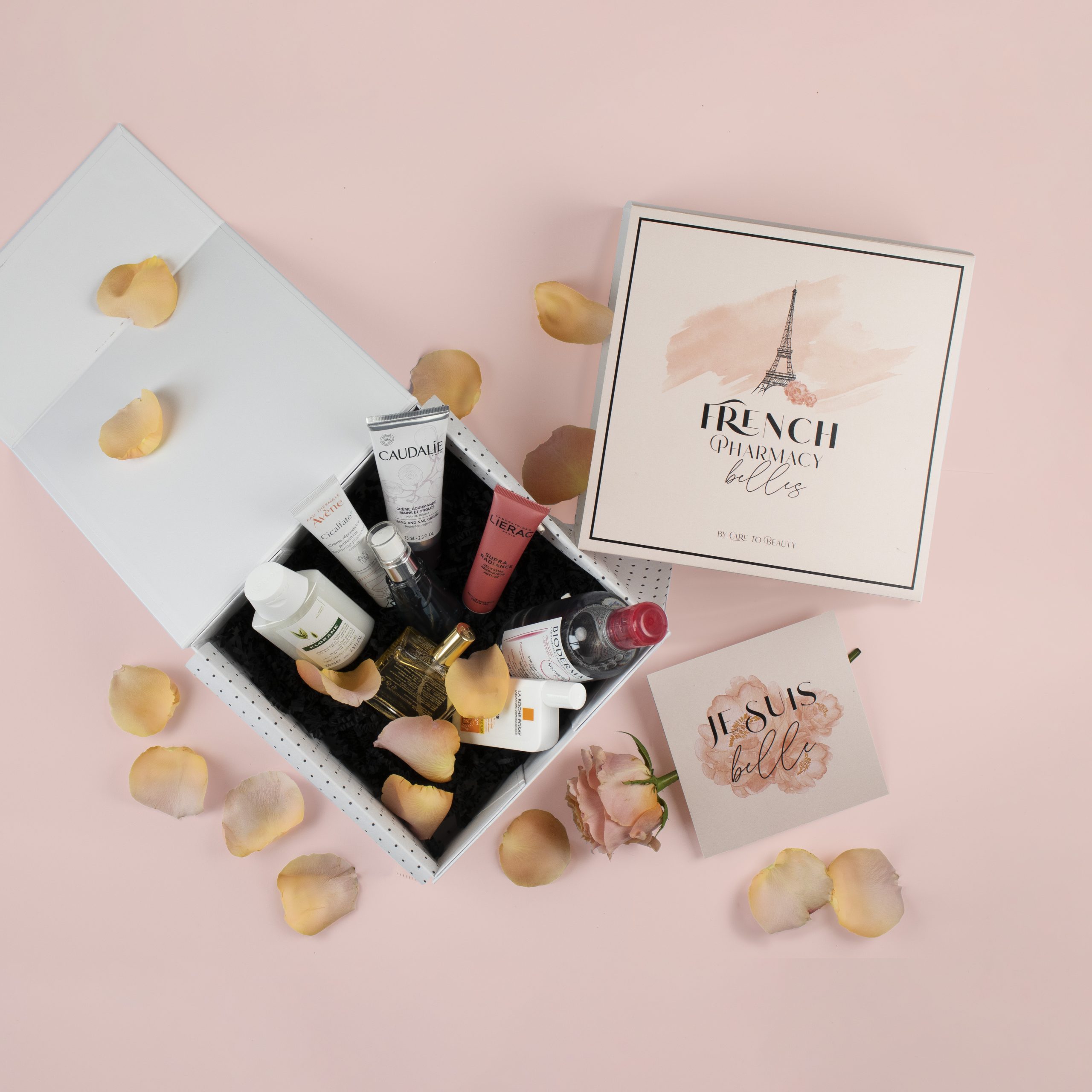 ---
Do you love a good beauty box? Then see how it all started for us. Take a look at our lovely Valentine's Day Edition Beauty Box!