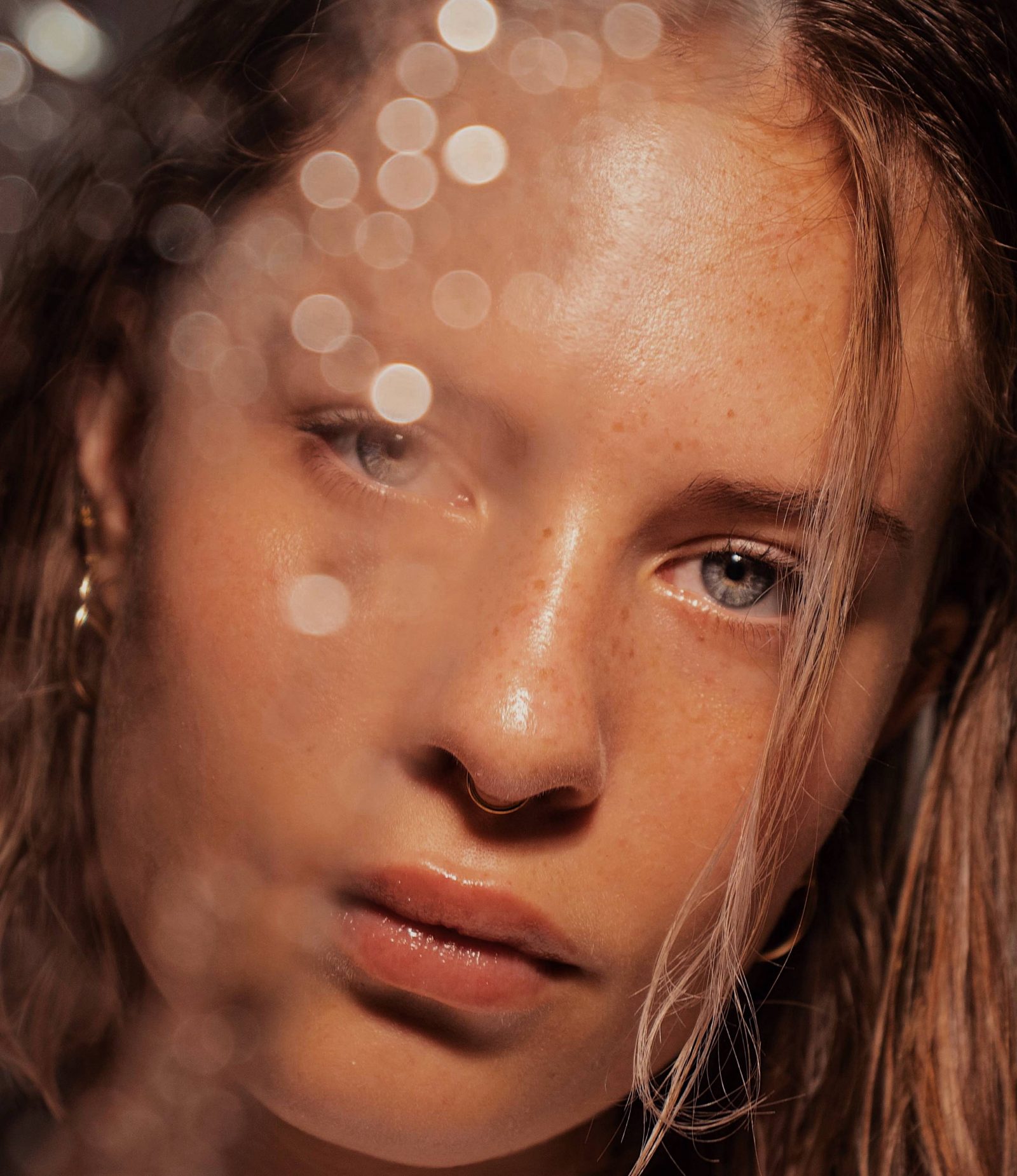 More than a trend, dewy skin is often the look of healthy skin that looks happy to be so deeply cared for! If luminous and glowy skin is a look that resonates with you, then we need a plan to get you there. You may want to go full-on with this commitment and learn all about the helpful skincare steps, and we'd strongly encourage you to do so. In addition, you may follow with some makeup to add a beautiful glow on the spot. You may mix and match these tips, and hold on to your favorites to repeat at any time. Every direction is a good one when the final destination is naturally glowy skin!
---
Skincare prep for naturally glowy skin
By now you already know that it might be helpful to work your skin health from the inside out. Both a healthy diet and habits may be of great assistance, but here's a friendly reminder: if needed, introduce changes slowly depending on your lifestyle and preferences. And most importantly, be kind to yourself! That's our best tip for healthy and dewy skin.
Moving on to what we can do on the outside: from facial massaging to gentle exfoliation and from brightening masks to hydrating mists… choose your favorite champs to win the dewy skin prize!
---
FOREO BEAR™ Smart Microcurrent Facial Toning Device
Microcurrent treatment
Are you a fan of skincare devices or fancy a facial morning wake-up massage? Then this tip is just perfect for you! Featuring microcurrent & sonic pulsations, FOREO BEAR™ Smart Microcurrent Facial Toning Device is a device that allows at-home facial treatments that not only improve firmness but also visibly boost radiance.
---
Darphin The Revitalizing Oil
Face massaging
For an alternative no-device facial, use a few drops of Darphin The Revitalizing Oil to massage the skin. Use your fingertips to perform a relaxing massage, working the product from the inside outwards and upwards. You may even close your eyes to enjoy a spa-like moment with this fragrant oil!
---
Evolve Liquid Radiance Glycolic Toner
Gentle exfolianting acids
We don't know how intimate you are with AHA, but that's definitely a relationship that you should invest in. This toner combines plant-based AHAs and BHAs in order to boost cellular turnover and unveil naturally glowy skin. Exfoliate and refine your skin with glycolic, malic, citric as well as salicylic acids and get ready for a newfound glow!
---
Filorga Meso-Mask Smoothing Radiance Mask
Flash illuminating mask
Erase all traces of fatigue and dullness with this reviving mask. Containing the exclusive Filorga NCTF complex, the mask manages to instantly improve the appearance of the skin. In as short as 15 minutes, the mask works its way to reveal a radiant and glowy complexion. Use it when in need of an express result that shows immediately after the first application.
---
Mádara Vitamin C Intense Glow Concentrate
Brightening serum for immediate & lasting results
If a serum is already part of your daily skincare routine, why not choose a serum that promotes dewy skin? This powerful serum features vitamin C and E coupled with ferulic acid to provide lasting brightening results. Besides boosting the natural skin glow, this concentrate prevents premature aging, reduces the appearance of visible aging signs and reduces hyperpigmentation.
---
Elizabeth Arden Prevage City Smart Hydrating Shield SPF50
Hydrating Sunscreen
Regardless of the result you're going to, applying sunscreen is the one step you shouldn't skip. More than shielding the skin from sun damage, this sunblock hydrates and protects the skin from external aggressions such as pollution. Each application contributes not only to beautify the skin with a luminous glow but also to prevent premature aging.
---
Clarins Hydra-Essentiel Hydrating Multi-Protection Mist
Refreshing & hydrating mist
If you prefer dewiness in liquid form, then you'll love this facial mist. Featuring 98% of ingredients of natural as well as a plant-based Clarins exclusive Anti-Pollution Complex, the mist protects and hydrates the skin at the same time. Apply it before and after makeup, or throughout the day to refresh the skin as you please. After each spray, the skin is plump and radiant!
---
Makeup steps for a dewy complexion
After using skincare to your advantage, you may follow with a few makeup secrets that deliver a beautifying glow. After you follow our tips for naturally glowy skin, you may go as extreme or as natural as you wish with makeup. One thing we know for sure: it's going to look dewy, healthy and fresh!
---
L'Oréal Paris Glow Mon Amour Highlighting Drops
Lightweight highlighting drops
We love a good multi-purpose product! This highly pigmented highlighter may provide a luminous glow in multiple ways. You may apply it under foundation to grant a glow that comes from within or pat a very small amount on the highest points of the face after applying your favorite foundation. If you're in a hurry, then apply one drop to your facial moisturizer to instantly improve skin radiance.
---
Erborian CC Crème High Definition Radiance Cream SPF25
Glowy foundation or CC cream
We found just the perfect products to deliver equal amounts of coverage and luminosity. Now you only need to choose the best fit for you: if you feel like something lighter, granting also some sun protection, then hold on tight to the Erborian CC Crème High Definition Radiance Cream SPF25. If you'd rather apply your sunscreen beforehand, then go for the NYX Pro Makeup Born To Glow Radiant Foundation to get both the coverage and the glow! Who says you can't have it all?
---
Flormar Highlighter Stick
Shimmery highlighter stick
If there's not enough glow in the world to meet your dewiness desires, then you need to add this extra to your makeup bag. Choose the shade that better matches your skin tone and add it as deliberately as you like! Apply it to the highest points of the face, such as the top of the cheeks, nose and brow bone for the best results. If you feel like you need a glowy rescue during the day, this buildable formula is ready to assist you!
---
Explore our extensive range of products that were born to deliver radiance to your skin! From serums to facial moisturizers and ampoules, choose your favorites and boost your natural glow to a new max!