A touch of color to the eyes makes a look! And you don't need much, as you'll see: you just need to master how to use blue mascara. Among all the colorful mascaras that you'll find, bright blue is often seen as the most intimidating to wear. We picked a bright blue mascara to show you how wearable it is! Equally important, the blue mascara works amazing with all eye colors, so you're destined to rock it. Even if you're a devotee of black mascara, try a blue one for a change!
Flormar Color Your Life Mascara Blue
We love Flormar's colored mascaras, so we picked the blue shade of the Flormar Color Your Life Mascara, and we've taken it for a spin in five different eye looks. If you're not in a blue mascara mood, you can always go in with other shades (this author is crazy about the Flormar Color Your Life Mascara Purple Plum as well!).
---
What you should know about blue mascara
Let's explore the differences in behavior between black and colorful mascaras before learning how to use blue mascara. Whereas black mascara seems to look the same regardless of your natural lash color, that doesn't happen with colorful ones. If you give a go to green, blue or purple mascara, they'll look very different in a blond lash when compared to a black eyelash. The rule is simple: the lighter your natural lashes are, the lighter the shade shows. While for people with natural dark brown or black lashes, a colorful mascara can go unnoticed, revealing more of an undertone as a result, the same is not true for people with blond or light brown lashes, where the color tends to show more. That doesn't necessarily mean that you can't get a true blue look on a natural black lash, but you'll definitely need to take some time building the product, and you may need a few more coats than someone with naturally blond eyelashes!
Now that you know how blue mascara will show on your lashes, it's time for the looks!
---
Look 1: A hint of blue on the lashes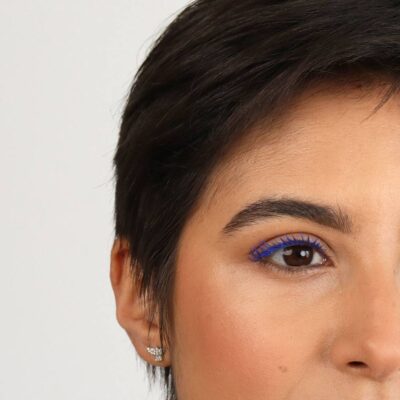 For this eye look you'll need: 
A blue mascara.
Our first suggestion is as uncomplicated as it gets. Give the blue mascara an opportunity to shine alone! If you're afraid of it being too much, start small and use it without any other eye makeup. It'll look way more subtle than you may think. We even took a picture of blue mascara in action to make our case! It'll look amazing for any eye or skin color, and you can complete the look in seconds.
---
Look 2: A dash of sparkle as the background of a blue lash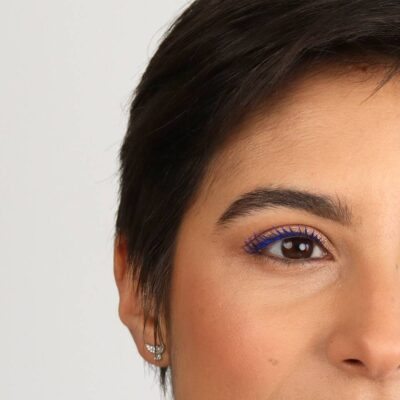 For this eye look you'll need: 
A shimmery eyeshadow in a shade similar to your natural skin tone;
A blue mascara.
Highlight your eyes with a hint of shimmer and a dash of color! It's super easy when you combine basics. To begin with, apply a shimmery eyeshadow of your choice, like the Shiseido POP PowderGel Eye Shadow. We recommend a neutral shade that blends with your natural skin tone, so it won't clash with the blue on the eyelashes. Then, finish with the beautiful blue mascara and your look is done!
---
Look 3: Add color to the lashes in a subtle way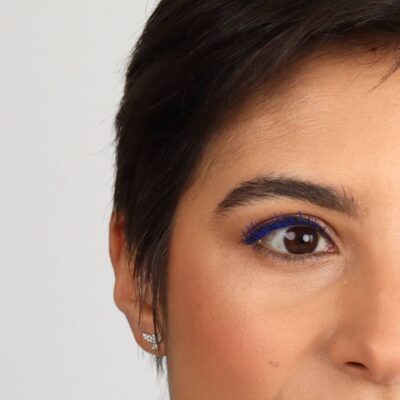 For this eye look you'll need: 
A black pencil;
A blue mascara.
If more than color, you fancy an eye look with depth, then you have to try this! With a black line on the root of the upper lashes, your look gains extra definition while the blue mascara divides the attention with the liner. It's a great way of pulling off the blue mascara without allowing it to be the solo star of the look. To finish the look you have two options: to leave the bottom lashes bare or adorn them with a blue mascara swipe.
---
Look 4: Combine shades to highlight your eyes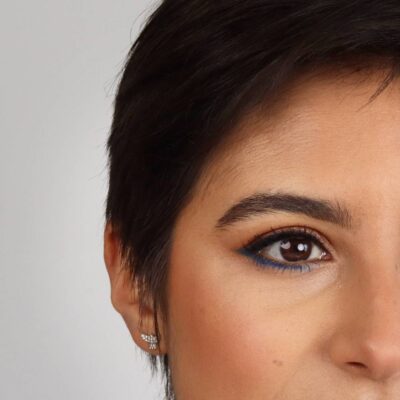 For this eye look you'll need: 
A black pencil or liquid liner;
A blue pencil;
A black mascara;
A blue mascara.
As we're moving on, we're climbing the difficulty ladder. But worry not, this is still pretty easy to achieve; you just need a few extra products, and possibly some extra time as well! The idea behind it is to use the blue mascara as a detail, instead of placing it in the center of the stage. To create your own version of this look, you should line your upper lashline with a black pencil, like the Maybelline Tattoo Liner Gel Pencil Eyeliner 900 Deep Onyx, and coat your upper lashes with your favorite black mascara. Then, for the bottom lashes, use a blue pencil (we've used the essence Long Lasting Eye Pencil 09 Cool Down) and finish with a generous coat of blue mascara. We like the contrast it creates, and we think it's a fun way of using color on your eyes!
---
Look 5: A matching liner and mascara for a full blue look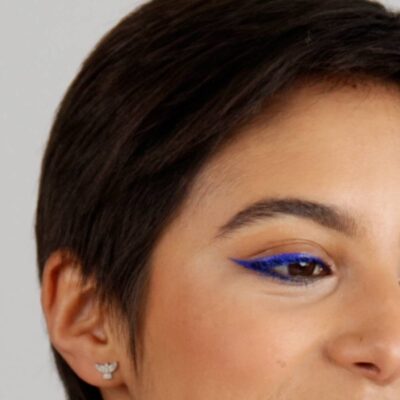 For this eye look you'll need: 
A blue pencil or liquid liner;
A blue mascara.
Commit to a blue look with the perfect combo: liquid eyeliner and mascara. The steps are intuitive if you're used to wearing eyeliner and mascara. The twist is in the color choice! One may think it's too much, but once you try it you'll see how cool it looks. It may not be the look for a black-tie event, but it's suitable for various occasions and let's be honest… it's a lot of fun! We've used the NYX Pro Makeup Epic Wear Liquid Liner Sapphire and we loved how it turned out. Would you give it a try?
---
We know more about how to make your eyes pop with beautiful and user-friendly products and eye looks. Equally important, we've found the best eye makeup removers so you can take it off easily at the end of the day, having just as much of a good time removing makeup as you did while applying. One can't live without the other!