Wearing makeup and glasses may seem incompatible at times, for multiple reasons! For those who struggle with farsightedness, it's complicated to apply it bare-eyed. As if that wasn't enough, it seems that glasses are always invested in destroying all the makeup they touch—just think about how the makeup looks on the nose when you take the glasses off. These and other challenges add a layer of difficulty when it comes to glasses wearers applying and using makeup. We have a few tips for a smooth experience when wearing makeup with glasses!
The tips you need to master makeup with glasses
As soon as you figure out how to wear makeup with glasses, you'll see that they're actually compatible! Depending on the issue you're having with your glasses, some tips may be applicable to you while some may not. One way or the other, our tips are to leave you at ease when it comes time of combining the use of glasses and makeup.
1. Use a matte moisturizer or a primer on the nose
To make sure that makeup stays on even under nose pads and the bridge of the glasses, you'll need to keep all the oil-absorbing abilities of makeup by your side. To make it work, you'll need to use a lightweight moisturizer (ideally matte), and/or a mattifying primer, and/or a setting powder. You won't need to use it on the entire face if it doesn't match your skin needs—only on the nose. The sunscreen texture is also key; make sure to find a dry-touch formula! Skin prepping is essential, but the amount of makeup used is also crucial, as we'll see in a second.
For who: every one that wears glasses.
2. Apply a thin layer of foundation on the nose
If you're wearing glasses, skip nose contour and other makeup techniques that involve a substantial amount of product. Stick to a thin layer of foundation, the bare minimum. With less product on the nose, you'll have more chances of rocking a lasting makeup look. Just as important as the amount of liquid foundation you use, is to set the foundation with powder. Make sure to seal the deal with a thin layer of setting powder before putting the glasses on!
We're not going to lie: it's not easy to keep the foundation set on the nose, under the glasses. This writer decided to skip these tips today, and she's typing as the glasses slip down her nose. It's time to practice what we preach. It really makes a difference! 😅
For who: every one that wears glasses.
3. Use a magnifying mirror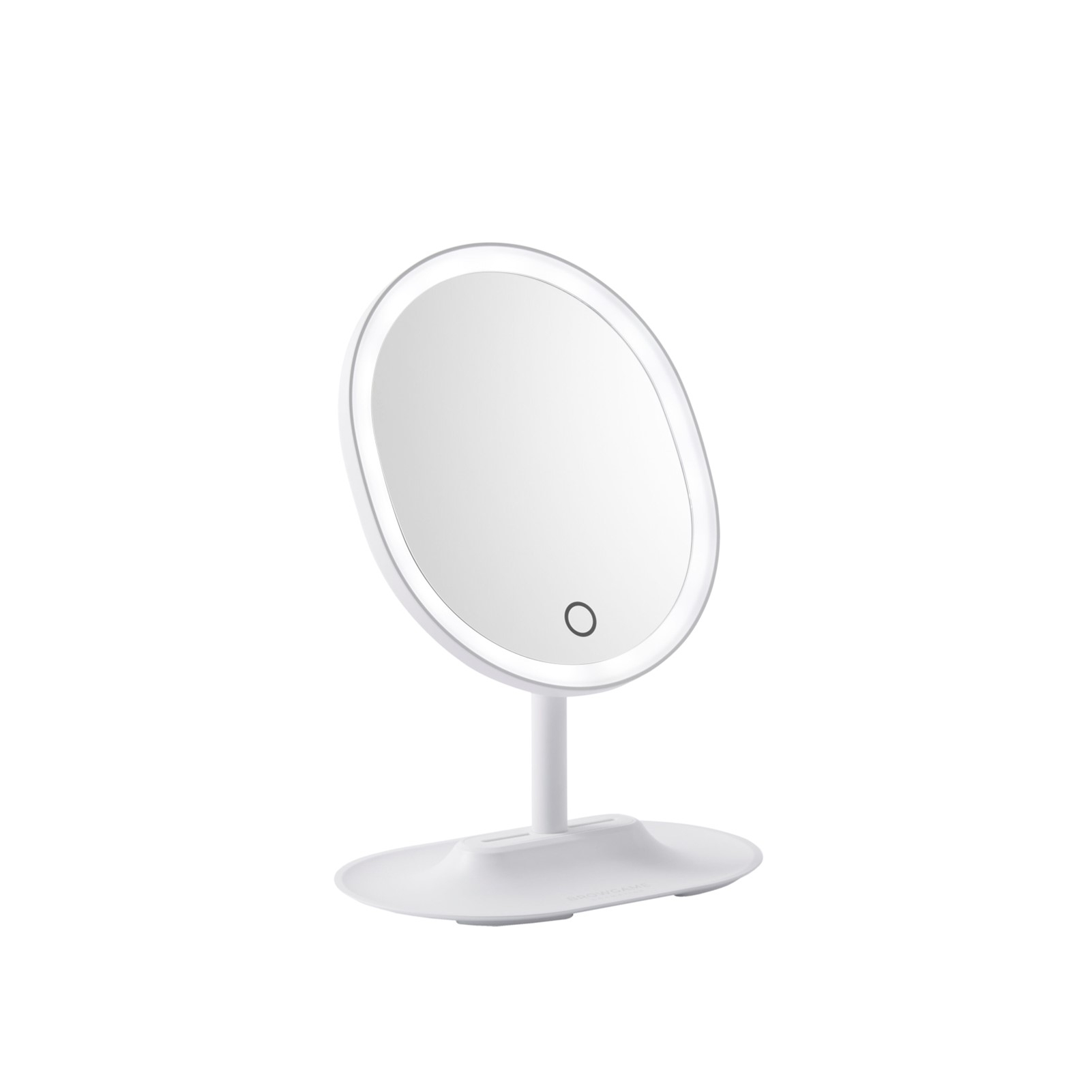 Browgame Original Lighted Makeup Mirror
Our tip number one is key for those with farsightedness. A magnifying mirror is essential if you're having a hard time seeing details as you try to create your look. You'll need to be without your glasses when applying makeup, and using just your regular mirror won't allow you to see exactly what you're doing. Simple, mess-free, and effective!
For who: people with farsightedness.
4. Define the eyes if the lens makes your eyes look too wide
Depending on your eyes' needs, the lens correction may make your eyes look bigger or smaller—and you may need to adjust your makeup having that in mind. If your glasses make your eyes look bigger, you may notice that they seem to lose definition. If that's your case, the trick is simple: don't be afraid of applying a brown or black liner in the waterline and in the lash roots. With a dark color accentuating the shape of the eye, you'll see that your eyes won't look as wide. However, you should keep in mind that adding a dark shade to the eyes may accentuate dark circles if you're not using any concealer. In this case, eye makeup should go hand in hand with dark circle correction!
For who: people with farsightedness.
5. Use makeup to open up the eyes if you're nearsighted
If your glasses make your eyes seem smaller, you can easily counteract the effect using makeup! To create the illusion of bigger eyes, you can use light and slightly shimmering makeup. The most important tip is to use a beige pencil liner on the waterline! Try now and see what a transformation it instantly creates. Stay away from dark eyeshadows, as it tends to make the eyes look smaller—the exception is if you use a dark shadow or liner to outline the bottom lash line! You may even combine these tips and apply a light beige pencil on the waterline and a brown pencil on the bottom lash line. Try now and see how much it changes the look of your eyes!
For who: people with nearsightedness.
6. Long lashes? Curl them before mascara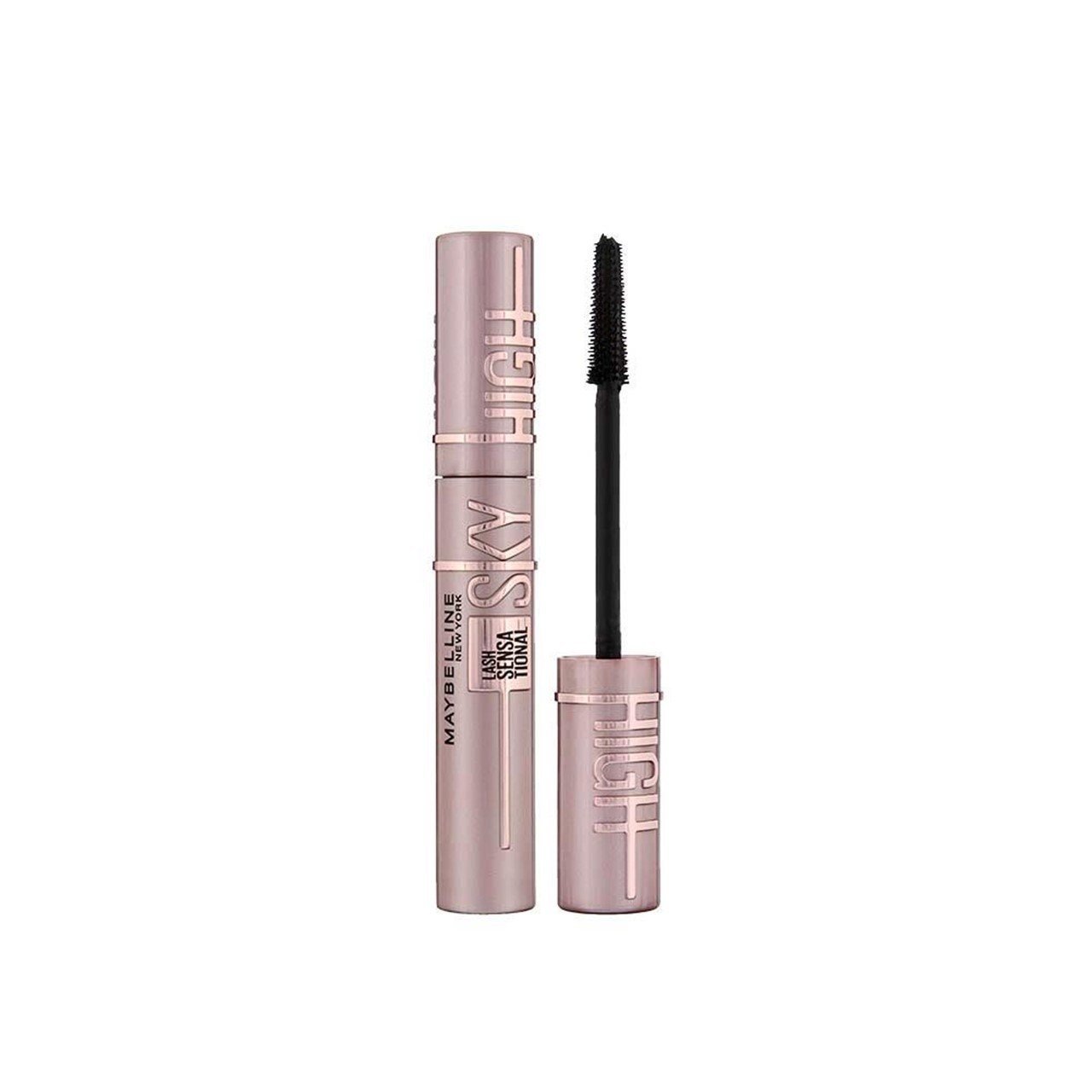 Maybelline Lash Sensational Sky High Mascara
Long lashes are both a blessing and a curse! Yes, they highlight your eyes beautifully—but they may hit your glasses. If that's your case, the trick is to curl them really well with a tool like the Tweezerman Great Grip Lash Curler, and apply a lifting mascara, like Maybelline Lash Sensational Sky High Mascara. Curling the lashes as close to the roots is key to making this tip work!
For who: people with very long lashes.
7. Conceal dark circles for luminous eyes
As the glasses may bring attention to your eye area, they may emphasize your dark circles. If that's not a look that you like, you can get yourself a good under-eye concealer for dark circles and camouflage it away! If using your regular concealer is giving you ashy circles instead of dark circles and you're not happy about it, you may actually need some color correction. This happens when your dark circles are darker than what a concealer can hide alone. Usually, the issue is solved with a peachy or orangy corrector, and, as a result, no more ashy or dark circles!
For who: people with dark circles.
---
When the day comes to an end, you'll need the best eye makeup removers by your side. Use them to take off the makeup without irritating the eyes!