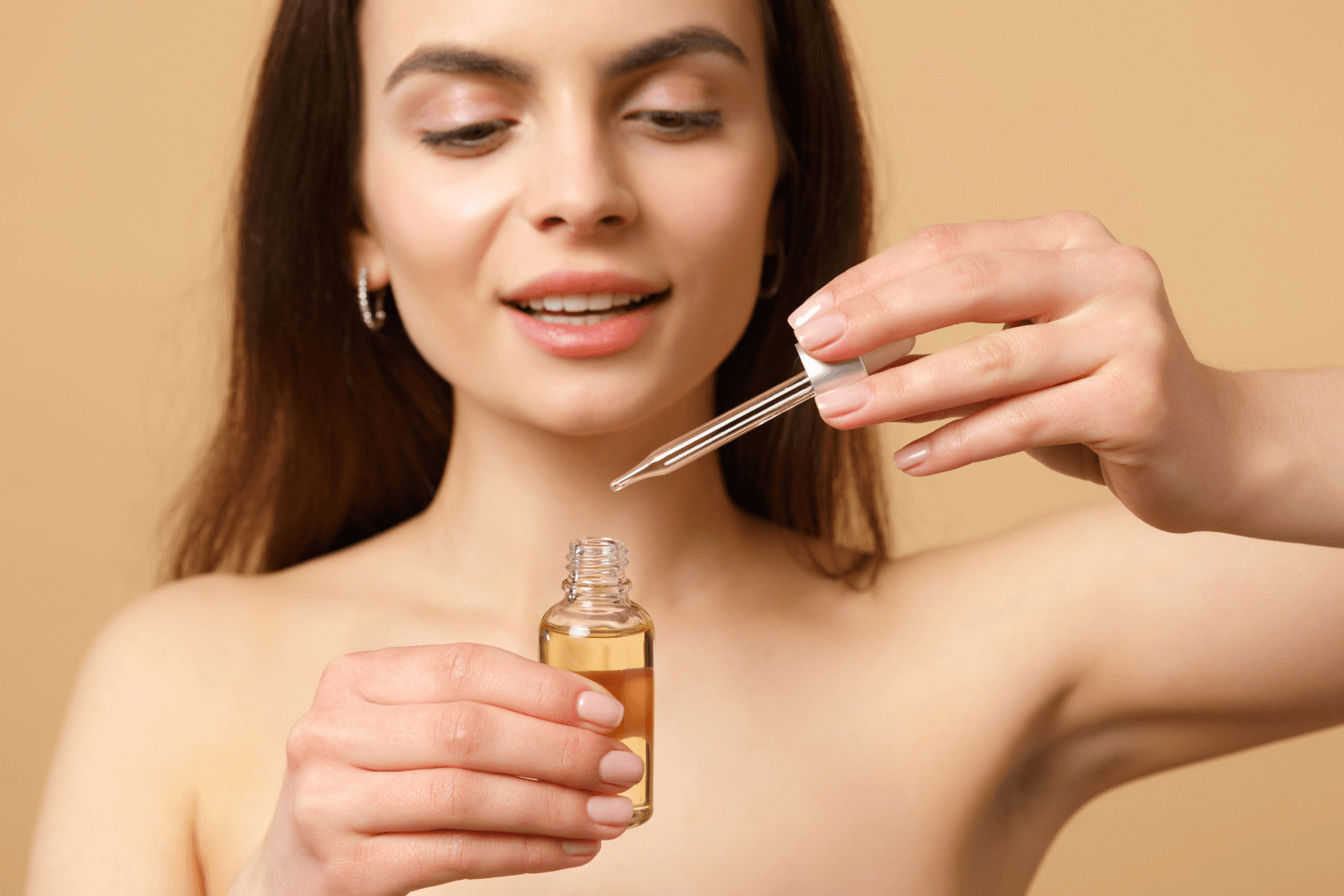 So much has been written about skincare combinations to avoid (and permanently banish from your beauty stash), but what about combinations of skincare ingredients that work well together? That's always the trickiest part of putting together a skincare routine. How do you find compatible products that not only work well together, but also boost one another?
We've put together seven skincare ingredient combinations we believe to be winners: peptides and retinol, hyaluronic acid and ceramides, glycolic acid and vitamin C, and more. Keep reading to learn about our favorite skincare combinations, including the much-feared vitamin C and retinol!
Peptides & Retinol
This combination is best for: Wrinkles and loss of firmness
Retinol is the gold star anti-aging ingredient, and one of the most studied ingredients in the skincare menu. In recent years, peptides have also garnered a bit of a reputation as a powerful group of anti-aging ingredients; they are able to smooth fine lines and wrinkles, promote the production and collagen and elastin, and restore firmness and elasticity to the skin.
We're often asked whether you should go for retinol or peptides, and the good news is you don't have to choose at all! You can build a truly effective anti-aging routine using both retinol and peptides.
Here's an example: you can use the La Roche-Posay Substiane Anti-Aging Sagginess Cream in the mornings, and the Sesderma Retises 0.25 Antiwrinkle Regenerative Cream in the evenings. The first features peptides, the second features peptides and retinol together in the same formula. This combination can help you target wrinkles, loss of firmness, and loss of elasticity.
---
Niacinamide & Retinol
This combination is best for: Blemishes and signs of aging on oily skin
Niacinamide and retinol are two of the buzziest skincare ingredients out there. If you've ever wondered whether they work well together, we have great news for you: yes they do, and they happen to work particularly well on oily skin. Say you're trying to refine the texture of oily skin, minimize excess oil and sebum, and correct the first signs of aging, all at the same time: this is the ingredient pairing for you.
We've chosen two products that prove our point: the Revolution Skincare 10% Niacinamide + 1% Zinc Serum is a skin-refining serum that helps regulate sebum production, all the while providing a soothing effect that's always welcome on oily and acne-prone skin. Use it in the morning, for example, then follow with the SVR Ampoule [A] Lift Smoothing Concentrate in the evening. This is a milky serum that combines concentrated retinol and encapsulated retinol in a powerful retexturizing formula.
---
Salicylic Acid & Niacinamide
This combination is best for: Acne-prone skin
If you have acne-prone skin, one of the best skincare ingredient combinations you can try is niacinamide and salicylic acid. Niacinamide is a hugely versatile ingredient with properties that go from soothing to anti-inflammatory. Meanwhile, salicylic acid is a gold star exfoliant that is actually able to penetrate deep into the pores; this helps prevent the formation of new blemishes and minimizes existing ones. Knowing this, you can easily understand why these two ingredients together can work wonders in your anti-acne routine
You can try combining them by using two of our favorite products. We often recommend the SVR Sebiaclear Serum Anti-Marks Anti-Blemish Global Corrector due to its unique formula, which has been specifically developed for adult skin that struggles with acne. Formulated with niacinamide and PHAs, this serum is highly effective, but gentle enough to be used twice a day. A couple of times a week, you can boost its effect with the COSRX BHA Blackhead Power Liquid, a toner that provides a gentle exfoliation through the action of salicylic acid. It can help you minimize acne and blemishes, regulate sebum production, and balance out your complexion.
---
Glycolic Acid & Vitamin C
This combination is best for: Dullness and uneven texture
Vitamin C and glycolic acid are favorites of many skincare aficionados all around the world. If you've ever wondered if they can be used together, they most definitely can! Indeed, they make a great pairing when trying to refine the skin texture and achieve a glowier, more naturally radiant look. Use vitamin C in the daytime to provide antioxidant benefits and prevent signs of aging, and go for glycolic acid in the evening to achieve a gentle daily exfoliation. Glycolic acid is pretty impressive: not only does it refine the skin texture, it also helps minimize little dark spots and other imperfections.
Here's a product combination you can try: use the Sesderma C-Vit Serum Liposomal in the mornings, and the Bioderma Sébium Night Peel in the evenings. With vitamin C and a unique blend of antioxidants, the C-Vit Serum helps you revive dull skin and ward off the worst of environmental aggressions during the day. During the night, the Sébium Night Peel with 15% glycolic acid provides a powerful peeling action, helping you refine your skin and minimize blemishes and dark spots.
---
Hyaluronic Acid & Ceramides
This combination is best for: Skin barrier repair
If you know your skincare, then you know hyaluronic acid is the world's favorite hydrating ingredient; not only does it help the skin retain moisture, it also creates a plumping effect that minimizes the appearance of fine lines and wrinkles.
In recent years, ceramides have also been getting a lot of hype. Ceramides hydrate and help repair the skin barrier, which in turns helps maintain the skin's healthy hydration levels.
---
Azelaic Acid & Niacinamide
This combination is best for: Dark spots and hyperpigmentation
Dark spots and hyperpigmentation can be extremely hard to correct—but not impossible. If you're set on correcting your dark spots, a skincare combination you can look into is azelaic acid and niacinamide. Azelaic acid is one of the most renowned brightening ingredients out there; meanwhile, niacinamide has also proven to be effective in the correction of hyperpigmentation. These two ingredients are pretty impressive on their own, but they can definitely be combined in the same skincare routine for better and faster results (especially because, chemically speaking, they target dark spots through different mechanisms).
If you're interested in combining these two ingredients in your skincare routine, we suggest trying it out with the following combination: the Vichy Liftactiv Specialist B3 Dark Spots & Wrinkles Serum in the morning and the Sesderma Azelac RU Liposomal Depigmenting Serum in the evening. The first serum features a gold star anti-aging cocktail of niacinamide and vitamin C, which not only provides antioxidant properties, but helps minimize the appearance of dark spots. The second serum features azelaic C as its star ingredient, but it props up its properties with the addition of brightening vitamin C and smoothing retinol.
---
Retinol & Vitamin C
This combination is best for: Wrinkles and photoaging
Vitamin C and retinol are skincare heavyweights. Retinol is the star ingredient against wrinkles and signs of aging, and vitamin C is a popular antioxidant recommended not only for the prevention of signs of aging, but also for the correction of dark spots. Both ingredients have a bit of a reputation for being sensitizing, so you may worry whether you can use them together. You can—and, to be fair, you should consider it.
Here's how to make vitamin C and retinol work in the same routine: use one in the morning, and the other in the evening. One combination we like is the Bioderma Pigmentbio C-Concentrate (a vitamin C and AHA cocktail that creates the first visible results in just one week) with the Neoretin Discrom Control Serum Booster Fluid (a retinol serum that targets signs of photoaging such as dark spots and hyperpigmentation).
---
We hope this post has given you a good idea of how to optimize your skincare routine and get the best out of your products (and their active ingredients!) We've been through seven of our favorite skincare ingredient combinations, but there are many many more to choose from. Make sure to browse our customized skincare routines for more inspiration!