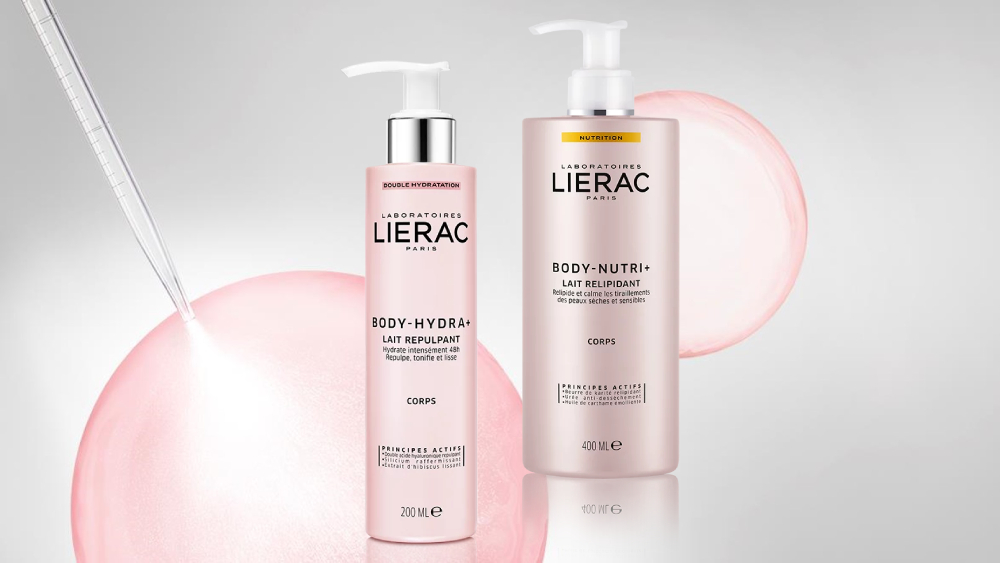 Summer's just around the corner for those of us in the northern hemisphere! Therefore, the time has come to prepare our skin for the easy-breezy clothes we've been avoiding for the past few months. Fortunately for us, French brand Lierac offers a comprehensive body care range, which will help us tackle everything from cellulite to stretch marks.
Why not join us as we discover this range and begin your summer body program today? It's true that using these products won't make you an Olympic pentathlete like Lierac representative Élodie Clouvel, but it'll certainly help you feel your best this coming summer! ?
---
Lierac Body-Hydra+ & Body-Nutri+
Double hydration and nourishing solutions
For those of us who struggle with dry and dehydrated skin, Lierac offers two hydrating and nourishing options.
Body-Hydra+ is a plumping, toning, and smoothing range that offers anti-aging double hydration to the skin. The first product in this range, Lierac Body-Hydra+ Micropeeling Scrub, is a unique body scrub formulated with AHA-rich hibiscus extract as well as plant-origin micrograins. It provides the skin with a gentle exfoliating action, leaving it both radiant and renewed.
After the Micropeeling Scrub, Lierac suggests applying one of two re-plumping products: either the Hydro Plumping Lotion, a hydra-filling body milk that hydrates, fills in, and tones the skin for 48 hours, or the Nutri Plumping Cream, a nutri-filling body cream that nourishes, fills in, and refirms the skin for 48 hours.
For extremely dry and dehydrated skin, there's also Lierac Body-Nutri+ Relipidant Milk. This luxurious moisturizing milk melts onto the skin in order to soften, soothe, and moisturize it for up to 48 hours. This product is particularly suitable for sensitive skin, due to its ability to reduce irritation and hypersensitivity. The formula doesn't contain parabens or dyes; moreover, the fragrance is hypoallergenic.
---
Lierac Body-Lift Expert & Bust Lift Expert
Anti-gravity solutions
These two star products counteract both skin sagging and loss of firmness. Lierac Body-Lift Expert Lifting Concentrate is a lifting and firming body serum suitable for localized areas such as the inner arms and thighs, as well as the abdomen and knees. The unique texture forms a flexible yet firming veil over the skin upon application, for a sensation of immediate firmness.
For localized use on the breasts and décolleté, Lierac Bust Lift Anti-Aging Recontouring Cream is a specialized cream that helps smooth and moisturize the bust area. Used regularly, this lifting cream tones and strengthens the bust and reduces pigmentation. As a result, it restores beauty and femininity to this delicate area.
---
Lierac Phytolastil
Stretch mark prevention & correction
One of the best Lierac products you can invest in, Phytolastil has been helping women fight stretch marks since 1975. The products in this range contain an exclusive blend of plant-based ingredients. This botanical complex is present in different concentrations in the gel (35%) and serum (84%). Because of this, the gel prevents the appearance of new stretch marks; the serum, on the other hand, is more adept at minimizing the appearance of the existing ones.
---
This post was updated in 2021 to reflect changes in the Lierac Body range.