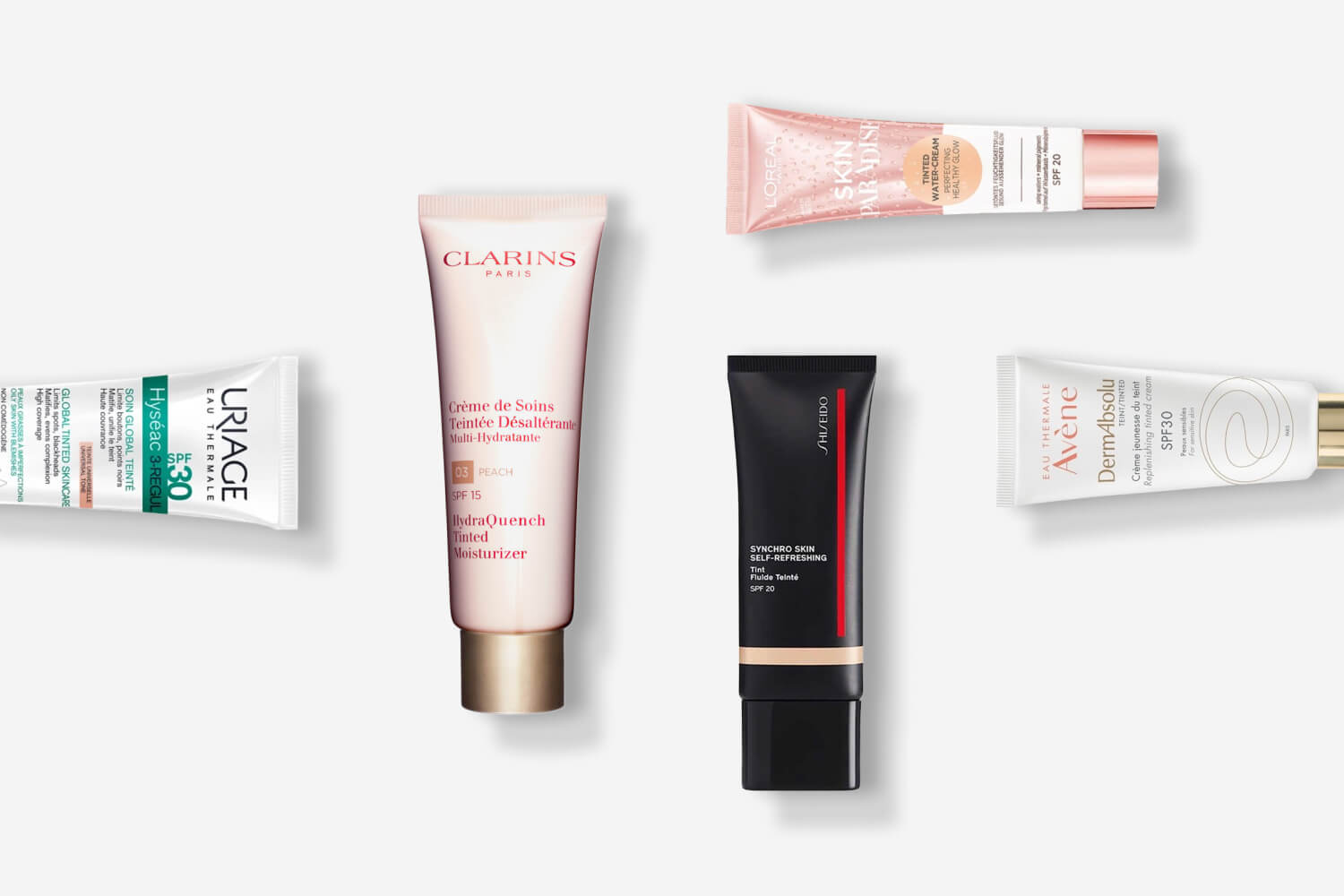 Layering your skincare and makeup products in the morning can be a challenge. Where does it all go? Should you moisturize before makeup? Does the foundation go over or under sunscreen? And where does primer fit into all this? It's all confusing enough to make you want to drop everything and go outside bare-faced.
Fortunately, there's a 3-in-1 product that promises to solve this problem: that versatile superhero, tinted moisturizer with SPF. In theory, this product can replace three heavy-hitting products in your morning routine: your moisturizer, your sunscreen, and your foundation. But does it, really? How good are these 3-in-1 products? What are their pros and cons, and how can you make sure you find the option that suits your skin the best?
We're about to find out!
---
Tinted Moisturizers: The basics
A tinted moisturizer is a product that combines skincare and makeup benefits in one. Traditional moisturizers deliver benefits to your skin but don't do much for your complexion; conversely, traditional foundations immediately improve the appearance of your skin but do not actually deliver any long term benefits. A tinted moisturizer brings you the best of both worlds.
As if this wasn't enough, there are tinted moisturizers on the market that actually include sun filters in their formula–this means that not only do they deliver benefits and improve the appearance of the skin, they also help shield you from the damaging effects of solar radiation. In theory, a tinted moisturizer with SPF is a 3-in-1 product that responds to a lot of skincare and makeup concerns in a single application.
The pros and cons of tinted moisturizers with SPF
The biggest pro of a tinted moisturizer with SPF is that it can replace moisturizer, sunscreen, and foundation.
The downside of this is that… it may not be as effective as those products would be if used separately.
A lot of this comes down to the amount of product you apply, which is especially relevant when looking at the sun protection and coverage offered by a tinted moisturizer. To get the amount of SPF labeled on the bottle of your moisturizer, you'd need to apply 2 miligrams of products per centimetre of skin; that's equivalent to squeezing out two strips of product the length of your index and middle fingers. That's pretty doable with a regular sunscreen, but with a tinted moisturizer? You may find yourself struggling to blend all that coverage.
Can tinted moisturizer with SPF replace sunscreen?
If you're wondering if you can use tinted moisturizer with SPF instead of regular sunscreen, we can help you figure out the math. According to recommendations, the base amount of sunscreen that you should be using on your face everyday is around two fingers. Will you be using that same amount of tinted moisturizer on your face? Probably not!
Something we see a lot is that someone will apply just a teeny tiny pea-sized amount of tinted moisturizer to their face and then "stretch" the product all over so that it blends with the skin. The issue here is that since they haven't applied the necessary amount of product, they won't be getting the amount of protection on the SPF label.
To ensure that you are getting appropriate level of sun protection, we recommend using a sunscreen with a sheer finish (you can adapt the formula according to your skin type, whether that's drier or oilier) and then applying a tinted moisturizer with SPF on top. You'll still get the perfecting tinted finish, but you won't be relying on that SPF rating alone.
What is the difference between a BB cream, a CC cream and a tinted moisturizer?
BB creams, CC creams, and tinted moisturizers get confused on the regular, and it's no wonder! These products all exist in that grey area between skincare and makeup.
BB creams (aka "blemish balms" ou "beauty balms") were popularized in South Korea as a light coverage makeup product that also delivered hydrating and antioxidant skincare benefits and, of course, sun protection. Then came the CC creams, their successors, which were originally known as "color correcting" creams. If you struggled with redness or sallowness (meaning, a slight yellow to your skin), you could use a CC cream to counteract that. In short, BB and CC creams both originated as hybrid products that combined skincare, coverage, and sun protection in varying degrees.
Tinted moisturizers fit this description too, with one exception: they may not always feature sun protection.
So, how do you tell these products apart? These days, you may not actually be able to! Because there is so much variation in ingredients, level of coverage, and SPF rating, BB/CC creams and tinted moisturizers have all merged into one big group of hybrid products. The old distinctions between BB and CC creams are no longer that linear, and tinted moisturizers have significantly improved their coverage and SPF ratings.
It's all become a little confusing, so here's our best advice: if you're looking for a product that will bring you 3-in-1 benefits, the best thing you can do is look for it across the three categories. In the end, it doesn't matter whether your favorite product is labelled as a BB, CC, or tinted moisturizer with SPF: all that matters is that you use it and love it.
---
SPF tinted moisturizers worth a try
Now that we've seen the pros and cons of tinted moisturizers with SPF, let's take a look at some options that suit different skin types. Which one will you choose?
Shiseido Synchro Skin Self-Refreshing Tint SPF20
Best tinted moisturizer for dry skin
Let's start our journey through hybrid products with this Shiseido Synchro Skin Self-Refreshing Tint SPF20, a skin tint with a weightless texture and a fresh, natural finish.
The formula contains 70% skincare ingredients, including plumping hyaluronic acid that leaves the skin feeling hydrated and bouncy to the touch. In addition, lightweight pigments provide sheer coverage for up to 12 hours, evening out the complexion without giving the impression that you are wearing makeup.
---
Avène Dermabsolu Redensifying Tinted Cream SPF30
Best tinted moisturizer for mature skin
Tinted moisturizers may not be the first product you think of when you think of mature skin, but we're here to argue with that notion: mature skin can benefit a lot from a product like the Avène Dermabsolu Redensifying Tinted Cream SPF30!
The secret to this product is in its combination of redensifying, plumping, and unifying benefits. For density and firmness, you can count on vanilla polyphenols and Bakuchiol; for hydration and plumpness, good old reliable hyaluronic acid; and for a smooth, even complexion, you can rely on a gentle blend of pigments that will provide a healthy glow without that undesirable mask-like effect.
---
Shiseido WASO Shikulime Color Control Oil-Free Moisturizer SPF30
Best tinted moisturizer for oily skin
Oily skin needs specific care, and that's true for tinted moisturizers too: enter the Shiseido WASO Shikulime Color Control Oil-Free Moisturizer SPF30.
This tinted moisturizer starts out strong, with an oil-free formula, but there's much more to it. It also features Shikuwasa extract to support the skin's moisture barrier, anti-pollution powders to absorb excess sebum and protect the skin against urban aggressions, and, of course, a slightly tinted finish. With a unique color-changing formula, this moisturizer from Shiseido adapts seamlessly to your skintone–all in order to even out the complexion with a perfectly natural finish.
---
Avène Antirougeurs Unify Tinted Unifying Care SPF30
Best tinted moisturizer for redness
You might not think that a tinted moisturizer can be a serious skincare product, with a truly therapeutic effect for your skin, but the Avène Antirougeurs Unify Tinted Unifying Care SPF30 is here to prove you wrong.
Specifically formulated for skin affected by rosacea and persistent redness, this cream offers 3-in-1 benefits: it soothes the skin and masks redness, with Avène Thermal Spring Water and TRP-Regulin™ (a patented skin-soother), and it evens out the complexion with lightweight coverage (brought to you by illuminating mother-of-pearl and high-tolerance mineral pigments).
---
Uriage Hyseac 3-Regul Global Tinted Skincare SPF30
Best tinted moisturizer for acne-prone skin
No one can benefit more from a tinted moisturizer than acne-prone skin, and the Uriage Hyseac 3-Regul Global Tinted Skincare SPF30 demonstrates this well.
This is an "all-in-one" product that helps eliminate imperfections such as blackheads and pimples (using the patented 3-Regul Complex), protect the skin from UVA/UVB radiation, limit sebum production (through the mattifying action of licorice extract), and even out the complexion (with a lightweight pigment that creates a matte, shine-free finish). What more could you need from a single beauty product?
---
As you can see, there is a wide variety of offers on the market when it comes to tinted moisturizers with SPF. With low or very high SPFs, with moisturizing or mattifying ingredients, with dewy or velvety finishes, there's a little bit of everything. Pick the product that best suits your needs, and enjoy saving a bit of time in your morning routine. Just make sure to reapply your sun protection if necessary!