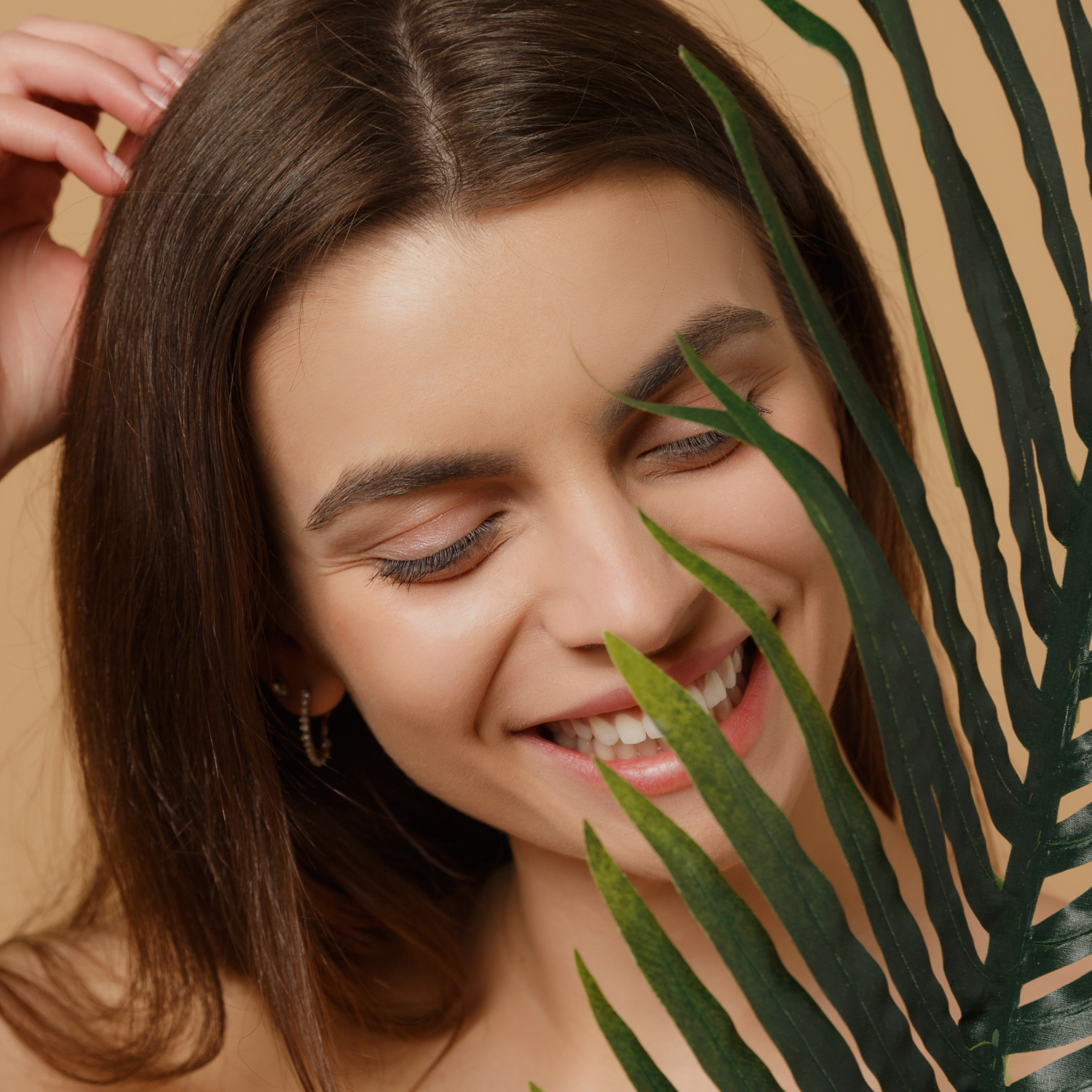 More and more people are searching for vegan skincare and makeup products these days. Fortunately, there have never been so many options on the market! If you're looking for vegan beauty products to join the Veganuary 2022 challenge, then you've come to the right place. We'll introduce you to the challenge, explain the basics of vegan beauty, and then, of course, list the best vegan skincare and makeup brands you can buy right now. Good luck on your quest for a more vegan beauty routine!
---
On this post:
---
What is Veganuary?
First time hearing about Veganuary? Confused about its meaning? Don't worry, we've got your back. Created in the UK in 2014, Veganuary is an annual challenge run by a non-profit that provides education and resources on veganism. Combining the words "Vegan" and "January", Veganuary challenges you to "try vegan" during the month of January.
The original focus of the challenge has to do with food, encouraging you to try a plant-based diet for a month, but there are many more ways you can participate in Veganuary. Indeed, your skincare and makeup collections are great candidates for the Veganuary challenge–there have never been so many choices of vegan beauty products on the market!
Get started with Veganuary skincare
If you're looking for skincare and makeup products to add to your Veganuary shopping list, we can help. Below you will find our selection of all-vegan skincare and makeup brands that are a great starting point for any vegan routine. If you'd like, you can also explore our list of the very best vegan skincare and makeup products you can invest in (full disclosure though, some of these come from brands that do use animal ingredients from time to time).
Vegan vs cruelty-free skincare: What's the difference?
"Vegan" and "cruelty-free" are two terms that pop up a lot when it comes to skincare and makeup, and so it's important to distinguish between them.
A vegan product is a product that does not include any animal-derived ingredients. "But are animal ingredients even that common in skincare?", you ask. They can be. Although we seeing more and more plant-derived alternatives for many skincare ingredients, substances like lanolin, glycerin, collagen, and keratin are originally from animals. Snail mucin (or "snail slime") and bee by-products like honey, beeswax, and propolis are also common animal ingredients you may be able to find in your skincare products. In order for a product to be considered vegan, it cannot contain any animal-derived ingredients whatsoever.
Conversely, a "cruelty-free" product is not defined by its contents, but rather by its development process. In short, a cruelty-free skincare product is a product that has not been tested on animals.
The European ban on animal testing
If you're not sure how to navigate the issue of animal testing, we can put you at ease. We, Care to Beauty, are based in Portugal, which is part of the European Union. As such, we comply with the European ban on animal testing, which came into force in 2004. (To be really precise, we can tell you the testing ban on finished products came into force in 2004, and the testing ban on ingredients or combination of ingredients in 2009.)
In addition to these testing bans, we also comply with the European marketing ban, the latest version of which has been in effect since 2013. Under this marketing ban, skincare and make-up brands active in the EU cannot market any products that have been tested on animals, even if the tests were carried out in another territory. In practice, this means that all products you'll find for sale at Care to Beauty are cruelty-free, in accordance with the legislation in force in the European Union.
Best Vegan Skincare Brands to Try This Veganuary
If you're up to support 100% vegan skincare brands, these are a great starting point. With complete ranges that tackle all possible skin needs, there's no skin issue left untreated. You may now look for a new favorite serum, moisturizer or sunscreen, free from any animal-derived ingredients. But worry not, we made things easy for you. We picked our favorites from each brand so you won't miss the big hits!
Gallinée
Microbiome skincare
If you haven't come across Galinée yet, this is the world's first skin and hair care brand to focus on microbiome research. The brand was created in 2016 by the hand of Dr. Marie Drago under one simple belief: you should care for the bacteria that live on your skin, just like you care for the bacteria that live in your gut! In every Gallinée product, you'll find a patented complex of prebiotics, probiotics, and postbiotics, which support and suit even the most sensitive skin. The result? A glowing and healthy complexion!
If we had to choose one, that would have to be the Gallinée Prebiotic Face Vinegar. Thanks to Actibiome, this incredible toner soothes stressed skin all the while preventing further irritation. In addition, it contains hibiscus vinegar, a natural ingredient that works to leave the skin visibly refined, feeling soft and smooth.
---
A-Derma
For all fragile skin
A-Derma creates solutions that unite nature and the skin since its origins, more than 30 years ago. With a mission of formulating safe and highly effective products, suitable for the most sensitive skin and atopy, A-Derma is not only recommended by dermatologists but also highly appreciated by expert consumers.
Having to choose one product, we'd say A-Derma Exomega Control Emollient Cream – especially if your skin is prone to severe dryness. Featuring Rhealba® oat plantlet extract together with BioVect®, Filaxerine®, and Vitamin B3, this cream provides the skin with a soothing and anti-irritating action while restoring the skin's hydrolipidic barrier.
---
Pestle & Mortar
Simple solutions powered by science
For Pestle & Mortar, combining high-performance ingredients together with natural extracts is the way to go. Inspired by the Indian natural healing heritage of the founder Sonia Deasy, the brand delivers simple yet effective formulas wrapped in incredibly appealing packaging. Find a solution to multiple skin concerns with formulas that are suitable for all skin types!
As for our favorite, this time we bring you a facial serum. With a super lightweight texture, Pestle & Mortar Pure Hyaluronic Serum manages not only to hydrate but also to soothe even sensitive skin. Thanks to the different molecular weights of the hyaluronic acid, the serum provides the skin with surface hydration all the while offering a deeper action. As a result, it provides both hydration and a filling effect, with skin looking firmer and more radiant day after day!
---
Hello Sunday
New wave of sun protection
Regardless of the weather outside, Hello Sunday offers you the best SPF protection! Presenting featherlight formulas ideal for all-year-round, these certified vegan sun filters not only look and feel good but also protect from UVA/UVB rays and HEV light (also known as blue light).
You're in need of a solution for morning hydration and protection? Look no further! Hello Sunday The Everyday One Face Moisturizer SPF50 combines caring and protective benefits, containing hyaluronic acid to hydrate and broad-spectrum sun filters to protect the skin. Use it as the last step of your morning skincare routine to provide your skin with lightweight comfort and protection!
---
Evolve
Organic beauty
More than excluding ingredients of animal origin, this eco-friendly brand also cares about sustainable practices. That is why their Eco Studio runs with 100% wind power and low-energy lighting. This English brand presents effective (and fragrant!) products that are handmade in small batches in order to retain the freshness of the natural oils, butters, and extracts.
If you have to choose just one, then go for the multiple-times-awarded Evolve Gentle Cleansing Melt. This luxurious cleansing balm manages to gently melt away all the makeup and impurities with a rich formula. Thanks to baobab oil, it not only removes make-up and impurities but also nourishes and replenishes the skin with comfort.
---
Top Vegan Makeup Brands to Inspire You This Veganuary
For those who are building a complete routine, having skincare products is not enough; if you are also looking for vegan makeup products, you will find what you are looking for in the following brands.
Sensilis
Expert in sensitive skin
Derived from the Latin sensibilis, meaning sensitive, Sensilis proposes advanced and sensorial formulas for sensitive skin. Sensilis answers the needs of sensitive and intolerant skin with a fully vegan makeup range, where you're able to find makeup for the eyes, lips and face.
If you're ready for the best vegan foundation there is, then consider trying Sensilis Upgrade [Make-Up] Lift Effect Cream. This long-lasting and luminous lifting foundation offers medium to full coverage, leaving the skin looking soft and perfected. And the best part is that it feels just as natural as it looks!
---
NYX Pro Makeup
Unstoppable self-expression
Every day is a good day to bring you pro-level makeup game on with expert NYX Pro Makeup formulas. NYX Pro Makeup not only believes but also stands for equality for all, so you are more than welcome to join this fierce community. You can find a very extensive selection of NYX Pro Makeup makeup products that are vegan. Choose your favorites and start creating incredible looks now!
Define your eyes with a super black and waterproof eyeliner that never quits. All you need is the precise NYX Pro Makeup Epic Ink Liner Black! Flattering for all skin and eye colors, this liner is ready to draw either super sharp wings or bold lines. Which one will you choose?
---
Madara
Organic makeup
Certified natural and organic, Madara is the brand to choose, without having to compromise when putting together your natural beauty ritual. Here, you can find all sorts of vegan makeup, with multiple finishes, shades as well as dream-like textures that feel comfortable on the skin!
Are you ready for your next favorite lipstick? Mádara Velvet Wear Matte Cream Lipstick features incredible pigments together with a nurturing texture, providing long-lasting performance. With a matte finish and bold earthy tones, this formula looks just as elegant on the lips as it sounds!
---
Now that you have all the necessary info about vegan skincare and makeup products, you're more than ready to join the Veganuary 2022 challenge. Good luck!