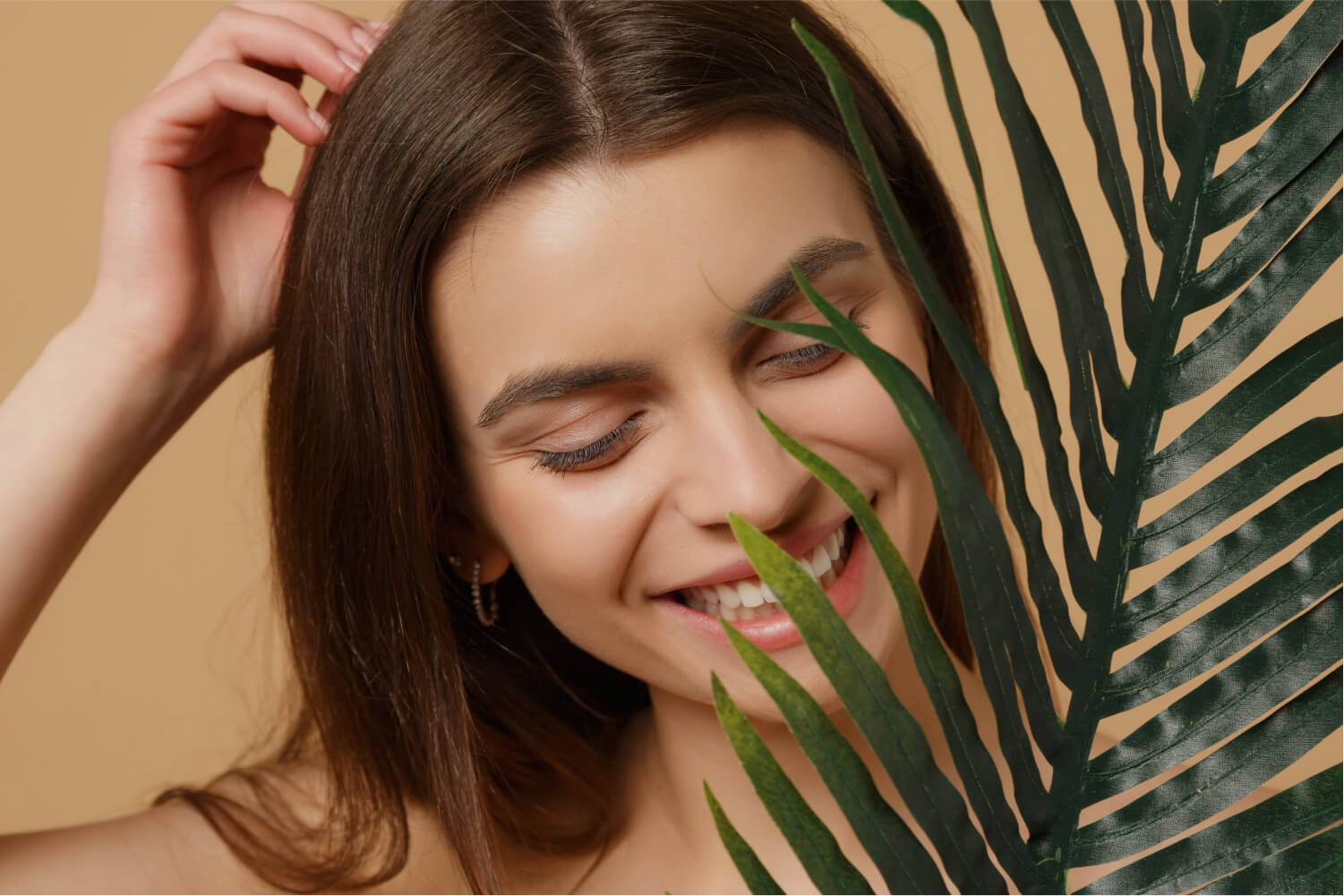 More and more people are searching for vegan skincare and makeup products these days. Fortunately, there have never been so many options on the market! If you're looking for vegan beauty products to join the Veganuary 2023 challenge, then you've come to the right place. We'll introduce you to the challenge, explain the basics of vegan beauty, and then, of course, send you on your merry way with a list of recommended products. Good luck on your quest for a more vegan beauty routine!
---
On this post:
---
What is Veganuary?
First time hearing about Veganuary? Confused about its meaning? Don't worry, we've got your back. Created in the UK in 2014, Veganuary is an annual challenge run by a non-profit that provides education and resources on veganism. Combining the words "Vegan" and "January", Veganuary challenges you to "try vegan" during the month of January.
The original focus of the challenge has to do with food, encouraging you to try a plant-based diet for a month, but there are many more ways you can participate in Veganuary. Indeed, your skincare and makeup collections are great candidates for the Veganuary challenge–there have never been so many choices of vegan beauty products on the market!
What is vegan skincare? Definition and meaning
In the simplest possible terms, "vegan skincare" must not contain any ingredients of animal origin. That's it. A vegan skincare product is a product that contains only plant-based, mineral, or synthetic ingredients, without ever featuring any ingredients of animal origin.
"But are animal ingredients even that common in skincare?", you ask. They can be. Although we are seeing more and more plant-derived alternatives for many skincare ingredients, substances like lanolin, collagen, and keratin are all originally from animals. Snail mucin (or "snail slime") and bee by-products like honey, beeswax, and propolis are also common animal ingredients you may be able to find in your skincare products.
Vegan vs Cruelty-Free Skincare
We've given you the simplest possible definition of vegan skincare, but there are nuances. For example, many people will not consider a product to be truly vegan unless it's also cruelty-free (aka, not tested on animals).
The terms "vegan" and "cruelty-free" may sound like they should mean the same thing, but that's not necessarily true. Generally speaking, "vegan" means that a product does not contain any ingredients of animal origin; "cruelty-free" means that a product isn't tested on animals. In short, a "cruelty-free" product is not defined by its contents, but rather by its development process.
Judging by these definitions, it's possible for a product that doesn't contain any animal ingredients to still be tested on animals (making it "vegan" but not "cruelty-free"). Conversely, a product that wasn't tested on animals may still contain ingredients of animal origin (making it "cruelty-free" but not "vegan").
In conclusion: the words "vegan" and "cruelty-free" do not necessarily mean the same thing. When shopping for skincare that matches your personal definitions and values, it's important to look into each specific product to make sure they are up to your standards.
Vegan vs Natural Skincare
A "vegan" product and a "natural" product aren't necessarily the same either. While a vegan product doesn't contain any ingredients of animal origin, a natural product does not contain any synthetic ingredients. You can see what this means: a product may be vegan but include only synthetic ingredients. Meanwhile, a natural product may contain only natural ingredients, but some of them may be of animal origin (for example, a honey lip balm).
Once again, it's important to know exactly what you're looking for, so that you may be able to shop according to your needs.
Benefits of vegan skincare
If you're looking into making the switch to vegan skincare, you may be wondering how that benefits you (and the world at large!)
The first and most obvious benefit of vegan skincare is that it doesn't include any ingredients of animal origin. This reduces the number of animals involved in the development of cosmetic products, and may actually help kick-start the development of new and innovative ingredients of synthetic origin.
The second great benefit is that companies dedicated to the development of vegan products can help develop widespread awareness of animal welfare and animal rights issues. After all, the beauty industry doesn't exist in a vacuum!
On a more personal level, vegan skincare and makeup products help you live according to your values. If you've been vegan for a while, you may have felt alienated by the widespread use of animal ingredients in the beauty industry. With the growing popularity of vegan products, your shopping experience might just start feeling a little bit more validating.
How to shop for vegan skincare and makeup
Now that you know what vegan skincare is and isn't, it's time to learn how to shop for it.
The easiest way to shop for vegan skincare and makeup products is to look for vegan certifications on the packaging; we'll guide you through some of those in a second. However, not all vegan products are certified–and, in fact, they don't have to be. A product can still be vegan without a certification.
Which brings us to another facet of shopping for vegan skincare: knowing your ingredients. Here at Care to Beauty, we're not proponents of the idea that you need a chemistry degree to shop for skincare. However, we know that many people use online tools, such as vegan ingredient checkers, to figure out whether the products they want to buy are vegan. These ingredient checkers will flag specific ingredients which are known to be of animal origin, and we think you may want to know what some of those are (we've made you a table and everything).
Last, but not least, we want you to be aware of claims you may find on your product packaging–claims like "free from animal ingredients" or "cruelty-free". In Europe, you'll be able to find one of these, but not the other. We explain everything below.
Vegan certifications
There are many companies that offer third-party certification to vegan products of all sorts, including skincare. However, the absence of certification doesn't necessarily mean that a product is non-vegan. It is perfectly possible to market products that are vegan but have not been certified by a third party!
Some common certifications you may find on skincare products are the Vegan Trademark, the Certified Vegan logo, and the V-Label certification. All three of these mean that the product is free of both animal ingredients and animal testing.
Animal ingredients in skincare
As we've mentioned, animal-derived ingredients are pretty common in skincare and makeup products. Here are some you will definitely not find in vegan skincare:
| | | |
| --- | --- | --- |
| Artemia extract | Bee venom | Beeswax |
| Caviar | CI 75470 (Carmine) | Collagen |
| Gelatin | Glucosamine | Guanine |
| Honey | Keratin | Lanolin |
| Lecithin | Pearl | Propolis |
| Shark fin extract | Shellac | Snail mucin or slime |
"Free from animal-derived ingredients" claims in Europe
In Europe (where we are based), skincare claims are regulated by the Commission Regulation (EU) No 655/2013. According to this document, claims on cosmetic products should always conform to six common criteria: legal compliance, truthfulness, evidential support, honesty, fairness, and informed decision-making.
One of the obvious consequences of this is that products should do what they claim they do. A product that claims to "minimize wrinkles" must be able to prove that it can minimize wrinkles. A product that states that it does not contain animal-derived ingredients should not contain animal-derived ingredients.
The European Commission specifically refers to "free from" claims in one of the many technical documents that accompany the Commission Regulation (EU) No 655/2013. According to the document, "free from" claims are only allowed in very specific circumstances–"free from parabens" claims are not permitted, for example, since they are based on incorrect assumptions about an entire group of ingredients.
However, "free from animal-derived ingredients" claims are permitted, since they "allow an informed choice to a specific target group or groups of end users." In short: if you buy skincare or beauty products in Europe, you may be able to spot a "free from animal-derived ingredients" claim on the packaging.
"Cruelty-free" claims in Europe
If you're not sure how to figure our whether your products were tested on animals, we can help you navigate the issue when handling European products.
We, Care to Beauty, are based in Portugal, which is part of the European Union. As such, we comply with the European ban on animal testing, which came into force in 2004. (To be really precise, we can tell you the testing ban on finished products came into force in 2004, and the testing ban on ingredients or combination of ingredients in 2009.)
In addition to these testing bans, we also comply with the European marketing ban, the latest version of which has been in effect since 2013. Under this marketing ban, skincare and make-up brands active in the EU cannot market any products that have been tested on animals, even if the tests were carried out in another territory. In practice, this means that all products you'll find for sale at Care to Beauty are cruelty-free, in accordance with the legislation in force in the European Union.
This also means that none of these products will feature "cruelty-free" or "not tested on animals" claims on the packaging. In Europe, that's the standard–so brands are not legally allowed to highlight that information as if it's a selling point.
---
Now that you have all the necessary info about vegan skincare and makeup products, you're more than ready to join the Veganuary 2023 challenge. Good luck!
You'll find plenty of vegan shopping guides here in the blog, from anti-aging vegan skincare to tips on how to build a vegan makeup kit. If you'd rather visit the shop, we've got hundreds of vegan skincare options pre-selected for you (literally hundreds!).