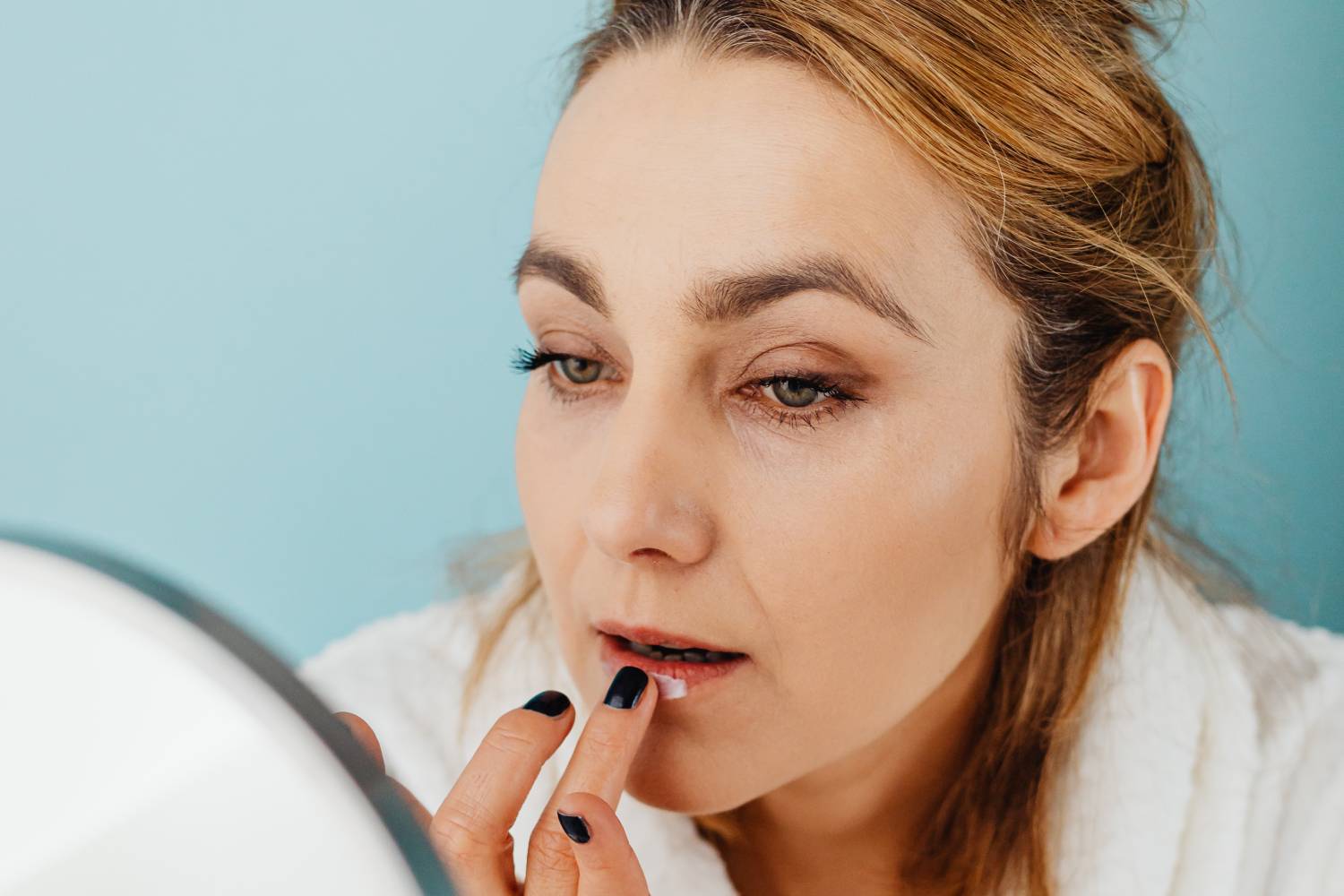 Your skin is always committed to protecting you from all the environmental threats that may come your way. And what a tough job to have! Being your body's first line of protection from the world, it's more than expected that it'll change with time—especially the skin that is most exposed, like the face and hands. If you're in your 40s, then you've been probably assisting to some transformation on your skin in the last decade, regarding texture and firmness. To keep it beautiful and, most importantly, healthy, there are a few things that you can do for your skin! If you'd like to minimize and prevent aging signs on your skin, then keep reading. We've prepared a full anti-aging routine for women in their 40s!
---
On this post:
---
Why is my skin changing in my 40s?
We want to begin with a friendly reminder that skin aging starts around the age of 25 years old, so it's more than expected that by your 40s you're noticing some wrinkles and loss of firmness. The reason is simple: with decreased production of elastin and collagen (the pillars of your dermis) as well as hyaluronic acid, the top layer of the skin starts to wrinkle due to a lack of support. This decline also impacts skin firmness and texture—and that's why you may notice the skin more saggy and uneven. If you're more than happy to embrace your skin as it goes, then you may skip the anti-aging steps of this routine and use only the cleanser, the moisturizer and/or the sunscreen. However, if you'd like to use the best anti-aging skincare products that science has brought to shelves, there's a lot of good stuff for you here!
The basics for an anti-aging skincare routine
The basics for an anti-aging routine in your 40s start with the same steps that you should follow at all ages: cleansing and sun protection. In addition, a few rejuvenating actives are of great assistance—we're referring to hyaluronic acid, retinol and peptides. Of course, exfoliating ingredients further improve the results, as will antioxidants. We're about to indicate a good contender for each step of the routine, but of course, the final choice of products should have into consideration your skin type, texture preferences and specific skin needs. If you need professional advice, then ask our amazing team of beauty experts!
Morning anti-aging routine for the 40s
We've already established that cleansing is the starting point of your skincare routine, and that's true in the morning and evening. If you're a fan of simple and basic skincare routines, you can skip to the sunscreen and that's it. But if you'd like to invest some more time and effort in your skin, then you may use a few extra steps! Our advice would be to apply a facial toner, followed by the eye cream, a face serum and ending with a facial moisturizer and sunscreen. We offer a few suggestions of products; but more importantly, we let you know what to look for in each step!
Step 1: Refreshing cleanse
Whether you prefer micellar water or a rinse-off formula (or even just a splash of fresh running water!), the important thing is to cleanse the skin. This step is essential to remove excess oil that your skin may have produced overnight as well as to awake your skin. As you know, we have everything at Care to Beauty, even the perfect face cloths to make the best out of this first step. Check out the following anti-aging cleansing products!
---
Step 2: Plumping toner
Awake your skin with a hydrating toner that instantly plumps the skin. Hyaluronic-rich formulas, as we suggest, are great options, as they help replenish skin hydration while replumping the skin's upper layer. Apply it directly with the hands or use a reusable cotton pad—these are the application directions that we recommend!
---
Step 3: Defatigating eye cream
If you're going the extra mile for your skin and applying eye cream, then we want you to have it all! And by all, we mean anti-aging benefits, of course, but also anti-fatigue results. Considering that the eye area usually denunciates our lack of sleep and/or energy, we've found a couple options that help minimize the appearance of wrinkles while boosting skin firmness and erasing dark circles.
---
Step 4: Antioxidant & anti-aging serum
We want the antioxidant action, yes we do, but combined with rejuvenating ingredients. These formulas work not only to minimize the appearance of wrinkles and enhance skin firmness but also to prevent further damage caused by free radicals and other external aggressions, thanks to their antioxidant properties. Use an antioxidant serum to create a primary shield on skin, a layer that greatly helps our true defender: the sunscreen!
---
Step 5: Lifting moisturizer
Facial moisturizers are able to do more than just provide your skin with comfort. When following an anti-aging skincare routine, we suggest that you look for a formulation that not only hydrates but also lifts the skin, enhancing firmness day after day. It only gets better if, on top of that, the cream also highlights your skin with fine yet glowy particles. If this description resonates with you, then learn more about our suggestions.
---
Step 6: Repairing sunscreen
What if your sunscreen offered more anti-aging properties on top of the SPF? Yes, that's possible with a lot of our European sunscreens! More than providing your skin with broad-spectrum UVA+UVB protection, your daily face sunscreen may also repair sun damage while working to revert visible signs of aging. With beautiful textures and amazing protection against UV radiation, these are the true youth keepers.
---
Evening anti-aging routine for the 40s
More than a skincare routine, your evening regimen should be the moment for shaking the day off and relaxing. In order to do so, you need to start by "purifying" your skin—meaning getting rid of all the makeup, impurities and build-up that accumulated on the top of your skin throughout the day. Then, comes the time to replenish it with rejuvenating and pampering care, that uplifts not only your skin but your senses as well.
Step 1: Makeup removal
Makeup removal is just as important as all the following replenishing steps! To get the best out of your evening routine, we strongly advise you to use the double cleansing method. It begins with a makeup-removing product, that may be micellar water, an oil, or a melting balm. The important thing is that it removes makeup and all grime easily and gently, without damaging your skin.
---
Step 2: Cleansing
Following makeup removal is skin cleansing. More often than not, makeup removers leave a residue that needs to be properly rinsed off with a facial cleanser. Only then we can say that the skin is thoroughly cleansed and ready to go. To perform this incredibly important step, you need a gel or a foaming cleanser (that may be the same that you use in the morning). You may finish with an exfoliating toner on days that you'll not be using retinol.
---
Step 3: Serum
The evening serum is the star of the show, concentrating the anti-aging actives that will help you find the results that you're looking for. If you'd like to know what to look for on serums, we'd say that peptides and retinol are ingredients to consider. Peptides help to strengthen your skin and contribute to firmer, youthful-looking skin. As for retinol, it visibly reduces the appearance of wrinkles and firmness while helping to fade dark spots and improving skin texture. It is just as promising as it sounds!
---
Step 4: Repairing moisturizer
After a full day of challenges, your skin craves some repairing care. And what's best than a comforting cream with anti-aging benefits? We recommend that you look for rejuvenating actives and indulging formulas, whether they're targeted to use as a night cream or not. As long as it doesn't have sunscreen, it should be a good option to use in the evening—excluding those formulas with shimmery particles or flash beauty results, which are ideal to use in the morning. We hope we can help you find your favorite cream!
---
Step 5: Replenishing face oil
Hardly any other cosmetic product feels as indulging as a face oil. Rich and replenishing, face oils provide ultimate comfort to your skin. With a thicker texture than most skincare products, it should be the last one to sit on your skin. More than immediate comfort, face oils also contribute to creating a thin layer of protection on the skin surface, contributing to minimizing transepidermal water loss. Pick yours now!
---
Extra pampering
If you can't get enough of skin pampering, we leave you with some extra steps. What about a lip contour cream? Or the occasional facial mask? These steps also have space in an anti-aging skincare routine for women in their 40s. We'd say that products that further improve the lifting and firming action of the rest of your skincare are a great fit, but sometimes you may just need a hydrating mask to target dehydration.
---
Friendly reminder: If you're a fan of skincare as this writer, you'll find great joy in applying a complete routine every day. However, if that's not the case, then pick the essentials and create a minimalist routine to suit your skin (and personal!) needs. The results come with consistency, and there's no point in dreaming of the perfect routine if you're not going to be in the mood of using the products every day. Have fun with your new routine!