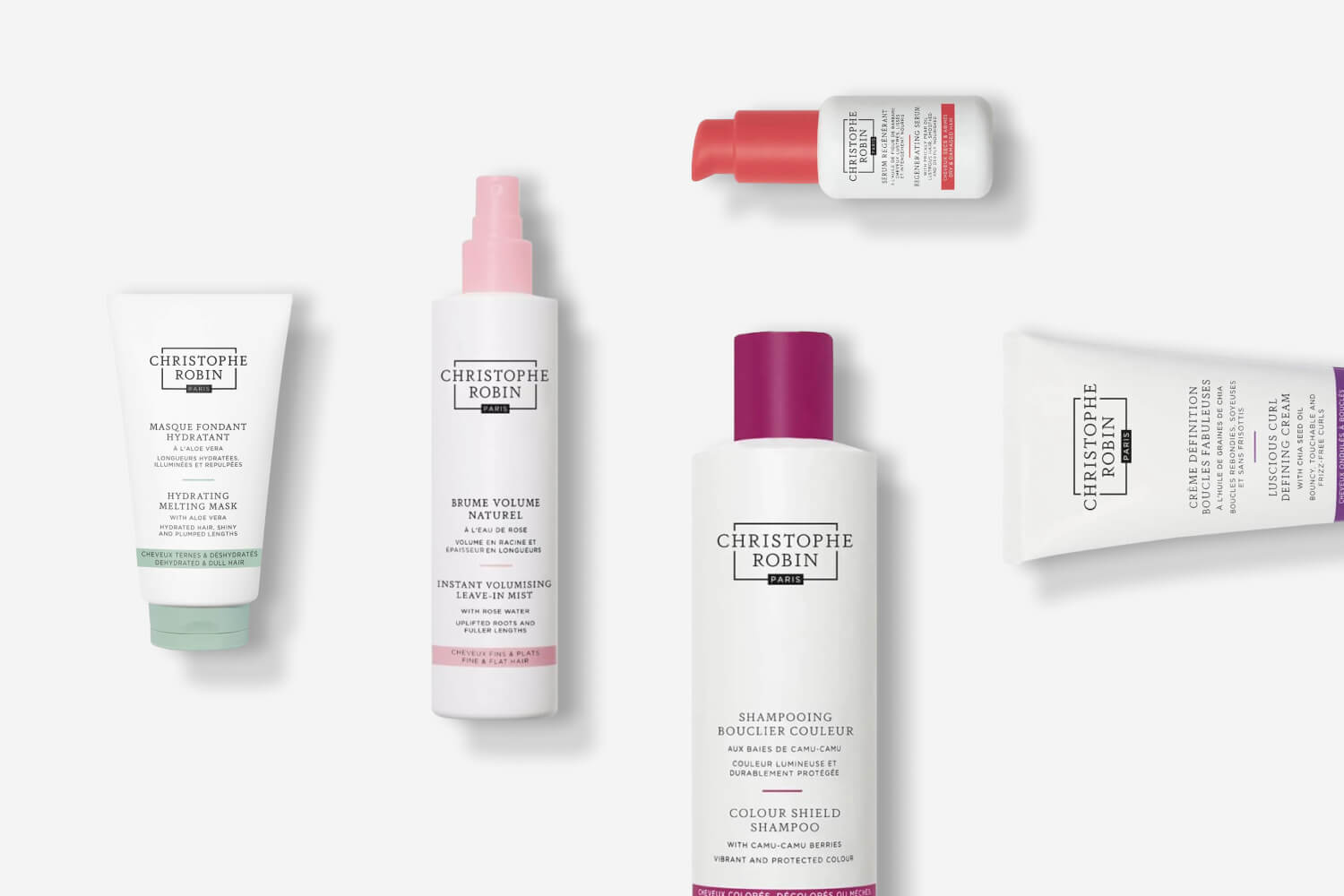 We all know how to wash our hair at home. However, there's no doubt that having someone wash our hair in the salon is another experience. The washing itself feels like a relaxing massage; the scalp feels invigorated; the hair comes out looking like a million dollars. Even the products seem to smell better! If you share this love for the hair salon experience, then you must be familiar with Christophe Robin, the French hair care brand created in 1999 by the world-leading colorist of the same name.
Today, we're taking a closer look at to eight of the best products from the Christophe Robin brand. Then, we're showing you how you can integrate them into your hair care routine. It's never been this easy to create that salon-like experience without leaving your house!
---
On this post:
---
Christophe Robin: The Brand in Review
Top 8 Christophe Robin Products
There's more to Christophe Robin than the individual products. The brand is a full-on luxury experience that rests, nevertheless, on very simple principles: natural-origin ingredients, a focus on scalp health, and a two-way approach to results, which should be instantly visible but last over time, in order to bring real, sustainable benefits to the hair.
According to these principles, the brand offers different types of products. Indeed, you will find scalp scrubs and pastes (which help prepare the scalp and hair), shampoos, conditioners, treatment masks, and a few styling products that respond to specific needs, such as root lift or curl definition.
Let's get to know a few!
Christophe Robin Cleansing Purifying Scrub
The rebalancing scalp scrub
What it is: a gentle scrub that uses sea salt crystals to purify the scalp, cleanse away excess sebum, and remove product buildup. In addition to exfoliating salt crystals, the formula also contains bisabolol, to help soothe more sensitive or irritated scalps.
Why we like it: we use a lot of styling products, and we know our community does too. We also know how hard it can be to achieve that "clean hair" feeling in the shower. This scalp scrub can help us achieve it!
In addition to this purifying function, this scalp scrub also has a calming and rebalancing action, which is perfect for people who experience sensitivity, irritation, or itching on their scalp. That's another reason why we love this product: it's a scalp scrub that not only helps purify oily scalps, but also helps balance sensitive scalps. Two for the price of one!
---
Christophe Robin Regenerating Serum
The luxurious heat protectant
What it is: a leave-in serum that smooths dry and damaged hair and, at the same time, provides heat protection up to 230°C. The secret to this luxurious product lies in the combination of three highly nourishing natural ingredients: prickly pear seed oil, tucuma butter, and castor oil.
Why we like it: anyone with dry or damaged hair knows that the quickest and most effective way to give the hair a smooth, healthy look is with a leave-in product. With a rich and thick formula (forget about gels, this is not a gel), this serum manages to bring near-instant smoothness to dry and damaged hair.
It can be applied to damp or dry hair (good news if you want to apply it to second-day hair, for example), and it's pretty effective at minimizing frizz too. In short: it's a winner!
---
Christophe Robin Colour Shield Shampoo
The luxurious color-safe shampoo
What it is: a color-protecting shampoo made with natural camu camu berry oil, crambe oil, and pomelo extract. Designed for the needs of color-treated, bleached, or highlighted hair, this shampoo provides a double benefit: on one hand, it protects the hair color against discoloration; on the other hand, it helps nourish the hair fiber.
Why we like it: the percentage of people with dyed hair is quite high here at Care to Beauty. Therefore, we are always on the lookout for color-safe shampoos that are both effective and joyful to use.
This shampoos fits that bill: it smells amazing, it does foam up (a little bit!), and it leaves the hair feeling clean, but not squeaky-clean. It's not every day that you find these benefits in the same color-safe shampoo, but here they are!
---
Christophe Robin Luscious Curl Defining Cream
The leave-in treatment for waves and curls
What it is: a leave-in cream that brings definition and movement to wavy and curly hair. The natural chia and nigella oils in the formula bring smoothness to the hair, while flaxseed milk defines curls and helps minimize frizz. The versatile formula can be applied to both damp hair, right after the shower, and dry hair, as a touch-up.
Why we like it: we have already mentioned that we are fans of leave-in products, because they achieve incredible results that are immediately visible. This is especially true for wavy and curly hair, where a leave-in product like this is enough to make the difference between soft, manageable curls, or a completely disrupted curl pattern.
And here's another huge pro: the thick cream texture of this product melts into the hair, helping to form soft, defined curls without leaving the hair feeling stiff or crunchy.
---
Christophe Robin Cleansing Volumizing Paste
The clay shampoo for fine hair
What it is: a clay-based shampoo that brings volume and lift to fine, flat hair. The paste-like formula blends volcanic clay from Morocco with sugar crystals, all in order to invigorate the scalp and volumize the hair at the root.
Why we like it: volumizing shampoos are a dime a dozen, but every now and then one comes along that is truly different, and this is that. The way this shampoo is applied is different from any other shampoo you've tried: it goes on the hair like a solid paste, which then turns into foam when in contact with water.
It may take you a while to get used to applying the product in the best way, but the results are worth it: the hair comes out of the shower looking lighter–with more "life" and movement–and with a visible lift that starts right at the root (which is, by the way, where you should focus when applying the product!)
---
Christophe Robin Shade Variation Mask Ash Brown
The purple mask for dark brown hair
What it is: a color-depositing mask that helps neutralize unwanted reddish tones on dark brown hair. In addition to rebalancing the hair color, this mask also helps nourish the hair, through the benefits of rich almond and buriti oils.
Why we like it: some hair colors have a tendency to develop reddish tones, especially when exposed to the sun. There are plenty of products out there to solve this problem on blonde or bleached hair, but fewer to solve it on brown hair. However, that's exactly where this mask comes in.
While the purple pigments help "cool down" brown hair, the nourishing formula restores softness to the hair–which is especially important for those out there with color-treated locks!
---
Christophe Robin Hydrating Melting Mask
The ultra-light hydrating mask
What it is: a lightweight hydrating mask that helps revive dry, dull hair. Formulated with aloe vera and flaxseed oil, this mask hydrates and nourishes dry hair, minimizing frizz and restoring softness.
Why we like it: nourishing hair masks are an essential for anyone with dry hair, but some can be a little too heavy, leaving the hair feeling weighed down and greasy. This extra-light formula isn't like that; indeed, it gets the job done without making you feel as if you're drowning in hair product.
It's not particularly fussy, either: two minutes are enough to bring softness and shine to to previously dry and dull hair. Quick and effective, you can easily incorporate this hair mask into the simplest of hair care routines!
---
Christophe Robin Instant Volumizing Leave-In Mist
The root lifting spray
What it is: a volumizing spray that helps add body and movement to fine, lifeless hair. Suitable for use on both damp and dry hair, this spray also helps to create a soft texture, thanks to the presence of oligoelements from sea water in the formula.
Why we like it: the first point in favor of this spray is its light texture, which doesn't weigh the hair down or make it greasy. The second point is the subtle rose water fragrance, which naturally arises from the ingredients used in the formula.
While the volumizing effect of this spray isn't extreme (sorry, but you're really not going to get 80s hair with this!), it's enough to bring lift to the roots, as well as a touch of healthy volume and bounce to fine lengths and ends.
---
There are many more Christophe Robin products to explore, but we've chosen eight that we feel capture the essence of the brand. Not only is every product here a joy to use, it also brings you immediate results–indeed, just like a successful salon visit. Explore our full selection of Christophe Robin products in the shop, and start putting together your new luxe hair care routine!