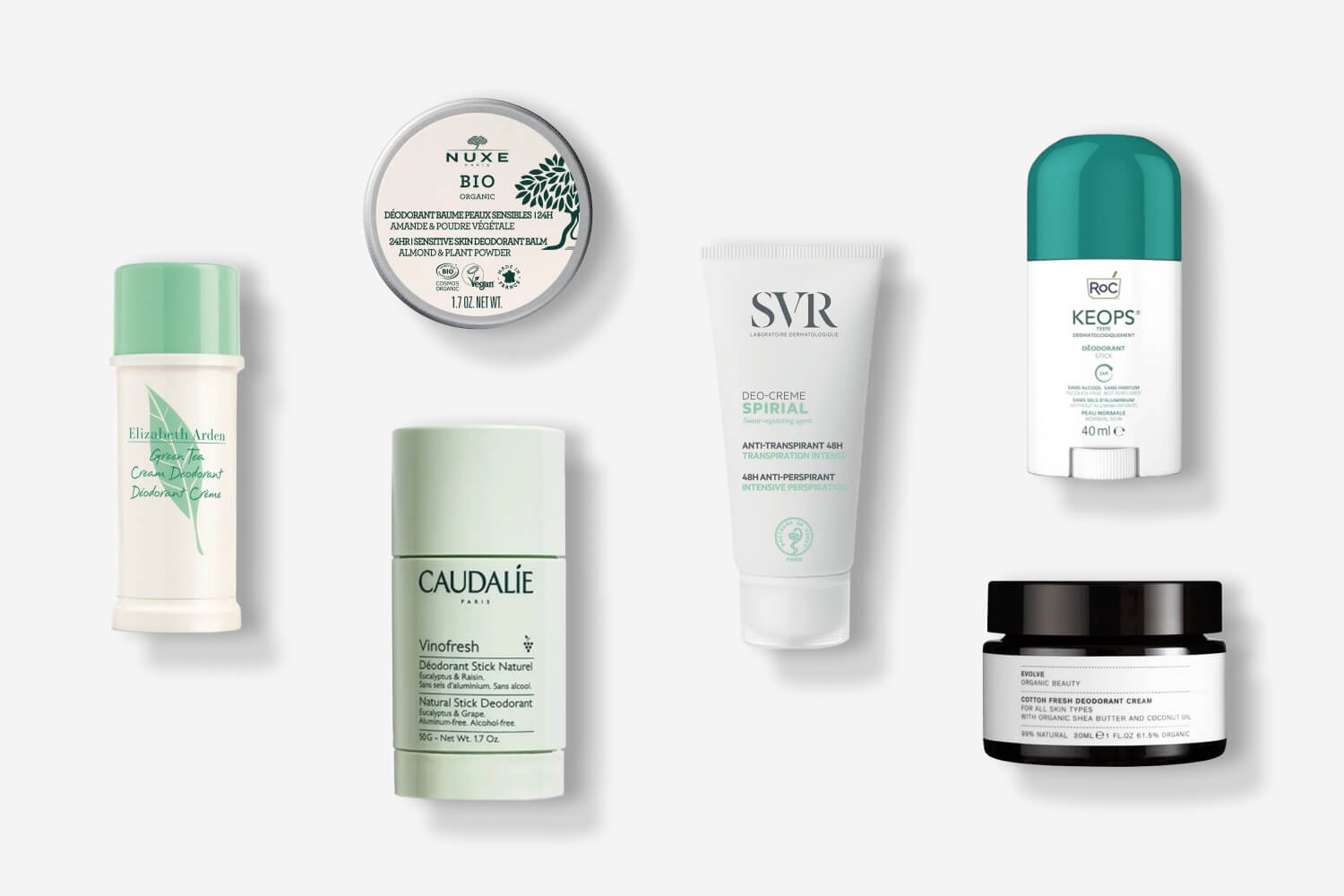 In the world of deodorants and antiperspirants, there are many textures to choose from. You may be familiar with spray deodorant and roll-on deodorant, but what about cream deodorant? Cream deodorant may not be the most popular product out there, but it's not without its benefits. In this post, we're taking a good hard look at cream deodorant: what's different about it, how do you use it, and is it right for you? Read along, and we'll also be sure to share the best cream deodorants you can try right now, if you want to make the switch.
What is cream deodorant?
Cream deodorant is an umbrella term for deodorants in a cream or paste-like formula. Deodorant creams may be presented in a jar, tube, or stick. The jar or tube versions are typically applied with fingertips; conversely, the stick versions can be applied directly to the skin.
Many people associate the concept of cream deodorants with formulas rich in natural ingredients and without aluminum; however, this is not always the case. Below, you will see there are cream deodorants of all kinds: from the most natural formulas without aluminum, to the most powerful antiperspirants that use aluminum to prevent excess perspiration.
In the end, it's probably best to think of cream deodorants as being defined by their creamy texture, rather than their ingredients.
How to use cream deodorant
If your cream deodorant comes in a tube or jar, apply it by dispensing a small amount of product onto your fingertips first. Then, apply the cream directly to the skin of your underarms, massaging it in gently as you would a moisturizing cream.
You don't have to overdo it! Usually, a pea-sized amount will be enough for both armpits, but make sure to check your specific product. Need to top up your protection throughout the day? You can reapply your cream deodorant in a thin layer, no problem at all.
If your cream deodorant comes in a stick, that's even easier! Apply it directly to the skin of your underarms using long sweeping motions. Some people like doing a little back-and-forth, others like starting from the center of the armpit and applying outwards. However you prefer to do it, just make sure you cover the entire area in a thin layer of deodorant. That's it!
The benefits of cream deodorant
The benefits of cream deodorants will mostly come down to personal preference. Let's start with the texture. Because they have a creamy texture, cream deodorants can often be more hydrating or nourishing to the skin; this can be particularly important if you have dry or sensitive underarm skin, and feel like other deodorants are a bit too drying for you.
Cream deodorants are also less wasteful than some other deodorant formulas, like spray deodorants. Whenever you use a spray deodorant, you are spraying quite a bit of product on your skin, and quite a bit of product… everywhere else. With cream deodorant, you can use a very small amount of product—say, about the size of a pea—and protect both of your underarms against perspiration. With cream formulas, a little goes a long way, which makes this type of deodorant a lot less wasteful than some other alternatives.
You may also find, though this once again comes down to personal preference, that you can get better coverage of your underarm skin using a cream deodorant. Some people find the sphere applicators in some roll-on deodorants unwieldy, but cream deodorants overcome that problem by inviting you to use the tools you know best: your fingertips! By applying your deodorant with your fingertips, you may achieve a more precise application, which will be more effective over time and allow you to save up on product.
Our favorite cream deodorants in a jar or tube
Now that you know how to use your cream deodorant, let's get into some recommendations. Below you'll find six of our favorite cream deodorants. Some are scented, some are fragrance-free; some are powerful antiperspirants, some are aluminum-free. Plenty of options to choose from!
Lancaster Eau de Lancaster Sensitive Deodorant Cream
The scented antiperspirant for sensitive skin
Those with sensitive skin are often on the look out for cream deodorants due to their gentle and hydrating formulas. This Lancaster deodorant fits the bill; besides, it's a great option for those who have sensitive skin but enjoy wearing scented deodorant for the fun of it.
The delicately fragrant formula, which features antiperspirant aluminum, prevents excess perspiration while offering a long-lasting sense of freshness. Expect a pleasant experience whenever you apply this product!
---
SVR Spirial Cream 48h Intense Anti-Perspirant Deodorant
The antiperspirant for the entire family
Some cream deodorants are actually cream antiperspirants, like this SVR cream. Specifically developed to help regulate excess perspiration, this antiperspirant cream is formulated with aluminum and absorbent microspheres which, combined, create a feeling of dryness and fight off unpleasant body odour.
The high tolerance fragrance-free formula can be used by children as young as seven—or, of course, by adults of all ages.
---
Evolve Cotton Fresh Deodorant Cream
The 99% natural cream deodorant
If you're looking for a hydrating and nourishing cream deodorant that will keep your underarms feeling comfortable and smooth all day long, this Evolve cream deodorant is a great option.
Formulated with 99% ingredients of natural origin, this cream deodorant uses sodium bicarbonate to absorb moisture and, at the same time, neutralize unpleasant body odor. The aluminum-free formula is also enriched with shea butter and coconut oil, which provide hydration and keep the skin feeling its best.
---
Vichy Deodorant Anti-Perspirant Treatment Cream
The 7-day anti-perspiration treatment
If you struggle with very intense perspiration, this cream antiperspirant might be a good choice for you. With a quickly drying formula that combines aluminum, Vichy mineralizing water, and anti-odor ingredients, this cream is designed to reduce the intensity of perspiration week after week.
Although this sounds rather intensive, the formula is very gentle; indeed, it's suitable even for sensitive skin.
---
NUXE BIO Organic 24h Sensitive Skin Deodorant Balm
The velvety cream deodorant
Formulated with all-natural ingredients, this NUXE cream deodorant is the perfect addition to a natural skincare routine. The key ingredient here is corn starch, which absorbs excess moisture from perspiration in order to create a comfortably dry feeling.
The aluminum-free formula also features a super interesting cream texture: once applied, it creates a soft powdery finish that lasts up to 24 hours.
---
Collistar Body Multi-Active Deodorant 24h Cream With Rice Milk
The hydrating & soothing antiperspirant
If you're looking for a cream deodorant that helps you prevent excess perspiration but still feels extremely delicate and elegant, this is the right product for you.
Formulated with antiperspirant aluminum and a unique antibacterial active principle, this Collistar cream offers long lasting protection against perspiration. What's more, it also features rice milk and hawthorn extract, two ingredients that lend the formula their nourishing, protective, and soothing properties.
---
Our favorite cream stick deodorants
The cream deodorants that we've seen above are packaged in either a jar or a tube; now it's time to get into stick deodorants. Don't confuse them with roll-ons! While roll-ons are liquids (which may be a little creamier or a little more gel-like), stick deodorants are solids that you apply directly to your skin. Once applied, their consistency becomes a lot creamier, providing a thin layer protection against excess perspiration. Because of their smaller packaging, stick deodorants are great for portability—if you're all about that gym life, they may work great for you.
RoC Keops Deo Stick
The stick deodorant for sensitive skin
If you're looking for a stick deodorant that covers all the basics without any fancy bells and whistles, this is a really good option. This deodorant does not contain any aluminum, so it won't prevent perspiration; however, it does contain a unique Odor Capture Complex, which helps neutralize body odor throughout the day.
The formula is alcohol-free as well as fragrance-free, which makes it a great option for those with sensitive skin who may want to avoid those ingredients.
---
Mario Badescu Deodorant
The all-botanical stick deodorant
If you'd like to keep things natural with your cream deodorant, this option from Mario Badescu may be right for you. The formula is aluminum-free, so it's not actually focused on preventing perspiration. Instead, this deodorant is all about offering protection against unpleasant body odor through the power of botanical ingredients.
A unique combination of sage, cucumber, and ginger root provides a refreshing touch while keeping body odor at bay.
---
Foamie Refresh Magnesium Active Solid Deodorant 48h
The plastic-free option
How do you feel about magnesium in your deodorant? This FOAMIE deodorant makes great use of this ingredient, which provides protecting against body odor while limiting the growth of bacteria and absorbing excess sweat. It's through the properties of magnesium that this aluminum-free deodorant can keep bad odor at bay for up to 48 hours.
And here's another great tidbit: the packaging is plastic-free, making this deodorant a great addition to any eco-friendly skincare routine.
---
La Roche-Posay 24h Deodorant Stick Sensitive Skin
The minimal stick deodorant
Some deodorants can be a little too much for sensitive skin, but this one is just right. Formulated with moisture-absorbing perlite, odor-neutralizing zinc PCA, and soothing allantoin, this deodorant provides up to 24 hours of dryness and odor control.
The formula is also enriched with La Roche-Posay Thermal Water, for a calming effect; it doesn't contain any aluminum.
---
Caudalie Vinofresh Natural Stick Deodorant
The eucalyptus-fresh deodorant
This aluminum-free deodorant from Caudalie is all about neutralizing body odor while keeping bacteria at bay. Formulated with a blend of natural ingredients, this deodorant uses organic eucalyptus extract to provide a sense of freshness, and natural-origin glycerin to keep the skin soft and hydrated throughout the day.
Last, but not least, the formula features a delicate natural fragrance, which feels both fresh and invigorating.
---
Elizabeth Arden Green Tea Cream Deodorant
The invigorating antiperspirant
Fans of scented deodorants love this Elizabeth Arden Green Tea Cream Deodorant. While the aluminum in the formula prevents excess perspiration and creates a dry and comfortable feeling, the fragrance provides a true boost of freshness.
Combining citrus and herbal notes, this delicate scent feels both comforting and invigorating, perfect for daily wear.
---
This selection was all about the underarms, but did you know that cream deodorants are also used to fight off excess perspiration on the hands and feet? Something to keep in mind as you shop for your favorite deodorants and antiperspirants!