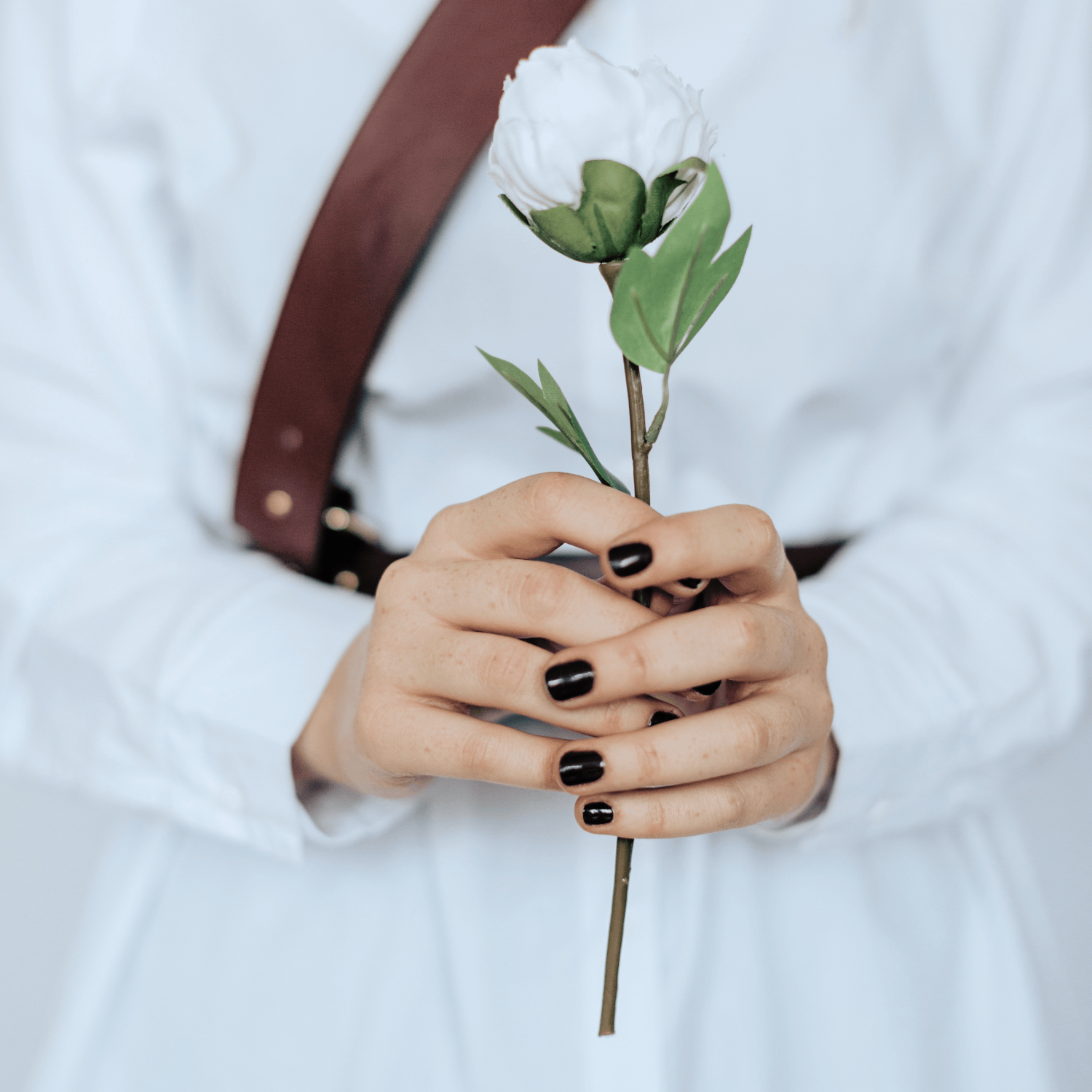 Nail color trends come and go. Different seasons, different years, different decades all come with distinct dress codes for your beloved nails. Here at Care to Beauty, however, we don't like to play favorites. Ask around our team, and you will find tenacious support for pretty much every color of the rainbow. Some of us are lifelong fans of red, red, and nothing but red; others swear by beachy shades of coral and sunset pink. And then, of course, we've got our "recovering goths", our fans of nail polish so dark it almost looks black (although, to be fair, sometimes it is black).
If you're among the latter group, today's your lucky day. We're rounding up our favorite shades of dark nail polish in one convenient location, so you'll never have to waste another hour browsing for the perfect shade of "almost black". We've got you!
---
Dark red nail polish
When it comes to nail polish, red could be considered a neutral. It's a timeless, classic color that won't ever let you down. If you feel like shaking things up a little, though, why not go for a dark, sultry dark red?
Our first suggestion from essie, Wicked is a very, very dark red nail polish. It's so dark, in fact, you'd be forgiven for thinking it was black. Dip your nails in this mysterious shade, and you'll never stop feeling like you're carrying around your very own secret.
If you're looking for a dark red nail polish, but not as dark as the previous option, consider Not So Low Key from essie. This gorgeous blackened burgundy-red will definitely make an impression, especially if you appreciate a more classic, vintage-inspired look.
Whichever shade of dark red nail polish you choose, know that you will be well-served with both of these: they are ultra-pigmented and provide full-color coverage. It's time to embrace your vamp dreams!
---
Dark green nail polish
If you're anything like the author of this post (hi!), you know how hard it is to find a really, really good green nail color. In order to keep your options open, we're suggesting two completely different shades of dark green nail polish–one muted, one bold, but both with full-color coverage.
My Heart Beats Green Right Now, from Catrice, is a dark olive green with a tinge of grey. This somber hue won't impress fans of jewel green tones, but it might just be the perfect non-neutral neutral color for those looking for a twist on tradition.
For a completely different shade of dark green, look to Khaki Green, from Flormar. As announced on the name, this is a stunning khaki green nail polish with a shiny finish. Imagine the wings of a beautiful dark green beetle, and you won't have any trouble picturing this incredible color.
---
Dark blue nail polish
With so many dark blue nail polish colors at our disposal here at Care to Beauty, we had a really hard time picking just two to showcase here. However, we've finally made up our minds with two stunning, full-coverage blue nail polishes.
Our first contender for the title of best dark blue nail polish is none other than Dusk Teal Dawn, from essence. Now, don't let the name of this shade fool you; it is, quite possibly, the darkest shade of teal you've ever seen. If you do turn out to be bold enough to wear this color, expect to find your nails clad in a shade of blue so dark it looks black. That is the best way to describe this color, really: a mysterious blue-tinted black.
Go Overboard from essie is a much brighter, but no less intriguing color. Somewhere between a dark steel blue and a dark teal (the brand calls it a "dark sea blue"), this nail polish is the perfect shade of year-round blue nail polish. In the summer, it will be a perfect match for the seaside; in the winter, it will make for a spectacular, yet sophisticated pop of color.
---
Dark purple nail polish
Purple is often thought of as the most royal of colors; you may or may not agree, but there's no denying that purple can be a beautifully dramatic color. To help you on your quest for the ultimate dark purple nail polish, we've selected two of our favorite shades of purple. Which one will you pick?
Purple Express, from essence, is hard to beat when it comes to picking a purple nail polish, so dark it looks almost black. With a pretty fast drying time—as short as 40 seconds—this nail polish makes it possible to fit a quick manicure into your busy day. Being the epitome of drama, this is the perfect fit for your boldest nighttime looks.
If you're more of an evening person, rather than a nighttime person, your perfect shade of dark purple nail polish might just be Luxedo, from essie. Inspired by the luxe quality of a perfectly tailored tuxedo, this dark plum shade makes for a bold, yet sophisticated nail color.
---
Actually black nail polish
Fashion has a lot to say about the enduring appeal of "the little black dress", and we'd like to piggyback off of that conversation to talk about the enduring appeal of "the little black nail polish." Worn by people of all ages and genders on any and all occasions, black nail polish is the ultimate equalizer of the nail world. In case you're still looking for "your" shade of black, we've lined up two options.
First comes Like It Loud from essie. Part of the Gel Couture collection, which is universally loved by our team at Care to Beauty, this nail polish brings you gel-like shine and finish with the ease of application of regular nail polish. What does this mean for you? Why, it means you will be enjoying chip-free black onyx nails for quite a while.
Tired of black nail polish? Think you've seen all that this timeless color has to offer? Think again. Our second option, Black To The Routes from Catrice, is a deep black nail polish with a glossy finish. Imagine painting your nails with an extremely pigmented, long-lasting and vegan formula that transforms your darkest nail polish desires into a very real manicure. That's exactly what you'll get!
---
Ten shades of nail polish later, we think we've covered the essentials. What do you think? Are you a seasoned member of the dark nail polish club, or are you new to the dark side? Either way, we hope you'll give some of these shades a try. Life's too short to have boring nails!